9 BEST DOG FRIENDLY WINERIES Margaret River [2023]
Are you planning a trip to Australia's southwest and looking for the best dog-friendly wineries in Margaret River? Or perhaps you want to go on a holiday with your cuddly companion while sipping wine, by the hills?
Look no further, travel and dog enthusiast Aisha from Women Wandering Beyond and An Irish Rover is going to share all the best places for you and your pup!
Margaret River is renowned for its delectable world-class wine and the stunning inland rivers, unspoiled coastlines, underground caves, and tall-timber forests – making it one of the most unique destinations to visit.
They also have a global reputation for their fantastic Chardonnay and Cabernet Sauvignon produced in the region.
The perfect place for sipping wine and hanging out with your pup, Margaret River offers plenty of dog-friendly activities, including a trip to the vineyards and more!
With ample space to run around and explore while you try the wine selections, a trip to Margaret River is guaranteed to be a fun one for you and your dog.
Disclaimer
Some of the links on here are affiliate links and I may earn if you click on them, AT NO EXTRA cost to you. Hope you find the information here useful! Thanks.
Best Dog-Friendly Wineries In Margaret River
🚗Distance To Margaret River: 26km
Woody Nook Wines is a small dog-friendly winery located in the heart of Margaret River. They offer a wide range of award-winning wines, with over 300 awards mostly won over the years for their incredible Cabernet Sauvignon.
Here, dogs are welcome to join you in the outdoor seating area and inside the Cellar Door, where there will be enough space for your furry friend to hang around. While you're there, be sure to treat yourself to the breathtaking scenery and relax at the dog-friendly cafe for some time out in the sun.
📍Woody Nook Wines Address: 506 Metricup Road, Wilyabrup | Google Maps
🚗Distance To Margaret River: 25km
If you enjoy learning about winemaking – the processes and its likes, you'll enjoy a trip to Stonefish Wines.
A boutique wine brand that typifies the best of the region's winemaking methods and cultivation of grapevines, this winery appeals to both everyday wine customers and connoisseurs.
If you're planning to head there with your dog, we suggest you take some time out on the deck, where it is spacious and picturesque, and enjoy a glass of wine with a gourmet platter on the side. Dogs are also welcomed in the Wine Cellar Door for wine tasting.
📍Stonefish Wines Address: 3739 Caves Road, Wilyabrup | Google Maps
🚗Distance To Margaret River: 34km
Located on a peaceful valley slope overlooking an idyllic lake and rolling hills surrounded by Marri forest is Hamelin Bay Wines. Famed for their velvety red wines and their crisp whites, you'll be sipping a glass or two whilst overlooking some of the region's best vistas with your dog.
This Margaret River dog-friendly winery also offers delectable local gourmet products that you can enjoy over lunch over at the deck area that looks over the magnificent views across the vines below. The deck is shaded, and upon request, the staff will serve water for your dog, so you know you and your pup will be taken care of here.
On your way home choose some extra stops, covered here in my Margaret River To Nannup Guide.
📍Hamelin Bay Wines Address: McDonald Road, Karridale | Google Maps
🚗Distance To Margaret River: 37km
Cape Naturaliste is one of the best wineries that are dog-friendly in Margaret River. Nestled in a picturesque valley behind Smith's Beach, this stunning winery also welcomes pooches here, where you can opt to have lunch with them on the terrace.
They also have treats and water bowls for your dog and a photo doggie board that features all the dogs who have visited the winery. Monty and Max, the friendly winery dogs, might also drop by to say hello, so keep an eye out for them!
📍Cape Naturaliste Vineyard Address: 1 Coley Road, Yallingup | Google Maps
🚗Distance To Margaret River: 31km
One of Margaret River's finest dog-friendly wineries, House of Cards, is a 100% single organic winery where each bottle of wine is handcrafted to the finest detail. The winemaking processes here include hand plunging and manual basket pressing, which are more traditional than in most places.
The wine here changes each year depending on the vintage conditions. Still, it tastes beautiful due to the methods they've applied to obtain fruit that is of the best quality while focusing on environmental sustainability.
📍House Of Cards Wine Address: 17/5 Quininup Road, Yallingup | Google Maps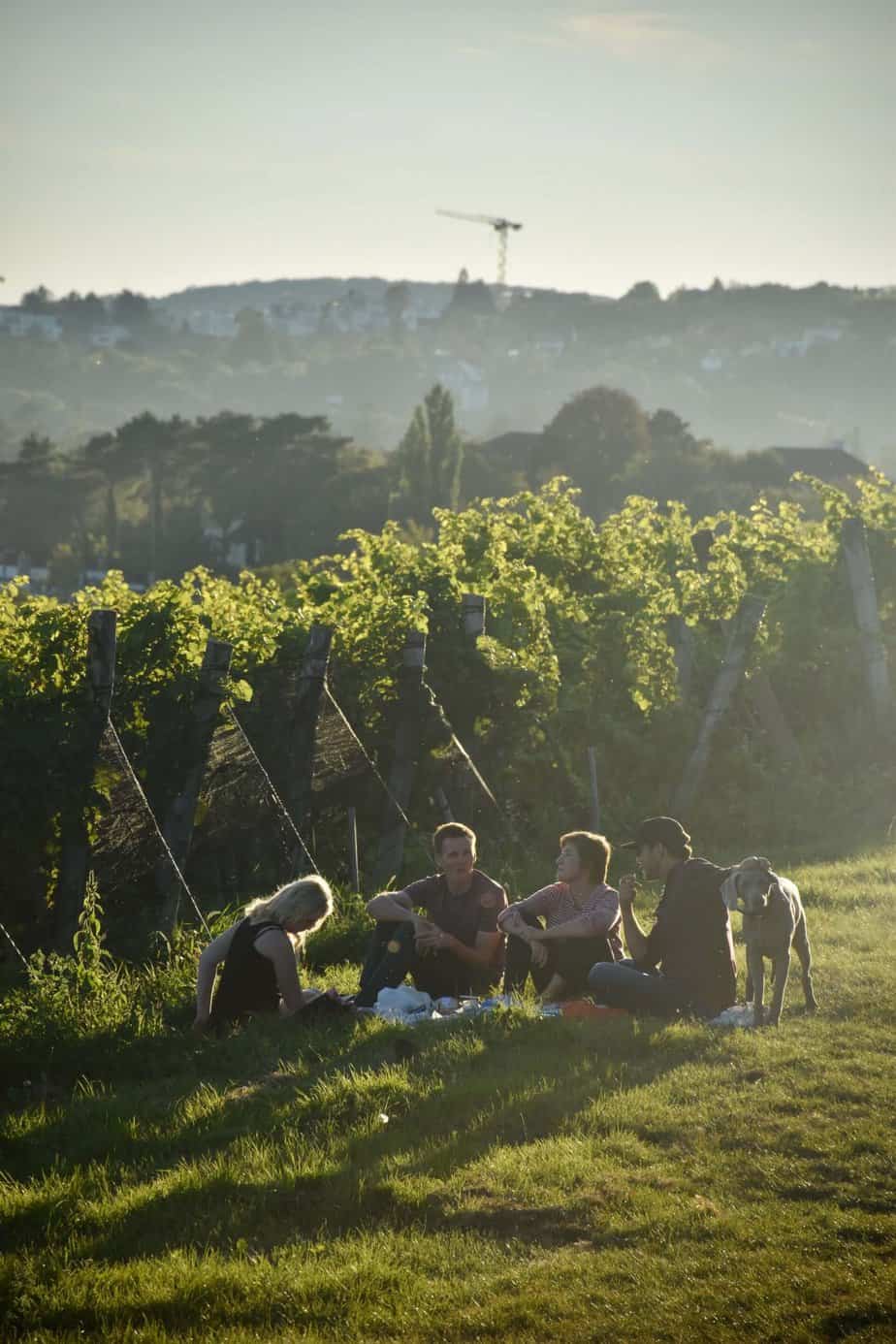 Photo by Arno Senoner on Unsplash
🚗Distance To Margaret River: 40km
This family-owned dog-friendly winery in Margaret River is located on top of a hill with a stunning view of Geographe Bay, a picture you can surely enjoy with a glass of wine in one hand and a leash for your dog in the other.
Happs Wine welcomes dogs at their wineries, especially in the scenic outdoor areas where plenty of tables, seats and shade are provided for you and your pup. They also offer build-your-own picnic hampers to chill on the lush lawn outside while sipping on a glass of wine or two.
🧺Looking for some other BYO Picnic options? Check out my Complete Guide of Vineyard Picnics in Margaret River for plenty of other options just like Happs Wine!
📍Happs Wines Address: 575 Commonage Road, Quindalup | Google Maps
🚗Distance To Margaret River: 37km
For a unique winery experience with your dog, check out Whicher Ridge Wines and the Wine Sensory Garden, which has an array of fruit trees, flowers, herbs and seasonal vegetables that suits the flavors, styles and textures of their wines.
This place is a bit further afield than the usual wineries, being halfway between Nannup and Busselton, so it could be good to combine with a visit to Nannup.
To get the most out of your trip to the winery, I recommend booking a Pick and Sip Experience. You could bring a picnic and enjoy some time in the sun in a secluded spot in the gardens with your dog. As they are a working farm, keeping your dogs on a leash while they're there is crucial.
📍Whicher Ridge Wines Address: 200 Champman East Road, Chapman Hill | Google Maps
🚗Distance To Margaret River: 7km
One of Margaret River's pioneering wineries, the award-winning Redgate Wines, was established in 1977 and is family-owned and run. They offer an array of premium wines, including fruit-driven whites, elegant red wines, and a range of delicious fruit wines.
This highly reputable pet-friendly winery in Margaret River loves when dogs visit and would happily welcome your friendly pup to explore the area. There are also water bowls and lots of shade outside to keep your dog happy while you sip on some delicious wine.
I highly recommend a visit here. In fact, Redgate Wine is so popular it is often featured on almost any Margaret River Wine Tour you go on.
📍Redgate Wines Address: 659 Boodjidup Road, Margaret River | Google Maps
🚗Distance To Margaret River: 33km
Some of the best wines in Margaret River have been produced by the Clairault Streicker Estates for over 40 years.
The scenic driveway will surely entice you as you drive through farmlands and native forests, eventually bringing you to the stunning place of beauty where you can lay back, relax and enjoy a wide range of premium wines they have to offer.
Dogs are also welcomed here on the covered deck outside, which offers excellent forest views for you and your pup.
📍Clairault Streicker Address: 3277 Caves Road, Wilyabrup | Google Maps
Dog-Friendly Breweries In Margaret River
If you happen to enjoy some good brews on top of the fantastic wines you'll be having, we've got some dog-friendly breweries in Margaret River for you to choose from. Here are some places you can check out with your pup if you prefer hops over grapes.
🚗Distance To Margaret River: 1km
The Brewhouse is one of the best dog-friendly breweries in Margaret River, and for a good reason too. There are plenty of grassy areas for your dog to run around while you enjoy a cold mug of beer tapped straight from the brewery.
If you're heading there with your family, you'll be pleased to find a playground for the kids and delicious food sourced from local suppliers that are available all day while you're there.
📍Margaret River Brewhouse Address: 35 Bussell Highway, Margaret River | Google Maps
🚗Distance To Margaret River: 30km
Bootleg Brewery is one of the best breweries that are pet friendly in Margaret River. Having produced a range of award-winning beers with regular creative small-batch releases, Bootleg is guaranteed to give your palette a good time.
For dogs, there are ample open spaces for them to run around in the beer garden and shaded areas and water bowls for them to quench their thirst. Be sure to keep them tied to a leash as there will be lots of people and children around.
📍Bootleg Brewery Address: 37 Wildberry Road, Wilyabrup | Google Maps
🚗Distance To Margaret River: 37km
Owned by a family of three generations, Wild Hops focuses on making small batches of character-filled, seasonal beers. The stunning views offered here are best enjoyed on the expansive deck and under the shade of the resident Cottonwood tree.
They also serve delicious food and the brewer's buns – Wild Hop's version of a burger with roasted, braised or smoked meats served with rustic chips. Well-behaved dogs on leashes are welcome here, perfect for the whole family to enjoy.
📍Wild Hop Brewing Company Address: 1301 Wildwood Road, Yallingup | Google Maps
🍺If you are looking for more Margaret River Breweries, check out my Complete Guide To Margaret River Breweries!
FAQs About Dog Friendly Wineries Margaret River
Where To Stay With Your Dog In Margaret River?
⭐Some places with the best dog-friendly accommodations in Margaret River are:
If you're concerned about finding the perfect place for you and your furry friend when heading to Margaret River, give our list above a go.
All of these accommodations listed above are pet-friendly and will accommodate both you and your dog – catering to every budget and style that you might be planning for on your trip. For more ideas check out my Complete Guide To Dog-Friendly Accommodation In Margaret River!
Where Can I Take My Dog To In Margaret River?
One of the best off-leash beaches to visit in Margaret River is Gnarabup Beach, at Prevelly – a few kilometers west of Margaret River's town and closer to Surfer's Point, a popular attraction there. 
Dogs are permitted to be off-leash at the northern part of the beach. They are also allowed to play behind the dunes in Riflebutts Reserve, except at the playground. 
Some other dog-friendly beaches in Margaret River include Augusta, at the southern tip of the region and the northern part of Yallingup Beach. They are also permitted on Dunsborough Foreshore and Bunker Bay on Cape Naturaliste. 
🐶 Check out my very comprehensive list of Dog Beaches In Margaret River, which has all the dog-friendly beaches in the Margaret River Region – all the way from Peppermint Grove Beach down to Augusta! 🐶
What Is There To Do In Margaret River With Dogs?
Some of the things you can try doing with your dogs in Margaret River are: 
1.Stroll through the country town of Cowaramup
2.Relax with a locally-made beer at a Margaret River Brewery
3.Check out the surf at Surfers Point 
4.Drive along Caves Road
5.Try the venison dog treats in Margaret River Venison 
6.You can also get your dog to join you on dog friendly wine tours in Margaret River, where you can enjoy premium wine tastings, have gourmet lunch and your pup can have all the fun running around and exploring vineyards of all kinds. 
🐶Check out my dog-friendly bucket list if you're looking for other ideas of things to do with your dog in Margaret River!
Is Margaret River Chocolate Factory Dog Friendly?
The Margaret River Chocolate Factory is, in fact, dog-friendly. This factory is one of the most popular places in Margaret River.
If you have a sweet tooth, you'd be happy to find that both the Chocolate Factory and Bettenay's Nougat Factory on Tom Cullity Drive are dog-friendly, so your pup can join you on your 'sweet' adventure! 
A must-visit attraction in Margaret River, you can also watch professional Chocolatiers make award-winning chocolates by hand through the Chocolate Viewing Window. After, stop by the Chocolate Cafe and treat yourself to a cup of coffee, gelato or homemade gluten-free cake. 
Is Eagle Bay Dog Friendly?
Eagle Bay is dog-friendly and has designated areas for on-leash walking and off-leash fun by the beach, but it is crucial to check first before letting your dogs off the leash.
For a complete list of dog-friendly beaches in the Margaret River Region, check out my Complete Guide To Margaret River Dog-Friendly Beaches!
Wrapping Up: Margaret River Dog-Friendly Wineries
There are many excellent dog-friendly wineries in Margaret River, you won't even need to worry about leaving them behind. Be sure to also check out the dog-friendly beaches and pet-friendly accommodations in Margaret River to better accommodate you and your furry friend while you're there!
We hope this list has helped you find the best wineries that are dog friendly in Margaret River as well as some other attractions to keep you occupied and spend some time with your pup while you're there. We're sure you'll find plenty to do around the region for you and your furry buddy.
Have fun!
Related Posts