31+ BEST DOG-FRIENDLY RESTAURANTS Margaret River Region [2023]
Are you looking for nice dog friendly restaurants in Margaret River? Or perhaps your dog-sitter fell through and you still want to go out for that special lunch?
There is no need to sacrifice time with your beloved furry friend on your holiday down south. The Margaret River Region is a dog-friendly destination with dog friendly accommodation, parks, dog beaches, cafes, and restaurants that you can enjoy with your pooch.
And lucky for you, I am a Margaret River local, having lived here since 2016, and I also have a dog, a Siberian Husky X named Buddy, who comes everywhere with us (he howls the street down otherwise!), so there's no better person to ask about dog-friendly restaurants in the Margaret River Region!
From cafe-style dining to a casual winery lunch there's something for everybody and every doggo. Generally, the rules are pooches are outside only and must be on a lead so be prepared for that and check at the time of booking your table so you can be seated outside if required.
Are you ready? Let's dive in!
Dog-Friendly Restaurants Margaret River Town
1.Margaret River Brewhouse
⭐RATING: 4.6/5 | 🌏DISTANCE FROM MARGARET RIVER: 850m | OPEN FOR: Lunch and Dinner |📍LOCATION: 35 Bussell Highway, Margaret River WA | Google Maps
The Margaret River Brewhouse is a fun venue and a leisurely stroll from the town of Margaret River. Positioned just on the edge of town and the Woodjitup National Park this is a perfect lunch or dinner spot if you're staying in the region.
With beautiful grassy areas and lots of outdoor seating, you'll be comfortable settling in for a couple of brews before wandering home. We recommend booking on weekends though or if you're a large group! It's a popular spot as it also has an amazing playground for the Margaret River kids to play on.
Dogs must be kept on a lead but there are water bowls available and the friendly staff will help you choose a suitable table. There's an easy walking path back to town so if your furry friend overindulges, that's ok, he can walk it off.
"Relaxed vibe with plenty of space to enjoy the natural surrounds. We appreciated the dog friendly attitude of staff. The food was interesting and something a level above the usual fare. Bar service only." -Kate (see more reviews)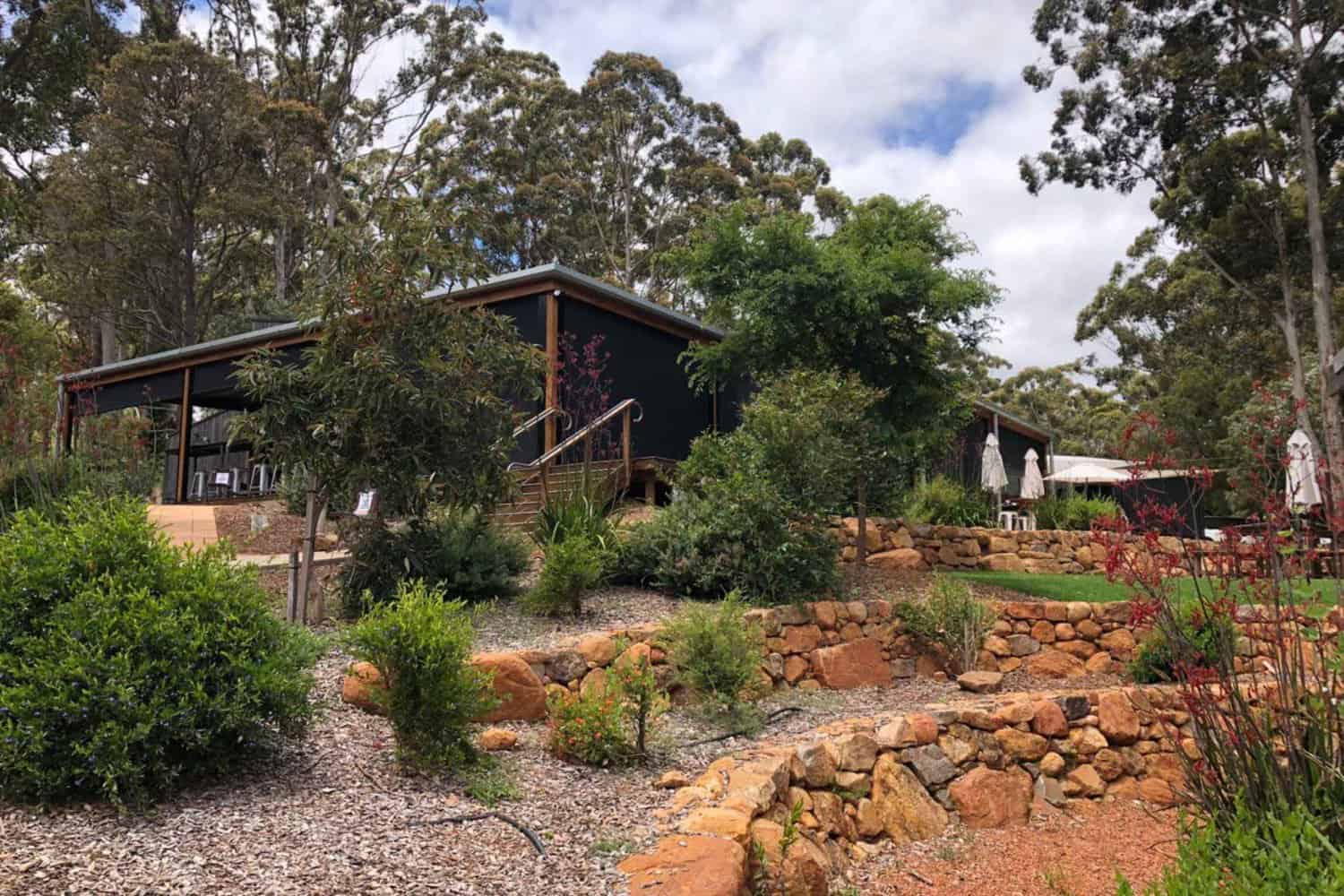 2.The River Hotel, Margaret River
Looking for travel advice for your visit to Margaret River? Join my friendly community over at Margaret River Travel Planning on Facebook to learn more about this beautiful part of the world and have all of your questions answered!
4.Margaret River Distilling Company
5.Sidekick Cafe
6.Cafe Mosaic
8.The Urban Bean
9.Wyl & Co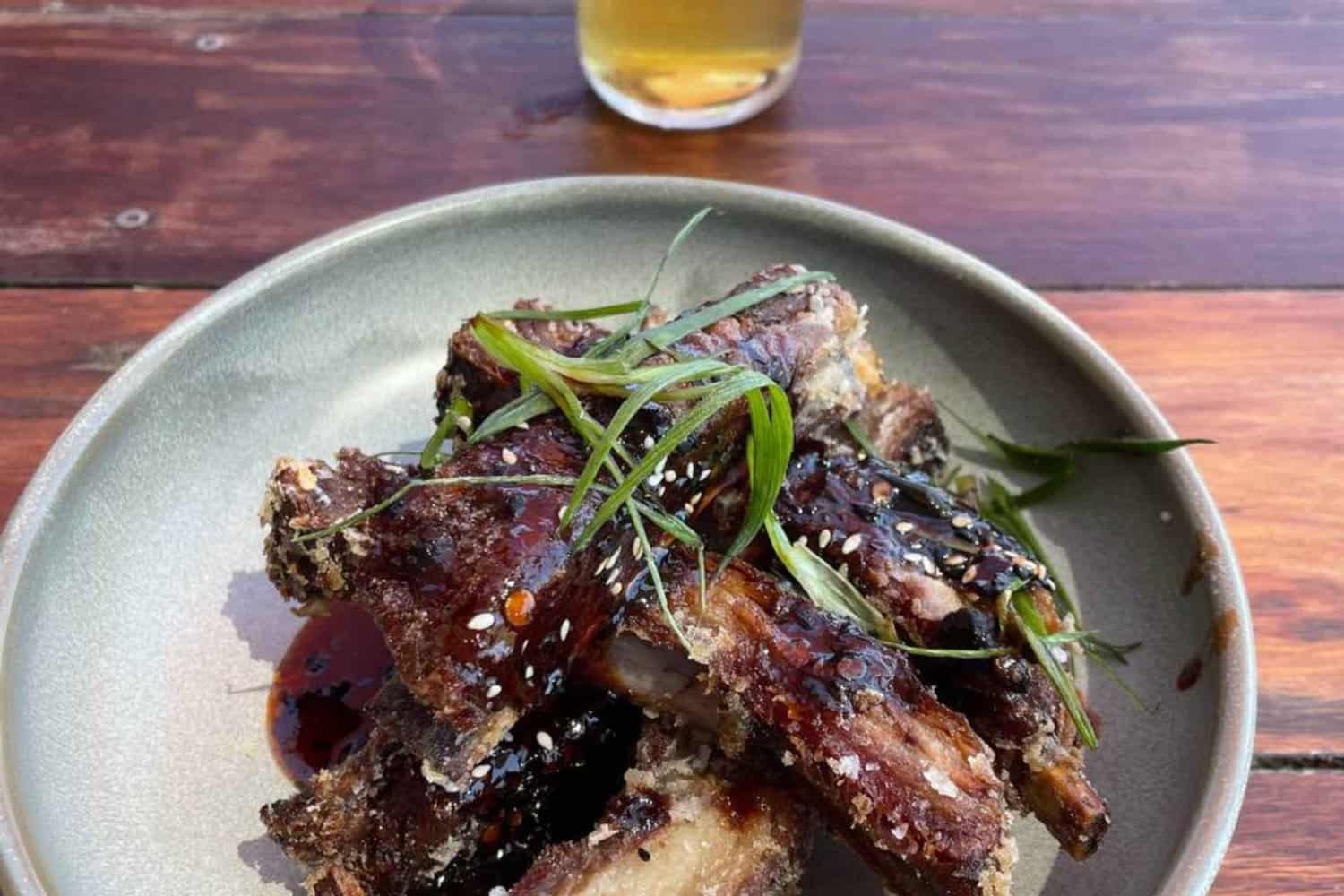 Dog-Friendly Restaurants Margaret River Surrounds
10.The West Winds Distillery And Tavern, Cowaramup
11.The Berry Farm, Rosa Glen
The Berry Farm is a rustic cottage cafe about 20 minutes from Margaret River. From humble beginnings as a working farm, it is now a popular destination to visit for brunch, lunch, cellar door tastings, fruit pickings, and a stroll in the garden.
I recommend arriving around 10 am to enjoy a peaceful morning coffee and their famous scones with jam and cream.
The venue welcomes dogs and has lots of outdoor seating for visitors bringing their four-legged friends. They even have dog hooks at the entrance to the cellar door so you can still pop in and have a wonderful tasting experience with your pooch waiting safely nearby.
"Fine wines, wholesome home cooked food, creamy coffee and cheerful bird song. Hard to fault and well worth a visit. Dog and kid friendly with dedicated play area." -David (see more reviews)
12.White Elephant Cafe, Gnarabup
The iconic White Elephant Cafe is a prime spot overlooking the beautiful Gnarabup Beach. The cafe is dog friendly with ample outdoor seating and a lot of regular furry friend locals.
I think the best thing about this cafe is the view, but the breaky burgers come a close second. What a nice way to start your day enjoying the salty, sea breeze before taking your dog for a nice walk along the dog-friendly stretch of Gnarabup beach.
"Beautiful view from the terrace. Dog friendly environment. Coffees & food are delicious . This is a great place to have breakfast and start your day." -Francois (see more reviews)
13.Sea Garden Cafe, Prevelly
The Sea Garden Cafe offers a casual dining experience with glimpses of ocean views looking out over the famous Margaret River Surfers Point. With fun, hippie kind of vibes the Sea Garden is a great place for any time of day.
They offer a yummy, simple menu, cold beer on tap, and friendly service. More than just 'dog friendly' we would say they are 'dog welcoming' and have water bowls handy and some loving pats.
"Ocean views whilst having brekky fantastic. Reasonably priced and dog friendly." -Geoff (see more reviews)
14.Olio Bello, Cowaramup
A cafe and restaurant set amongst a working Olive grove, Olio Bello is one to be sure you visit with your furry friend. The cafe opens from 10 am and offers coffee and cakes before the restaurant opens for lunch at 11:30.
There is ample seating in the garden at outdoor tables under magnificent, established Olive trees. It's a peaceful way to dine with your doggo and enjoy absolutely beautiful food made with fresh local produce and a whole lot of love. There is also a large lawned area you can stroll around if your pup fancies a wander.
The restaurant can get busy during peak times so be sure to arrive early or ensure you book a table outside to avoid disappointment.
"Nice location,dog and kid friendly. Good choice of food and friendly service. The olive oils are a bonus!" -Jacek (see more reviews)
15.Beerfarm, Metricup
If dogs could talk they'd tell you to take them to the Beerfarm. A welcoming brewery set in a converted farm shed on a massive parcel of land is the perfect place to chill all day.
The Beerfarm is committed to sustainability practices and live and breathes recycling, upcycling, and composting bringing them to a more carbon-neutral, zero-waste position.
The food is epic, the staff is friendly, knowledgeable, and passionate about their brews and the convenient location puts you smack bang in the middle of the cape-to-cape region.
With a huge expanse of outdoor lawned area and an open, flowing inside space your doggo can happily enjoy all areas on a lead. We promise if you're looking for a relaxing afternoon in a pet-friendly place you will be happy here.
"Loved this open aired barn venue. The vibe was relaxed, dog and kid friendly. The burgers was amazing, highly recommend!" -Yen (see more reviews)
16.Cheeky Monkey Brewing Co, Wilyabrup
If you've ever cruised down Caves Road you've probably popped by Cheeky Monkey for a pint or three. This Margaret River brewery is a staple favorite of the southwest is pet friendly and open seven days from 11 am.
This lively brewpub has ample parking, heaps of outdoor seating, a great park, and a large open area to stroll around in with your pup.
It's a little hard to pick a favorite on the menu here so I recommend a tasting paddle and some buffalo wings… brewpub fare done delightfully well. The view is great and there is a loop you can walk around with your dog while you are waiting for your food.
"Great food, drinks & friendly service all set in beautiful grounds. Real gem. Dog (on a lead) friendly too 🐕‍🦺" -Mark (see more reviews)
17.Colonial Brewing Co, Margaret River
Only a few kilometers from town lies the epic Colonial Brewing Co. Brewing since 2004 and ever-evolving fun venue Colonial is a local's favorite. Sporting oodles of outdoor dining spaces there are plenty of doggo-friendly tables to pick from.
Famous for their pizzas and refreshingly simple brews we'd be opting for a draught and Gamberi pizza (coz, prawns. YUM). If you feel like you need a bit of activity to help all that good food and beer settle down this is THE place for lawn games and even golf!
Pooch is welcome to join because it's all outside…so kick a footy, hit a few balls into the lake, throw some beanbags.. whatever takes your fancy. Dogs must be on a lead at all times of course.
The food was awesome and the vibe was nice (lots of kids running around). It's the sort of venue where everyone feels welcome. One staff member (maybe the owner??) brought some dog treats over for my dog! I've never had that happen before. I will be coming back and recommending colonial to my friends and family." -Halina (see more reviews)
18.Fishbone Wines, Wilyabrup
Now, this is one of our absolute favorite dog-friendly venues. Fishbone Wines is a classy winery with a Japanese and Korean fusion restaurant. They've recently increased their outdoor seating capacity which means more dog-friendly tables, yay!
Perfectly located in what we like to call the golden triangle of wine tasting in the region, it's literally right across the road from the Margaret River Chocolate Factory. The team is super friendly and you'll be welcomed in with an offer of a wine tasting before dining.
This place has just grown to become so popular that bookings are now essential every day and you'll need to state at the time of booking that you're bringing your doggo so the team can seat you accordingly.
If you can visit Fishbones on your visit down south we know two things.
1) You won't be disappointed.
2) You will be back.
"Spectacular service, extremely efficient kitchen with prompt service, dogs welcome (personal rainwater bowl provided). We ordered the double salmon and inari maki sushi rolls which were visually tantalising and oozing with umami flavour. The crispy tofu salad and chicken karage were also excellent and gluten free." -Vaughan (see more reviews)
19.Rustico at Hay Shed Hill, Wilyabrup
Another little golden triangle gem! Rustico is the perfect balance between a casual southwest dining experience and a fancy winery outing. It's classy, charming, and rustic all at the same time.
My favorite way to dine here is on the deck and enjoy a degustation in Margaret River. Simple dishes, fresh produce, done exceptionally well. This is a consistently good dining experience.
Dogs are welcome! Yay! They'll need to be on a leash and are allowed in the outside areas of the winery. They can also accompany you at lunch in the outside seating area. Be sure to add a note to your online booking so you can be seated appropriately.
"Delicious degustation! Food and wine were superb as was the service. They are very dog friendly and very accommodating to our pooch. We highly recommend" -Marnie (see more reviews)
20.Glenarty Road, Karridale
21.Black Brewing Co
Dog Friendly Restaurants Dunsborough
22.Goanna Bush Cafe, Dunsborough
I love Goanna Bush Cafe, it's pretty close to town if you're in Dunsborough or Yallingup but feels so secluded set amongst natural bushland and forest. It's a hidden gem and never fails to disappoint me with quality of food and service.
This is a perfect place to enjoy a cuppa, breakfast, or lunch but again you'll need to be sure you've booked a table outside if your dog is accompanying you. The menu changes with the seasons and is truly a typical Southwest casual dining experience. I love it when there's a slight drizzle of rain on the rooftops and you can smell the freshness of the forest.
23.Wise Wine
24.Bungalow Social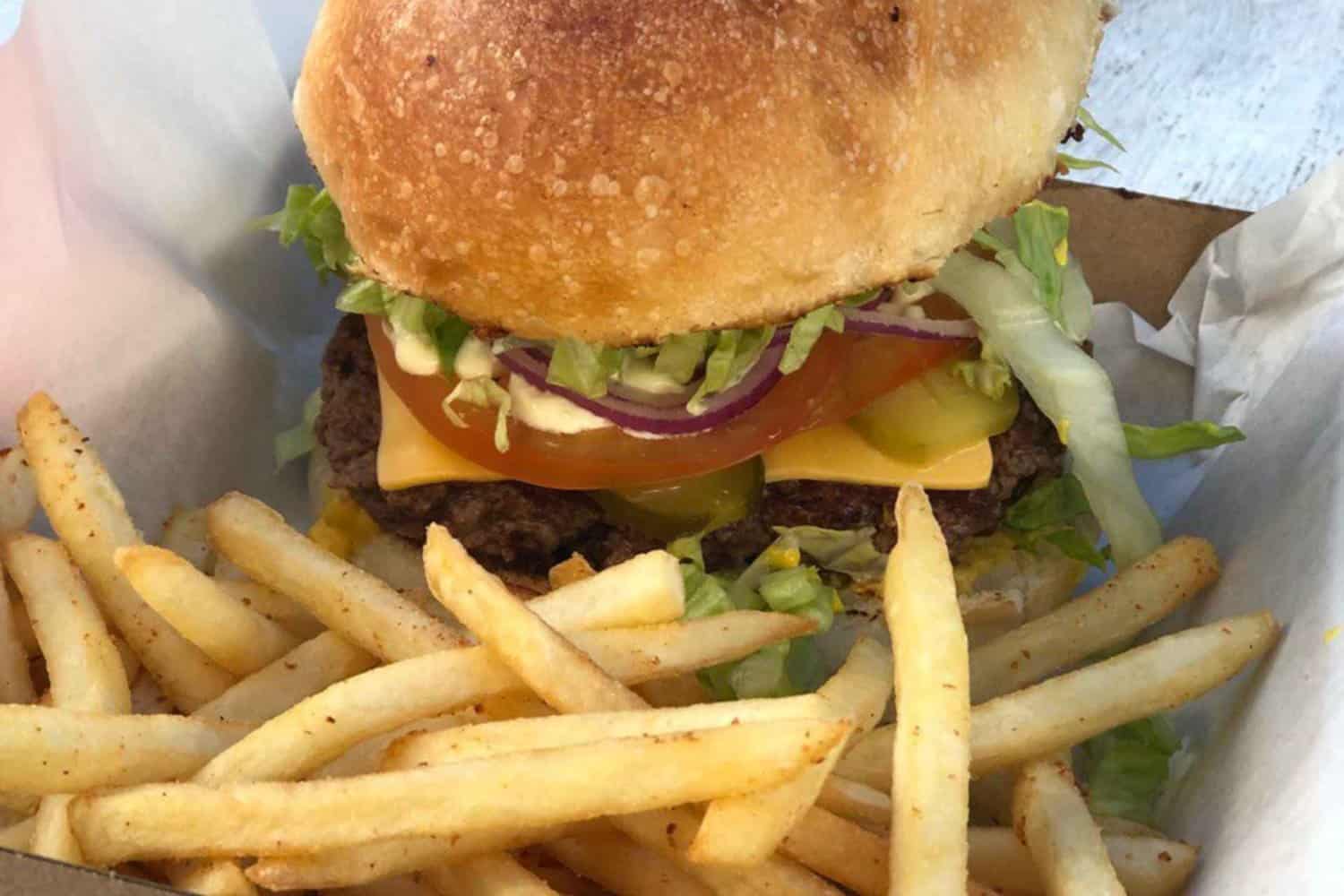 Dog Friendly Restaurants Busselton
26.Shelter Brewing Co
27.Rocky Ridge Brewing Co
28.Hippo Lakes
Set amongst rolling fields and overlooking greenery on a family property is the increasingly popular Wild Hop Brewing Co – a must visit brewery near Yallingup! Casual dining and award-winning beers with a cool, relaxed vibe and friendly staff.
You can't really visit Wild Hop without enjoying their famous shared dining experience of rotisserie chicken so we recommend you take a couple of pals and make a meal of it. The beer menu is constantly changing with new small-batch releases however our favorite and main stayer on the menu is the 'Short Shorts' Pilsner. So refreshing!
There's loads of seating area on the grass outside and plenty of outside tables where your dog is welcome to join you however we absolutely recommend booking as Wild Hop tends to fill up fast especially on weekends or in peak periods. For something extra special head there on a Sunday Arvo to enjoy some live music on the deck.
30.Swings and Roundabouts, Yallingup
Swings and Roundabouts LOVE your dog as much as you do! They are super welcoming to all furry friends and they even have a super cool doggo watering station outside.
This is one of the few wineries that allow your pooch indoors… there is ample seating in the semi-enclosed indoor/outdoor space but if it's a nice day you can't really pass up the outdoor tables overlooking the vineyards.
Swings and Roundabouts is a bit of an Instagram hotspot too with their 'swing seats' so perhaps you and your pup can get a few likes on the gram while you're down south.
31.Chows Table
FAQ: Margaret River Dog Friendly Restaurants
Wrapping Up: Dog Friendly Margaret River
In the dog-friendly haven of the Margaret River region, your four-legged companions are treated like family at a variety of charming eateries. Whether you're enjoying a leisurely breakfast, savoring a delicious lunch, or unwinding with a refreshing beverage, these establishments go the extra mile to create a welcoming and inclusive atmosphere for everyone, including your beloved pets. So, next time you explore the Margaret River region, bring along your furry buddy and embark on a delightful culinary adventure together!