9+ BEST Dog-Friendly CAMPING Margaret River LOCALS GUIDE [2023]
Are you looking for dog friendly camping Margaret River?
If you're a dog lover like me, then finding a pet-friendly campsite is high on your list of priorities when planning a camping trip. Dogs are part of the family and it's natural to want to take them camping with you!
Luckily, Margaret River has dog-friendly camping spots and caravan parks.  Down south in Western Australia, the Margaret River Region is home to some great camp spots that welcome furry friends of all shapes and sizes. And lucky for you, I'm kind of an expert on Margaret River camping with dogs, as the "mum" to one Siberian Husky named Buddy, and a Margaret River local who loves to camp!
Read on for my top picks for dog-friendly camping near Margaret River, with a couple of dog friendly caravan parks thrown in for good measure too! Let's dive in!
This article contains some affiliate links which means that I may earn a small commission when you click on them, at no additional cost to you. I do hope you find the information in this article helpful!
Best Dog Friendly Caravan Park Margaret River
⭐RATING: 8.6/10 | 🌏DISTANCE FROM MARGARET RIVER: 1.1km |📍LOCATION: 8/10 Willmott Avenue, Margaret River WA | Google Maps | ✅BOOK IT!
✨Why You Should Choose Riverview Tourist Park
Riverview Tourist Park caters for dog-friendly caravans and camper trailers, with powered and unpowered sites. Just be aware that they can't accommodate for tents here, so if this is you, skip to the next section, or if you have a caravan or campervan, read on!
Situated just a kilometer from Margaret River, this park offers breathtaking vistas of the river and surrounding state forests, all nestled within a picturesque garden ambiance.
The range of accommodations provided caters to diverse preferences, from deluxe cabins with en-suite facilities to caravan and campervan bays equipped with either private or shared bathrooms. Each accommodation option includes heating and cooling amenities, quality linen, and a balcony overlooking the serene river. Additionally, the camp kitchen area features complimentary gas barbecues for your convenience.
With Riverview Tourist Park as your home base, you can fully immerse yourself in the charms of Margaret River. Whether you seek a peaceful getaway or an adventure-packed holiday, this park is the ultimate destination. Enjoy the added convenience of on-site laundry facilities and complimentary Wi-Fi, ensuring a comfortable and hassle-free stay.
🤩Check Prices And Availability!
⭐RATING: 8.3/10 | 🌏DISTANCE FROM MARGARET RIVER: 1.3km |📍LOCATION: 44 Station Road, Margaret River WA | Google Maps | ✅BOOK IT!
✨Why You Should Choose Margaret River Tourist Park
Margaret River Tourist Park is an exceptional destination catering to all types of travelers. Situated in the heart of Margaret River, it offers unparalleled proximity to the region's attractions, making it the ideal choice for those seeking campsites near Margaret River. No matter your travel style or group size, this park provides an array of accommodation options and facilities to suit your preferences and budget.
Choose from cozy cottages and deluxe cabins, perfect for couples or small families, or opt for the convenience of ensuite, powered, or unpowered caravan sites. In addition to comfortable lodging, the park boasts a range of amenities designed to enhance your stay. Indulge in outdoor BBQ areas, a well-equipped camp kitchen, convenient laundry facilities, and complimentary Wi-Fi.
For nature enthusiasts, Margaret River Tourist Park is a dream come true. Explore scenic walking trails, encounter native wildlife, and relish the wonders of the great outdoors. Plus, furry friends are more than welcome here, as long as they remain on a leash at all times.
🏕️🏕️🏕️NOT WHAT YOU WERE LOOKING FOR? Check out my other guides: Pet-Friendly Accommodation Margaret River, Margaret River Caravan Parks, Margaret River Camping, Free Camping Busselton, Free Camping Margaret River, Free Camping Esperance and Free Camping Kalbarri so you can free camp your way around WA! 🏕️🏕️🏕️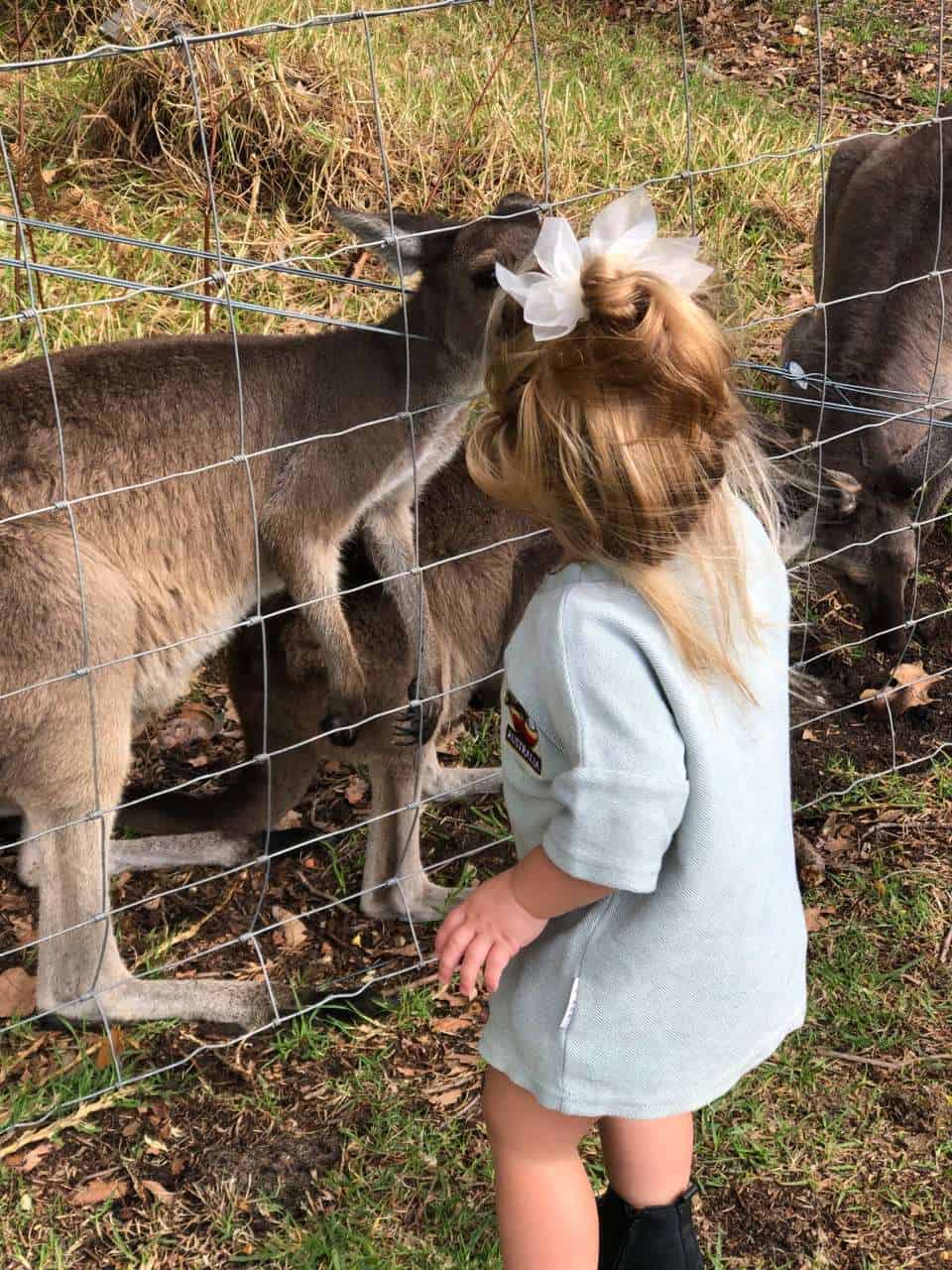 ⭐RATING: 9/10 | 🌏DISTANCE FROM MARGARET RIVER: 18km |📍LOCATION: 8113 Bussell Highway, Cowaramup WA | Google Maps | ✅BOOK IT!
✨Why You Should Choose BIG4 Taunton Farm Holiday Park
Smack bang in the heart of the Margaret River Region you'll find BIG4 Taunton Farm Holiday Park.
Conveniently situated just a short 20-minute drive north of Margaret River and a mere 5 minutes north of the charming town of Cowaramup, Taunton Farm offers a central location to explore the region's renowned wineries, delightful restaurants, and stunning beaches.
Accommodation options at Taunton Farm are diverse, catering to all preferences. Choose from cozy chalets suitable for 2-6 guests, powered and unpowered campsites, or even historical buildings available for special events and functions.
The park's powered sites are specifically designed to accommodate caravans, camper trailers, buses, motorhomes, and tents. Each site provides a grassed area shaded by trees and convenient access to excellent amenities. Immaculately maintained showers, toilets, and laundry facilities ensure a comfortable stay. Additionally, a pristine camp kitchen and BBQ area are available for guests to utilize.
While furry companions are welcome at Taunton Farm (excluding school holidays and long weekends), it is essential to inform the park in advance to make suitable arrangements.
Looking for travel advice for your visit to Margaret River? Join my friendly community over at Margaret River Travel Planning on Facebook to learn more about this beautiful part of the world and have all of your questions answered!
Best Dog Friendly Camping Margaret River
4.Big Valley Campsite
⭐RATING: 4.7/5 | 🌏DISTANCE FROM MARGARET RIVER: 13km |📍LOCATION: 46 Boronia Road, Rosa Glen WA | Google Maps | ✅BOOK IT!
✨Why You Should Choose Big Valley Campsite
Big Valley Campsite is a quaint, family-owned and run, working sheep farm a quick 10-minute drive through the hills South East of Margaret River.  Nestled amongst the hills and completely surrounded by natural forest.
If you're unable to fit camping supplies in your car as the space has been taken up by your ginormous hound, Big Valley offers camping necessities for hire, including bell tents for those of you who want to go glamping in Margaret River more (as there are no cabins at Big Valley). You'll also need to notify Big Valley about the size of your tent/caravan/RV so that they can give you a suitable spot.
For the RV or caravan campers, there is a dump point, which you can use even if you're not camping at Big Valley, but if you're not camping at Big Valley, you'll be charged $5.
There are two communal fire pits at allocated areas in which to gather around in cooler months (April-November—all other months, fires are prohibited), sing dog-friendly camping songs while comparing whose dog is best.
As you and your pup will get hungry, there is a campers kitchen provided, which contains everything to make a cuppa joe (or tea, if you're that way inclined), and good hearty meals: gas stove, barbeque, kettle, fridge, microwave, large bench space and even a TV.
For those of you who prefer to wash away the grime of the day, there are gas-heated showers that are hot 24/7 and in both of the camp sheds, there are paid washing machines. Washing lines are behind the sheds and laundry detergent and change are available at the office.
5.Olive Hill Farm
⭐RATING: 4.8/5 | 🌏DISTANCE FROM MARGARET RIVER: 13km |📍LOCATION: 232 Bramley River Road, Margaret River WA | Google Maps | ✅BOOK IT!
✨Why You Should Choose Olive Hill Farm
Olive Hill Farm is another great place if you're looking for dog-friendly camping in Margaret River. A mere 10 km outside of Margaret River, Olive Hill only caters for caravans and RVs, with the bays dotted around the olive grove.
ALL campervans, RVs and caravans MUST be self-contained. There are no kitchen facilities, toilets or showers. So you'd better make sure your dunny works or bring a portable toilet, else you'll have to drive into town every time you need to use the toilet. That means tenting isn't allowed unless you come with a caravan. Backpacker vans are also refused entry.
On the plus side, if you do have a toilet in your camper, there's a dump point there but only if you pay the fee of $5 per use. If you are watching your dollars and cents, there's a free dump point in town, at the west end of the Recreation Centre.
Potable water for drinking is available, and, two mornings a week (Mondays and Fridays), the owners of Olive Hill, bake fresh scones with jam and cream. I'm drooling more than Beethoven the Saint Bernard just thinking about them!
🤩Check Prices And Availability!
6.Alexandra Bridge Campground
⭐RATING: 4.4/5 | 🌏DISTANCE FROM MARGARET RIVER: 27km |📍LOCATION: 162 Clarke Drive, Alexandra Bridge WA | Google Maps
✨Why You Should Choose Alexandra Bridge Campground
Experience the sheer beauty of Alexandra Bridge Campground, a hidden gem waiting to be discovered! Nestled along the tranquil banks of the Blackwood River, this captivating campground offers breathtaking views and an abundance of wildlife. Whether you seek solace from the chaos of everyday life or yearn to reconnect with nature, Alexandra Bridge Campground is the idyllic destination.
Immerse yourself in a range of activities such as taking a refreshing dip in the crystal-clear water, indulging in fishing or canoeing adventures, and making use of the convenient boat ramp. The campground provides essential amenities including accessible toilets, invigorating cold showers, convenient gas barbeques, picnic tables, and well-maintained rubbish bins.
Please note that while there is no camp kitchen, laundry, hot water, power, or chemical dump point facilities available, the campground's enchanting surroundings make up for it.
7.Warner Glen Campground
⭐RATING: 4.7/5 | 🌏DISTANCE FROM MARGARET RIVER: 27km |📍LOCATION: Off Warner Glen Road, Schroeder WA | Google Maps
✨Why You Should Choose Warner Glen Campground
Discover the enchanting Warner Glen Campground, also known as Chapman Pool, a delightful DPAW camping destination. Nestled alongside Chapman Brook, where it merges with the Blackwood River, this picturesque campsite in Margaret River offers nine individual sites and a charming open area that comfortably accommodates five tents for group camping.
Favored by families, this campground provides a small beach that is ideal for swimming and serves as a convenient launch point for kayaks and canoes. Embark on a serene downstream paddle, leading you to the captivating Blackwood River. Additionally, a delightful bushwalking trail meanders along the scenic riverbank, offering a refreshing outdoor experience.
Warner Glen Campground features undercover gas BBQs, well-maintained drop toilets, and convenient picnic benches. When permitted, fires can be enjoyed, but it's important to check for the latest advice, as with all our pristine bush campgrounds, to ensure compliance with fire regulations.
Please note.  Like Alexandra Bridge, this place is very popular during the school holidays (even without showers). You cannot make bookings to reserve campsites.  So again, please have a backup plan if this campsite is full.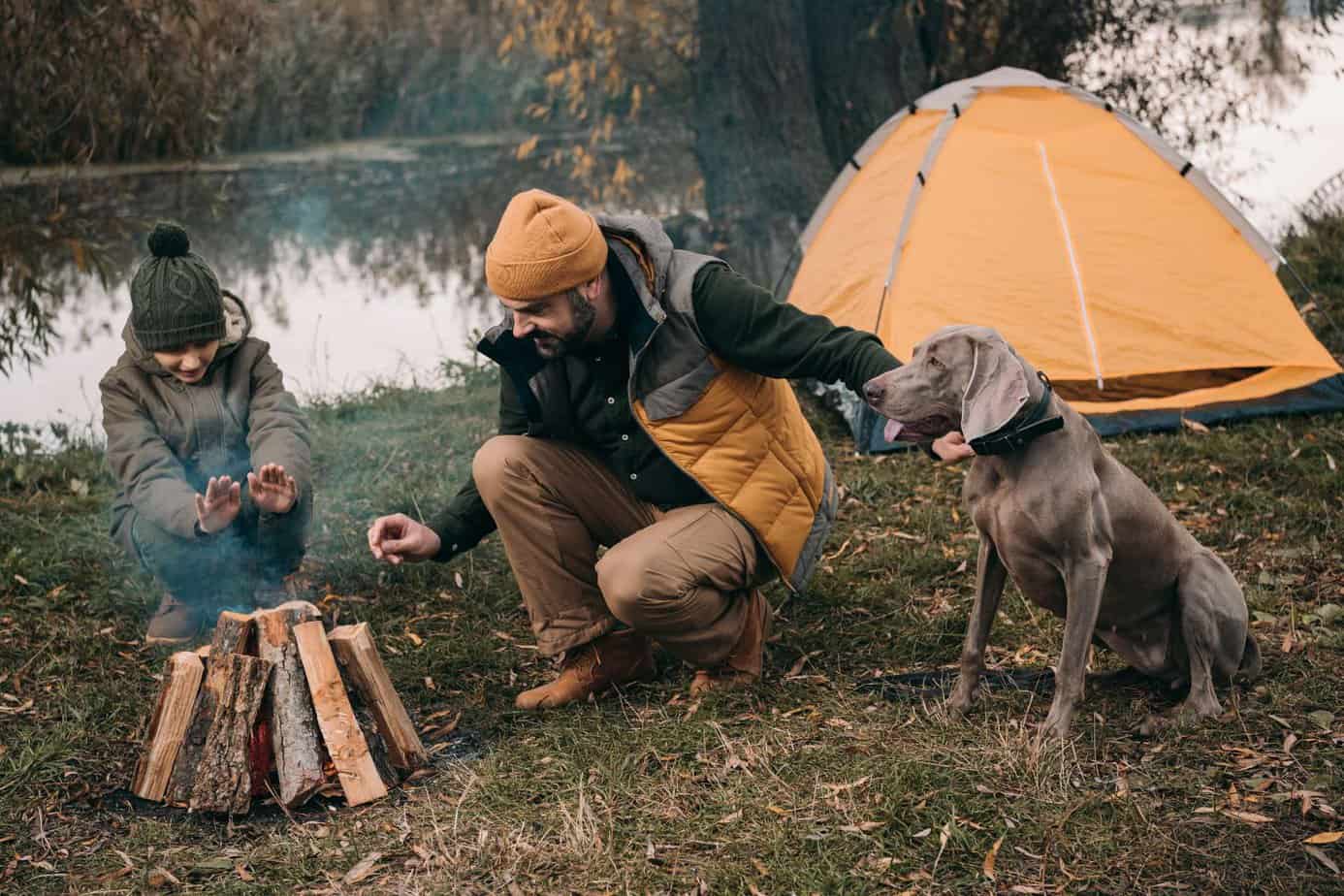 8.Canebrake Pool Campground
⭐RATING: 4.6/5 | 🌏DISTANCE FROM MARGARET RIVER: 26km |📍LOCATION: Crossing Road and Cane Brake Road, Treeton WA | Google Maps
✨Why You Should Choose Canebreak Pool Campground
Canebrake Pool Campground is located on the edge of Margaret River. This Margaret River camping grounds feels "off the beaten track'" as the road conditions can vary throughout the year and is often quite corrugated. It offers capacity for nine tents or campers but does have a large open area for day use.
The pool itself is fresh water and easily accessible from the main carpark. It is perfect for activities like kayaking, swimming, or as a picnic spot in Margaret River.
There are picnic tables, fire rings, and drop toilets and most often fires can be lit April-November. Once again it is very important to check up-to-date bushfire advice first. These sites cannot be pre-booked so have a backup plan in place!
9.Sues Bridge Campground
⭐RATING: 4.4/5 | 🌏DISTANCE FROM MARGARET RIVER: 56km |📍LOCATION: Sues Road, Schroeder WA | Google Maps
✨Why You Should Choose Sues Bridge Campground
Sues Bridge Campground is on the banks of the Blackwood River between Margaret River and Nannup, making it a great option for camping Margaret River Region. This Margaret River camping sites has 25 sites suitable for swags, tents, small campers and larger vans. Two of these sites and toilet facilities are wheelchair accessible. These sites can not be pre-booked.
Sue's Bridge also has an area for day-trippers and with its convenient access to the Blackwood River, it's perfect for activities such as kayaking, canoeing, swimming or picnics by the river.
Sue's Bridge has facilities such as covered picnic tables, gas BBQs, cold-water taps and food preparation surfaces. There are also fire pits and fire rings for use when fires are permitted.
Tips from a Local
My family and I have lived in Margaret River for 6 years with our Siberian Husky named Buddy, so I thought I'd include some information and recommendations that I thought you might find beneficial to your trip. This is so that in Margaret River, camping with your dog is easy.
Dog-Friendly Travel Tips
Don't forget, when traveling with your cuddly canine, make sure you bring adequate food, water (especially in warmer months), bedding, and shade, and make sure that if you're walking the streets in the hotter months, don't do it in the middle of the day without covering your dog's feet.  People often forget because we don't feel the heat of the pavement through our shoes.
Check out the Bureau of Meterology to see whether or not your dog will have to play 'the floor is lava'.
🐶Wondering what to pack when taking your dog on holiday? Check out this Ultimate Guide For What To Bring When Travelling With A Dog! 🐶
Dog-Friendly Ways To Travel
Unfortunately, unless you're using your own vehicle to travel in, and unless your dog is an assistance dog, it will not be allowed on any public transport in the Margaret River area. You'll just have to rely on your own 6 feet to get you around.
Don't be disheartened though, there's a plethora of places to walk and things to do while you walk… (see below!)
Dog-Friendly Things To Do
Obviously, the number one thing to do would be to take your dog to the beach with their favorite ball,.  You could wander around town like a happy-go-lucky swagman of days gone by, finding a Dog-Friendly Restaurant or cafe at which to stop and grab some tucker for your bag—or your dog's, whichever works.
Perhaps, if you feel like something a little stronger than just coffee and cakes, you and your fur-baby could visit a Dog-Friendly Winery or two, and buy a bottle of red for when you're back home and counting down the days till you can go on holiday once more…
Another thing to note.  Sometimes, to keep unwanted feral animals at a minimum, baits are dropped throughout the national parks.  If a park has been recently dropped—there will be signs if it has, don't take your pooch into the park or they might be "dropped" too.
And again, take plenty of water for both you and your tail-wagger, even if you don't think you'll need it.
Dog-Friendly Day Care
Even the most perfect relationships have been known to contain a disagreement or two.  So if you need "20 minutes", ('Bluey again), for yourself—Or you think your mongrel needs 20 minutes, check out Michelle's dog-sitting service, Margaret River All 4 Pets. 
Margaret River All 4 Pets is open 9 am – 5 pm, 7 days a week, so it doesn't matter what days you're camping, making it easy for everyone.  The number to call is +61 439 682 906.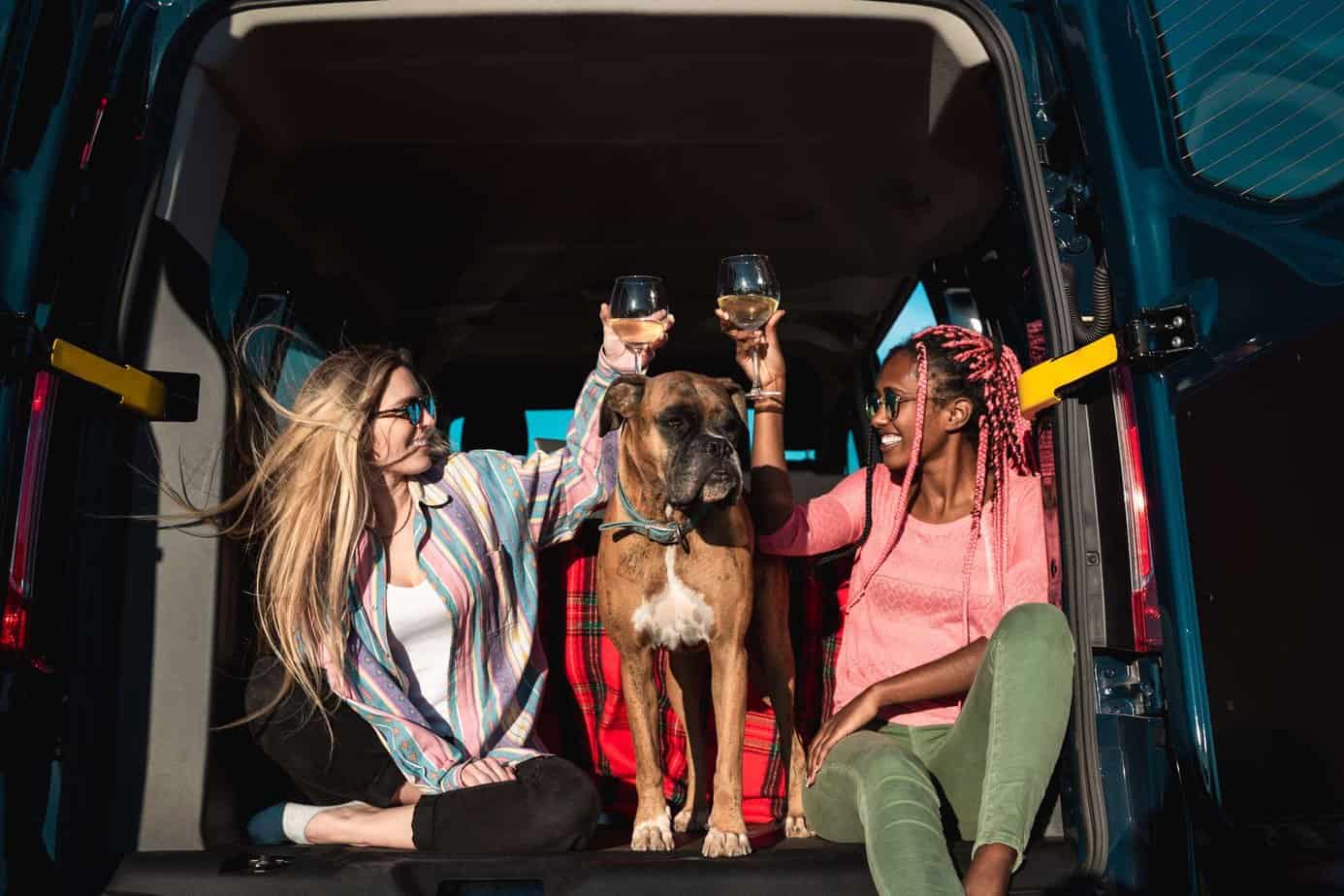 Wrapping Up: Pet Friendly Camping Margaret River
There you have it.  A thorough exploration of dog-friendly camping in Margaret River, complete with lists of things to see and places to go.  Use this opportunity to unwind, relax, and reconnect with your family.
So from me and my family, I hope you enjoyed your dog-friendly camping trip in the South West.
If you visit Margaret River with your dog, don't forget to follow us on Instagram @accommodationmargaretriver and tag us in any pictures of you and your dog!
Related Posts
Australia Travel Planning Guide
🚑Should I buy Australian travel insurance?
100% YES! — Australia has "free" healthcare but it's only for citizens and permanent residents. Foreigners visiting need travel insurance in case anything happens on their visit. I like SafetyWing – their Nomad Insurance starts at just $1.50 USD a day!
🚗Should I rent a car in Australia?
Yes — Renting a car is a necessity in most of Australia! If you want to go on road trips or adventures outside of the major cities, and even if you're staying in a major city, you'll want to rent a car. If you are visiting Margaret River, it will be even more important that you hire a car, you'll need it to be able to get around and see all the great attractions and wineries!
🏨What's the best way to book my Australian accommodation?
My go-to for Australian hotels is Booking.com. Pretty much all registered accommodation use Booking.com (but not necessarily any of the other major booking platforms), and even most of the holiday homes and caravan parks use Booking.com too!
If you're planning a trip to Australia where you will stay at multiple locations, it's super handy to have all your accommodation listed in one place, and accommodation owners like Booking.com because it's easy to contact the guests using the messaging platform if the guest has an international phone number.
I sincerely hope you enjoy your visit to Margaret River!