Cities In Western Australia: LOCALS Guide [2023]
ARE YOU LOOKING FOR A DESCRIPTION OF THE MAJOR CITIES IN WESTERN AUSTRALIA? And wondering if you should visit any of them?
Then you have come to the right place!
Below, you will find a list of the 11 "major" cities in Western Australia, their population, where you can find them, their distance from Perth, and a little bit of information about them.
I'm a Western Australian local who has lived in WA for my whole life, and I've traveled the state from top to bottom (which is lucky because I've hardly left WA haha) so I am the perfect person to tell you about all of the cities in Western Australia.
But first. What makes a city? There's a bit of contention about this (why did I assume it would be something simple?) Some people say it needs a population of 20,000, others say 100,000, and some say it has to do with population density and the presence of certain institutions like markets and public services.
Given that WA doesn't have a massive population to begin with, I'm going to go with the definition of "an area in which a large number of people live fairly close together" even if that large number is only 7,000 people 🤣
I've also decided to list the cities themselves, and not their local government areas, because I think that's probably what you're here for, right? You want to know about the cities and not the shires/councils they belong to?
Ok, enough chit chat, let's get into it!
This article contains some affiliate links which means that I may earn a small commission when you click on them, at no additional cost to you. I do hope you find the information in this article helpful!
11 Largest Cities in Western Australia From Biggest To Smallest
1.Perth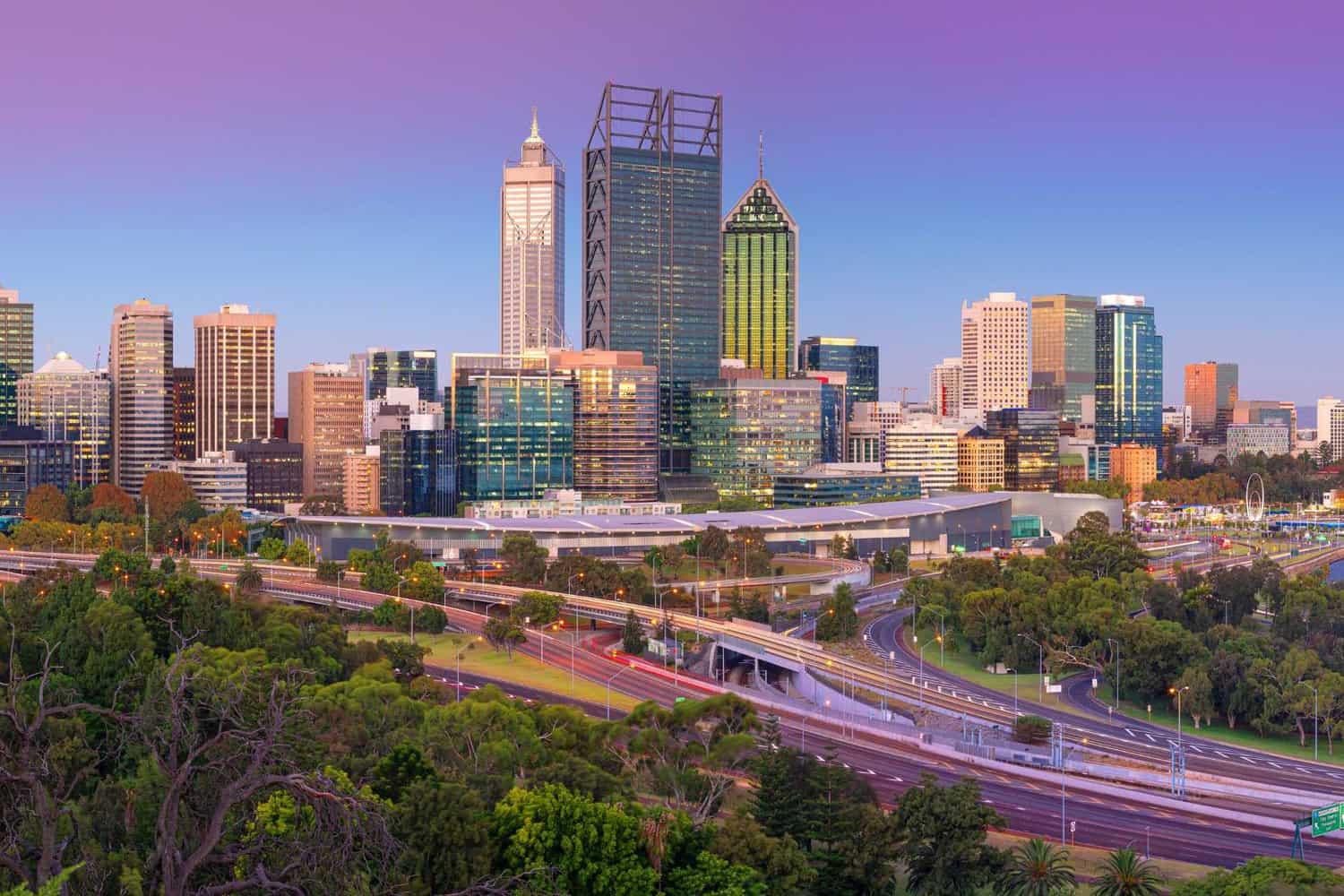 🧑Population: 2,043,762 (2021)
🌏Region: Perth Metropolitan Region, Peel
📍Distance From Perth: 0km | Google Maps
Perth is the capital and largest city of Western Australia, located in the southwestern corner of the continent of Australia. It is home to around 2 million people, making it Australia's fourth most populous cities. The city is known for its relaxed atmosphere, stunning beaches and parks, vibrant nightlife, and proximity to attractions such as Rottnest Island and the Perth Mint. Despite its size, Perth still has a small-town feel, and is known for its warm hospitality and laid-back charm.
2.Bunbury
🧑Population: 75,196 (2021)
🌏Region: South West
📍Distance From Perth: 168km | Google Maps
Bunbury is a coastal city located in the south west region of Western Australia, around 168km south of Perth. It's known for its laid-back atmosphere and stunning beaches, and is also a worthy pit stop on a road trip to the popular Margaret River. With plenty of activities such as swimming with dolphins, and the stunning Ferguson Valley, Bunbury is the perfect place to relax and enjoy some nature. There are also plenty of cafes, restaurants and bars, as well as its picturesque parks and gardens, so you'll never be bored during your visit.
3.Geraldton
🧑Population: 32,717 (2021)
🌏Region: Mid West
📍Distance From Perth: 419km | Google Maps
Geraldton is a coastal city located in the Mid West region of Western Australia, approximately 419km north of Perth. It's known as being the sunniest city in Western Australia with 164 clear days annually, and offers loads of outdoor activities such as fishing and camping, as well as being a gateway to Kalbarri, Exmouth and the Ningaloo Reef which is much further north. The Port of Geraldton is a major west coast seaport, while the Western Australia Museum at the marina in Geraldton hosts a permanent exhibit on Yamatji/Wajarri (Aboriginal) culture and history of the region.
🚗Looking to get around via car? Find the cheapest car rentals here!
4.Albany
🧑Population: 31,128 (2021)
🌏Region: Great Southern
📍Distance From Perth: 417km | Google Maps
I grew up not too far from Albany, so maybe I'm biased, but I really love Albany. It's a charming coastal town located in the Great Southern region of Western Australia, approximately 417km south of Perth. It's home of the National ANZAC Centre, The Gap, The Whaling Station, the Granite Skywalk in Porongurup National Park and wine regions in Mount Barker and Denmark.
Heaps to see and do here! If you have the time during your visit to Western Australia, try and incorporate a loop from Perth down to Margaret River, then over to Albany over a few days (don't rush this road trip!)
5.Kalgoorlie-Boulder
🧑Population: 29,068 (2021)
🌏Region: Goldfields-Esperance
📍Distance From Perth: 592km | Google Maps
Kalgoorlie-Boulder is the largest city in Western Australia's Goldfields-Esperance region. Located at the heart of the state's "Golden Mile", it has a rich and fascinating history that dates back to 1893, when gold was first discovered here during the Western Australian gold rush. It also boasts impressive historic architecture, and the iconic Super Pit gold mine which has been a major open-cut gold mine for many years. Visitors to Kalgoorlie-Boulder can explore the unique outback culture, visit one of its many museums, experience the much cherished game of Two Up, or just have a beer in one of its historic pubs!
A visit to Kalgoorlie-Boulder combines well with a visit south to Esperance, then across to Albany and Margaret River before heading back to Perth.
6.Busselton
🧑Population: 27,233 (2021)
🌏Region: South West
📍Distance From Perth: 221km | Google Maps
Busselton is a gorgeous coastal city located in the South West region of Western Australia, approximately 221km south-west of Perth. It's well known for the Busselton Jetty, which is the longest wooden jetty in the Southern Hemisphere and extends almost two kilometres out to sea! It's also the gateway to the nearby Margaret River wine region which is just a short drive away. I have a spent a lot of time over the years in Busselton, as Geographe Bay is an excellent holiday destination, particularly for families.
7.Karratha
🧑Population: 17,013 (2021)
🌏Region: Pilbara
📍Distance From Perth: 1,526km | Google Maps
Karratha is a remote city located in the Pilbara region of Western Australia, approximately 1,526km north of Perth. This isolated city is mostly known as a mining town, but it's also a great base to explore some of the natural wonders in nearby Karijini National Park, Millstream-Chichester National Park, Dampier Archipelago, Point Samson Peninsula and the Burrup Peninsula. Ningaloo Reef is also just 350 kilometres to the east. Karratha is a vibrant city with plenty of recreational activities and attractions for visitors to explore!
I spent a year working up in Pannawonica when I was younger, and it is a beautiful place to visit, but I would caution against coming here unless you have TIME. You will not be able to do this region any justice if you think you can visit here on a one week holiday. Save the north-west for when you have at least a month to really have a proper look.
8.Port Hedland
🧑Population: 15,298 (2021)
🌏Region: Pilbara
📍Distance From Perth: 1,619km | Google Maps
Port Hedland is a bustling Indian Ocean port in the Pilbara region of Western Australia. Not only is it home to some incredible industrial sights (like enormous ships and huge trains), but there are also plenty of ocean-based activities to enjoy here, such as fishing, crabbing and whale watching (in season). Visit during turtle nesting season for an unforgettable experience!
But the main reason to visit Port Hedland is for its natural spectacle – the Staircase to the Moon. Best viewed from Cooke Point between March and October, this natural phenomenon occurs when the full moon rises over the exposed mudflats at extremely low tide, creating the optical illusion of a staircase reaching to the moon. It's a beautiful sight to behold and definitely worth the trip!
As with a visit to Karratha, Port Hedland is an out-of-the-box holiday destination, but don't think you can rush it as a quick road trip. The distances are waaaay too far to drive from Perth and back in a short period of time.
9.Broome
🧑Population: 14,660 (2021)
🌏Region: Kimberley
📍Distance From Perth: 2,046km | Google Maps
Broome is a must-visit destination for anyone looking to explore the wild and remote Kimberley region of Western Australia. It's an eclectic melting pot of multicultural influences, with pearl boutiques sitting alongside laid-back breweries and activities ranging from Sunset Camel Rides On Cable Beach, Pearling History Tours, the Edgar Ranges and Mud Crabbing. Broome has a vibe unlike anywhere else, and offers a true escape from the hustle and bustle of everyday life.
10.Esperance
🧑Population: 10,218 (2021)
🌏Region: Goldfields-Esperance
📍Distance From Perth: 698km | Google Maps
Esperance is the ultimate destination for those looking to escape the hustle and bustle of everyday life. With its pristine white beaches, crystal clear waters and rugged coastline, Esperance offers a truly unique holiday experience. From fishing, diving and sailing in aquamarine bays to exploring the untouched wilderness of Cape Le Grand National Park, you're sure to find something exciting here.
Locals Tip: Esperance comes highly recommended, it has some of the best beaches you'll ever see in your life, but be aware it is at least an 8-hour drive from Perth, so don't just come here for a day or two. Ideally, spend at least a week here, even better if you can road trip south from Perth to Margaret River, across to Albany, then Esperance, up to Kalgoorlie, across to Wave Rock, up to the Pinnacles and then back to Perth.
11.Margaret River
🧑Population: 7,430 (2021)
🌏Region: South West
📍Distance From Perth: 270km | Google Maps
I'm a Margaret River resident, and have been for the last 7 years. There is so much to see and do in Margaret River, hence why it's one of the premium tourist destinations of Australia! I'm a little cheeky including it on this list of Western Australian cities, as it only has a population of 7,430 people, but it definitely punches above it's weight in terms of activities in a small location! There's Wine Tours, Whale Watching, Caves, Canoe River Tours, Lighthouses, as well as over 120 Wineries, 14 Breweries, beautiful beaches, and award-winning Luxury Accommodation. I'll just say this – visit Margaret River!
Summing Up: Cities In Western Australia
From the remote and secluded beauty of Broome, to the bustling vibes of Perth, there is no shortage of exciting cities in Western Australia that you can explore. Whether you're looking for a holiday destination close to home or an adventure further out into the untouched wilderness, Western Australia has something for everyone. From white-sand beaches and crystal-clear waters, to vibrant cultural hubs and award-winning wineries, you're sure to find something for everyone. So get out there and explore!
Related Posts: