Where Is Perth? A LOCAL Answers Your Questions! [2023]
Where is Perth?
Maybe you haven't heard of Perth before, of course, it's easy to miss. It's a mid-size city on the west coast of Australia – most people have heard of Sydney and Melbourne, but Perth is considerably smaller, and it also holds the dubious title of the world's most isolated city, as well as the world's longest city.
There are quite a few things that make Perth distinctly, well, Perth. From the Fremantle Doctor, to the saying, "It's a dry heat," to our inability to use roundabouts properly. We are also extremely close to South-East Asia, and it's faster and cheaper for Western Australians to fly to Bali than it is to fly to Sydney (which is what people here tend to do!)
I've given you some hints now, so are you still trying to figure out where Australia Perth is and why it's considered a great tourist destination?
Well, if so, you have come to the right place!
As a born and bred Western Australia, living in the state for all of my 35 years, I know a thing or two about Perth. When I was a kid, we lived 230km from Perth, and we used to go there every week or two, for the trots, the races, to watch my parent's beloved footy team play, or just to go shopping at Westfield Carousel (for the record, I would not go near that place now, but I spent a lot of time there in the 90s!).
When I left home, I did what most people from the country do, I moved to Perth, and that's where I lived for 4 years while I studied at Curtin University. That was a while ago now, and I live a little further away now, but I still go to Perth all the time to visit friends and run errands, so you could say I know a thing or two about Perth!
Perth has beautiful beaches, lush parks, excellent nightlife, and a vibrant culture, so it's easy to see why so many people flock to this Western Australian city each year. But where is Perth located? And what's there? And what else is there to know about the most isolated city in the world? Read on to find out!
Where Is Perth Located?
📍Perth | Google Maps
The city of Perth (also known as Boorloo in Nyungar), is located in the south-west corner of Australia, and it is both the capital city and the largest city of Western Australia. It is located on the Swan Coastal Plain, which lies between the Indian Ocean and Darling Range.
It's the fourth most populous city in Australia and Oceania with a population of over 2.1 million people, which is also over 80% of the population of the entire state of Western Australia. It's no surprise then that Perth has become an important hub for tourism, major events, and business opportunities in Australia.
Perth is located at 31°57′8″S 115°51′32″E. It is bordered by the Indian Ocean to the west, with several suburbs, including the CBD (Central Business District) of Perth, located along the banks of the Swan River.
The city itself stretches over 6,417.9 km2 (2,478.0 sq mi) as it's area, and covers 30 different LGA's (Local Government Areas, or shires).
If you're planning to take a road trip from Perth to another Australian capital city, here's an overview of the distances between them by road:
Perth to Sydney: 3,934km
Perth to Melbourne: 3,421km
Perth to Brisbane: 4,341km
Perth to Adelaide: 2,695km
Perth to Canberra: 3,719km
Perth to Hobart: 4,102km (includes a ferry ride)
Perth to Darwin: 3,720km
How close is Perth to our closest Asian neighbours? This is a slightly different list, as there is an ocean to cross, so I've just done the direct distance between the two cities as a comparison:
Perth to Bali: 2,619km
Perth to Denpasar: 2,592km
Perth to Singapore: 3,907km
Perth to Kuala Lumpur: 4,179km
Perth to Ho Chi Minh City: 4,857km
Perth to Manila: 5,205km
Perth to Bangkok: 5,337km
As you can see, Perth is a long way from anywhere! But actually reasonably close to several Asian cities when you compare the difference between Perth and other Australian cities. Actually, 18 out of 20 of the largest Asian cities are closer to Perth than they are Brisbane, Melbourne or Sydney!
It's said that Perth is the "most isolated city in the world", and it's true – it would take you over 30 hours to drive to the nearest city of Adelaide! However, this isolation also means that there are plenty of unique experiences just waiting to be explored!
Importance of Perth's Location
Perth is located in an ideal spot, near many of the world's most populous cities in Asia, which means it offers unique investment opportunities in energy, minerals, tourism & hospitality, education and agriculture & food.
Not only that but with its wealth of natural resources (including gold and iron ore), Perth is a great place for businesses of all sizes to thrive. This makes investing in Perth an attractive option for those looking to make a return on their investments.
All of this just goes to show the importance of the location of Perth, and how its positioning has contributed to its growth and development.
Perth's close proximity to Asia makes it an ideal gateway for businesses looking to take advantage of the Asian markets. Its strategic location provides easy access to some of the world's fastest-growing economies, such as Indonesia, Malaysia, and China.
This has made Perth a hotspot for investors, with many companies setting up bases in the city to take advantage of the opportunities that come with being near Asia. It also means that businesses can capitalize on the increasingly globalized nature of the world economy, and benefit from the unique cross-cultural opportunities available.
In addition to this, Perth's natural resources make it a great place for companies to invest in the mining and energy sectors. The city has been a major player in the Australian resources industry for decades, with many of Australia's major mines located in Western Australia.
Cultural Significance and Demographics of Perth
Both Perth's isolation and its immigration into the state have helped shape its unique culture and sense of identity.
As Perth is home to such a diverse range of people, it has become known as an incredibly multicultural city. In 2019, nearly one in ten (9.5%) Perth residents were born in England, while 3.1% are from New Zealand, 1.8% are South Africans, Indians make up 1.6%, and Malays represent 1.4% of Perth's population. This is a significantly higher percentage as percentage of the population than the rest of the country.
The influx of residents from around the world has helped to shape the culture and identity of Perth, making it a vibrant place with an array of stories and experiences. With such a diverse range of people living in Perth, there are countless places to explore and aspects to discover.
This sense of belonging has led to an appreciation for the unique lifestyle that is associated with the West. Whether it's the sun-soaked beaches, the relaxed pace of life, or the city's vibrant spirit, there is something truly special about living in Perth.
It is also a city that loves to celebrate its culture. With an array of festivals and events taking place throughout the year – from music and theatre performances to food and wine celebrations, there is something for everyone. This vibrant culture helps to create a unique atmosphere in Perth that makes it an attractive destination for both locals and visitors alike.
Weather & Climate in Perth
Perth's weather and climate is perfect for those who love sunshine, warm temperatures and the great outdoors! With a Mediterranean climate, Perth experiences hot, dry summers and mild winters with plenty of rain. Average summer temperatures range from 16°C to 30°C while winter temperatures usually stay between 5°C and 18°C.
The city enjoys clear blue skies for 70% of the year, or 147 sunny days and 121 partly sunny days annually, making it the sunniest capital city in Australia!
The best time to visit Perth is typically from October to April when temperatures are warm and pleasant. During summer, temperatures can reach 35°C or more with hot northerly winds at times. While winter brings cool days and some rainy days, most of the rain falls between May and September with an average annual rainfall of 790mm.
Personally, my favourite season is Autumn, so between March and May, as the weather cools down and the rain begins. I love when all the paddocks and fields start turning green again after being golden and dusty for a few months over summer! And nothing beats being inside with a fire while listening to the rain fall on the tin roof. That's just me though!
The weather in Perth can vary depending on which area you're staying. The inner-city suburbs tend to have hotter summers than the coastal areas like Fremantle and Cottesloe, while the eastern hills and outer suburbs are generally cooler.
Attractions & Activities
Perth offers a wealth of attractions and activities for visitors to explore. Nature lovers will be spoilt for choice! The city and surrounding region boast some of the most spectacular beaches in Australia, from popular surf spots such as Cottesloe Beach to serene white sand beaches like Trigg Beach (check out the live Trigg Beach Live Cam!).
You're a short ferry ride from Rottnest Island and having your photo taken with a Quokka, and there's also plenty of stunning nature reserves and National Parks, from Kings Park in the city to peaceful Yanchep National Park, just a short drive away.
For shopping and dining, Perth is home to some of the best malls and restaurants in Australia. Head to Hay Street Mall for big-brand stores or wander through the bustling laneways of Fremantle – you'll always find something to suit your taste.
Sports and entertainment options are also plenty in Perth. Watch some of the biggest names in music perform at Optus Stadium, or explore the city's vibrant theatre scene with a show at His Majesty's Theatre or Subiaco Arts Centre. There are also plenty of sports teams to support, from AFL to cricket and soccer.
No matter what you're into, there's an activity or attraction in Perth that will appeal to you! With its natural beauty, vibrant culture and endless entertainment options, it's no wonder that Perth remains one of Australia's top tourist destinations.
It's also the gateway to the regions of Western Australia, and I'm probably bias, but I think Margaret River and it's many attractions make it the best place on Earth.
Transportation
Perth has all the transport you need to explore everything the city has to offer. The public transport system (known as Transperth) includes buses, trains and ferries, as well as a free CAT bus service in the Perth CBD which is a great way to get around.
There are also plenty of car rental companies, so self-driving is an option for those who prefer to explore on their own. Ride-sharing services such as Uber and Ola are also available in Perth.
Perth Airport is the fourth busiest airport in Australia and offers direct international flights to major cities around the world, making it easy to get in and out of the city. The airport is conveniently located just 16km away from the CBD by car, making it easy to access by taxi, car or public transport.
Pros And Cons Of Living In Perth
Wondering what it's lie to live in Perth? Here is a brief list of what I think are the main pros and cons of living in Perth:
Pros:
The laidback lifestyle: As Australia's most isolated capital city, Perth offers a relaxed way of life that allows you to slow down but still be productive. In fact, our nickname to other states is WA – Wait Awhile, and I think that's fairly accurate of life here!
Stunning coastlines: I think you'll find the best beaches in Perth and WA, for fishing, surfing and swimming.
Location: Perth is the gateway to many of Western Australia's most beautiful regions, such as Margaret River and Ningaloo Reef. It's easy to make day trips or longer getaways from the city, and it's only a few hours flight away from other major cities across Australia and across most of Asia.
Time Zone: If you do a lot of business in Asia, you'll be interested to know that WA is in the same time zones as China, Hong Kong, Singapore, Malaysia, Indonesia, Taiwan, Brunei and Macao.
Affordability in comparison to other capital cities: The cost of living in Perth is relatively low compared to other capital cities, which makes it appealing for those looking to make the move.
Weather: Perth is known for its sunshine – the city averages more than 8 hours of sunshine each day! This makes it ideal for outdoor activities and taking advantage of the city's natural beauty.
Transport: Perth has an efficient public transport system, including buses, trains and ferries that make getting around the city easy and affordable.
Cons:
Distance from other cities: Being Australia's most isolated capital city, Perth is quite far from other major cities in Australia, which can make traveling to these places difficult and expensive.
High cost of living in comparison to some regional areas: While the cost of living in Perth is relatively low compared to other capital cities, it's still higher than some regional towns and rural areas in Western Australia, especially when it comes to housing (a problem not unique to Western Australia!)
Lack of job opportunities: Perth's economy is largely dependent on the mining and energy sectors, which means there can be a lack of job opportunities in other industries such as finance or technology.
Climate: While Perth has plenty of sunshine throughout the year, it can also experience some extreme weather conditions. The summers are hot and dry, while the winters are cold and wet.
FAQ: Where Is Perth?
Is Perth a City?
Yes, Perth is the capital city of Western Australia. It is located on the southwest coast of the state and has a population of around 2 million people.
Is Perth a Country?
No, Perth is not a country. It is the capital city of Western Australia, which is part of the Commonwealth of Australia.
Is Perth a State?
No, Perth is not a state. It is the capital city of Western Australia, which is one of the six states that make up the Commonwealth of Australia.
Is Perth in Australia?
Yes, the Perth I talk about in this article is located in the state of Western Australia, which is part of the Commonwealth of Australia. There are, however, at least 4 other Perth's in the world. There is a Perth in Ontario (Canada), New York (USA), Scotland (United Kingdom), and Tasmania (Australia).
Is Perth in Western Australia?
Yes, Perth is the capital city of Western Australia and located on the southwest coast of the state with a population of around 2 million people.
What State is Perth the Capital City of?
Did you just get the crossword question: Perth is the capital of which Australian state? Here's the answer: Western Australia.
Where is Perth in Australia?
Perth is the capital and largest city of Western Australia. It's located in the southwestern part of the continent, about 4,000km from the east coast of Australia. It's situated along the banks of the Swan River and is bordered by Indian Ocean waters to the west.
How Many People Live In Perth?
As of 2023, Perth has an estimated population of 2.1 million people. This makes it the fourth most populous city in Australia after Sydney, Melbourne and Brisbane.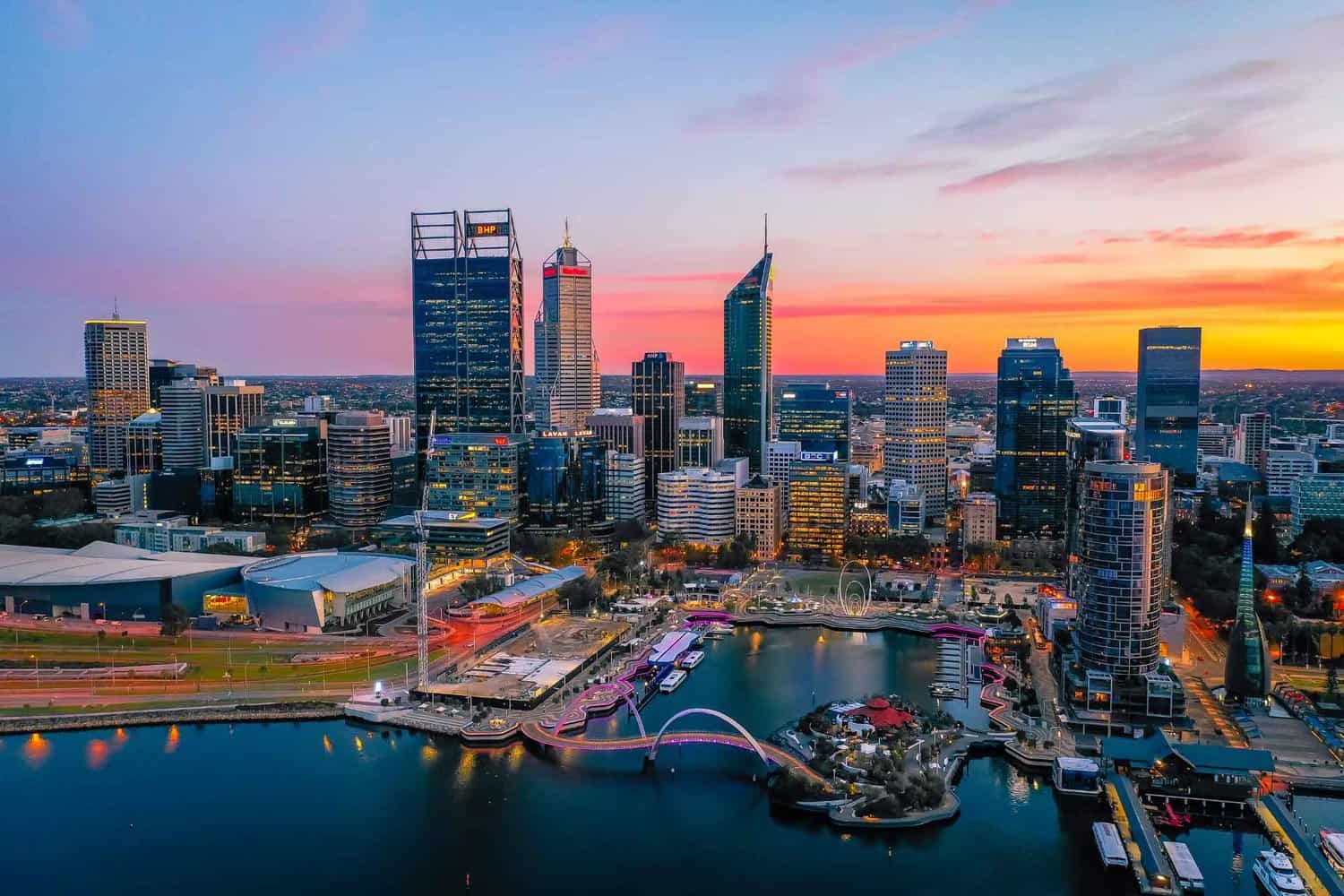 What is the City of Perth Population?
The City of Perth LGA (or CBD Perth) covers the Perth city centre and the surrounding suburbs, covering 20 square kilometers. As it is mostly a place of offices and shops, and not that many residents, it's not surprising that the Perth City has a population of roughly 21,000 people.
What is the Capital City of Western Australia?
The capital city of Western Australia is Perth, located in the southwest corner of the vast country of Australia.
Is it Expensive to Live in Perth Western Australia Australia?
The cost of living in Perth is relatively low compared to other capital cities in Australia, however it can still be expensive depending on where you live and what your lifestyle is like.
Why Do People Go To Perth WA Australia?
Perth is an extremely popular destination for people looking to enjoy sun, surf and sand on the beautiful beaches of the city. It's also a great place to explore unique wildlife, experience a vibrant nightlife and enjoy delicious food. It's also the gateway to regional destinations that are simply amazing, such as Margaret River, Pemberton, Albany, Esperance, Kalbarri and Exmouth, just to name a few.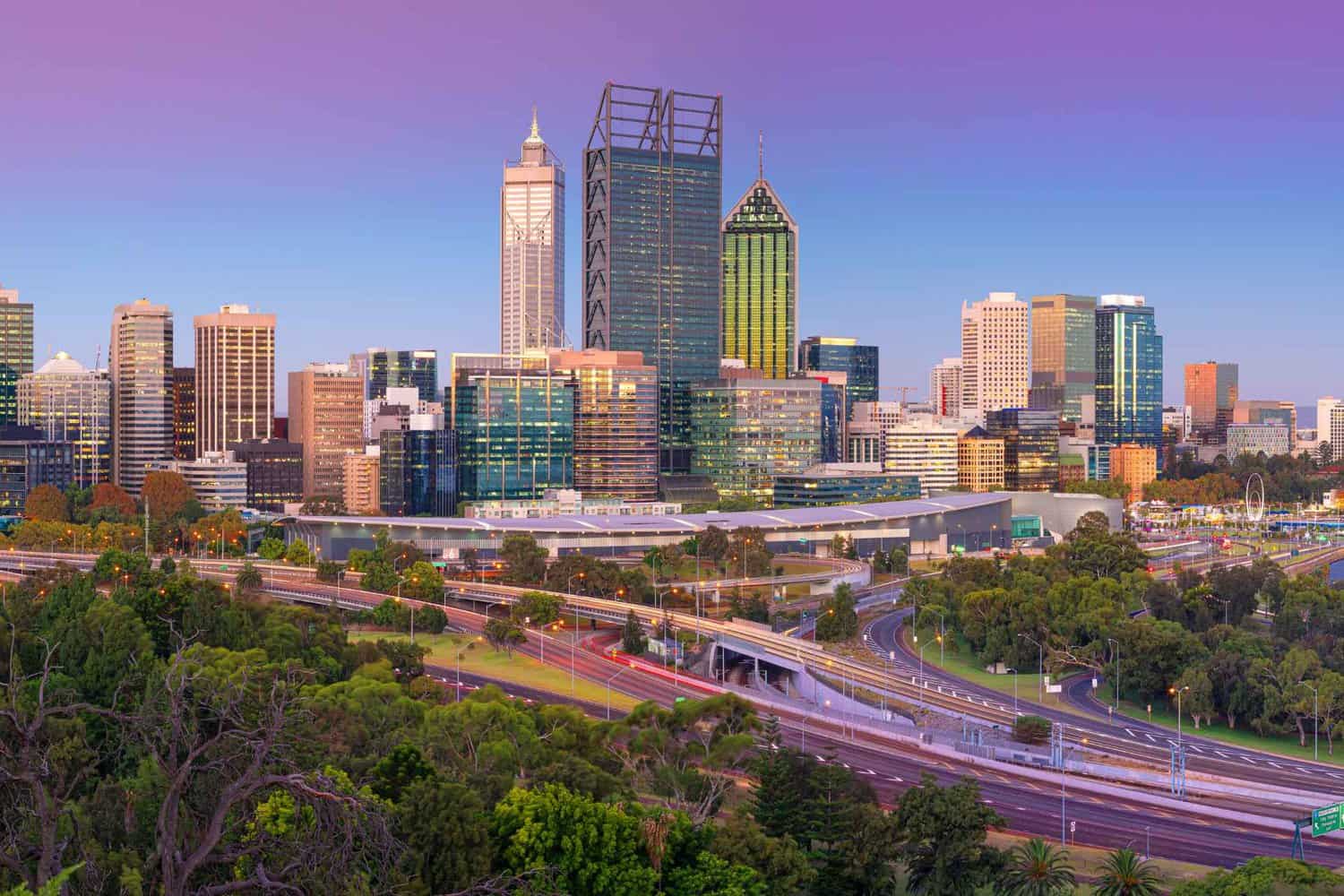 What is a Person From Perth Called?
A person from Perth is often referred to as a 'Perthite.' This term is not just for natives of the city, but also those who have recently moved to the area. Personally, I refer to someone from Perth as "someone from Perth," but each to their own!
Can You Live In Perth Without A Car?
Yes, you can live in Perth without a car, but depending on your lifestyle, this can be difficult. If you can find somewhere to live near public transport, shops and your job, then you can make it work. Personally, I would rather a car to live in Perth, as I find it gives you more freedom to do things.
What Are Perth People Like?
Perth people are friendly and easy going. They tend to be relaxed and enjoy spending time outdoors. This can be seen in the city's many parks and beaches which are popular spots to relax. People of Perth also love to get together with friends and family over good food, drinks and conversation. It's true when people say we have a very laid-back and "she'll be right" lifestyle!
Do People From Perth Have An Accent?
As I have worked in hospitality for quite some time, both in Perth and regional Western Australia, I think I'm pretty good at picking out the differences in accents across Australia. I can generally tell if someone is from Melbourne, Sydney or Brisbane, or from their nearby regional areas. I can also generally tell the difference between someone from Perth and someone from regional Western Australia. Not everyone will be able to tell the difference, but I definitely think that people from Perth have a unique, albeit subtle, accent compared to the rest of Australia.
What Do You Call Someone From Western Australia?
The well-known name that Australians seem to call people from Western Australians is "sandgroper." There is generally two theories why we're called that. The first is inspired by the sandgroper, an endemic insect that lives in Western Australia. Sandgropers are well-adapted to surviving and thriving in the sandy soils of our coastal regions, often digging deep burrows beneath the surface. The second is presumably because there's a lot of sand in WA.
What Is The Dominant Language Of Perth?
The dominant language of Perth is English. However, there are also a variety of other languages spoken across the city, as we have a lot of immigrants that have moved to our city. Italian, Malay, Greek and Mandarin are some of the languages spoken in Perth. Indigenous Australian languages are also spoken in Perth, and across the state of Western Australia more broadly.
What Are The Perth Demographics?
Close to 10% of the population of Perth in 2019 were born in England, while New Zealanders accounted for 3.1%, South Africans made up 1.8%, Indians comprised 1.6%, and Malaysians represented the remaining 1.4%.
Conclusion: Perth Western Australia
So there you have it, that is Perth in a nutshell! If you were wondering where is Perth when you started reading this article, I hope I've answered all of your questions!
Perth is the capital of Western Australia, located on the west coast of Australia. It is a vibrant and modern city with plenty to see and do – from cultural attractions like museums and galleries, to outdoor activities such as swimming at the beaches or exploring bushland parks. Perth also boasts some great restaurants, bars and nightlife to explore.
Whether you're looking for an exciting city break or a relaxing trip to the beach, Perth has something for everyone. So if you're planning a holiday in this part of Australia, don't forget to add Perth to your itinerary!
Related Posts: