Perth To Busselton: 13 BEST STOPS [2023]
Embarking on a road trip from Perth to Busselton, Australia is an opportunity to marvel at the remarkable beauty of Western Australia. Along this journey, you will be presented with countless opportunities to appreciate awe-inspiring views and adventure through some of the region's most cherished attractions.
From sandy beaches to picturesque towns, wineries to breweries — and much more! — this adventure has something in store for every type of explorer.
Lucky for you I am a local with plenty of knowledge of the Margaret River Region, and I have done the Perth to Busselton road trip plenty of times. Below, I've narrowed down my top 13 things to do on your journey from the big smoke d'outh (this is short for "down south" in case you were wondering!)
Enjoy your journey as you make your way down the coast, with plenty of stops along the way to take it all in and make some wonderful memories. So, buckle up, get ready for an exciting journey, and enjoy this Perth to Busselton itinerary!
This article contains some affiliate links which means that I may earn a small commission when you click on them, at no additional cost to you. I do hope you find the information in this article helpful!
Don't have time to read the whole list? Never fear! Here are my top 3 favourites!
🌏Where Is Busselton?
Busselton is a city located 220km southwest of Perth, 53km south of Bunbury, 51km northeast of Margaret River, and 26km east of Dunsborough on the Geographe Bay coast.
📍Location: Busselton
🚗How To Get To Busselton?
Visiting from interstate or overseas? Check the rates on hire cars here > BOOK NOW!
🤩Why You Should Visit Busselton
Looking to explore the breathtaking coastline and national parks, savor local wine and beer or just get away? Busselton is the perfect vacation spot for you!
The Busselton region is the perfect destination for beach lovers and wine connoisseurs alike, with its gorgeous beaches that are great for surfing and its highly regarded wineries and breweries. Furthermore, those looking to explore nature have ample opportunities in this area too; there are numerous national parks where you can go hiking and camping amongst spectacular landscapes!
The Busselton area has so much in store for foodies, with its many top-rated restaurants serving up mouthwatering regional cuisine and fresh seafood. With such a variety of spectacular attractions to be found here, you can guarantee that your visit will leave an indelible impression on your memory!
🚗Perth To Busselton Drive Time
Perth to Busselton is a 222km journey via car, and will take you approximately 2.5 hours if you don't make any stops.
🗺️Perth To Busselton Distance
The distance from Perth to Busselton is 222km by road.
🚗How To Get From Perth To Busselton By Car
Main Route
To get to Busselton from Perth, follow the Kwinana Freeway out of the city. Eventually, you'll hit Forrest Highway – keep going until you reach Bunbury and then Busselton. If you want to make a few stops along the way feel free but otherwise, main roads bypass these towns.
Alternative Route
The South Western Highway is a slower route that takes you inland, but it is very scenic. I actually prefer this route if I'm not in a hurry because it's a lot more interesting than looking at a busy freeway! The South Western Highway starts in the suburb of Armadale and guides you through Pinjarra, Waroona, Harvey, Brunswick Junction, and onto Bunbury, then Busselton.
Do I need an International Drivers' License?
If you're planning on renting a car during your trip, an International Driver's License is recommended but not required. You can find more information about which countries require additional licenses to drive on Australian roads through the WA Department of Transport website.
🚌How To Get From Perth To Busselton By Bus
You can take a bus between Perth and Busselton daily with South West Coach Lines or TransWA, but keep in mind that times and prices are subject to change. For the most accurate information, check their websites directly. This route takes nearly 4 hours.
🚂How To Get From Perth To Busselton By Train
To get to Busselton by train from Perth, you could take the Australind Rail Service which departs Perth City Station to Bunbury Terminal, and from here, take a coach from Bunbury to Busselton. This route takes 3.5 hours and can be found on the TransWA site.
✈️How To Get From Perth To Busselton Flights
Swan River Sea Planes take you on a 45-minute flight from the Perth CBD to Margaret River Busselton Airport as part of a luxury wine-tasting package including lunch. They also offer private charters, but you need to contact them directly for this.
Fly Rottnest Island also offer something similar, with a flight from Jandakot Airport Perth, landing at Leeuwin Estate's own private airstrip, just out of Margaret River, then enjoy a three-course lunch with wine pairings and a cellar-door wine tasting. Contact them directly if you are looking for a private charter.
Flights are available from Melbourne to Busselton Busselton Airport with Jetstar Airways, but unfortunately at this time there are no other flight options from Perth to Busselton.
🛑Best Stops Between Perth And Busselton
Depending on how long your holiday is, some of the stops I have recommended may be more or less important depending on how much time you have.
I have included potential stops that are close to the main route, but you can also use this list to just choose one or two things to do, or not stop at all and drive straight to Busselton!
Let's get into it!
PERTH TO BUSSELTON
1.Fremantle
Fremantle is a bustling port town just 30 minutes south of Perth. It's packed full of history, art galleries, cafes and pubs, and plenty of shopping opportunities. Spend your time exploring historic buildings such as the Round House and Fremantle Prison, or head to the Fremantle Markets for some souvenirs.
As a kid, my parents used to take me to Cicerello's or Kailis' for fish and chips at the Fremantle Fishing Boat Harbour, and I feel like this is a pretty iconic attraction to stop at, especially if you're a bit of a fish and chip expert.
If you're into your craft beer, you could visit Little Creatures Brewing, the brewery that started the whole craft beer/beer hall scene in WA all those years ago.
If history is more your thing, you could visit the WA Maritime Museum for an insight into the city's maritime past.
📍Location: Fremantle
PERTH TO BUSSELTON
Penguin Island is a popular tourist destination located just off the coast of Rockingham, about 45 minutes south of Fremantle.
Here you can explore the island's stunning beach, go snorkelling in its crystal-clear waters, and marvel at the colonies of wild penguins!
You can take a 60 minute cruise to get up close and personal with the wildlife, and spot rare Australian sea lions on the beach at Seal Island.
There are daily penguin feedings at the Discovery Centre, which make this such a fun stop-off for the kids!
While you could just go see the Penguin Feeding and be back on the mainland in an hour, I recommend that you spend a minimum of 2 hours here so you can explore. Many visitors choose to spend half or even the full day on this island relaxing on the beach, swimming, or simply taking in its atmosphere.
📍Location: Penguin Island
PERTH TO BUSSELTON
3.Mandurah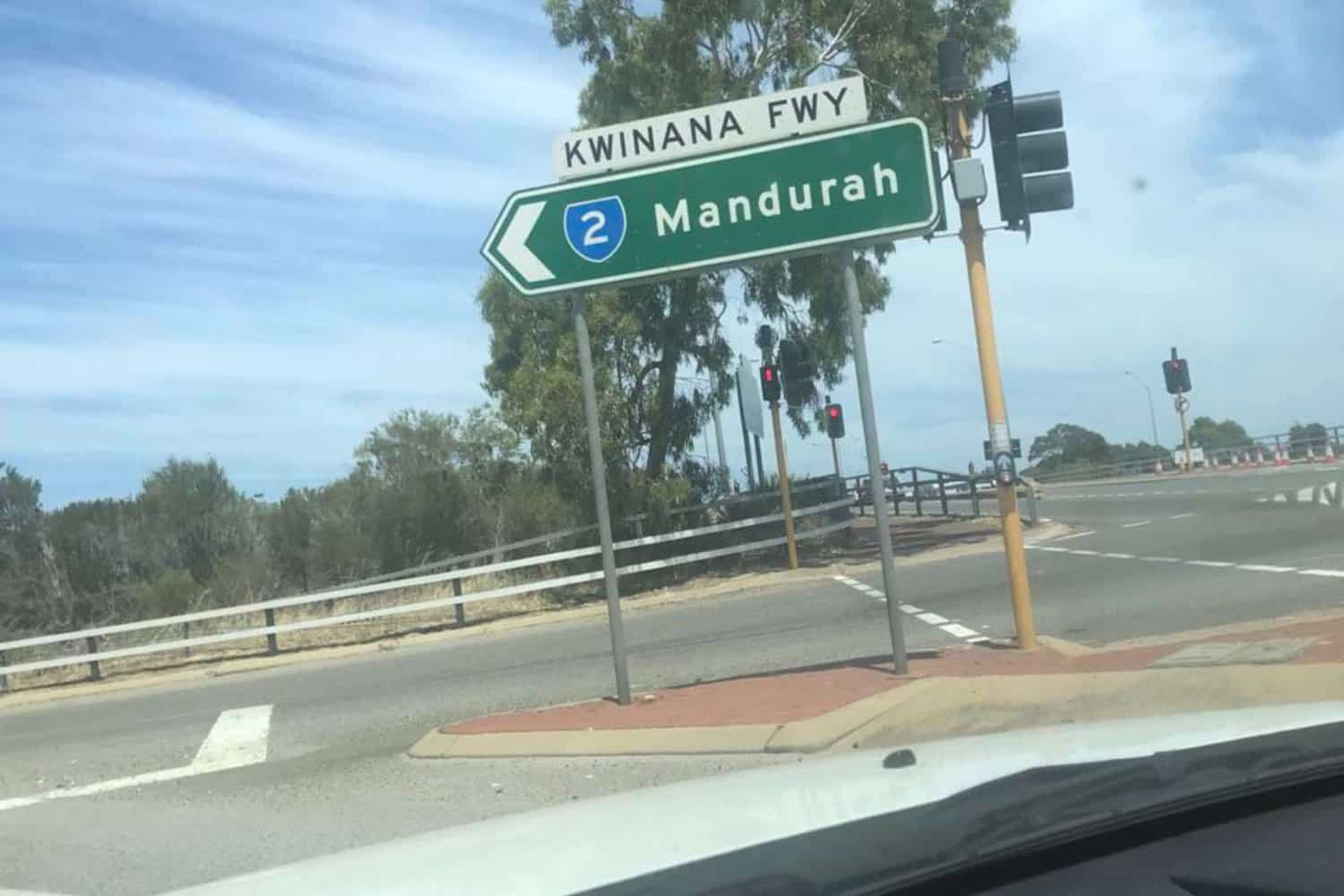 Mandurah is a coastal town located just an hour or so south of Perth. Here you can find all kinds of activities ranging from swimming and fishing to kayaking and stand-up paddleboarding.
If you'd rather stay on dry land, there are plenty of cafes, restaurants and bars as well as pirate-themed adventure parks, cinemas and bowling alleys. The popular Mandurah Boardwalk is also a great place to take a leisurely stroll and enjoy the views as well as a bite to eat.
📍Location: Mandurah
PERTH TO BUSSELTON
4.Lake Clifton Thrombolites
Lake Clifton Thrombolites are a special type of living fossil that can be found in the Yalgorup National Park, just under half an hour south of Mandurah. These creatures have existed for over 3 billion years and resemble large clumps of rocks that bubble and ooze.
Visitors are able to explore the area around Lake Clifton and discover these prehistoric organisms in their natural habitat. A boardwalk and viewing platform provides easy access, allowing everyone to marvel at these unique-looking creatures without disturbing them.
The thrombolites are an important part of the ecosystem here, so be sure to take only photos and leave only footprints when you visit.
📍Location: Lake Clifton Thrombolites
PERTH TO BUSSELTON
5.The Crooked Carrot, Myalup
The Crooked Carrot is a great place to stop off for lunch during your road trip. This quirky café and store is located in Myalup, just 30 minutes south of Lake Clifton.
Here you can enjoy delicious home-cooked meals made with fresh local produce, as well as hand-crafted drinks and baked goods.
The Crooked Carrot is also a great place to pick up some souvenirs such as jams, relishes and chutneys, as well as some interesting curios and gifts – perfect for taking home with you after your road trip!
My kids love stopping here as it has a really cool, massive playground which they never want to leave!
📍Location: The Crooked Carrot, Myalup
PERTH TO BUSSELTON
Half an hour south of the Crooked Carrot, the Koombana Bay Dolphin Discovery Centre in Bunbury is also worth a look, especially if you have kids. This center is dedicated to protecting and conserving the local dolphin population and provides educational presentations about these amazing creatures.
You can even join a 90-minute Dolphin Eco Cruise to watch dolphins from up close as they interact in their natural environment! There are also interactive displays and activities that teach kids about these amazing mammals.
Went on the midday tour. The boat is covered blocking out the sun and the wind is cool even on a hot day. Initially saw 2-3 dolphins however around an hour into the cruise was surrounded by approximately 20 adults and babies. Would DEFINITELY do this cruise again and recommend it to anyone. – Get Your Guide Review
📍Location: Koombana Bay Dolphin Discovery Centre
PERTH TO BUSSELTON
7.Bunbury Museum and Heritage Centre
The Bunbury Museum and Heritage Centre is another place to enjoy some fascinating history. Located in the center of Bunbury, this museum has a fantastic collection of artifacts that tell the story of the city's past.
Visitors are able to explore displays about local industry and culture, as well as learn more about the Indigenous history of the region. There are also interactive activities and hands-on displays that help to bring history alive for kids, making it a great place to visit during your road trip.
📍Location: Bunbury Museum and Heritage Centre
PERTH TO BUSSELTON
8.Bunbury Farmers Market
The Bunbury Farmers Market is the perfect place to pick up some fresh local produce. Open daily from 7.30 am until 5.30 pm, you'll find a huge range of handmade food and drinks, local and imported cheeses and locally farmed meats, just to name a few.
This is a great place to pick up some food to take to Busselton with you, or even for some delicious souvenirs to take home with you after your road trip, as well as sample some of the amazing products from local artisans and producers.
Locals Tip: This is a MUST-SEE destination in my books if you love your food (like I do!)
📍Location: Bunbury Farmers Market
PERTH TO BUSSELTON
9.Ferguson Valley
A little off the main route, but still worth considering, the stunning Ferguson Valley is located just 15 minutes southeast of Bunbury and makes for a great stop during your road trip. This natural wonderland has rolling green hills, winding rivers and picturesque valleys that are ideal for bush walks, mountain biking, and picnics.
With over a dozen unique wineries, two craft breweries, and chefs passionate about making exquisite food, it's also a paradise for any food lover.
Locals Tip: Bush Shack Brewery has recently relocated from Busselton to the Ferguson Valley, and is definitely worth a stop if you want to try something different!
📍Location: Ferguson Valley
PERTH TO BUSSELTON
10.Gnomesville
Gnomesville is a whimsical village located in the Ferguson Valley that is home to over 5,000 gnomes! This fascinating spot was created by local residents and visitors from all over the world have since added their own little gnome friends.
It's definitely worth a visit as it's a great example of how art and nature can be fused together. The kids will love walking around the grounds in search of new gnomes, so make sure to bring your camera along for this unique experience. There is a nearby picnic area where you can stop for lunch as well, if you want to grab something to eat on your way.
📍Location: Gnomesville
PERTH TO BUSSELTON
11.Donnybrook Apple Fun Park
The Donnybrook Apple Fun Park, located in Donnybrook, is the biggest free-entry playground in Australia, recently undergoing a renovation and reopening in 2021 with too many features to list here.
If you have kids who love playgrounds, then this is the place for you! The kids will have so much fun here – it might take them all day!
📍Location: Donnybrook Apple Fun Park
PERTH TO BUSSELTON
12.Busselton Jetty And Foreshore
The Busselton Jetty and Foreshore is an iconic landmark located in the seaside town of Busselton. This 1.8-kilometre wooden jetty stretches across Geographe Bay and provides stunning views of the ocean, as well as a great spot for swimming during summertime.
In addition to this, there's also a beautiful foreshore that features playgrounds, restaurants, and cafes. It's the perfect place for a picnic or just to spend some time enjoying nature and the views of the bay.
📍Location: Busselton Jetty And Foreshore
PERTH TO BUSSELTON
13.Busselton
You've made it! Hooray! Busselton is a true paradise for surfers, winelovers and adventurers alike! Whether you're looking to take a dip in the ocean or explore lush bushlands on foot, enjoy scenic wine tours or witness extraordinary underground formations – Busselton has it all.
It's also an amazing area for food lovers, with plenty of restaurants offering local produce paired with delicious wines. From the renowned brewery Shelter which overlooks the Busselton Jetty, to the ever-popular Simmo's Ice Creamery, you're sure to find something for everyone.
Lose yourself in the enchanting beauty of this region. Make sure you make time to pause and enjoy the serenity that surrounds you!
If you'd like ideas now on what to do while you're in Busselton, read my guide 57 Best Things To Do In Margaret River: A Local's Guide In 2023!
If you're doing a Busselton to Perth road trip instead, just do these suggestions in reverse!
📍Location: Busselton
FAQs: Perth To Busselton
Can I Drive From Perth To Busselton?
Yes, it is possible to drive from Perth to Busselton. The journey takes around 2.5 hours with no stops, however if you have the time, there is plenty to see and do along the way!
Is Busselton Worth Visiting?
Yes, of course Busselton is worth visiting! Busselton is a beautiful and unique region that offers so much to do and explore. Whether you're looking for adventure, relaxation or amazing food, there is something here for everyone!
What Is Between Perth And Busselton?
There are many places to explore between Perth and Busselton. Some of the popular stops include Mandurah, Bunbury, Ferguson Valley, Donnybrook Apple Fun Park, and finally the Busselton Jetty and Foreshore. There is something for everyone with these amazing attractions!
How Far is Busselton From Perth By Car?
The drive from Perth to Busselton is approximately 2.5 hours, depending on traffic and road conditions. It is also possible to take a train or bus between the two cities, however, this journey takes slightly longer (around 3.5-4 hours).
How Much Would Gas Cost From Perth To Busselton?
The cost of petrol or diesel for the journey between Perth and Busselton will vary depending on your car type, but I estimate that a standard sedan would use around $50-$70 worth of fuel to drive there one way (as of January 2023)
It is always best to plan ahead and fill up your tank before you leave, however, there are plenty of locations along the way where you can fill up!
How Many Days Should You Spend In Busselton?
The length of your stay in Busselton will depend on what you want to do and how much time you have. Generally, it is recommended that visitors spend at least 4-5 days exploring the region, but if you're looking for a longer holiday then you could easily spend a week or two here and not get bored.
No matter how long you stay, there will always be something new to discover in this beautiful part of the world. In fact, I've lived here for 7 years now and still haven't been everywhere and done everything!
When Is The Best Time To Visit Busselton?
The best time to visit Busselton is from September to October and from April to May, when the weather is warm but not too hot. However, Busselton can be visited year-round with its stunning scenery and attractions available all year long!
Spring is a great time to visit because there are wildflowers out everywhere and the weather is basically perfect, summer is great because it's perfect beach weather, Autumn is lovely as things start to green up but there are still plenty of sunny days, and I'm especially partial to winter, because it's rainy, everything is green, and the crowds have thinned out so you kind have the place to yourself.
So, in summary, there's no bad time to visit Busselton. Just bear in mind that school holidays, long weekends, Christmas, and Easter are peak seasons and rates at accommodation places will reflect this.
What Are Some Other Things To Do In Busselton?
Is It Better To Stay In Busselton Or Dunsborough?
It really depends on your preference and budget. Busselton has plenty of accommodation options in the town itself, while Dunsborough is a great option for those looking for a more relaxed atmosphere or those who have their own transport.
However, both towns offer many options and easy access to the local attractions – so it really comes down to personal preference. Whichever you choose, you'll be sure to enjoy your stay!
Is Busselton North Or South Of Perth?
Busselton is located south of Perth, and around 220km away. It's a beautiful drive down the coast, and there are plenty of stops along the way where you can enjoy the spectacular scenery! You won't regret making this journey.
Where Is Busselton In Perth?
Busselton is not located in Perth, rather it is located in the southwest corner of Australia, about 220km south of Perth. It's a lovely drive down the coast and you'll be able to enjoy some cool attractions along the way!
What Towns Are Near Busselton?
Some of the towns near Busselton are Dunsborough, Yallingup, Margaret River, Eagle Bay and Nannup. All of these towns offer unique attractions and activities to enjoy while you're in the area.
How Far Is Busselton From Margaret River?
Busselton and Margaret River are only around 50km away from each other. It's a great option to stay in Busselton and visit Margaret River during the day, as it's not too far of a drive.
Summing Up
Traveling from Perth to Busselton is an unforgettable experience with plenty of things to see and do. With stunning scenery, amazing attractions, beautiful beaches, delicious food and unique culture, it's a destination that you won't want to miss out on when visiting Western Australia.
Whether you are looking for a day trip or planning a longer stay, both Busselton and Perth are the perfect places to explore and create lasting memories. Make sure to plan your trip ahead of time to ensure that you get the most out of your visit.
If you've liked this, connect with me over on Instagram @accommodationmargaretriver where I post more Busselton and Margaret River adventures!
Related Posts: