Perth To Pemberton: 9 BEST STOPS [2023]
Perth to Pemberton is an epic road trip worth traveling while in Western Australia. I've personally done this journey many times and explored the surrounding regions and towns.
Perth to Pemberton is approximately 326 km on the most direct route however there are two main routes to choose from. I will cover both in this article.
I am a Margaret River local but frequently explore our Perth, Peel and South West regions and can't wait to share my tips with you!
The drive from Perth to Pemberton is peaceful and scenic and offers many wonderful stops and activities to enjoy along the way.
Let's dive in.
This article contains some affiliate links which means that I may earn a small commission when you click on them, at no additional cost to you. I do hope you find the information in this article helpful!
⭐Don't have time to read my full list? Here are my top 3 recommendations on places to stop between Perth and Pemberton: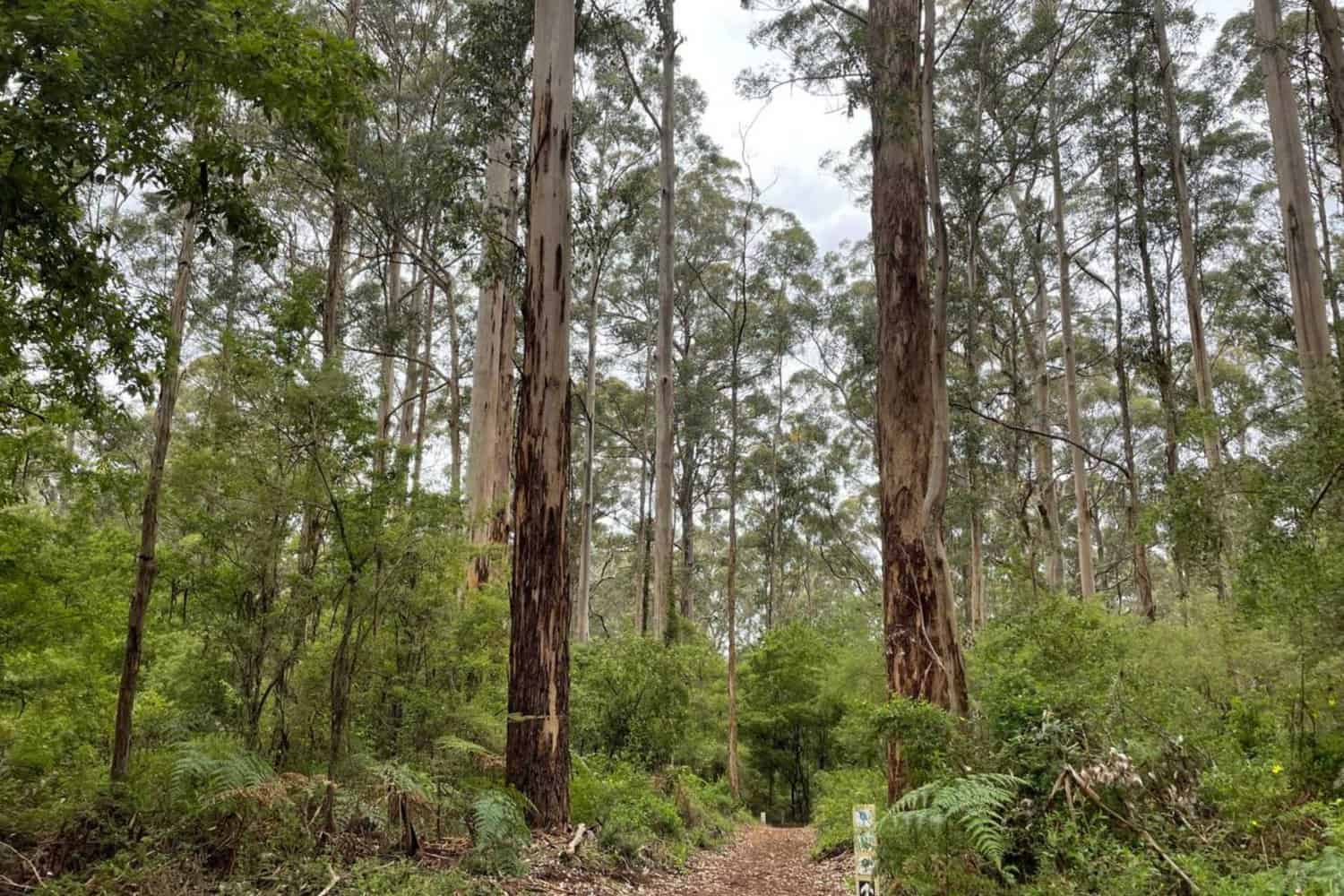 🌏Where Is Pemberton?
Pemberton is a small town in the south west of WA. The population of Pemberton is approximately 1,000. It is about 326 km south of Perth, 135 km from Margaret River, 231 km from Albany and 144 km from Busselton. It is also quite close to nearby regional towns of Nannup and Manjimup.
📍Location: Pemberton
🚗How To Get To Pemberton?
Taking your own vehicle or hiring a car is the best way to get to Pemberton. It is also the fastest way to get to Pemberton from Perth. Having your own vehicle is also the easiest way to explore Pemberton attractions.
🚗 Visiting from interstate or overseas? Check the rates on hire cars here > BOOK NOW!
🤩Why You Should Visit Pemberton
Pemberton is a quaint regional town surrounded by old-growth Karri forests and pristine lake and river systems. Pemberton has many attractions and is a fantastic year-round destination. There are plenty of things to do in Pemberton in winter and many refreshing swimming holes in summer.
Pemberton is a foodie's delight with lots of fresh local produce to enjoy. It is well-known for marron and trout fishing and this Pemberton activity never fails to disappoint. Read about trout fishing and more things to do in Pemberton in our locals guide!
🚗Perth To Pemberton Drive Time
The shortest route from Perth to Pemberton is 3 hours and 40 minutes covering approximately 326 km. This route heads south from Perth on Forest Highway via Mandurah and Bunbury. You then head slightly inland on South West Highway via Donnybrook, Bridgetown and Manjimup before arriving at Pemberton.
However, I would recommend not rushing and enjoying some of the stop-offs along the way. If you're willing to allow up to 5 hours drive time there are some amazing towns to visit taking a slightly longer route. I'll go into more detail, keep reading.
🗺️Perth To Pemberton Distance
There are two main routes to Pemberton. The quickest one (Route 1), via Forrest and South West Highway is 384 km.
A slightly longer route including Dwellingup, Collie and Bridgetown is 384 km. We will call this Route 2.
🚗How To Get From Perth To Pemberton By Car
There are several meandering routes you can take from Perth to Pemberton by car. However, I will detail two of the main routes.
Route 1 (most direct)
Perth
Fremantle
Mandurah
Bunbury
Donnybrook
Bridgetown
Manjimup
Pemberton
Route 2 (most scenic)
Perth
Jarrahdale / Serpentine
Dwellingup
Collie
Boyup Brook
Bridgetown
Manjimup
Pemberton
🚗Visiting from interstate or overseas? Check the rates on hire cars here > BOOK NOW!
Do I need an International Drivers License?
An international drivers license is recommended if you're planning on hiring a car in Australia but it is not required. If you are visiting from overseas you can check current information at the Department of Transport website.
🚌How To Get From Perth To Pemberton By Bus
You can take a bus between Perth and Pemberton most days via TRANSWA. Some days there are two departures. The journey via bus takes approximately 5 hours and 35 minutes (not including stop times).
You can depart from Perth City Terminal or the East Perth Terminal. Schedules are subject to change so it's best to check online and pre-book so that any notifications come directly to you.
⭐Perth To Pemberton Tour
If you're looking to take your hands off on planning your Pemberton Itinerary and would prefer an inclusive experience with knowledgeable tour guides, then this 4 Day Tour: Albany, Margaret River, Valley Of The Giants TreeTop Walk From Perth is the tour for you!
It includes spectacular attractions such as;
Porongurup National Park
National ANZAC Centre
The Gap And Natural bridge
Valley Of The Giants Tree Top Walk
Beedelup Falls
Cape Leeuwin Lighthouse
Mammoth Cave
Busselton Jetty
This jam-packed four days gives you a real taste for the south west of WA. Trust us, you'll be back for more.
🌏Best Stops Between Perth To Pemberton
Perth to Pemberton offers spectacular scenery. Rolling green hills, rural vistas, small country towns, rivers and forests.
Whichever route you choose to take has ample places to stop, explore and refresh yourself for onward travel.
I'll separate Route 1 and 2 and detail the best stops on each.
If you have a little more time we'd absolutely encourage you to include the Margaret River Region in your itinerary. You can read more on Margaret River to Pemberton in this helpful guide.
Best Stops Between Perth To Pemberton Route 1:
Let's talk about the main route first . My top 4 stops along this route are:
1.Koombana Bay Dolphin Eco Cruise, Bunbury
3.Blackwood River Arts Trail, Bridgetown
4.Power Up Electricity Museum, Manjimup
1.Bunbury Dolphin Discovery
Swim with dolphins, need I say more? Bunbury Dolphin Discovery is about 2 hours south of Perth on your way from Perth to Pemberton.
It's the perfect spot to stop for a break and recharge from the drive by taking a Dolphin Eco Cruise or Swim With The Dolphins.
Dolphin Eco Cruises run for approximately 90 minutes and start from $54 AUD per adult. They operate from noon so that gives you ample time to get to Bunbury and then continue on your way from Perth to Pemberton.
📍Bunbury Dolphin Discovery, Koombana Drive, Bunbury, WA
2.Apple Fun Park, Donnybrook
If you've got kids, the Apple Fun park is a must-do stop. Right in the center of Donnybrook, this fun playground is the perfect place to get some energy out. The park is open 24 hours and day and lit with floodlights at night. It's a hive of activity and suits all ages.
There are shaded picnic benches here, toilets and it's free entry.
📍Apple Fun Park, 19 Collins Street, Donnybrook, WA
3.Blackwood River Arts Trail, Bridgetown
Only in April each year but well worth the stop if you're traveling through Bridgetown when it's on. Blackwood River Arts Trail showcases the work of local artists and allows you to visit them and see their art in the studio.
You can include as many or as few artists as you'd like on the trail but it's a fantastic way to immerse yourself in the local arts culture.
📍Blackwood River Arts Trail, Bridgetown, WA
4.Power Up Electricity Museum, Manjimup
Power Up Electricity Museum is an eye-opening experience paying homage to the evolution of electricity in Western Australia. An engaging and educational experience for adults and children alike, this museum is a fantastic stop on route from Perth to Pemberton.
It's located in the Manjimup Heritage Park where there is also a cafe so stretch your legs, learn a bit about our first light globes to early electric cars and then continue on your way to Pemberton.
📍Power Up Electricity Museum, 151 Giblett Street, Manjimup, WA
Best Stops From Perth To Pemberton Route 2:
1.Serpentine Falls, Serpentine National Park
2.Hotham Valley Railway Steam Train Ride, Dwellingup
3.Wellington Dam, Wellington National Park
5.Truffle Hill Hunting Experience, Manjimup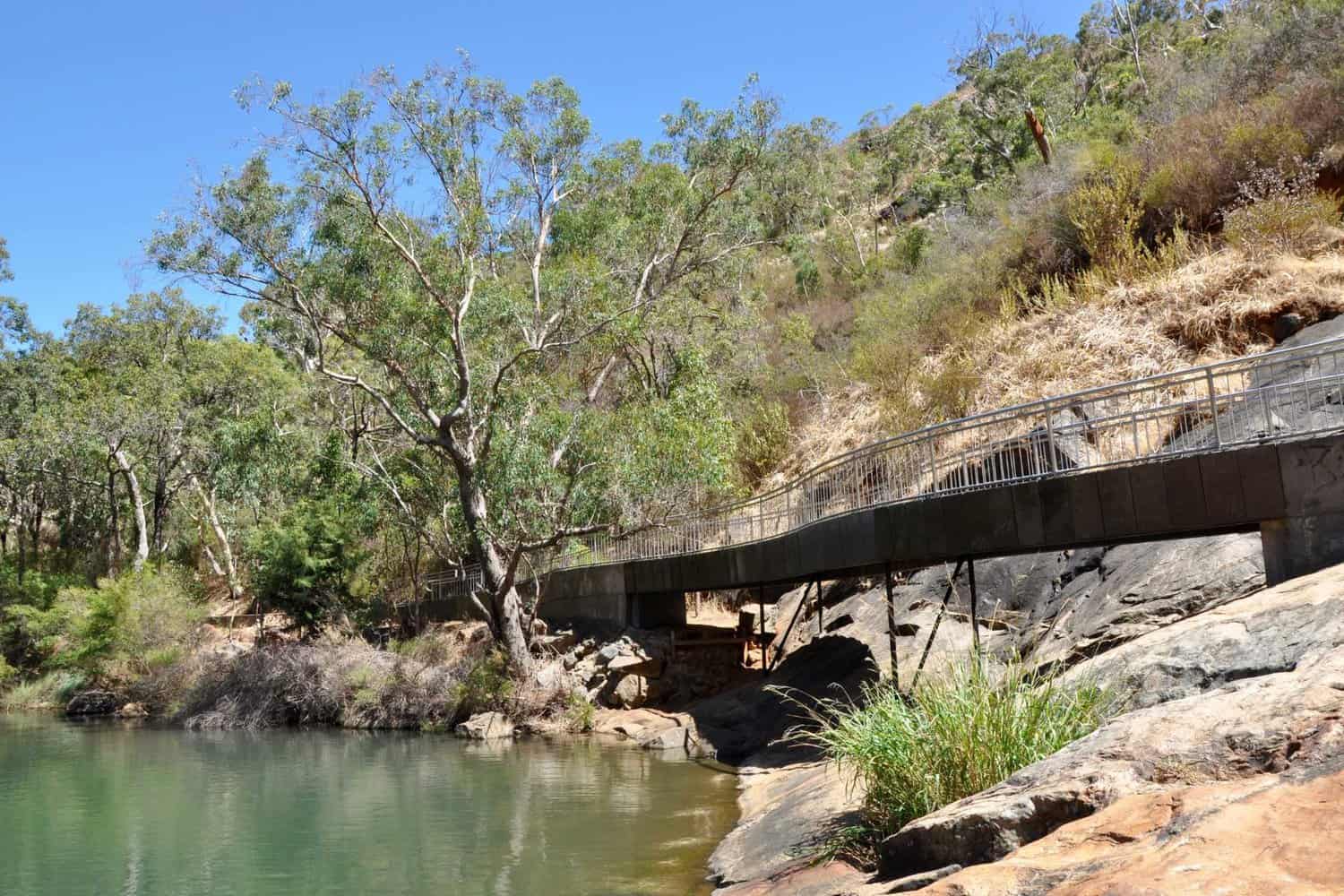 1.Serpentine Falls, Serpentine National Park
Located only about an hour south of Perth, Serpentine Falls is a great first stop on your way from Perth to Pemberton. There are several walking trails; Noble Falls Walk Trail, Baldwins Bluff Trail and Kitty's Gorge Walk Track.
In winter you'll also enjoy a 15m deep pool and cascading falls. There are picnic tables and toilets here including a wheelchair-accessible toilet. National Park entry fees do apply and unfortunately, no dogs are allowed.
📍Serpentine Falls, Lot 1, Falls Road, Serpentine, WA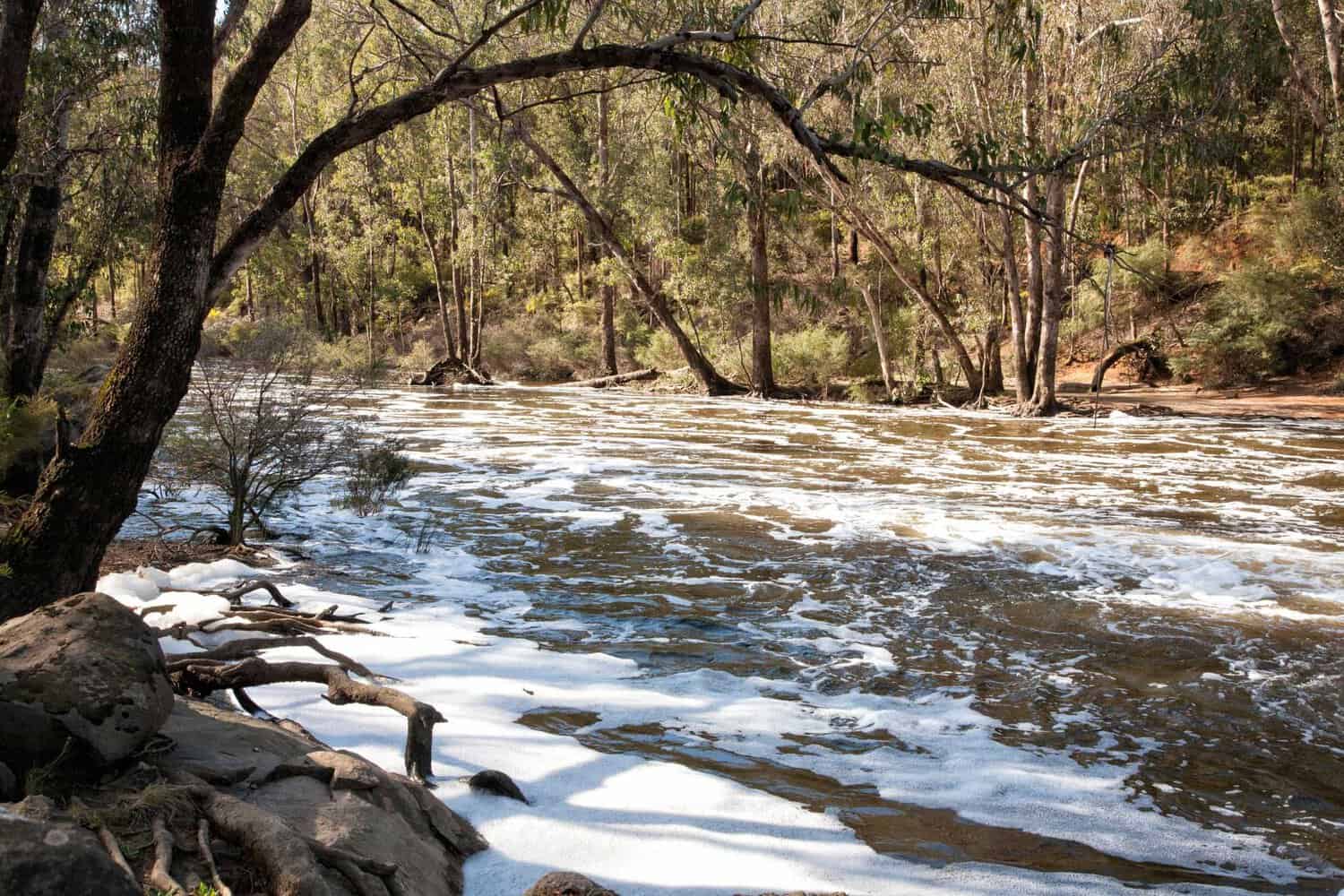 2.Hotham Valley Railway Steam Train Ride, Dwellingup
Dwellingup is a beautiful place south of Perth, close to Pinjarra. It has lots of National Park forest and bushland, waterholes, waterfalls and an historic steam train that you can ride through the forest.
The Dwellingup Forest Train meanders 8km through the forest and starts from $28 AUD for adults. It is kid and pet-friendly so the whole family can enjoy the ride.
For a little something special, if you have time for an overnighter in Dwellingup you can take the Etmilyn Restaurant Train through the forest in the evening over dinner! How romantic.
📍Forest Train, 1 Marrinup Street, Dwellingup, WA, 6213
3.Wellington Dam, Wellington National Park
Wellington Dam is set amongst the forest of the Wellington National Park. It is approximately halfway between Bunbury and Collie. There is a campground here, a toilet and small kiosk but the real feature is the huge mural.
The mural is painted on the side of the dam and is called 'Reflections'. It is by artist Guido Van Helton and is believed to be the largest in the world. Truly spectacular and worth the stop on your way from Perth to Pemberton.
📍Wellington Dam, Falcon Road, Worsley, WA, 6225
4.Black Diamond Lake, Collie
Anyone wanting trending instagram pics of your road trip from Perth to Pemberton? Black Diamond Lake is the stop for you.
Featuring the most stunning turquoise blue water, white banks surrounded by natural bushland and forest it's no wonder this has become a popular spot for day-trippers.
Black Diamond is only about 7km outside of the town of Collie and is easily accessible with a 2WD vehicle. There is no camping permitted here so we recommend taking a picnic, going for a dip and returning to your journey.
📍Black Diamond Lake, Ferguson Road, Allanson, WA, 6225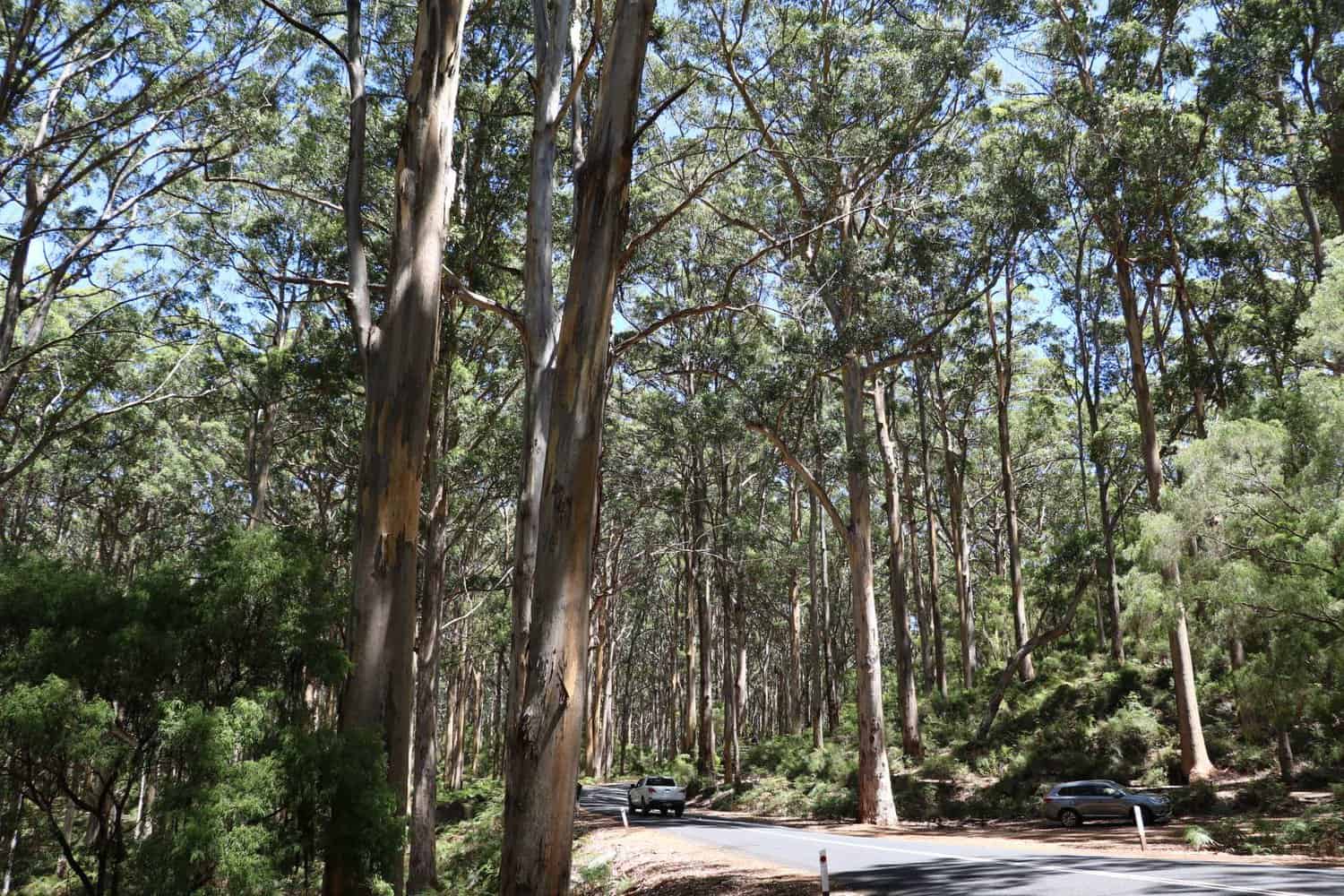 5.Truffle Hill Hunting Experience, Manjimup
This is a must-do when visiting Pemberton. Truffle hunting is pretty unique to the area and is part of the reason why Pemberton and Manjimup are well known foodie destinations.
The Truffle Hill Hunting Experience is offered by one of the oldest Truffle Farms in Manjimup, Truffle Hill. The Truffle Hill Hunting experience begins at the cellar door before taking the truffle dogs out for a hunt.
Whilst you hunt you'll enjoy hearing about the process of truffle farming, the history of the region and harvesting the truffles. You are welcome to get your hands dirty and harvest your own or leave that to the pro's.
After this rewarding and knowledgeable experience you'll finish up at the restaurant to enjoy local produce and delectable truffle dishes.
📍Truffle Hill Farm, Seven Day Road, Manjimup, WA, 6258
🏩Best Accommodation From Perth To Pemberton
Are you looking for somewhere to stay on the way between Perth to Pemberton? Here are my my top suggestions:
Noble River Estate is a stunning property located in the Dwellingup Forest. It is perfect for families, foodie's and adventure seekers. The cottage style accommodation offers privacy, tranquility and all the comforts of home including a wood-fire.
Pricing starts from around $260 AUD per night with a two night minimum. This is the perfect place to stop and explore Dwellingup on your way from Perth to Pemberton.
Seriously, we went to a wedding here recently and have already booked to go back! It's stunning.
📍Noble River Estate, 503 River Road, Dwellingup, WA, 6213
The name says it all. Country Charm Retreat in Donnybrook is a homely, comfortable and charming B&B. It is set amongst 44 acres of natural bushland abundant with local wildlife.
Rates start from only $145 AUD per night and hosts Trent and Coral will do their utmost to ensure you have a wonderful stay.
All rooms feature a private ensuite but are suited to adults only. No kids facilities here!
📍Country Charm Retreat B&B, 629 Hurst Road, Argyle, WA, 6239
Fonty's Pool is a destination unto itself! You are not far from Pemberton here so why not slow down your journey and enjoy Fonty's Pool for a night or two before your arrival?
Fonty's Pool is a historical waterhole that is a naturally fed spring known as 'the fountain of youth'. Who doesn't want to jump in that for a refreshing dip?
There are shaded camping sites here or well-appointed 4-star chalets. You can also pay to be a day visit if you just want a quick stop in on your way from Perth to Pemberton.
📍Fonty's Pool Caravan Park And Chalets, 699 Seven Day Road, Manjimup, WA, 6258
🏨Best Accommodation In Pemberton
Looking for a great place to stay in Pemberton? These are my top recommendations!
🏆 BEST ACCOMMODATION PEMBERTON 🏆
⭐RATING: 8.4/10 – with over 680 positive reviews! | 🌏DISTANCE FROM PEMBERTON: 20km |📍LOCATION: 11342 Vasse Highway, Beedelup WA | Google Maps
I love staying at the RAC Karri Valley Resort because it's got everything you could possibly need for a family stay, including:
Games Room
Animal Feeding
Boat / Kayak / Canoe Hire
Fishing
On-Site Restaurant
Playgrounds
Picnic Areas / BBQ's
Honestly, this is a place you can stay and not leave. The resort hugs Lake Beedalup with easy access to Beedelup Falls and the loop walk. You can catch trout in the lake and hire everything you need for a fun afternoon on the lake.
There is an expansive new campground with a camp kitchen and kiosk or there are self-contained family cabins if that's your preference. I love the log cabins as they are private and cozy with wood fires for winter.
⭐RATING: 9.3/10 | 🌏DISTANCE FROM PEMBERTON: 12km |📍LOCATION: Old Vasse Road, Pemberton WA
I love glamping, it's kind of the middle ground in terms of having the camping experience without the effort to 'rough it'.
You can go glamping in Pemberton. WA Wilderness Glamping is brought to you by Pemberton Discovery Tours and is basically a pop up campsite in the forest. All you need to do is show up.
They offer a tailored experience with everything included right down to the bedding or less if you intend to bring some of your own gear. It's camping, with less effort. Woohoo!
⭐RATING: 9.1/10 – with over 380 positive reviews! | 🌏DISTANCE FROM PEMBERTON: 5km |📍LOCATION: 12928 Vasse Highway, Pemberton WA | Google Maps
Treenbrook Cottages are family-friendly, self-contained cottages set 'on the edge of the forest and on the edge of town'. Treenbrook really offers you that home away from home feel with all the modern conveniences you're looking for including TV/DVD, full kitchen, wood fire and BBQ facilities.
There are walking trails accessible directly from your chalet and the property is close to nearby scenic attractions, wineries, restaurants, lakes and rivers.
FAQs About Perth To Pemberton
Can I Drive From Perth To Pemberton?
Yes, you can drive from Perth to Pemberton. Driving is the recommended way to travel from Perth to Pemberton. If you don't have your own vehicle consider hiring a car so that you can really explore the best of the Pemberton region. The roads from Perth to Pemberton are bitumen roads and suitable for 2WD vehicles. 
🚗Visiting from interstate or overseas? Check the rates on hire cars here > BOOK NOW!
Is Pemberton Worth Visiting?
Yes, Pemberton is a wonderful destination with lots to see and do. Pemberton is great for singles, couples, families and groups and offers a wide range of activities including indulgence, leisure and adventure.
What Is Between Perth And Pemberton?
There is a changing landscape from Perth to Pemberton. You will see rolling green hills through luscious farmland, forests, hints of the ocean as well as rivers and creeks.
There are some rustic small refreshment stops, swimming holes and bustling small, regional towns that thrive on tourists visiting. 
How Many Days Should You Spend In Pemberton?
It's really up to you, you can see or do as much or as little as you'd like in Pemberton. It's a beautiful overnight stay if you're just looking to relax and soak up that beautiful forest air or you can take a few days and really explore the region. If you're wanting to see and do the best of what Pemberton has to offer I recommend at least three full days. I suggest you check out our Top 17 Activities In Pemberton and plan your itinerary. Get in touch if you'd like a hand with that!
When Is The Best Time To Visit Pemberton?
Pemberton is a great year-round destination. Winter offers full-flowing waterfalls, streams and rivers. Nothing beats cozying up by a crackling wood fire after a day out exploring. Summer makes those pristine water holes all the more inviting to get into! And not far away you can explore Yeagerup and Windy Harbour. Pemberton is a popular destination in school holidays and long weekends so remember it's always best to book ahead and avoid disappointment.
What Are Some Other Things To Do In Pemberton?
Activities to enjoy in Pemberton include bushwalking, flora and fauna spotting, canoeing, kayaking, swimming and fishing. 
It's also a wonderful foodie destination in WA with lots of fresh, local produce featured in cafes and restaurants. 
Don't forget to pop in to a cellar door or two and grab a nice bottle of wine to enjoy in your Pemberton accommodation after a fun day out exploring.
😍Summing Up: Perth To Pemberton
Perth to Pemberton is a worthwhile road trip. It can take as short as 3 hours and 40 minutes or as long as you'd like if you incorporate more stops.
There is a lot to see and do in Pemberton in winter and year-round. There are many activities for families in Pemberton, accommodation options suitable for groups and retreats as well as luxury accommodations for couples.
You will leave Pemberton feeling at peace, in touch with nature and wanting to come back.
I hope you get to see and do everything you want to in Pemberton and I trust you'll enjoy your journey back to Perth and beyond.
Let me know what you think of my recommendations on Instagram @accommodationmargaretriver .. I'd love to hear about your travels!
Related Posts:
Australia Travel Planning Guide
🚑Should I buy Australian travel insurance?
100% YES! — Australia has "free" healthcare but it's only for citizens and permanent residents. Foreigners visiting need travel insurance in case anything happens on their visit. I like SafetyWing – their Nomad Insurance starts at just $1.50 USD a day!
🚗Should I rent a car in Australia?
Yes — Renting a car is a necessity in most of Australia! If you want to go on road trips or adventures outside of the major cities, and even if you're staying in a major city, you'll want to rent a car. If you are visiting Margaret River, it will be even more important that you hire a car, you'll need it to be able to get around and see all the great attractions and wineries!
🏨What's the best way to book my Australian accommodation?
My go-to for Australian hotels is Booking.com. Pretty much all registered accommodation use Booking.com (but not necessarily any of the other major booking platforms), and even most of the holiday homes and caravan parks use Booking.com too!
If you're planning a trip to Australia where you will stay at multiple locations, it's super handy to have all your accommodation listed in one place, and accommodation owners like Booking.com because it's easy to contact the guests using the messaging platform if the guest has an international phone number.
I sincerely hope you enjoy your visit to Margaret River!