8 BEST STOPS From Margaret River To Pemberton [2023]
Are you thinking about traveling from Margaret River to Pemberton? Firstly, yes, do it. Secondly, read this guide and take notes to make sure you do it right!
I'm a Margaret River local and know the region like the back of my hand. I've worked in accommodation here since 2016 and have helped plan literally thousands of trips in the south west.
Also, I'm a bit partial to the Pemberton area and often take my family on day trips or weekends there.
There's some gorgeous, peaceful stops on the way from Margaret River to Pemberton and plenty to do once you get to Pemberton. I've covered both here and even shared my local tips along the way!
So let's not delay, do you want my top tips on how to get there and the best things to do in Pemberton?
Let's dive in.
This article contains some affiliate links which means that I may earn a small commission when you click on them, at no additional cost to you. I do hope you find the information in this article helpful!
Don't have time to read my full list? Here are my top 3 recommendations on places to stop between Margaret River and Pemberton!
🌏Where Is Pemberton?
Pemberton is a small town set amongst the Karri forests in the South West of WA. It is approximately 326 km south of Perth, 135 km from Margaret River, 231 km from Albany and 144 km from Busselton. It is also quite close to nearby idyllic towns of Nannup and Manjimup.
📍Location: Pemberton
🚗How To Get To Pemberton?
Hiring a car or taking your own vehicle is the best way to get to Pemberton. All the roads are sealed on the main route and alternative route and are suitable for 2wd vehicles.
Visiting from interstate or overseas? Check the rates on hire cars here > BOOK NOW!
🤩Why You Should Visit Pemberton
There are SO many reasons to visit Pemberton. Pemberton is a beautiful town set amongst old-growth Karri forests with pristine lake and river systems to explore. There is plenty to see and do for couples, families or groups in Pemberton.
Some of the main attractions in Pemberton are the Gloucester Tree in the Gloucester National Park, Dave Evans Bicentennial Tree and Lake Beedelup.
🚗Margaret River To Pemberton Drive Time
The shortest route from Margaret River to Pemberton takes approximately 1 hour and 35 minutes. This is what I've called the main route (via Brockman Highway). The alternative route (via Nannup) is a slightly longer drive time at approximately 1 hour and 46 minutes.
However, I would recommend not rushing and enjoying some of the stop-offs along the way.
🗺️Margaret River To Pemberton Distance
There are two main routes to Pemberton. The quickest one, via Brockman Highway, is 135 km.
A slightly longer route via Nannup is a distance of 149 km.
🚗How To Get From Margaret River To Pemberton By Car
Given there are two main routes from Margaret River to Pemberton I will detail them both.
Main Route
This route is the quickest one and goes south on Bussell Highway, through Witchcliffe until Karridale, and then left onto Brockman Highway towards Pemberton.
Eventually you will see Stewart Road on the right, take this road until you get to Vasse Highway, where you turn right, and continue on this road until you arrive at the T-junction where you turn left and you're at Pemberton!
All of these roads are sealed bitumen roads and suitable for 2wd vehicles. This route takes 1 hour and 39 minutes and travels through a few places to stop such as Witchcliffe and Alexandra Bridge.
Alternative Route
Even though it's slightly longer at 1 hour and 46 minutes and a distance of 149 km I prefer this route if you want to stop in a busier town like Nannup.
If you're traveling and returning to Margaret River I recommend going to Pemberton one way, and back the other to experience both journeys.
This route travels through Rosa Brook, along Mowen Road to Nannup and then takes Vasse Highway south to Pemberton. The route is well-signed and the roads are all sealed bitumen.
There's a few suitable stops along the way to Nannup, but plenty to offer in the town of Nannup as well including a brewery, old-style pub, cafes, bakery, IGA and bottle shop.
If you're traveling with kids the public toilets are clean and there are lovely green parks to take a rest stop at.
🚗💨Visiting from interstate or overseas? Check the rates on hire cars here > BOOK NOW!
Do I need an International Drivers License?
An international drivers license is recommended if you're planning on hiring a car in Australia but it is not required. If you are visiting from overseas you can check current information at the Department of Transport website.
🚌How To Get From Margaret River To Pemberton By Bus
You can take a bus between Margaret River and Pemberton most days with TransWA, but keep in mind that times and prices are subject to change. For the most accurate information, check the website directly.
Best Stops Between Margaret River To Pemberton
Depending on how long your holiday is, some of the stops I have recommended may be more or less important depending on how much time you have.
I have included potential stops that are close to the main route, but you can also use this list to just choose one or two things to do, or not stop at all and drive straight to Pemberton!
Let's get into it!
Best Stops Between Margaret River To Pemberton via Brockman Highway
Let's talk about the main route first (via Brockman Highway). My top 4 stops along this route are:
1.Witchcliffe
Witchliffe is a quaint little hamlet less than 10 minutes south of Margaret River. This is a beautiful first stop on your way from Margaret River to Pemberton because the coffee and cake at Yardbyrd is to die for. There's also a couple quirky vintage stores and op shops in town where you're sure to find a unique souvenir.
📍Witchcliffe | Google Maps
2.Karridale
If you time this stop perfectly for lunch you can't go past the Karridale Tavern. Typical, old school, roadside tavern. Cheap beer, big portions and friendly service. I love it! If you're not keen on lunch just stop at Karridale Crossroads general store and grab some epic snacks for the road (way better than normal servo food!)
📍Karridale | Google Maps
3.Alexandra Bridge
Only 10 km from Karridale, Alexandra Bridge is a peaceful, natural campground and swimming hole to stop at. You can go kayaking or canoeing here, swimming, bushwalking or have a picnic. Dogs are allowed but must be on a leash at all times.
📍Alexandra Bridge | Google Maps
4.Lake Beedelup
Did you know Lake Beedelup is actually about 17 minutes from Pemberton? It's on the way! So why not stop in before you get to Pemberton and stretch your legs? You can park up and walk to the suspension bridge over the Beedelup Falls or do the 4.5km loop walk if you've got more time on your hands.
📍Lake Beedelup | Google Maps
Best Stops From Margaret River To Pemberton Via Nannup
1.The Berry Farm
The Berry Farm also features in our top lunch recommendations because the food and the cottage setting are literally the perfect pair. Open from 10am daily this is the perfect first stop on your route from Margaret River to Pemberton. The Berry Farm has an incredible nature playground for the kids, scones like your grandma made and a relaxed, cottage garden setting.
📍The Berry Farm | Google Maps
2.Barrabup Pool
The perfect place for a refreshing dip on the way from Margaret River to Pemberton, Barrabup Pool has a wooden deck, fresh water, picnic benches and plenty of space to park up and enjoy the serenity.
📍Barrabup Pool | Google Maps
3.Nannup Brewing Company
There's plenty of good eats in Nannup but I love Nannup Brewing Company because it's got a great menu and awesome grounds to enjoy a feed and a beer. Nannup means "meeting place, or stopping place" in Noongar, Aboriginal Language and that's why it comes in at one of our top spots on the way from Margaret River to Pemberton.
📍Nannup Brewing Company | Google Maps
4.Ampersand Estates Winery
Ampersand Estates Winery is the perfect final stop before Pemberton. From here there is only 27 minutes to go to reach Pemberton so why not enjoy a wine tasting in their premium cellar door and choose a bottle to have with dinner?
There is also WA's largest rainfall distillery here so if wine isn't your thing perhaps a premium Vodka or Gin is. My favorite is the Honey Roasted Macadamia infused vodka. Such a treat!
To really top off your experience you can book a gourmet picnic here and you'll really arrive in Pemberton relaxed and ready for your holiday!
Extra Tip: If you have time, when you get to Karridale, instead of turning left, you can take a detour further south to the town of Augusta. It will add at least an hour to your journey but you will be able to visit the Cape Leeuwin Lighthouse which is pretty spectacular, or detour up Caves Road for a couple of kilometres and visit Jewel Cave.
📍Augusta | Google Maps
🏩Best Accommodation From Margaret River To Pemberton
⭐RATING: 9.3/10 – with over 230 positive reviews! | 🌏DISTANCE FROM PEMBERTON: 77km |📍LOCATION: 14 Grange Road, Nannup WA | Google Maps
Holberry House is a comfortable, country retreat surrounded by parks and gardens on 4 acres in the center of Nannup. It's the perfect place to soak in warm, country hospitality and relax while you explore the beautiful town of Nannup.
⭐RATING: 8.6/10 – with over 270 positive reviews! | 🌏DISTANCE FROM PEMBERTON: 37km |📍LOCATION: 255 Storry Road, Peerabeelup WA | Google Maps
Half an hour from Pemberton you'll find Donnelly Lakes. The chalets are beautiful self-contained cottages overlooking the lake. They offer privacy, tranquility and comfort. Here you can enjoy canoeing, kayaking, bushwalking and bird watching.
⭐RATING: 9.9/10 | 🌏DISTANCE FROM PEMBERTON: 35km |📍LOCATION: 9883 Vasse Highway, Peerabeelup WA | Google Maps
Remember the distillery and winery we mentioned above? Ampersand Estate also offers luxury accommodation. So if you're really looking to indulge before you arrive in Pemberton this is the perfect place for you. There are three residences suitable for 4-10 guests. They are luxuriously appointed with chef's kitchens, sprawling decks, fireplaces and custom made furniture. You'll even enjoy a gourmet hamper on arrival.
Best Accommodation In Pemberton
⭐RATING: 8.4/10 – with over 680 positive reviews! | 🌏DISTANCE FROM PEMBERTON: 20km |📍LOCATION: 11342 Vasse Highway, Beedelup WA | Google Maps
I love staying at the RAC Karri Valley Resort because it's got everything you could possibly need for a family stay, including:
Games Room
Animal Feeding
Boat / Kayak / Canoe Hire
On-Site Restaurant
Playgrounds
Picnic Areas / BBQ's
Honestly, this is a place you can stay and not leave. The resort hugs Lake Beedalup with easy access to Beedelup Falls and the loop walk. You can catch trout in the lake and hire everything you need for a fun afternoon on the lake.
There is an expansive new campground with a camp kitchen and kiosk or there are self-contained family cabins if that's your preference. I love the log cabins as they are private and cozy with wood fires for winter.
⭐RATING: 9.3/10 | 🌏DISTANCE FROM PEMBERTON: 12km |📍LOCATION: Old Vasse Road, Pemberton WA
I love glamping, it's kind of the middle ground in terms of having the camping experience without the effort to 'rough it'.
You can go glamping in Pemberton. WA Wilderness Glamping is brought to you by Pemberton Discovery Tours and is basically a pop-up campsite in the forest. All you need to do is show up.
They offer a tailored experience with everything included right down to the bedding or less if you intend to bring some of your own gear. It's camping, with less effort. Woohoo!
⭐RATING: 9.1/10 – with over 380 positive reviews! | 🌏DISTANCE FROM PEMBERTON: 5km |📍LOCATION: 12928 Vasse Highway, Pemberton WA | Google Maps
Treenbrook Cottages are family-friendly, self-contained cottages set 'on the edge of the forest and on the edge of town'. Treenbrook really offers you that home away from home feel with all the modern conveniences you're looking for including TV/DVD, full kitchen, wood fire and BBQ facilities.
There are walking trails accessible directly from your chalet and the property is close to nearby scenic attractions, wineries, restaurants, lakes and rivers.
FAQs
Can I Drive From Margaret River To Pemberton?
Yes, you can drive from Margaret River to Pemberton. This is the recommended way to travel as there is limited public transport and driving means you can enjoy a self-paced itinerary.
The drive takes between 1.5-2 hours depending on which route you choose and if you stop along the way. The shortest route is 135 km.
🚗💨Visiting from interstate or overseas? Check the rates on hire cars here > BOOK NOW!
Is Pemberton Worth Visiting?
Yes, Pemberton is a wonderful destination with lots to see and do. Pemberton is great for singles, couples, families and groups and offers a wide range of activities including indulgence, leisure and adventure.
What Is Between Margaret River And Pemberton?
There is a changing landscape from Margaret River to Pemberton. You will see expansive rural vistas, forests and hints of granite and limestone.
There are some rustic small refreshment stops, swimming holes and, depending on your route, the bustling small town of Nannup.
How Many Days Should You Spend In Pemberton?
It's really up to you as to how much you want to pack into each day but I would recommend a minimum of three days to really explore the best of what Pemberton has to offer.
If you've got a little more time you can explore further from Pemberton to places like Walpole, home of the Valley of the Giants and tree top walk or even travel all the way from Pemberton to Albany.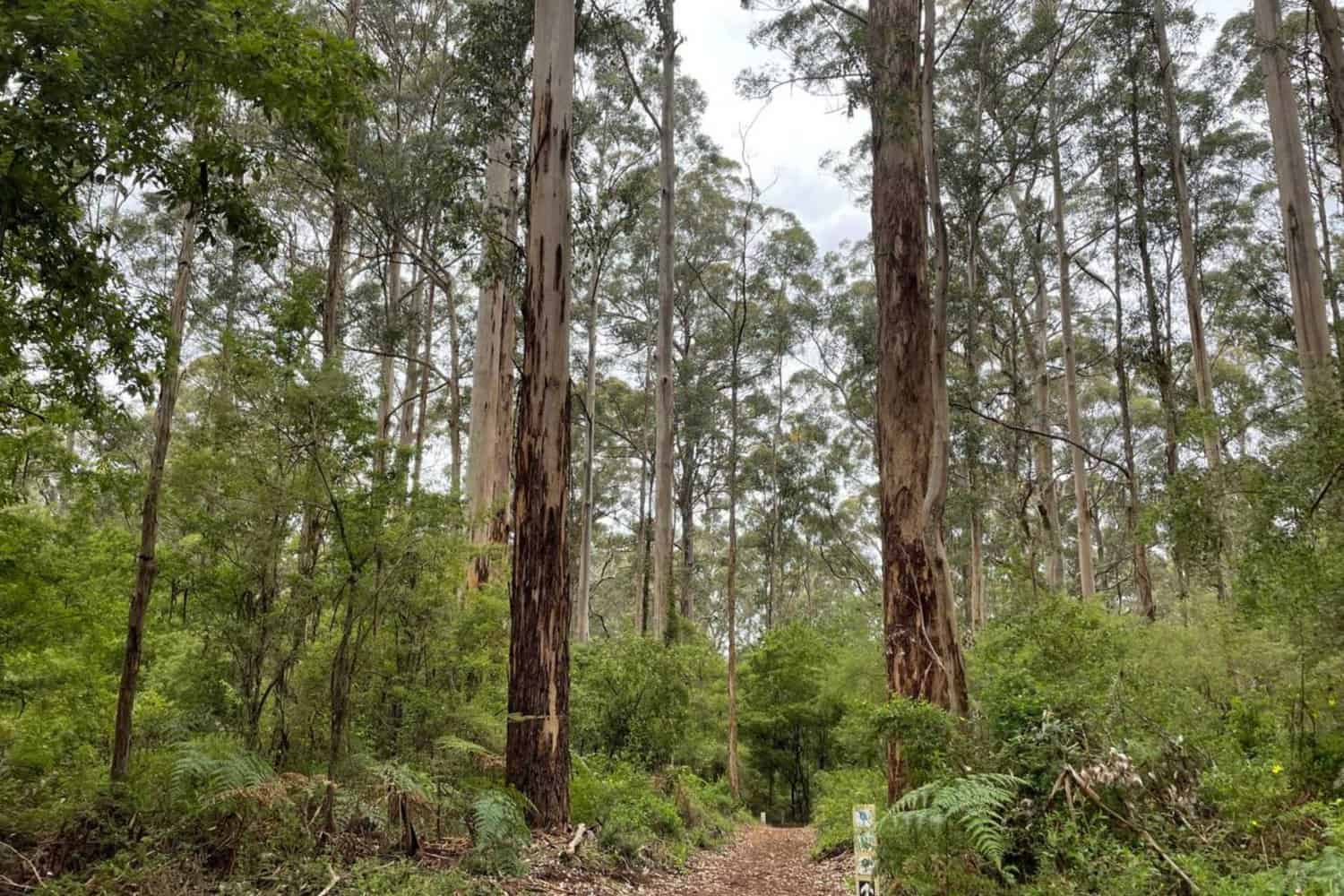 When Is The Best Time To Visit Pemberton?
Anytime of the year is great to visit Pemberton. In the winter you'll find full streams, lakes and dams and the tranquil beauty of a green forest floor. In the summer you'll enjoy swimming in the water holes, kayaking and lots of other adventures.
What Are Some Other Things To Do In Pemberton?
Some other activities to enjoy in Pemberton include bird watching, canoeing, hiking trails, winery tours, local markets and festivals as well as shopping and dining options. There's something here for everyone!
Is It Better To Stay In Margaret River Or Pemberton?
It is great to stay at either Margaret River or Pemberton. You can easily day trip to Pemberton from Margaret River but I personally would recommend you include a few days in Pemberton to see and do everything I've recommended.
Can You Travel From Pemberton To Margaret River?
Yes, if you are looking to do things between Pemberton to Margaret River, just read my list in reverse!
Summing Up: Margaret River To Pemberton
Margaret River to Pemberton is a short and worthy road trip. It takes less than two hours to drive from Margaret River to Pemberton. You can stay in Margaret River and day trip… or add Pemberton to your south west itinerary for a few nights.
You will absolutely need your own car or hire car to really enjoy the sights of the region. Even the drives themselves are spectacular. You'll meander through rural farm land, towering karri forests, hug the banks of river systems, streams and lakes.
There's nothing quite like this area of the south-west and I truly hope you enjoy your experience here.
Let me know what you think of my recommendations on instagram @accommodationmargaretriver .. I'd love to hear about your travels!
Related Posts: