Where Is Margaret River? A LOCAL Answers Your Questions! [2023]
Are you wondering, where is Margaret River?
Margaret River is a beautiful town situated in the south west region of Western Australia. It is home to some of the most spectacular coastal scenery, lush forests, and world-renowned wineries and breweries.
The Margaret River Region has something for everyone – from stunning beaches, vibrant cafes and restaurants, boutique shops, galleries and great outdoor activities. Whether you are looking for a romantic getaway, an adventure-filled holiday, or simply a relaxed weekend away – Margaret River is the perfect destination.
Located just a short drive from Perth, Margaret River offers visitors access to some of Australia's best surfing spots and beautiful wine regions. The region is also well known for its stunning natural attractions, including the world-famous Leeuwin-Naturaliste National Park, where you can explore some of the most beautiful beaches and forests in Western Australia.
I'm the perfect person to tell you about Margaret River, as I have lived in Margaret River and owned an accommodation business here since 2016. So, if you have any questions about the area or want to know more – just get in touch! Are you ready to find out more about Margaret River and have all your questions answered about where it is?
Read on to find out!
Where Is Margaret River Located?
📍Margaret River | Google Maps
Margaret River is located in the south west region of Western Australia, approximately 270 kilometres south of Perth. It is situated within the margins of Leeuwin-Naturaliste National Park and surrounded by stunning forests, rolling hills and beautiful beaches.
The Margaret River Region encompasses a wide area spanning from Busselton to Augusta and includes towns such as Yallingup, Cowaramup, Dunsborough, Gracetown and Margaret River itself.
The region is known for its spectacular coastal scenery, world-famous wineries and breweries, picturesque beaches, vibrant cafes and restaurants and exciting outdoor activities. It's the perfect place to explore all the natural beauty that Western Australia has to offer!
If you're planning to take a road trip from Margaret River to another town, here's an overview of the distances between them by road:
Margaret River to Perth: 270km
Margaret River to Bunbury: 101km
Margaret River to Busselton: 50km
Margaret River to Dunsborough: 46km
Margaret River to Yallingup: 36km
Margaret River to Augusta: 43km
Margaret River to Nannup:71km
Margaret River to Manjimup: 130km
Margaret River to Pemberton: 133km
Margaret River to Walpole: 253km
Margaret River to Denmark: 322km
Margaret River to Albany: 343km
So, as you can see, Margaret River is reasonably close to Perth, but a bit of a drive to some further, far-flung towns, but that's just Western Australia for you!
Weather & Climate Of Margaret River
Margaret River's weather and climate is very pleasant, with temperatures in summer rarely rising above 30C. During the summer months of December to February, average daytime temperatures range between 25-27C and 12-14C during the evening, while during winter the temperature drops to an average of 17C during the day and 8C during the evening.
The Margaret River region experiences a Mediterranean climate with wet winters and dry summers. Summer is usually warm and sunny, while winter brings with it cooler temperatures and a lot of rain. The winter months also bring plenty of wind and storms to the area.
The annual rainfall can vary a bit, but Margaret River normally sees around 1000mm of rain falling each year.
When planning your visit to Margaret River, be sure to take into account the weather and climate, so you can make sure you're prepared for whatever Mother Nature has in store! I always recommend people bring warm clothing, as even in summer the evenings can be quite cool, and if you're visiting in Winter, definitely make sure you bring wet weather gear because it rains a lot here!
Attractions & Activities Of Margaret River
Margaret River offers a variety of attractions and activities to enjoy. Nature lovers will love exploring the many trails in the area (including the iconic Cape To Cape Track!), as well as whale watching during the months of June-October. There are also plenty of beaches for swimming, snorkeling, surfing and fishing.
The Margaret River region is known for its amazing wineries, and there are dozens of them to explore. You can go on wine-tasting tours or just pick your own favorite spot for a relaxing afternoon picnic.
For shopping, dining and other entertainment options, Margaret River is home to dozens of specialty stores and boutique markets located in the town centre as well as further along the Bussell Highway, or basically any road that takes your fancy when you're driving around!
Margaret River truly has something special to offer everyone.
Transportation In Margaret River
Getting around the Margaret River region can be a little bit of a challenge. The easiest thing to do is to hire a car in Perth and drive down, as this will give you the most choice of what you can do in the order that you want to do it. Failing that, you can always hire a taxi, or book yourself onto a wine-tasting tour.
You could also take a tour from Perth to Margaret River, which I find a fairly cost-effective way to see the region if you can't drive.
Otherwise, you will be limited to walking, cycling or hitchhiking! There is no public transport in Margaret River, so best you just bring a car and save yourself the grief.
Pros And Cons Of Living In Margaret River
Wondering what it's like to live in Margaret River? Here is a brief list of what I think are the main pros and cons of living in Margaret River after living here for 7 years:
Pros:
The laidback lifestyle: nobody is ever really in a hurry, so get used to slow cars driving on Caves Road 20km below the speed limit!
Beaches: The best beaches in Australia are here, you can't change my mind.
Location: I love that we are 3 hours from Perth, which is close enough if we need to go pick someone up from the airport or run errands in Perth, but far enough away that it still feels like a country town. If I need something from a big town or city, I'm far more likely to head to Busselton which is only 50km up the road, and I can get most everything we need from there. I also like how close we are to Nannup, Pemberton, Bridgetown and Manjimup, because these little towns are awesome, and Augusta is pretty much my favourite town in the world and that's just half an hour away from us too.
Time Zone: If you work remotely and have a lot to do with Asian nations, we have a great timezone that is the same as most of Asia.
Affordability in comparison to Perth and other capital cities: Housing and what not is a lot cheaper in Margaret River than it is in Perth, especially considering the size of the blocks and the access to schools, shops and other amenities.
Weather: I love that it doesn't get too hot here in summer, there is only maybe 5 days every summer that are unbearable, and it always cools off at night because of the sea breeze so it never really feels that hot. I also love winter because it rains all the time!
Gardening: As long as you get on top of your soil, then it is really easy to grow a great vegetable garden in Margaret River, because we get so much for most of the year. It's only for 3-4 months over summer that you'll need to water by hand.
Fishing: Lots of access to great beaches that you can fish from, as well as the whole Indian Ocean on our door stop!
Surfing: There's a reason they have the Margaret River Pro in Margaret River, and that's because we have some of the best surf in the world.
4WDing: Heaps of 4WD tracks are within a 100km radius of Margaret River, including plenty of beaches you can drive on.
Wineries And Breweries: Theres over 120 wineries in Margaret River, and 14 breweries, plus a number of distilleries. If craft grog is your thing then Margaret River is where you want to be!
Attractions: I sat down to write a list of the best Margaret River attractions and I came up with a list of 57 things to do within about ten minutes! There's so much to do in Margaret River that I have lived here for 7 years and I'm still finding new things to do all the time!
Cons:
Laidback lifestyle: This was in the pros section, but it's also a con because it can be very hard to get a tradesperson if the surf is good that day.
Distance from Perth and other parts of the world: I mean I think this is a good thing, but for others, we are a long way from anywhere, especially if you have family in other states or countries.
High cost of living in comparison to other regional areas: Margaret River housing is cheap compared to Perth, Sydney or Melbourne, but it's kind of expensive if you compare it to lots of other regional towns, especially those inland. I will say though, that if you are handy at growing a garden, catching fish, or having a couple of farm animals, this can greatly reduce your cost of living, as all these things are easier to do in Margaret River rather than inland because of the high rainfall in Margaret River.
Lack of job opportunities: Margaret River is great if you want a job in hospitality, at a vineyard, or at a dairy, but other industries may find it hard to find work, although with the increase of people working from home these days, this is becoming less of an issue.
Everyone wants to visit: If you move to Margaret River, suddenly you'll find heaps of acquaintances that want to be your friend now and camp in your backyard every time they visit Margaret River (to save on accommodation costs). Since we moved to Margaret River, basically all of our friends have visited us multiple times, however when we lived in Katanning, 300km inland from Margaret River, no-one came to visit…but who can really blame them!
FAQ: Where Is Margaret River?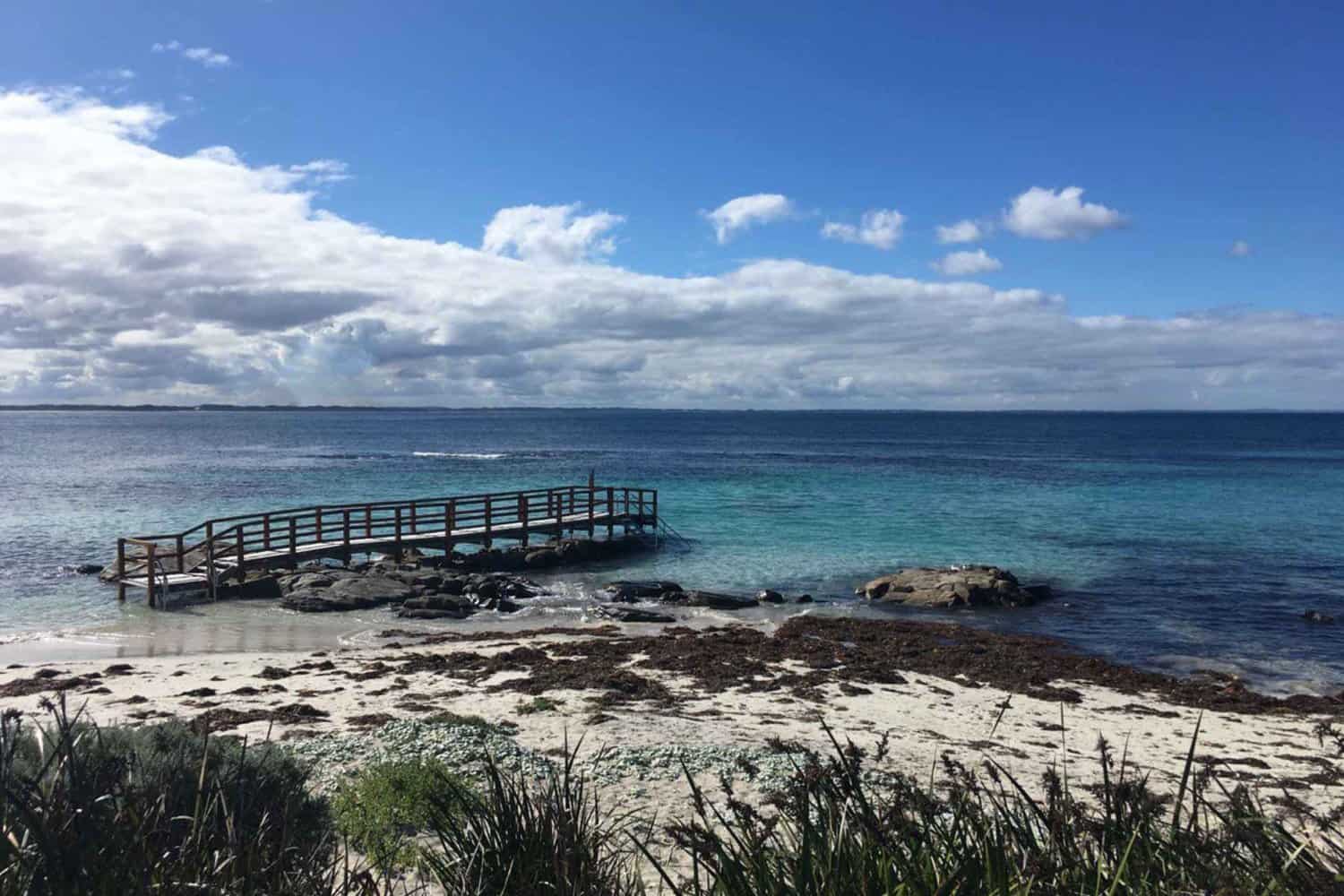 Conclusion: Margaret River Western Australia
So there you have it, Margaret River in a nutshell! If you were wondering where is Margaret River when you started reading this article, I hope I've answered all of your questions!
Margaret River is a stunning destination in Western Australia with plenty to offer visitors. Located 270km south of Perth, it's easily accessible by car or bus and makes for an excellent getaway spot.
Here, visitors can experience the best of the Australian outdoors – stunning beaches, lush green forests, and plenty of wildlife. In addition to its natural beauty, Margaret River is also renowned for its world-class wineries, breweries, cafes and restaurants.
With so much to explore and a laid-back atmosphere unlike any other region in Australia, it's no wonder why Margaret River is a popular tourist destination. Whether you're looking for an adventure or just want to relax and soak up the sunshine, this unique corner of Western Australia promises something for everyone.
When planning your trip, be sure to factor in some time to explore the region's charming towns and attractions as well. And don't forget to pick up a bottle of Margaret River wine while you're here – it's the perfect way to toast your visit as you plan your next adventure!
Related Posts: