Margaret River Accommodation With A Fireplace (Our Top 27 in 2023!)
The Margaret River Region is a stunning destination year-round. Yes, the summer is beautiful and beachy but if you are visiting in Autumn or Winter you'll be looking for Margaret River Accommodation with a fireplace.
In the cooler months (May-September) our days are often clear and sunny but the nights are cold. Perfect for cozying up by a fire with a bottle of local Cabernet Sauvignon. Picture yourself now? I thought so.
I live locally and am an expert on Margaret River accommodation and activities so you won't need to look any further than our top 27 recommendations.
Read ahead to find your perfect accommodation for your Margaret River winter escape.
Summary
Affiliate Link Disclosure
This article contains some affiliate links which means that I may earn a small commission when you click on them, at no additional cost to you. I do hope you find the information in this article helpful!
Related Posts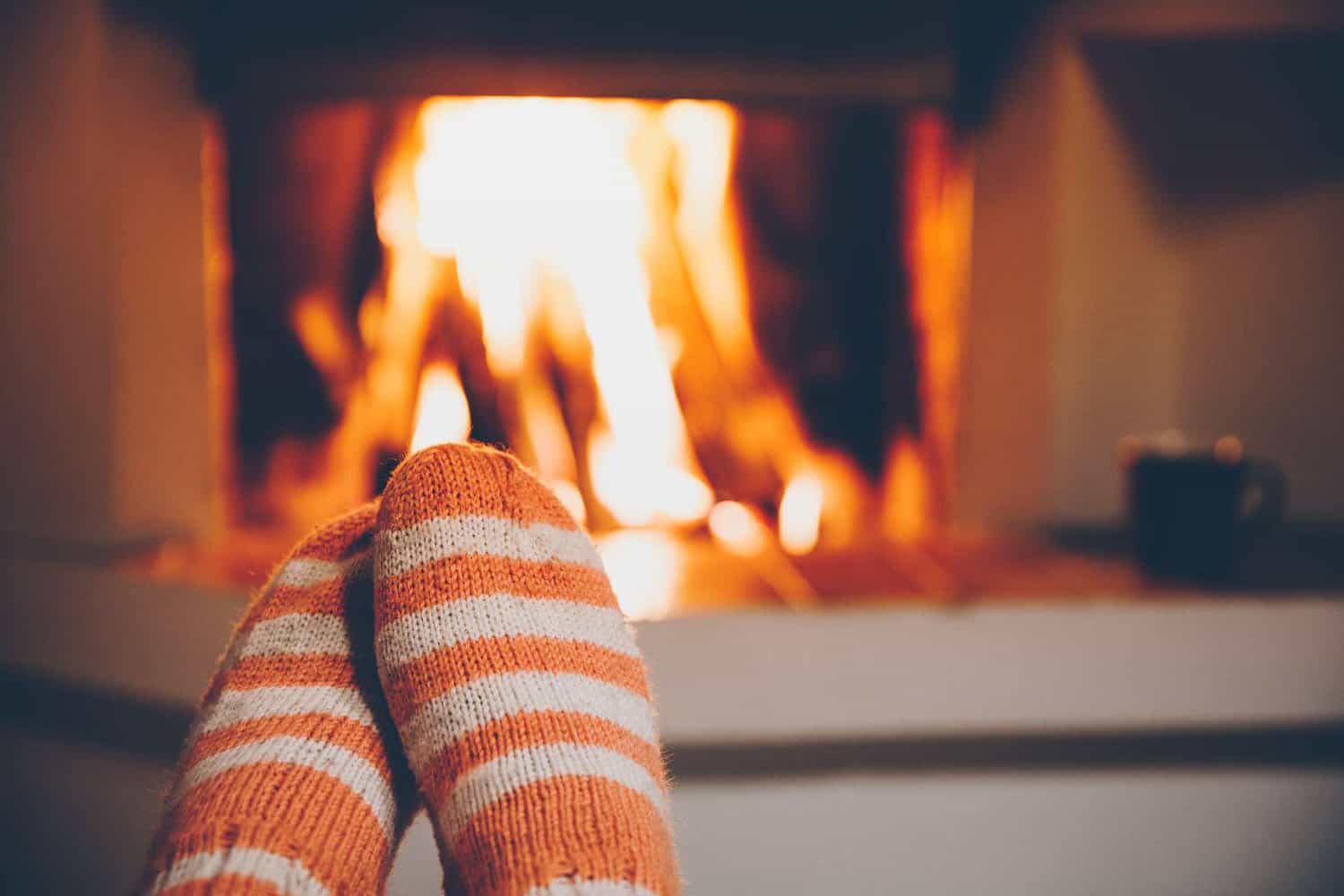 1) Yelverton Brook Eco Spa Retreat and Conservation Sanctuary
Yelverton Brook Eco Spa Retreat and Conservation Sanctuary is the perfect base to explore the Margaret River region from. Nestled into a 100-acre certified wildlife sanctuary you'll really feel that escape from everyday life.
They offer both studios and lodges but if you want to enjoy a cozy wood fire, book a lodge. 
You'll have all the comfort of home but be surrounded by local flora and fauna. This is truly a magical and unique place to experience the southwest from.
Address: 118 Roy Road, Metricup, WA, 6284
Phone: + 61 8 9755 7579 
2) Bushy Lake Chalets
Bushy Lake Chalets are a true reflection of the south west lifestyle. Conveniently located only 5 minutes from town towards the beach you'll have some of my favorite wineries and restaurants on your doorstep.
There's a range of chalets offering lakeside and forest views and wood fires! Wood is supplied for the winter months with extra available for purchase if required.
What a cozy way to enjoy your winter getaways in the south west of WA.
Address: 26 Eucalyptus Court, Margaret River, WA, 6285
Phone: + 61 8 9757 9677
3) Bussells Bushland Cottages
Bussells Bushland Cottages is a tranquil southwest retreat offering 8 rammed earth cottages set amongst nature. It is actually gazetted as a wildlife sanctuary so you'll certainly enjoy local flora and fauna.
A pot-belly stove will warm your cottage in winter with a wood supply kept on the verandah for easy access. These are some of our absolute favorite Margaret River cottages with a fireplace as you'll really get to enjoy the tranquility of the southwest here.
Address: 447 Carters Road, Burnside, Margaret River, WA, 6285
Phone: + 61 8 9757 2292
4) Caves Road Chalets
Caves Road Chalets are in a perfect spot, set amongst rolling vineyards and only a few minutes from the Indian Ocean at Gracetown. The chalets are comfortably appointed and suitable for small families including pets!
They do have reverse cycle air conditioning to keep you toasty but they also have wood fires if you'd like to get warm and cozy to the crackle of a 'bush tv'. 
You will need to bring your own wood here but if you forget you can pick up a bag or two at most of the local service stations.
Address: 5023 Caves Road, Gracetown, WA, 6284
Phone: + 61 8 9755 5266
5) Losari Retreat
Losari Retreat offers boutique luxury spa villas and boy oh boy are they a treat! Losari is a truly special place nestled amongst natural bushland and forest and really encompassing that southwest vibe.
In their villas, you'll find open eco-fires. So you'll get the feel of a wood fire without the effort and in a more sustainable way. Magic!
Address: 498 Osmington Road, Margaret River, WA, 6285
Phone: + 61 8 9757 3630 
6) Margaret River Retreat
Margaret River Retreat is a unique property with a lot to offer. It is suitable for families, groups, functions, or couples on a getaway down south. 
In winter, you can hire oz pig woodfires as well as enjoy a large communal fire pit to keep you warm. There is wood available on site as well as wood-fire cooking equipment. What an experience!
Margaret River Retreat is also super popular for weddings and features a very cool glamping village. 
Address: 11117 Bussell Highway, Forest Grove, WA, 6285
Phone: + 61 4 28 587 072
7) Karri House
Karri House is a picturesque property set on two acres and surrounded by beautiful gardens. Karri House is located close to Margaret River town center and offers three lovely queen bedrooms. 
The well-appointed communal living room has a large wood fire just beckoning you to sit around it in the evening and enjoy a glass of wine. With a motto of "Eat, Stay, Love" Why not do just that on your winter getaway in WA.
Address: 20 Karri Loop, Margaret River, WA, 6285
Phone: + 61 4 28 587 072
8) Rosewood Guesthouse
Rosewood Guesthouse is everything you'd want in a luxury bed and breakfast in Margaret River. The suites are luxuriously appointed and offer clean, comfortable, old-world charm.
Whilst the suites give you the privacy you might crave on a romantic getaway down south, the common areas offer the opportunity to unwind by a wood fire. 
You might find like-minded travel companions to have a chat with, otherwise enjoy the warmth and comfort to yourselves.
Did you know they also offer wine tours in a classy, vintage Rolls Royce? 
Address: 54 Wallcliffe Rd, Margaret River
Phone: +61 8 9757 2845
9) Littlewood Chalets
We just love Littlewood Chalets. They are a real stand-out for new accommodation in the Margaret River Region.
The chalet sleeps up to 4 guests and is luxuriously appointed but not in a boujee style; In a "seamlessly fit into my natural backdrop style". It's really special in that you're only a few minutes from town but feel a world away.
Littlewood Chalet is a place we would recommend at any time of the year but you're sure to stay warm and loved up in front of a wood fire in the living room if you book here for your winter getaways in the South West of WA.
Address: 960a Osmington Road, Margaret River, WA, 6285
Phone: +61 488 091 901
10) Riverglen Chalets
Riverglen Chalets are set amongst 7 acres of natural bushland only 2 minutes from Margaret River town.
You'll really get to enjoy some local delights with The Margaret River Distilling Company being right on their doorstep and the iconic Margaret River Brewhouse only a short walk away.
Riverglen also is the perfect base for Mountain biking with easy access to the trails in the Wooditjup National Park. 
After a long day of eating, drinking or riding there's nothing better than cuddling up by a woodfire so make sure you book one of the chalets that has one!
Address: Carters Road, 1 Maxwell Street, Margaret River, WA, 6285
Phone: + 61 8 9757 2101
11) Jarrah Grove Forest Retreat
What a place to relax and soak up the ambiance of the Margaret River Wine Region. Jarrah Grove offers well-equipped and stylishly furnished Chalets. If you're looking for Margaret River accommodation with a log fire, this could be the place for you.
Jarrah Grove Forest Retreat is about 15 minutes from Margaret River town. It is set amongst 86 acres of natural bushland and private forest and is a truly tranquil destination.
Your hosts at Jarrah Grove will even arrange hampers if you wish. Why not make your stay just that little bit more effortless?
Address: 705 Davis Road, Rosa Glen, WA, 6285
Phone: + 61 8 9757 5175
12) Gilgara Retreat
Gilgara Retreat is a beautiful homestead on a picturesque estate less than ten minutes from Margaret River.
There are many modern studio rooms at Gilgara retreat, however, if you're seeking that old-world, country homestead charm and a wood fireplace, you'll need to book The Homestead. 
The Homestead is suitable for families, traveling companions or even bridal parties. If you're a couple seeking complete privacy I recommend the studio rooms instead. There's no fire but they're still warm!
Address: 3 Old Ellen Brook Road, Margaret River, WA, 6285
Phone: + 61 487 003 757
13) RAC Nature Park
RAC Nature Park, formerly known as Wharncliffe Mill is a campground and chalet-style accommodation park only a few minutes from Margaret River town.
It is perfect for mountain bikers, families, groups or couples with a wide range of accommodation on offer.
However, if you're really looking for that quintessential Margaret River holiday, book a log cabin and enjoy a wood fire. 
The cabins are modern but tastefully decorated paying homage to the history of the area. If you'd like to sit and chat with other travelers there are large dedicated communal fire pits to use in the winter months.
There are also plenty of nearby walk trails if biking isn't your thing. If you haven't managed to snag a cabin (yes, they are popular!) you can opt for a glamping style safari tent.
Address: Wooditjup National Park, Carters Road, Margaret River, WA, 6285
Phone: + 61 8 9758 8227
14) Constellation Apartments
For a more eco-friendly place with a fire consider Constellation Apartments. These one-bedroom apartments are close to town and finished with state-of-the-art electronics. Including a remote-controlled fireplace! Yep, you'll be toasty and warm without the effort of gathering wood.
The apartments feature stunning original artworks, luxe bathrooms with underfloor heating, and vintec wine fridges stocked with local wines. You had me at the wine fridge.
Address: 141/139 Bussell Highway, Margaret River, WA, 6285
Phone: + 61 4 48 870 709
15) Margaret River Holiday Cottages
Margaret River Holiday Cottages are only 2km from town and have SO much to offer. There are a number of different cottage configurations, one of which has a woodfire! So be sure to check when booking.
They also have farm animals, an indoor heated pool and a large communal fire pit. You're encouraged to be social and toast marshmallows around the fire pit during the winter months. What fun!
Address: 185 Boodjitup Road, Margaret River, WA, 6285
Phone: + 61 8 9757 2185
16) Olio Bello Lakeside Glamping
Olio Bello Lakeside Glamping is a unique venue set amongst a beautiful Olive Grove overlooking a lake. With only six glamping bungalows it's a truly exclusive experience suitable for couples, small families or groups that book the entire property.
The glamping tents are luxuriously appointed with ensuite bathrooms and all the comforts of home. Including bio ethanol real flame fireplaces for those chilly nights in winter. How cozy!
Address: 36 Armstrong Road, Cowaramup, WA, 6284
Phone: + 61 8 9755 9771
17) Forest Rise Chalets And Lodge
If you're looking for privacy and comfort in your own chalet, nestled amongst natural bushland, Forest Rise Chalets and Lodge has it all. 
Forest Rise Chalets and Lodge are a certified eco-tourism property. They offer 10 secluded chalets and are located between Margaret River and Busselton right in the heart of our wine region.
The chalets all have indoor wood fires to keep you warm throughout the winter months. This is truly a home away from home environment that you won't want to leave.
Address: 231 Yelverton Road, Yelverton, WA, 6280
Phone: + 61 8 9755 7110
18) Wyadup Brook Cottages
Wyadup Brook Cottages are fully self-contained comfortable cottages set amongst 250 acres of Natural Bushland. You can be as private as you like here, or join in and help out with the friendly farm animals.
The property is close to the Cape to Cape track as well as the iconic Injidup Bay. The cottages all have wood fires in them so after a big day exploring you can warm up in comfort.
Address: 33 Wyadup Road, Yallingup, WA, 6282
Phone: + 61 8 9755 2294
19) Surfpoint Resort
Only a ten-minute stroll to Gnarabup and Prevelly Beaches! Surfpoint Resort offers clean and comfortable accommodation with a focus on sustainability and eco-tourism.
Surfpoint Resort is a convenient location to access the Cape to Cape track as well as local surfing and fishing spots.
There is a well-appointed common area with a large commercial kitchen, lounge and tables and yes, you guessed it. A wood fire! 
Address: 12 Reidle Drive, Gnarabup Beach, Margaret River, WA, 6285
Phone: + 61 8 9757 1777
If you're looking for something a little more non-traditional or if you have a large family and need a big, private home. There are many private houses you can stay at in Margaret River with a fireplace. Here are a couple of our favorites.
20) Banana Pancakes
A sweet little cottage close to town that sleeps up to 8 people. Banana Pancakes is as the name suggests, somewhere you'd enjoy a lazy morning with your family on your holiday down south.
Banana Pancakes is close to town and set on a one-acre block with abundant bird life, native trees and bushes and that real Margaret River feel.
It is a tastefully renovated and decorated 1950s cottage and I for one can just imagine cozying up near the wood fire with a good book in hand and a hot cup of tea.
21) Maison Du Lac
Maison Du Lac is an impressive new build offering 3 bedrooms, 3 bathrooms and sleeping up to 8 guests. Located on the edge of the forest only 400m from town it's a central and convenient location to explore the region from.
Split over three levels it offers privacy and great views out over the nearby lake. Maison Du Lac offers high-quality linens and all of the comforts you'd expect in a home away from home. Including a woodfire!
22) Trinder Retreat
Trinder Retreat is an exceptional property featuring a main house AND a cottage. It sleeps up to 11 guests in total! How perfect for a large family group getaway.
Trinder Retreat is tucked away on private property overlooking the Cape Mentelle Vineyard. Both houses are fully self-contained with everything you'd need during your stay including a wood fire for those chilly winter days.
You'll also find two sunken outdoor baths here! So why not bathe on the deck with a glass of Cape Mentelle wine before heading in to snuggle up by the wood fire.
23) Banyandah
Banyandah is the Aboriginal word meaning 'Home by the water' and Banyandah is precisely that. Located right on the riverbanks less than 2km from town this place offers privacy and tranquility while still being easily accessible.
Banyandah sleeps up to 8 guests in its 4 bedrooms and is suitable for groups of friends or families. The real highlight of Banyandah is its feature fireplace in the open-plan living and dining room. You can look out over the forest while staying cozy and warm.
Banyandah is also a carbon-positive house so also suits the discerning eco-conscious traveler. You'll also find Banyandah featured in our luxury accommodation guide. Read more here.
24) Calistoga Chalet
If you're looking for a true down south getaway amongst the vineyards and forest, Calistoga Chalet might just be for you. It is a 3 bedroom home and sleeps up to 6 guests.
A luxurious home, well-appointed in a European style you'll certainly feel transported to a place of class and calm. 
We love the feature woodfire in the open plan living area and there is an abundance of wood offered. So you will certainly feel the warm embrace of the southwest as you enjoy your time with your family.
25) Roo's Leap Retreat
The name says it all. A retreat surrounded by wildlife. How wonderful to see Kangaroos bouncing by in the morning! Roo's Leap Retreat is a 3 bedroom home that sleeps up to 6 guests. It is suitable for traveling companions, couples or families.
We love it because it's spacious and private and has everything you need for that home-away-from-home experience. 
Roo's leap retreat features a beautiful woodfire in the main living area which will keep your family nice and warm.
26) Brumby Cottage
Brumby Cottage is a neat and tidy 3 bedroom, 1 bathroom cottage sleeping up to 7 guests. It represents excellent value and is also pet-friendly! 
If you do intend to bring your pooch please do yourself a favor and check out these 29 bucket list activities to do with your dog in Margaret River.
Brumby Cottage is fully self-contained and is simple and rustic in style. There is an indoor log fire to keep you comfortable in winter but also an outdoor fire pit for those clear nights soaking up the southwest vibe with friends. 
27) Ohana A
If you're looking for something a little more modern please check out Ohana A. This is a new build, close to town and features all the modern conveniences you could want. 
Despite being a clean, modern build. Ohana A has a wood fire which by now we know, is super enjoyable for those colder months down south. 
Ohana A is a 2 bedroom home sleeping up to 4 guests. It's only a few minutes' walk into the main street of Margaret River so it is a really convenient location. Barret Street Weir is also a short stroll away as well as the rails to trails walking and bike paths.

Conclusion
There are many reasons people visit Margaret River. Margaret River is a world-class travel destination and I am proud to live here. Visitors year-round love;
Rest and Relaxation

Indulging in food and wine

Hiking, biking or surfing
And all of those things are made that little bit nicer by enjoying cozying up by a wood fire in the evening. The winter months in Margaret River are truly beautiful. 
The sound of rain on the roof, the smell of the forest and the beautiful clear days we sometimes get all really add to your experience.
So book your winter escape and choose Margaret River accommodation with a fireplace. You won't regret it.