Margaret River To Nannup BEST STOPS – Locals Guide [2023]
Are you heading from Margaret River to Nannup and wondering what you can do on the way?
It's only a shortish trip, but there are definitely a few places you can see along the way!
I'm a Margaret River local, and I have spent the last 7 years working in the Accommodation Industry in Margaret River, so I've spent literally houuuuuurs recommending places to see around Margaret River and Nannup. I also have friends that live in Nannup so we've made the trip there heaps of times. I'm the right person to tell you what to do between Margaret River and Nannup!
I've actually created two lists here; one is for if you drive from Margaret River to Nannup via Mowen Road, which is 71km, or you could head south towards Karridale and then up Brockman Highway, which is just over 100km.
Read through both lists to decide, as both have quite different places you can stop at. Maybe if you're staying in Margaret River you can head over one route and then back the other?
Anyway, I'll stop beating around the bush, are you ready to find out what makes my lists?
This article contains some affiliate links which means that I may earn a small commission when you click on them, at no additional cost to you. I do hope you find the information in this article helpful!
Best Stops From Margaret River To Nannup via Mowen Road
1.Stella Bella Wines
2.Ten Mile Brook Dam
3.Brown Hill Estate
4.Darnell's General Store
5.Barrabup Pool
6.Kondil Wildflower Park
7.Nannup
Best Stops From Margaret River To Nannup via Brockman Highway
1.Bellview Shell Collection
2.Witchy Pies and Cakery/Cookies Galore
3.McHenry Hohnen
4.Amato Vino
5.Whirlwind Olives
6.Karridale Roadhouse/Tavern
7.Karridale Olive Farm
8.Glenarty Road
9.Alexandra Bridge
10.Nillup Village General Store
11.Nannup
🌏Where Is Nannup?
Nannup is a small town in the South West region of Western Australia, 266km southwest of Perth, 60km southeast of Busselton, and 71km east of Margaret River. It's not next to the ocean, but it is on the banks of the Blackwood River and nestled in the Blackwood River Valley.
📍Location: Nannup
🤩Why You Should Visit Nannup
Nannup is the perfect place to get away from the hustle and bustle of everyday life. It's a little piece of paradise in the South West, surrounded by nature and filled with plenty of activities for families, couples or adventurous travelers. Whether you're looking for food, shopping or outdoor activities like fishing, bushwalking or canoeing, Nannup has something for everyone!
There are lots of picturesque spots in the area and plenty of opportunities to enjoy some delicious local produce. It's a great place to explore and relax while getting immersed in the stunning nature that surrounds it.
Plus, if you're looking for a more laid-back experience – Nannup is known for its annual Tulip Festival and an annual music festival, amongst other events. If you're looking for an escape from the ordinary and a change from Margaret River, Nannup is definitely worth a visit!
🚗Margaret River To Nannup Drive Time
To drive from Margaret River to Nannup is 71km via Mowen Road, and takes about 50 minutes if you don't make any stops.
🗺️Margaret River To Nannup Distance
The distance from Margaret River to Nannp is 71km via Mowen Road.
🚗How To Get From Margaret River To Nannup By Car
Main Route
To get from Margaret River to Nannup via Mowen Road, head east along John Archibald Drive, until you are on the Perimeter Road, then turn down Roas Brook Road heading east. Rosa Brook Road eventually becomes Mowen Road, and when you come to the intersection of Sues Road, about halfway along or so, you will have a weird little dog ear to get through to continue towards Nannup. You virtually turn left and then turn right straight away – it'll make sense when you see it! When you get to the end of Mowen Road, turn right onto Vasse Highway for a couple of kilometers until you get to the town of Nannup.
Alternative Route
The alternative route to get to Nannup from Margaret River, which is just over 100km, so about 30km more than the Mowen Road route, is to head south from Margaret River along the Bussell Highway as if you are driving towards Augusta. When you get to Karridale, turn left up the Brockman Highway, and follow this all the way to Nannup. Easy!
Do I need an International Drivers License?
If you're planning on renting a car during your trip, an International Driver's License is recommended but not required. You can find more information about which countries require additional licences to drive on Australian roads through the WA Department of Transport website.
Best Stops Between Margaret River To Nannup
Depending on how long your holiday is, some of the stops I have recommended may be more or less important depending on how much time you have.
I have included potential stops that are close to the main route, but you can also use this list to just choose one or two things to do, or not stop at all and drive straight to Nannup!
Let's get into it!
Best Stops From Margaret River To Nannup via Mowen Road
1.Stella Bella Wines
Stella Bella Wines is a Margaret River winery with their cellar door located less than five minutes from town on Rosa Brook Road. It's a great stop if you're looking for some delicious wines to try while you're in town, as they produce some of the best wines in the region with beautiful finesse and elegance.
The Stella Bella Cellar Door is open for tastings from 10 am-5 pm every day. Bring a picnic with you and indulge amidst the stunning vineyard scenery, and enjoy a glass of wine to go with it! They have a lovely grassed area with limited tables available.
At their Cellar Door, your pup is more than welcome; just make sure they are on a leash and refrain from letting them wander alone in the vineyard for everyone's safety.
If you like SSBs, I highly recommend the Stella Bella Semillon Sauvignon Blanc. Even if you can't make the cellar door, if you see a bottle at the botteshop grab one to try! It's really one of the best SSBs going around I reckon.
📍Stella Bella Wines Address: 205 Rosa Brook Road, Margaret River WA | Google Maps
2.Ten Mile Brook Dam
Further, along Rosa Brook Road you will find Ten Mile Brook Dam. This is a lovely picnic area with two accessible picnic tables and a barbeque. It was named after the tiny brook that was dammed in the mid-1990s to create a new supply of water for Margaret River and other townships. The dam is about 10 minutes' walk from the car park, but you can also access it via a 15km walk trail that starts from Rotary Park in Margaret River.
Swimming and water sports are not allowed at the dam due to it being a water catchment area, however, you can still enjoy activities such as bird watching, bushwalking, and picnicking in this serene setting.
I like to grab a coffee from Yahava and bring the kids here for a quiet bushwalk. It's not the prettiest place in Margaret River, but it's always quiet and the kids have a blast!
📍Ten Mile Brook Dam Address: Access is via the Rusden Picnic Ground, turn left onto Glengarry Road from Rosa Brook Road heading east, then right onto Dam Road and follow this road until you get to the carpark and picnic area | Google Maps
3.Brown Hill Estate
Brown Hill Estate is a must-stop for anyone traveling from Margaret River to Nannup. Just 12 minutes out of Margaret River, you will find their cellar door nestled in the charming village of Rosa Brook.
At Brown Hill Estate's Cellar Door, you can sample some of the best wines in Margaret River and get an inside look at the winemaking process. The friendly family-owned staff is sure to give you plenty of information about Margaret River, the wines, and the vineyards, making your visit to Brown Hill Estate truly memorable!
In my time welcoming guests to the region as part of my job working in an accommodation business, I used to send heaps of guests here. It's close to town, it's a small, family-owned winery, and their wine is top-notch! You may not have heard of them before, but there's a reason they always make the list of top wineries in Margaret River and why so many locals will recommend them!
📍Brown Hill Estate Address: 925 Rosa Brook Road, Rosa Brook WA | Google Maps
4.Darnell's General Store
Darnell's General Store is a unique and charming destination, offering visitors a chance to step back in time. It has been operating since the 1930s and still retains much of its original charm – from the post office to the general store, grocery store, fuel station, and small kitchen that produces rolls and sandwiches.
The store provides a unique cultural experience and is well worth the visit for anyone traveling between Margaret River and Nannup. Whether it's indulging in some of their homemade sandwiches, stocking up on groceries or souvenirs, or simply browsing through the store and its fascinating history – you'll find something special at Darnell's General Store.
It's truly an experience that you won't find anywhere else! And I'm almost willing to say, if you only have time to stop at one place on your journey from Margaret River to Nannup, stop here. It's really so cool. I love it so much! It really feels like you're stepping back in time.
📍Darnell's General Store Address: 1230Rosa Brook Road, Rosa Brook WA | Google Maps
5.Barrabup Pool
Barrabup Pool is a stunning natural pool located on the gentle flowing St Johns Brook, just 20 minutes from Nannup. This tranquil spot is the perfect place to cool off with a dip in summer or take a gentle canoe ride, exploring the 38 different bird species that call this area home.
It's also an ideal spot for a picnic, with shaded tables and barbecues making the perfect backdrop for your lunch. The pool's platform is also great for photos – you'll definitely want to capture this serene setting! Unfortunately, dogs aren't allowed at Barrabup Pool due to it being within a conservation area.
My kids really enjoy visiting Barrabup Pool with their friends – they just have so much fun swimming here!
In fact, you can even fish here for invasive species like goldfish, carp and trout, and one of our funniest family memories is when our oldest son insisted on taking his fishing rod here on one visit (I only said yes because I assumed he wouldn't catch anything!), and as soon as he dropped his line in he caught a bloody carp (which we then had to take home and euthanize in his sleep because you can't release them, and they're not a fish you eat!)
Bit of parenting fail there, but it still makes me laugh. So anyway, you can fish here, but I don't recommend it unless you want to have to deal with catching goldfish and carp 🤦‍♀️🤦‍♀️🤦‍♀️
📍Barrabup Pool Address: Follow the signs off Mowen Road | Google Maps
6.Kondil Wildflower Park
If you are interested in wildflowers or it is during spring (wildflower season), I would highly recommend stopping at Kondil Wildflower Park.
To find it, just before the end of Mowen Road, you will see a sign to turn right onto Barrabup Road. Follow the road until you spot a car park situated on the right-hand side – that's for Kondil Wildflower Park. When you go through the gates, keep going and soon enough you will come across an informative signboard indicating all of your walk trail options.
Kondil Wildflower Park is a serene spot to enjoy the stunning natural beauty of the South West. There are three walks in total, with the Wildflower Wander being the most popular option for visitors. This moderate walk is one of nature's wonders, winding through bushland of jarrah, marri, sheoak and balgas, with wildflowers in abundance during the blooming season of September to November.
It's also a great spot for birdwatching as many species have been recorded here – so be sure to bring your binoculars and camera! While you're there you can also take some time to learn more about the flora and fauna from the interpretive signage.
📍Kondil Wildflower Park Address: Off Barrabup Road, Nannup WA | Google Maps
7.Nannup
Congratulations on reaching Nannup! This small town is a haven for nature enthusiasts and thrill-seekers alike, with ample trails and pathways to wander around. Embrace the wild beauty of this paradise – you could easily stay here for days!
📍Location: Nannup
Wondering if there are better stops on the route by going to Nannup via Karridale and the Brockman Highway? Read on below to see what you could do instead!
Best Stops From Margaret River To Nannup via Brockman Highway
1.Bellview Shell Collection
Just 8km south of Margaret River lies the Bellview Shell Collection, a unique and awe-inspiring sight to behold. It is Australia's largest private collection of shells and coral and may even be one of the largest collections in the world!
Over 200 square meters of colorful displays house over 30,000 rare and beautiful specimens from all around the world. Not only can you admire these delicate wonders, but you can even purchase them and shell jewelry which is consigned anywhere in the world.
It also has gemstones, different species of animal teeth, skeletons, and a massive collection of replica fish. I really enjoy coming here and if you are into history or nature especially, you'll love this place!
The Bellview Shell Collection is open daily from 9 am until 5 pm, so make sure to phone ahead before making your visit! It's $10 for adults and $5 for children.
📍Bellview Shell Collection Address: 10291 Bussell Highway, Witchcliffe WA | Google Maps
2.Witchy Pies & Cakery/Cookies Galore
With over 100 varieties of pies, cookies and cakes to choose from, Witchy Pies & Cakery/Cookies Galore is a great place to stop for a pie and a sweet treat. All their goodies are made from scratch using the freshest ingredients and you can even see them making them in the kitchen behind the counter!
Their handmade pies are the highlight, with over 10 flavors such as their famous pulled pork, vegetable curry, steak and cheese, mince beef pie and chunky pepper steak. All their pies are made with shortcrust pastry that makes them light but hearty. They also have a huge gluten-free range of pies and sausage rolls, plus vegan options too!
They also have a range of delicious cakes and cookies available, so you have options!
Witchy Pies is pretty renowned with the locals too, at my old work the blokes used to fight over who would get to go to the tip so they could stop here on the way! I think that says a lot about how good this place is.
📍Witchy Pies & Cakery/Cookies Galore Address: 19 Bussell Highway, Witchcliffe WA | Google Maps
3.McHenry Hohnen
McHenry Hohnen's cellar door is a must-stop for anyone visiting the Margaret River region. Located in Witchcliffe, it's only been a part of the McHenry Hohnen story since 2021, after moving from Burnside on Caves Road where it had been for many years. It offers a unique opportunity to taste some of the wines that make this sub-region so special.
The tasting room is stocked with a selection of McHenry Hohnen's most popular wines including the ever-popular Sauvignon Blanc, a full-bodied Cabernet Sauvignon, and their flagship Shiraz. You'll also find some small batch releases that you won't find anywhere else.
The team at McHenry Hohnen will be more than happy to guide you through the aromas and flavors of each wine, as well as share some stories about their history.
📍McHenry Hohnen Address: 10406 Bussell Highway, Witchcliffe WA | Google Maps
4.Amato Vino
Amato Vino is the coolest new cellar door to check out in Witchcliffe. Based at the historic (and newly renovated!) Darnell's Trader, it offers an exclusive and unique experience to sample their small-batch artisan wines in a rustic and relaxed atmosphere.
The tasting room has been carefully designed to bring together the old-world charm and new-world style, with exposed beams, timber floors, and old walls all meeting in perfect harmony.
When it comes to tasting the wines, you won't be disappointed. Amato Vino has some of the best varietals that Margaret River has to offer, including their signature Nebbiolo and a delicious Marsanne.
Amato Vino embraces a 'lo-fi' winemaking philosophy, using wild ferments, minimal adjustments in the winery, and gentle handling. Most wines are unfined and unfiltered and they strive to create unique styles with little or no inputs, while still employing traditional processes.
This makes it literally unlike any other winery in the Margaret River region!
📍Amato Vino Address: 3 Redgate Road, Witchcliffe WA | Google Maps
5.Whirlwind Olives
Whirlwind Olives is a family owned and run 40-hectare boutique regenerative olive farm, located halfway between Margaret River and Augusta on the Bussell Highway. It is home to a beautiful olive grove, extra virgin olive oil, table olives, fused olive oils, and an on-site store selling all of the above.
The tasting room is open 10 am – 4 pm Friday to Sunday, but check to see if their sign is out, because they also open over holiday periods.
📍Whirlwind Olives Address: 12251 Bussell Highway, Karridale WA | Google Maps
6.Karridale Roadhouse/Tavern
In Karridale you will find the Karridale Tavern. I definitely rate this place. The counter meals are epic, it has a TAB, and it has crazy specials on tap beer all the time, like cheap jugs and pints, as well as old-fashioned fun like Chase the Ace. There is also a pool table and wood fireplace for the colder months. Karridale Tavern is definitely one of my favourite places in the region! They also have a super cute bottleshop, if you need any take-aways for the road.
And right next door at the Karridale Roadhouse you will find the best roadhouse in all of Australia I reckon! It's not your average servo, Amy and Troy have taken things to the next level offering a huge range of local products along with all the normal favourites that you will find at a normal Aussie service station.
I have stopped here many times to grab a present for a friend, or for some gourmet snacks to take to a party. They also make the best hot chips in the Margaret River region, and all their take-away food is fresh and wholesome and really delicious. Anyway, let's just finish this up by saying it's my favourite roadhouse in the area and you should stop here too!
📍Karridale Roadhouse/Tavern Address: 12440 Bussell Highway, Karridale WA | Google Maps
7.Karridale Olive Farm
You can find Karridale Olive Farm at the Margaret River Farmers Market on Saturday mornings, but if you are driving past their farm on Brockman Highway (just out of Karridale), they have a roadside stall where you can purchase their oils, table olives, dukkah and sometimes even fresh produce. Their olives and dukkah are delicious – perfect for if you are having a cheese board!
Don't stress if you don't have cash to pay for your goods, they let you do a bank transfer if required!
📍Karridale Olive Farm Address: 134 Brockman Highway, Karridale WA | Google Maps
8.Glenarty Road
If you get the opportunity, I would recommend a visit to Glenarty Road. This place is so unique that you really need to experience it to do it justice.
Glenarty Road is a true farm-to-table dining experience. Sasha and Ben McDonald started the Glenarty Road Restaurant on their family farm to really cement their paddock-to-plate philosophy, and love of their land, and to warmly share their produce and practices.
Farm Feasting offers set menu's from the five-course Every Acre feast with paired wines to a three-course tasting menu Farm Feast and of course a Junior Feast, catering to the younger connoisseurs amongst us. You can also leisurely graze on the grounds with Charcuterie boards, bread, and local cheeses in more of a picnic style.
📍Glenarty Road Address: 70 Glenarty Road, Karridale | Google Maps
9.Alexandra Bridge
Alexandra Bridge is a charming and peaceful campground located on the banks of the Blackwood River. It's surrounded by beautiful native bushland, with plenty of wildlife to observe including dozens of bird species, and if you like to fish, you shouldn't have too much trouble catching a Black Bream.
Canoeists, fishers, boaters and swimmers will enjoy the majestic views of the river as they make their way down the Blackwood River. Dogs are welcome but must be kept on a leash at all times.
The campground has toilets (with disability access), cold showers, gas BBQ and shelter, picnic tables, rubbish bins, water and a boat ramp to make your stay as comfortable as possible.
We have never camped here, but have visited dozens of times to swim in the river. My kids love to swim here! It's sheltered, so generally not too windy if everywhere else in the region is super windy, there are picnic tables close to the swimming area so we can sit and relax while we supervise, and it's just really, really pretty.
I'm probably sounding pretty bias but I really like it here 😊
📍Alexandra Bridge Address: 162 Clark Drive, Alexandra Bridge WA | Google Maps
10.Nillup Village General Store
Nillup Village General Store is a quirky general store located along the Brockman Highway. They do an all-day breakfast to order, as well as burgers and pies and a few other cooked things.
They stock a range of groceries, as well as a bunch of random bits and pieces in here, which is mostly why I like stopping, because you kind of never know what you will find. Also they have Augusta Bakery bread, so I like to pick up a loaf of this and have a chat with the owner, Tash.
I love to support this small, quirky family-owned business, and I encourage you to do the same!
📍Nillup Village General Store Address: 1483 Brockman Highway, Nillup WA | Google Maps
11.Nannup
You've made it! Hooray! Nannup is a true paradise for nature lovers and adventurers alike! With an abundance of tracks, trails and paths to explore, you can easily spend days in this small town.
The Blackwood River runs through the centre of town, making it the perfect spot for camping, kayaking and fishing. Or if you prefer something a bit more adventurous, there are plenty of mountain biking trails to explore. There is also an abundance of wildflowers to admire in spring, for those who like to take a more leisurely approach.
Nannup is also home to some amazing cafes and restaurants, so be sure to stop off for the odd snack or meal as you explore!
If you're doing a Nannup to Margaret River road trip instead, just do these suggestions in reverse!
📍Location: Nannup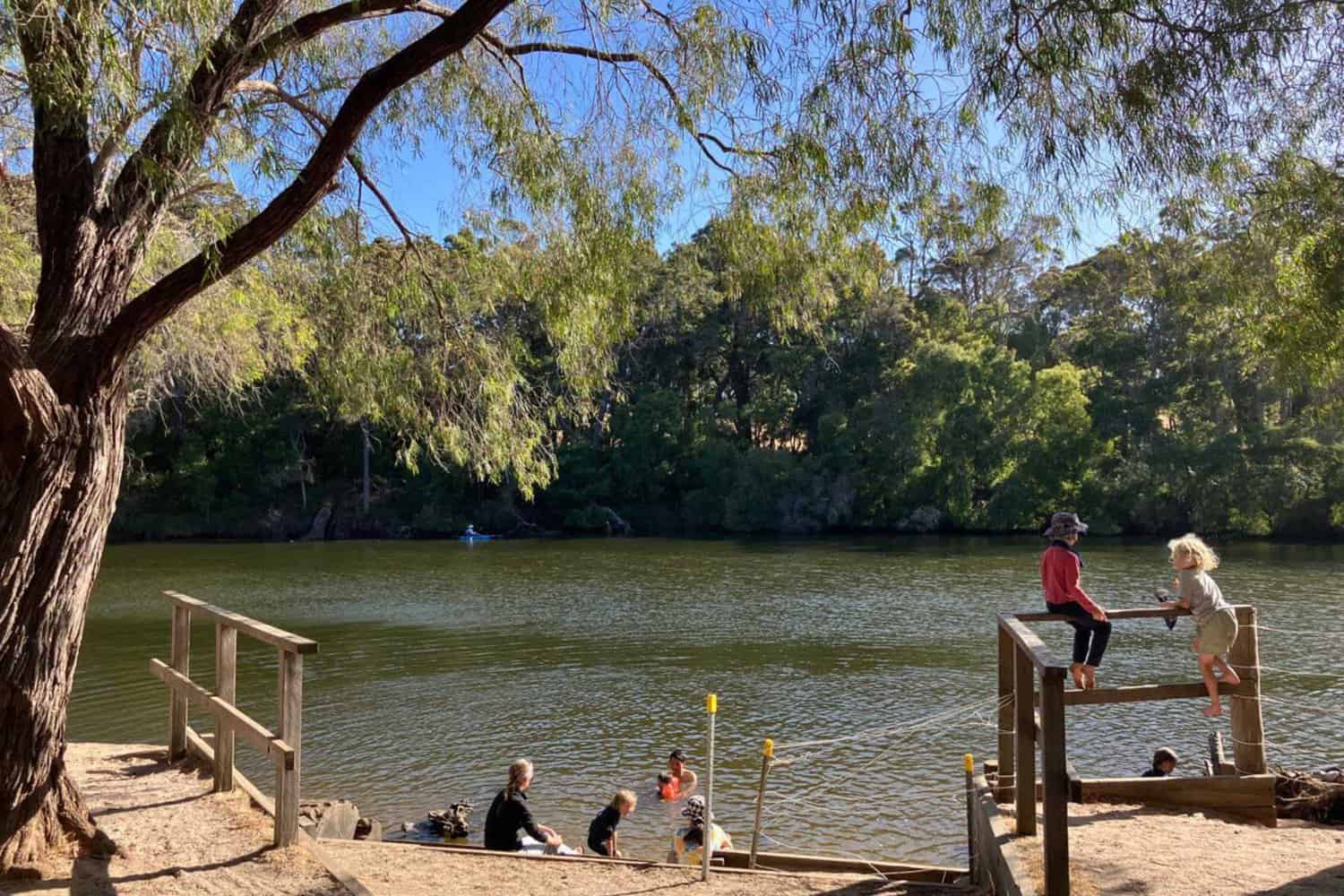 FAQs
Can I Drive From Margaret River To Nannup?
Yes, it is possible to drive from Margaret River to Nannup. The journey takes about 50 minutes without stops.
Is Nannup Worth Visiting?
Of course Nannup is worth visiting! Nannup is a beautiful and unique town that offers so much to do and explore. Whether you're looking for adventure, relaxation or amazing food, there is something here for everyone!
What Is Between Margaret River And Nannup?
The journey between Margaret River and Nannup takes you through small towns such as Rosa Brook, Witchcliffe, Karridale, Alexandra Bridge and Nillup. Each of these spots offers unique experiences to explore!
How Far is Margaret River To Nannup By Car?
The distance between Margaret River and Nannup is approximately 70 kilometres. The journey by car takes about 50 minutes without stops.
When Is The Best Time To Visit Nannup?
Nannup is beautiful all year round, however springtime (September – October) offers the best wildflower displays. Summer (November – February) offers warm days that are perfect for swimming and outdoor activities. Winter (March – August) often sees plenty of rain, making it the ideal time to explore Nannup's cafes and indulge in some comfort food!
No matter when you are visiting, there is always something to explore and enjoy in Nannup.
What Are Some Other Things To Do In Nannup?
Some other activities to enjoy in Nannup include canoeing, hiking trails, winery tours, local markets and festivals as well as shopping and dining options. There's something here for everyone!
Check out my guide of 57 Best Things To Do In Margaret River: A Local's Guide In 2023! for more ideas.
Is It Better To Stay In Margaret River Or Nannup?
It really depends on your preference and budget. Margaret River has plenty of accommodation options in the town itself, while Nannup is a great option for those looking for a more relaxed atmosphere or those who have their own transport, or who want to try something different.
However, both towns offer many options and easy access to the local attractions – so it really comes down to personal preference. Whichever you choose, you'll be sure to enjoy your stay!
You can also check out my list of Best Accommodation in Margaret River.
Is Nannup A Good Place To Live?
Yes, Nannup is a great place to live! The small-town atmosphere and beautiful scenery make it the ideal location for those looking to escape the hustle and bustle of city life.
The community in Nannup is vibrant and welcoming, with plenty of activities and events taking place throughout the year. Plus, being so close to Margaret River and Busselton, you'll never be too far from the action.
If you are looking for a place to call home, Nannup could be the perfect spot!
What Towns Are Near Nannup?
Nannup is surrounded by some beautiful towns, including Margaret River (70 km away), Augusta (90 km away), Busselton (60 km away), Pemberton (75 km away) and Manjimup (60 km away).
These neighboring towns offer plenty of options for days out, such as winery tours, local attractions and beautiful natural scenery.
No matter where you choose to visit, each town offers plenty of unique experiences and activities that you won't find anywhere else!
What Does Nannup Mean In Aboriginal?
The word Nannup comes from the Noongar language and means "stopping place."
Summing Up
Traveling from Margaret River to Nannup is a great day out with plenty of things to see and do. With stunning scenery, amazing attractions, delicious food, and unique culture, Nannup is a destination that you won't want to miss out on when visiting Western Australia.
If you've liked this, connect with me over on Instagram @accommodationmargaretriver where I post more Margaret River adventures!
Australia Travel Planning Guide
🚑Should I buy Australian travel insurance?
100% YES! — Australia has "free" healthcare but it's only for citizens and permanent residents. Foreigners visiting need travel insurance in case anything happens on their visit. I like SafetyWing – their Nomad Insurance starts at just $1.50 USD a day!
🚗Should I rent a car in Australia?
Yes — Renting a car is a necessity in most of Australia! If you want to go on road trips or adventures outside of the major cities, and even if you're staying in a major city, you'll want to rent a car. If you are visiting Margaret River, it will be even more important that you hire a car, you'll need it to be able to get around and see all the great attractions and wineries!
🏨What's the best way to book my Australian accommodation?
My go-to for Australian hotels is Booking.com. Pretty much all registered accommodation use Booking.com (but not necessarily any of the other major booking platforms), and even most of the holiday homes and caravan parks use Booking.com too!
If you're planning a trip to Australia where you will stay at multiple locations, it's super handy to have all your accommodation listed in one place, and accommodation owners like Booking.com because it's easy to contact the guests using the messaging platform if the guest has an international phone number.
I sincerely hope you enjoy your visit to Margaret River!
Related Posts: