21 BEST Margaret River Restaurants LOCALS GUIDE [2023]
One of the most common reasons people visit Margaret River is because of the food. And I have to agree, enjoying Margaret River restaurants is a great experience!
The town boasts an array of eateries ranging from laid-back cafes to upscale winery restaurants, all offering up delicious eats. Whether you're looking for a quick bite or something more substantial, there's no shortage of tasty options.
Lucky for you, I have been a Margaret River local since 2016, and also a passionate foodie, so I know a thing or two about eating out, and to make things easier for you to choose, I've made this list rounding up the best spots for a delicious lunch or dinner in Margaret River!
This article contains some affiliate links which means that I may earn a small commission when you click on them, at no additional cost to you. I do hope you find the information in this article helpful!
⭐Don't have time to read my full list? Here are my top selections for best restaurants Margaret River: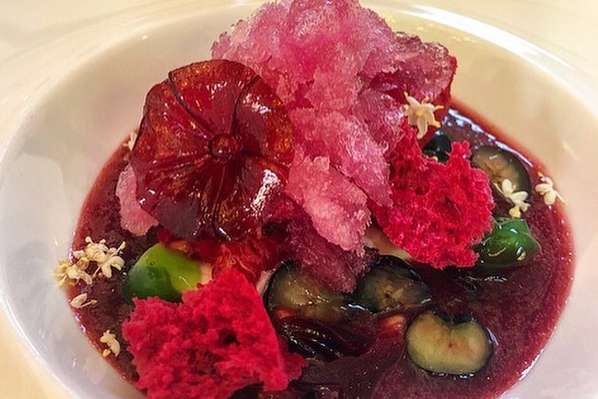 21 BEST Margaret River Restaurants
1.Voyager Estate
⭐RATING: 4.6/5 | 🌏DISTANCE FROM MARGARET RIVER: 7km |📍Voyager Estate Address: 41 Stevens Road, Margaret River WA | Google Maps
Voyager Estate is the perfect destination for a special occasion lunch, as it offers a seven-course degustation menu. Vegetarian options are available, and diners can also choose to pair their meal with wine. For the best winery lunch in Margaret River you can't go past Voyager Estate!
Experience full winery tours with an interactive behind-the-scenes estate tour (not accessible to the general public!) and visit the large underground cellar and taste wine straight from the barrel in the barrel hall. Enjoy a guided tasting session, followed by a decadent seven-course sensory dining experience prepared using seasonal produce from the Margaret River region.
The in-house chefs have crafted dishes that accentuate their wines and create an unforgettable culinary journey for all guests. Make sure to book ahead for the Wine Estate Tour & 7 Course Discovery Menu for a unique and memorable lunch experience at Voyager Estate.
"We did the Estate tour, wine tasting followed by the Discovery Menu 7-course lunch! Kat who took us on the tour was lovely and informative. Lunch was superb! One of the best food and wine matching experiences I have ever had! Not one wine I didn't like! The staff and service were excellent!! This is amazing value for money too! We would have gone back again the next day if we could! Can't wait to return! Thank you for a wonderful and memorable experience." – Resort554036 (Trip Advisor Review)
2.Drift Cafe
Drift Cafe is the perfect spot to relax with friends over a leisurely all-day breakfast or lunch or grab a great cup of coffee with something from the cabinet. Located in the former Old Shire Library, Drift Cafe is cozy and inviting and provides excellent cuisine that reflects the Margaret River region's strengths.
Drift Cafes' executive head chef takes café food to the next level, making every dish with utmost care right there in-house. Plus, the front-of-house staff have been trained at the WA Barista Academy to make sure you always get the best Five Senses Coffee Bean taste experience.
Locals Tip: This is the cafe I have most often sent visitors to, it's really divine. Even if you don't have a meal here, try to make time to stop in and grab a takeaway coffee and some food to go! I really love Drift Cafe!
📍Drift Cafe Address: Unit 1/72 Willmott Avenue, Margaret River WA | Google Maps
Looking for travel advice for your visit to Margaret River? Join my friendly community over at Margaret River Travel Planning on Facebook to learn more about this beautiful part of the world and have all of your questions answered!
3.Teddis Big Spoon
Teddis Big Spoon is a Korean BBQ Restaurant open for lunch and dinner from Wednesday to Sunday. They offer premium wagyu beef, king prawns, free-range pork, and free-range chicken, and vegetables for their BBQ tableside option.
Delicious entrees include deep-fried tofu and veggie tempura (my personal favourites!) and a handful of main options including spicy chicken wings. Teddis Big Spoon is BYO with corkage for only $5 per bottle of wine, other drinks are free.
This is a quiet and unassuming restaurant popular with locals and is sure to fill up quickly, so bookings are highly recommended! Definitely one of the best places for lunch Margaret River!
Locals Tip: If you need a nearby bottleshop to stock up on drinks before you go, Margaret River Liquor Merchants is just across the road. Park in the IGA carpark, get your drinks, then walk across the road to Teddis Big Spoon!
📍Teddis Big Spoon Address: 113A Bussell Highway, Margaret River WA | Google Maps
4.Margaret River Brewhouse
I know I have a lot of favorites on this list, but the Margaret River Brewhouse is definitely up there for a number of reasons. Firstly, the beer is awesome, cold, and delicious. Secondly, the food is EXCELLENT. Thirdly, there is a cool park there that my kids love, so I can actually enjoy my food, at the same time as supervising them on the park. If you're looking for a Margaret River brewery lunch, this is the place to go.
To be honest with you, the only thing I don't like about the Margaret River Brewhouse is the parking, so if you go, just remember that if you need to park your car to go, you can park down at the Rotary Park carpark and walk up to the Brewhouse, which is what we do more often than not.
Our standard order is to get some chips, some bread, a woodfired field mushroom pizza (this is seriously the best if you are a mushroom lover!), and a wood-fired Margherita pizza. Add a pint of Pale Ale and a Megsy Ginger Beer and there is literally nothing better in life.
📍Margaret River Brewhouse Address: 35 Bussell Highway, Margaret River WA | Google Maps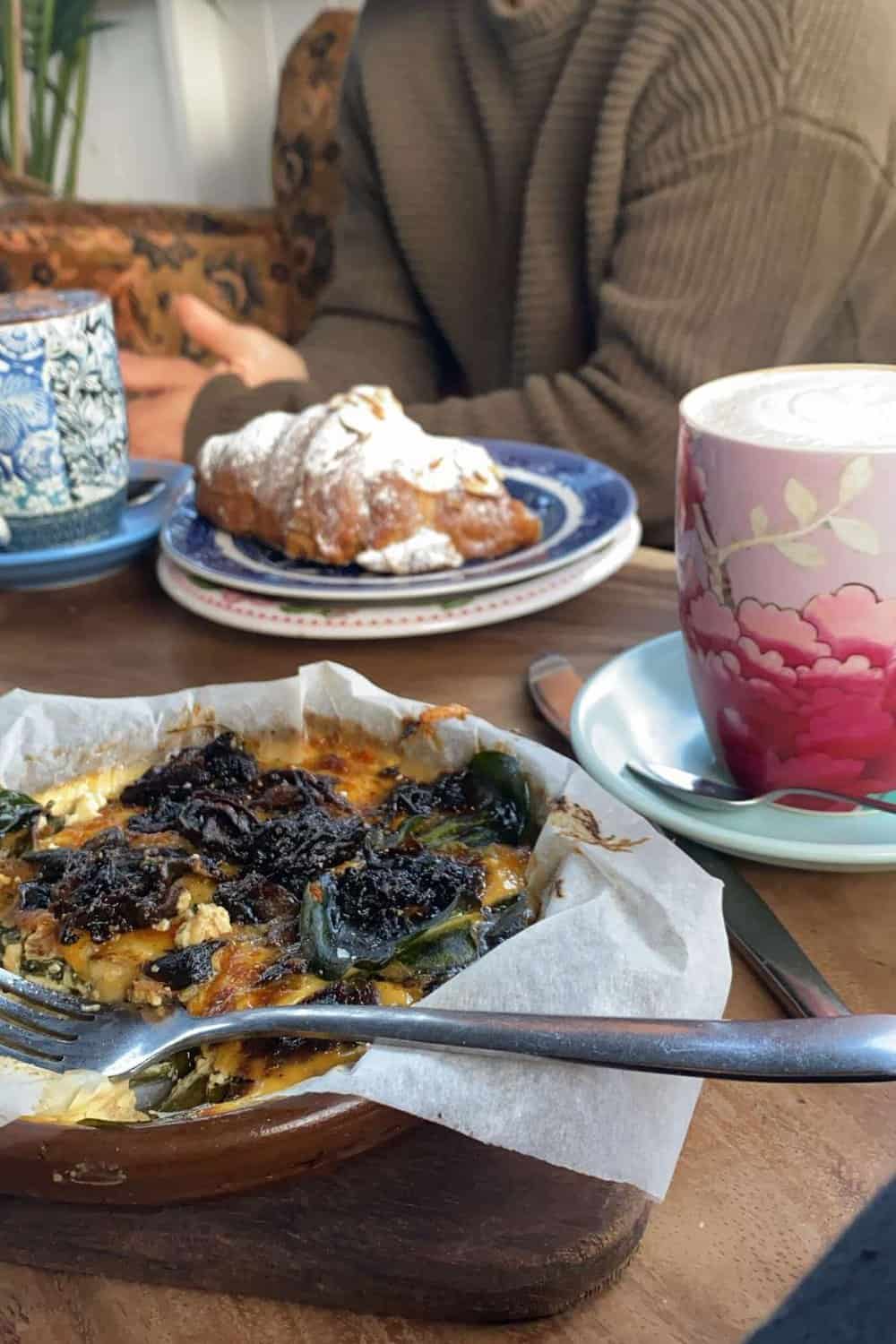 5.Margaret River Bakery
Margaret River Bakery is an iconic eatery in the Margaret River region, open 7 days a week serving up breakfast, brunch, lunch, and sweets. They also have a stall at the Margaret River Markets every Saturday morning if you're making the trek there anyway.
The menu has plenty of options for vegans and those with gluten-free allergies. For lunchtime visitors, there are freshly made sandwiches and pies, as well as a selection of sweet treats. And don't forget to pair your meal with one of the barista-made coffees or teas!
Whether you're looking for something quick on the go or somewhere to dine in and relax, Margaret River Bakery has everything you need for a delicious lunch experience and lets face it, have you even been to Margaret River if you haven't been to the Margaret River Bakery and shared a photo of their iconic exterior?
📍Margaret River Bakery Address: 89 Bussell Highway, Margaret River WA | Google Maps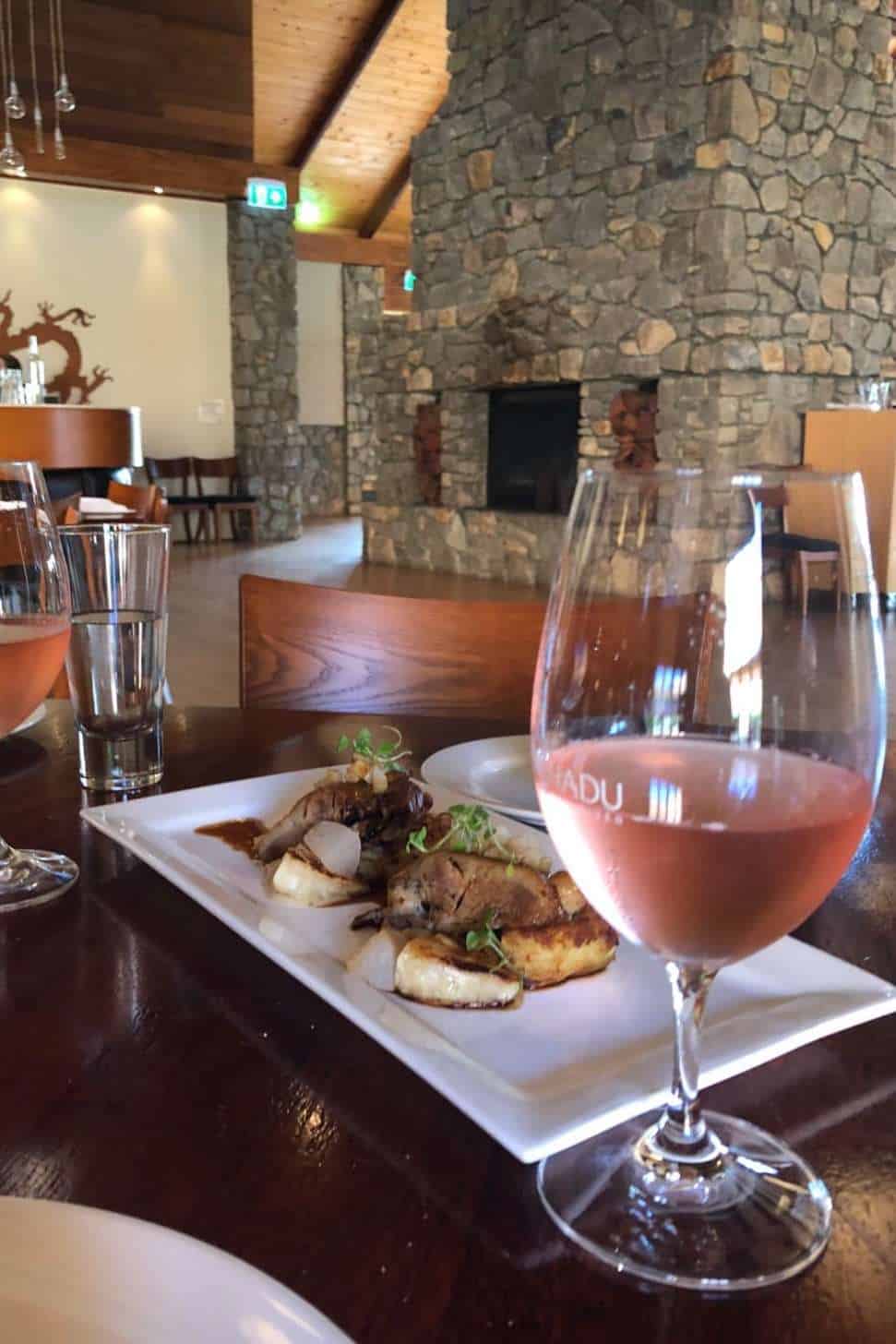 6.Xanadu Wines
Xanadu Wines has located only 4km from Margaret River town amongst some of the oldest vineyards in the region. Their wines and restaurant are both well-awarded and recognized on a global stage, a true credit to their small and passionate team. If you're looking for a Margaret River wineries lunch, Xanadu Wines is a great option!
Xanadu Wines makes lunchtime dining easy. Offering a two or three-course set menu showcasing the utmost in flavor to be enjoyed in a relaxed setting overlooking beautiful lawns and carefully manicured gardens, it's everything you think of when it comes to the southwest.
With an air of indulgence but relaxed and well-priced, dining at Xanadu is a little treat you can enjoy often.
If you want something more casual, you are able to order off their Cellar Door Menu, which includes mixed olives, freshly baked bread and a cheese board with crackers and condiments.
Xanadu Restaurant is open Wednesday to Sunday for lunch and bookings are recommended for the restaurant.
📍Xanadu Wines Address: 316 Boodjidup Road, Margaret River WA | Google Maps
7.Burger Baby
At Burger Baby, you'll find a delicious range of options – from brisket-loaded chips and chicken parmy to their ever-popular burger menu! Whether you're vegan/vegetarian, gluten-free or just looking for something tasty, they've got you covered. Plus, there's a great kids' menu so they can get in on the action too.
Popular with locals and conveniently located next to Yahava Koffeeworks on the edge of town, Burger Baby has heaps of parking available and is a perfect place for lunch on your way out of town or your way back in. Plus, there's an outside lawn and playground for the kids to run off steam!
Take-away is also available via their easy online ordering system, so you can order lunch, and pick-up at your leisure, how easy is that?!
Burger Baby is open Tuesday through Saturday from midday or so until late, making it the perfect spot for a late lunch (or early dinner). A truly local institution, you won't be disappointed!
If you have lunch here, tell Richard I sent you!
📍Burger Baby Address: 2 Andrews Way, Margaret River | Google Maps
8.Settlers Tavern
Settlers Tavern is the perfect spot to have lunch with friends or family. Right in the centre of town and with a wide variety of dishes from salads and sandwiches to burgers and their signature share plates, everyone is sure to find something that pleases their palate. This is one of the most well-known places to have lunch in the Margaret River Region!
The atmosphere is warm and cozy, making it an ideal setting for relaxed conversations. Plus, the friendly service ensures that you get your food quickly and that all of your questions are answered.
Settlers Tavern is also probably the most awarded Tavern in all of Western Australia, so much so that it has been retired to Hall of Fame status for WA's Best Regional Hospitality Venue at the AHA Awards of Excellence.
Locals Tip: Even if you don't have time for lunch here, I would definitely stop in at Settlers Tavern for a beer over the wood, just so you can experience what a great venue it is!
📍Settlers Tavern Address: 114 Bussell Highway, Margaret River, WA | Google Maps
9.The Urban Bean
The Urban Bean is a Margaret River institution with the same owner since 1999. They do great coffee and have a massive range of vegan and vegetarian options, and a cabinet with plenty of food that you can grab and go.
Locals Tip: If you can't get a carpark directly next to the Urban Bean, then park across the road and walk over.
📍The Urban Bean Address: 157 Bussell Highway, Margaret River, WA | Google Maps
10.Leeuwin Estate
Experience the ultimate culinary adventure at Leeuwin Estate. This award-winning restaurant offers friendly, professional service and a menu that features some of the region's most exceptional dishes.
Whether you want to arrive in style by helicopter or simply take a relaxing drive just five minutes outside of Margaret River, you will be warmly welcomed. If you're looking for an exceptional Margaret River winery lunch, look no further than Leeuwin Estate!
The outdoor seating area has a classy yet casual atmosphere, perfect for enjoying some of Leeuwin's award-winning local Chardonnay. Choose from their three-course or six-course tasting menu and allow yourself five hours to savor the experience. Enjoy farm-to-fork dishes that focus on flavor, texture, and aroma, expertly paired with some of their best wines such as the 2013 Art Series Riesling, 2009 Art Series Chardonnay, and 2012 Art Series Cabernet Sauvignon.
You can also book an Ultimate Wine & Food Experience here which includes morning tea, a private tour of the winery with guided wine tasting, a three-course meal with matching wines, and a guided tour of the Australian Art Gallery. This is available from Wednesday to Sunday starting at 11 am and tickets can be purchased online.
Book your table now for an unforgettable culinary experience!
"We selected the tasting menu for lunch. Be warned it takes about 3 hours plus. But what better way to relax and enjoy the food and not over indulge in the wine. The food is really superb and nicely spaced. I forgot the number of courses but who cares. The marron, the fish, the lamb and a few other nice touches were fresh and tasty. Highly recommended!" (Viator Review)
✅Check Prices & Book Lunch At Leeuwin Estate: Ultimate Wine & Food Experience
📍Leeuwin Estate Address: Stevens Road, Margaret River WA | Google Maps
11.White Elephant Cafe
Grab a break from the hustle and bustle of everyday life at White Elephant Cafe. Enjoy casual beachside dining, with Margaret River hospitality in an unbeatable setting!
With views looking out to the ocean, you can enjoy simple yet creative meals for breakfast, lunch and takeaway, as well as house-made muffins and cakes. Their menu features coffee favourites made with Margaret River Roasting Company coffee beans (my literal favourite local coffee roaster!), plus a range of smoothies and other thirst-quenching options.
They also offer Sunset Functions and Weddings in a stunning natural backdrop, perfect for that special occasion with your loved ones!
Open every day from 7 am – 3 pm (except Christmas day), White Elephant Cafe is the perfect spot for all; including your four-legged friends, as long as they are on the deck and on a leash.
While you're there, try my favourite dishes: the Wild Mushrooms on Sourdough for breakfast and Rosie's Wrap for lunch, then enjoy a swim at Gnarabup Beach. Does it get any better than this?
📍White Elephant Cafe Address: Gnarabup Road, Margaret River WA | Google Maps
12.Colonial Brewing Co
Beer, golf, good food – what more could you want? Colonial Brewing Co is the only brewery near Margaret River that combines beer and a driving range, making it a great spot for families or groups of friends looking for some fun. Established as one of the first breweries in the area, they specialize in handcrafted beers and ciders.
Their menu draws inspiration from beer culture and includes crafted pizzas, burgers and other light meals and share plates that pair perfectly with their South West Sour (amongst others!). I highly recommend the Jalapeno Poppers and the OG Wings with their famous tex mex spicy sauce, I'm getting hungry just thinking about them!
On a Friday night or a Sunday Session in the sun – Colonial Brewing Co has something for everyone! Plus, they offer takeaways so you can grab fresh beers, limited edition releases, merch gifts and more. This is definitely one of the best brewery lunch Margaret River!
⭐Locals Tip: Allow $5 to hire a bucket of golf balls and have an unforgettable time!
📍Colonial Brewing Co Address: 6285/29 Osmington Road, Bramley WA | Google Maps
13.Blue Ginger Fine Foods
Blue Ginger Fine Foods is a vibrant, laid-back food store that offers locally sourced brunch, burgers and coffee for all to enjoy! Their selection of fresh, healthy ingredients has something for everyone; from gluten-free, sugar-free and vegan dishes to paleo-friendly items and hearty omnivore fares such as classic burgers and big breakfasts.
Their airy cafe is a popular spot for locals and tourists alike, often accompanied by their four-legged friends! They offer daily specials for both breakfast and lunch and their pantry selection has all the latest trending ingredients to choose from. Drop in and see why Blue Ginger Fine Foods is the go-to destination for delicious meals in Margaret River!
Locals Tip: I stop here often, even though it's a little out of the way. Blue Ginger is part cafe and part delicatessen, and, as a bit of a home cook myself, I love exploring the ingredients they sell on the delicatessen side. Any strange, obscure ingredients you're looking for? Blue Ginger is bound to have it. They're also next door to the Garden Basket, which is where I get most of my fruit and veg from, and also 34 Degrees Blue, which sells fresh, local seafood and is definitely worth a visit too if you are doing your own cooking in Margaret River (and can't catch your own fish!)
📍Blue Ginger Fine Foods Address: 7/31 Station Road, Margaret River WA | Google Maps
14.Food Room
The Food Room is a great lunch spot in Margaret River for tasty, affordable food. It's open from 7am Monday through Friday and offers a large variety of freshly made meals that are sure to satisfy any hunger!
You'll find something for everyone; from salads and wraps to burgers and pies. Their prices are incredibly reasonable too, so it's the perfect spot for a quick and tasty lunch. Plus, their drinks menu is always stocked with delicious options for you to enjoy. So why not drop in and see why locals and tradies all love The Food Room? You won't be disappointed!
📍Food Room Address: 14 Fearn Avenue, Margaret River WA 6285 | Google Maps
15.The River
The River Hotel is open for meals daily from midday until 9 pm, offering patrons an excellent dining experience with a selection of high-quality cuisine and drinks. Live music creates a vibrant atmosphere and the venue also offers ample seating both indoors and outdoors.
The bar serves a range of beverages and family-friendly options, including gourmet dishes like polenta and brussel sprouts. The restaurant can get very busy at night time, with the bar and seating areas full to capacity, but don't let this stop you from visiting. I highly recommend the fish tacos! This is an excellent option for a Margaret River dinner if you're staying in town.
📍The River Address: 40 Wallcliffe Road, Margaret River WA | Google Maps
16.Sidekick Cafe
Sidekick Cafe is a conscious, good vibes cafe located right in the heart of Margaret River town near the IGA making it one of the most convenient spots to get lunch in Margaret River.
Sidekick Cafe is loved for its welcoming atmosphere, nutritious choices and upbeat vibes. They are known for their whole foods and gluten-free options and there's plenty to 'grab and go' if you don't have time to sit down.
📍Sidekick Cafe Address: 5/110 Bussell Highway, Margaret River WA | Google Maps
17.Nami Sushi & Bubble Tea
At Nami Sushi & Bubble Tea you'll experience some of the best sushi in the south-west. Generously portioned, fresh and delicious – it's worth every penny! Plus their bubble tea is wonderfully customizable to your own taste. Not to mention the customer service is excellent; the staff are incredibly understanding, patient and helpful.
A real hidden gem in Margaret River, the menu is locally sourced and prepared with care each day. Prices are very reasonable (especially considering they only use Australian seafood!) and you're also supporting the local economy by employing people who live within our community – it's a win-win!
With lines out the door each day, we can't recommend Nami Sushi highly enough for your next lunch break. It's the perfect spot for a quick and healthy meal that'll keep you full up until dinner time. Go on, treat yourself!
📍Nami Sushi & Bubble Tea Address: 8/137 Bussell Highway, Margaret River WA | Google Maps
18.The Sea Garden Cafe
The Sea Garden Cafe is right in the heart of surfing paradise, just a 2-minute walk away from Margies Main Break. It is the only licensed venue in the area with stunning views of the ocean, and it also has Australia's longest Surf Board Fence. Whether you are looking for a quick coffee, late lunch or sunset beer, The Sea Garden Cafe has you covered. Enjoy the relaxed atmosphere and tuck into a plate of their famous Nachos!
Open from 8 am until 8.30 pm 7 days a week, the Sea Garden Cafe has a great view of the ocean, and the staff are so friendly and helpful. I highly recommend the fish tacos – some of the best I've ever had!
The bar is open all day and dogs are welcome, so I definitely recommend a visit here if you are around the area. Maybe afterward you can have a dip in the ocean at Gnarabup Beach too?
📍The Sea Garden Cafe Address: 9 Mitchell Drive, Prevelly WA | Google Maps
19.Olio Bello
At Olio Bello, you'll enjoy a rustic courtyard bistro, experience a 'farm-to-table' encounter with changing menu options inspired by our award-winning olive oils and fresh produce from the farm. Enjoy the Mediterannean ambience of Olio Bello's organic olive farm and share in the passion of their kitchen team and gourmet artisans.
Come by for a great cup of coffee and farm-baked cakes, served daily at 10 am, or book ahead for lunch between 11:30 – 3 pm (Friday – Tuesday only). Relax with family and friends by the fire in winter, or under the olive trees in summer.
Olio Bello's food philosophy celebrates the joy of creation, innovation, and sharing. Seasonal ingredients are sustainably sourced, hand-crafted, and infused with their organic olive oils and gourmet products to bring you a freestyle farm-to-plate menu with a global twist.
Delight your tastebuds with dishes such as baked focaccia bread with caramelized balsamic and Olio Bello olive oil, Tataki of Southern Blue Fin Tuna with sesame and lime oil, or a Margaret River Black Angus Scotch Fillet. Sweeten your palate with desserts such as Nutella Pannacotta with mixed berries, Rosemary & Lemon olive oil cake, or a rich 'Chocabella' mousse with mandarin oil.
Olio Bello are always happy to cater for dietary requirements, and have a Kids Menu too – just please let them know when making your reservation or ask the staff.
📍Olio Bello Address: Armstrong Road, Cowaramup WA | Google Maps
20.The Berry Farm
Visit The Berry Farm for a delightful lunch! The Berry Farm Cottage Café is open Tuesday – Sunday, from 10 am to 4 pm and features an award-winning seasonal menu with delicious dishes like rustic beef and red wine pies, generous plowman's platters, famous scones with their own homemade jam and cream, and of course the locally coveted boysenberry pie.
Bring your little ones along and let them explore one of the three playgrounds and meet some resident farm animals, or play giant checkers games together. Don't forget to bring your pup too – they're welcome on a leash and they even have homemade dog treats available!
Reserve a table in advance to avoid disappointment, and make sure you're close to one of the playgrounds if you'd like to relax while your kids play.
Come enjoy some quality time with friends and family while taking in the stunning gardens full of local birdlife! The Berry Farm is a place where everyone can have fun and savour delicious treats made from freshly-picked ingredients. A true icon and one of the best lunch spots in Margaret River!
📍The Berry Farm Address: 43 Bessell Road, Rosa Glen WA | Google Maps
21.Riversmith
Ok, technically Riversmith doesn't offer lunch, BUT they don't offer the best brunch in Margaret River up until 1 pm every day of the week except Wednesdays. Riversmith is a newly opened restaurant located in the heart of Margaret River, with views of the main street and entertainment area, it's the perfect spot to take in the town's sights while enjoying a delicious meal.
Riversmith offers an extensive menu for breakfast and brunch that has been crafted by their local chef, as well as specialty coffees, and Seven Seas Tea. Riversmith is open from 7:30 am to 1 pm Thursdays to Tuesdays, give them a visit and experience a taste of Margaret River!
📍Riversmith Address: 122 Bussell Highway, Margaret River WA | Google Maps
Wrapping Up: Best Restaurants In Margaret River
If you're looking for the best lunch places in Margaret River, you won't be disappointed. From Olio Bello's farm-to-plate seasonal menu, The Berry Farm's award-winning cottage cafe and delicious platters, to Riversmith's brunch offerings – there are plenty of amazing options when it comes to eating out in Margaret River. Whatever you decide to choose, you're sure to experience some of the best local flavors this region has to offer.
Just to recap, here are my top selections for Margaret River best lunch:
Happy eating! 🍽️🍷🍻
Let me know what you think of my recommendations over on Instagram @accommodationmargaretriver ⭐
Related Posts:
Australia Travel Planning Guide
🚑Should I buy Australian travel insurance?
100% YES! — Australia has "free" healthcare but it's only for citizens and permanent residents. Foreigners visiting need travel insurance in case anything happens on their visit. I like SafetyWing – their Nomad Insurance starts at just $1.50 USD a day!
🚗Should I rent a car in Australia?
Yes — Renting a car is a necessity in most of Australia! If you want to go on road trips or adventures outside of the major cities, and even if you're staying in a major city, you'll want to rent a car. If you are visiting Margaret River, it will be even more important that you hire a car, you'll need it to be able to get around and see all the great attractions and wineries!
🏨What's the best way to book my Australian accommodation?
My go-to for Australian hotels is Booking.com. Pretty much all registered accommodation use Booking.com (but not necessarily any of the other major booking platforms), and even most of the holiday homes and caravan parks use Booking.com too!
If you're planning a trip to Australia where you will stay at multiple locations, it's super handy to have all your accommodation listed in one place, and accommodation owners like Booking.com because it's easy to contact the guests using the messaging platform if the guest has an international phone number.
I sincerely hope you enjoy your visit to Margaret River!