10 Best Food Trucks in Margaret River For 2023!
Margaret River is well known for being a world-class foodie destination. Yes, we have the fanciest of restaurants but we also have a thriving food truck scene. These top-notch dining experiences pop up at markets, the beach, private gatherings, gigs, and even the skate park.
We've rounded up our favorites for you with some solid hints on where to find them so you don't miss out on the best food truck feasts on your trip to the Margaret River Region.

Hooked Up Fish & Chips

Looking for the food truck experience? a tasty feast of fish and chips whilst chilling out at the iconic Surfers Point, Margaret River? Look no further. Hooked Up Fish & Chips is the food truck to fit the bill. A favorite amongst locals and tourists alike and often a sell-out, arrive early to ensure you don't miss out.
Featuring locally caught Spanish Mackeral cooked to perfection with some of the tastiest chips around, our favorite on the menu is just a classic feed of Fish and Chips. Coming in a close second though is the Fish Tacos.. or the Cajun Calamari.. gah, we can't choose!
There are kids options, vegetarian options, and allergen-friendly options so it is the perfect choice for an early evening dinner with the family. Hooked Up Fish & Chips has a permanent spot at Surfers Point from Wednesdays to Mondays. Occasionally their opening hours are affected by weather so be sure to give them a follow on Instagram or Facebook to stay up to date.
Normal Van
There's something seriously exceptional about Normal Van. Touting themselves as 'Diner Fare, Done Well' makes the food seem quite well… normal. But it's better than that. It's what we all want normal to be. It's what we wish for in quality when we decide to eat out. It's a delightful surprise when we go to the park or the beach and suddenly find ourselves with an appetite.
Normal Van is one of the newer food trucks on the scene in Margaret River. It was established by Robert Webster, a cool as a cucumber Canadian chef who likes many others is well-traveled, but decided to make Margaret River home. He noticed a gap to be filled in doing North American Food well so he stepped up to the plate. For that Robert, we are all grateful.
Robert and the team are the burger-slinging champions of the South West so we can't go past their Normal Burger on the menu. Coming in hot for second place is the Buffalo Chicken Sandwich but you'll also find BBQ Chicken Wings, Slaw, the No Meat Mac and of course their famous Triple-Cooked Fries too tempting to pass up.
You can find them at Rotary Park on the edge of Margaret River on Saturdays, Margaret River District Club on Mondays, and Surfers Point on Tuesdays. They also do private events including weddings, collaborations, and other pop-up appearances so follow along on IG or Facebook to keep in the loop.

Soul Cocina
If the name doesn't already have you dancing, the food will. Soul Cocina is a vibrant, full-of-life, love-filled, Latin-inspired food truck. It is a passion project by husband and wife team Natalie and Adrian and just oozes flavor, fun, and feel-good foodie experiences.
Specializing in events catering they offer tailored menus handmade with fresh and tasty local and lovingly sourced ingredients. Inspired by their travels through Mexico and Spain the food has a real "fiesta" feel to it.
They have a fantastic sample menu for you to peruse on their website featuring the likes of El Toro Sliders, Lamb Barbacoa, Potatoes Bravas, and of course the crowd favorite, Chimichangas!
You'll also find Soul Cocina popping up at markets, community events and with some staple spots at local holiday parks so be sure to check their socials when you're down to catch them close by.
Spice Odysee Curry Van
One of the main stayers on the food truck scene in the South West, Spice Odysee is a favorite amongst locals from Margaret River, Busselton, and Dunsborough. Family-run by husband and wife team Sathish and Keerthana, Spice Odysee is the perfect blend of authentic Indian favorites cooked with only fresh, local ingredients from the Margaret River Region.
The menu features all your favorites including Butter Chicken, Beef Vindaloo, Palak Paneer, Samosa, Roti, Pappadums, and Naan Bread. You can find Spice Odysee at Old Dunsborough Boat Ramp on Tuesday, Thursday, and Saturdays from 5 pm as well as Margaret River Rotary Park on Wednesdays and Fridays from 5 pm.
Spice Odysee also has a bricks-and-mortar restaurant in Busselton called The Hidden Kitchen so if you want to enjoy their beautiful authentic Indian meals outside of their food truck schedule be sure to check them out. See our other restaurant recommendations here.

Ma La Dumplings
Who doesn't love dumplings?! Find me one person.. I'll wait. Ma La Dumplings has been on the Margaret River food truck scene for just over 5 years now. The concept was born when husband and wife team Teesh and Matt returned from a decade working in Beijing and noticed a niche to be filled with fresh, quality Chinese dumplings.
Their name goes hand in hand with their flavorful sauces. Ma La Dumplings originates from a flavor profile of spicy Sichuan peppercorns and chili. The menu packs a punch, full of zest and made with fresh local ingredients.
You'll usually find Ma La Dumplings at the Margaret River Farmers Market every Saturday morning. You don't know breakfast until you've enjoyed breakfast dumplings coated in zingy Bang Bang Sauce.
Even better, you can buy frozen dumplings and enjoy them at home.. you can find them here.
Bobcha Korean Food Truck
Bobcha translates to a food truck in Korean and it is the Korean food truck Mecca of your dreams. From humble beginnings making the best Kimchi in town and selling it at the markets, Bobcha Korean Food Truck grew into the epic foodie experience it is today.
Offering a fusion of authentic Korean flavors and dishes with western favorites, Bobcha is fun soul food that'll have you chasing them down for more. Some of our favorites are the Slow-Cooked Pork Belly Burger 'Sam G-Yup Sal' the Korean Fried Chicken and Rice, 'Yang Nylon Chicken', and the fusion of Korean and Taiwanese Braised Pork 'Lu Rou Fan.'
Bobcha is available to book for events but has a permanent place at Origins market in Busselton Thursday – Sunday 11-6 pm and Cowaramup District Club every second Wednesday 5-8 pm.
Feeling Chippa
Hand-cut loaded chips… Do I even need to say anymore?
Let's face it, hot chips loaded with all sorts of flavorful goodness are everyone's a guilty pleasure and no one does them better than a newbie on the scene Feeling Chippa.
Generous portions of lovingly handout spuds loaded with different flavor sensations such as Feeling Naughty featuring Chorizo, Fire-Roasted Salsa, Lime Crema, and Cheese.. or Feeling Kim K featuring Kimchi, Kewpie, Spring Onion, Coriander, and Shallots.
The names are fun, the food is more fun. You'll find Feeling Chippa with regular spots at Gracetown Caravan Park, Cowaramup District Club, and other events in town. Be sure to follow them on Instagram and Facebook to stay up to date.
Margaret River Burger Co
Margaret River Burger Co, if you're local or a regular visitor chances are you've seen this food truck around over the last decade. Known for slinging gourmet burgers with fresh locally sourced ingredients Margaret River Burger Co is a classic cool dining option.
Our favorite from this fun team is their Fried Chicken Burger with slaw and chili butter but what sets it apart is the maple syrup drizzle, yum! You'll now find Margaret River Burger Co with a full-time spot at Rocky Ridge Brewing Co in Busselton (check out our brewery guide here).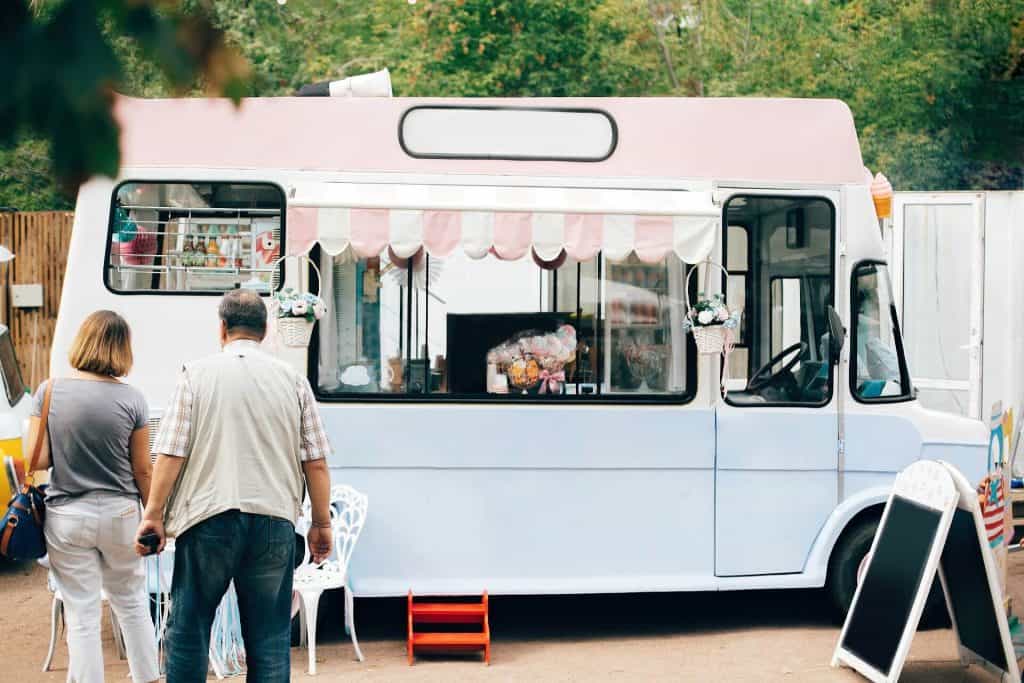 Peace Pizza
No food truck guide is complete without some wood-fired pizza right?! So here is the best of the best… Peace Pizza based out of Dunsborough is the pro in producing the most flavorful wood-fired pizzas in the Margaret River Region.
With names like The Boss, James Dean, and Bob Marley, they inject the fun into a takeaway night. The team is super friendly, professional, and fast!
Conclusion
Geared more towards events catering, their super stylish trailer is a welcome addition to any gathering. You might be able to track them down at festivals or community events if you follow them closely on socials but luckily they also have a bricks-and-mortar pizza shop in Dunsborough.
And that's a wrap, with so many options to track down a yummy food truck dinner during your South West stay you'd be crazy not to! However, if sitting down to a meal is more your vibe check out our guide to our favorite breweries here and restaurants here.