9 Best Degustation in Margaret River To Try In 2023!
Hey foodie! Are you looking for somewhere to have a degustation in Margaret River?
Margaret River has fast become a world-class foodie destination. One of the ultimate forms of foodie indulgence is to enjoy a degustation menu and we have the best nine best degustations in Margaret River right here for you!
Margaret River has attracted highly trained chefs from all over the world who have made their mark on the fine dining scene. From more casual 'long lunch' options through to an exceptional night out of culinary delights, the Margaret River Region really has it all.
The region boasts award-winning restaurants set amongst rolling vineyards and renowned head chefs at the helm. Creating modern menus with a focus on utilizing seasonal, locally sourced produce keeps the most discerning food critics delighted and the five-star reviews rolling in.

To really elevate your culinary experience in the Margaret River Region you can't go past a degustation menu with paired wines. Wine not?
Look no further, these are the nine most mouth-watering degustations in Margaret River!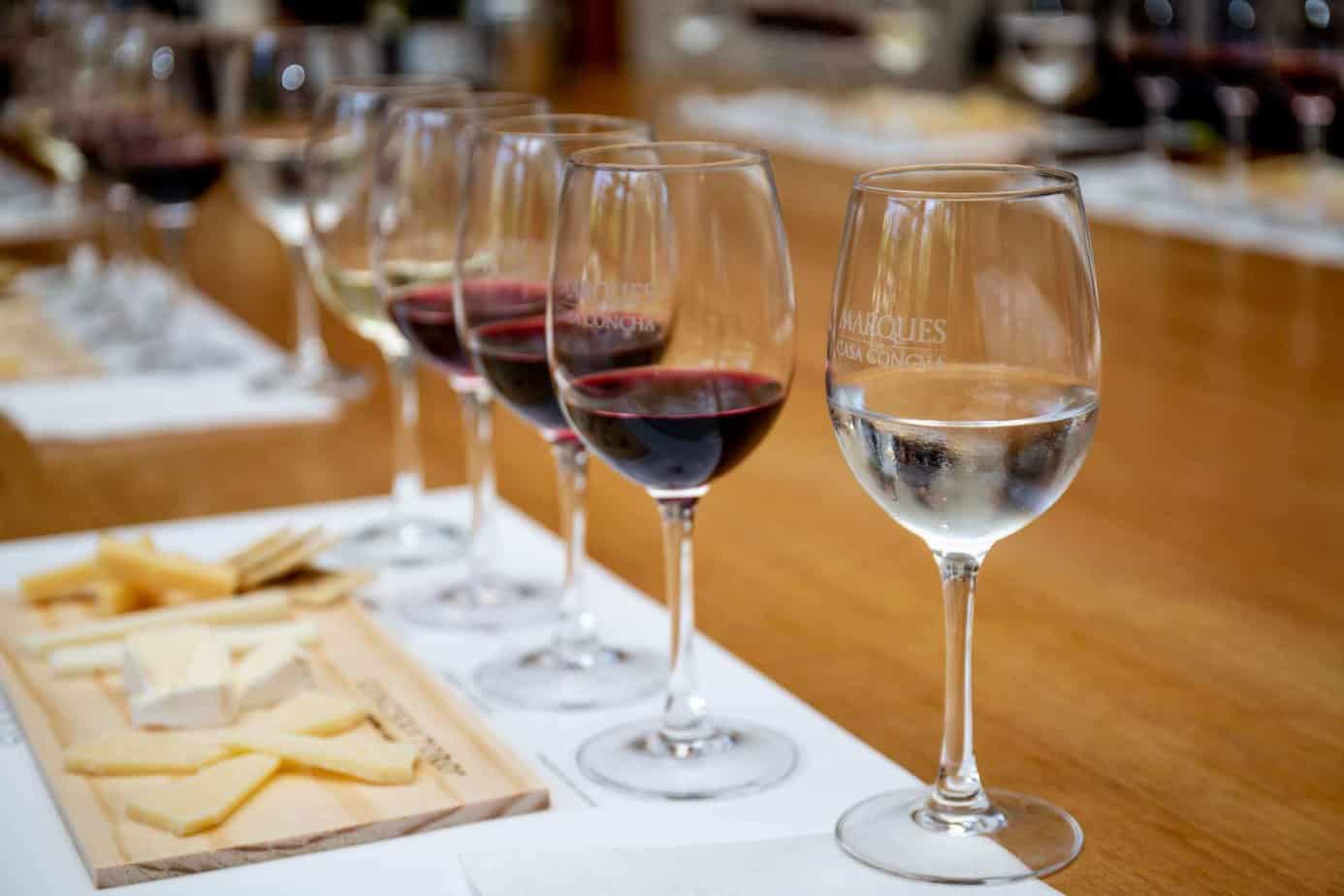 DISCLOSURE
Some of the links on here are affiliate links and I may earn if you click on them, AT NO EXTRA cost to you. Hope you find the information here useful! Thanks.
[WPSM_COLORBOX id=4442]
Related Posts:
9 Best Degustation Margaret River To Try!
Best Degustation in Margaret River To Try!
1. Miki's Open Kitchen
The name says it all! Miki's Open Kitchen offers a unique dining experience nestled in the heart of Margaret River town. The open kitchen offers you a front-row seat to the culinary magic of owner, Mikihito Nagai and his team.

Miki's carefully curated menus offer a Japanese-inspired menu uniquely created with locally sourced produce. Miki's is renowned for being a dynamic dining experience with the U-shaped counter seating around the open kitchen giving your night out a point of difference.

There are four degustation menus to choose from.
Miki's Trust: A conceptual degustation lovingly showcasing Miki's style

Miki's Complete: A creative, ever-changing seven-course degustation

Hanami: A six-course Sake discovery menu

Miki's for kids: An introduction to degustation menu for children

There are two sittings each evening. One at 6 pm and one at 8 pm and Miki's is a popular spot! We absolutely recommend booking at least two weeks in advance especially if you'd like to request the coveted counter seats.
Location: Shop 2, 131 Bussell Hwy, Margaret River
Contact: +61 8 9758 7673
Opening Hours: Open Tuesday-Saturday, bookings must be made or modified online via their online booking platform.
2. Voyager Estate
Voyager Estate is a family-owned vineyard and estate. They are renowned for a carefully considered approach to creating exquisite wines with a focus on environmental sustainability. They are self-professed passionate advocates for the Margaret River Region and aim to reflect what makes the region so special in all that they do.

The Estate itself transports you to a summer afternoon in Europe with carefully manicured gardens and beautiful buildings delighting you at every turn. The restaurant is the creme de le creme of fine dining in the region offering two carefully curated degustation options that showcase the region's finest seasonal produce.
If it was up to us we'd opt for the Discovery Menu (seven courses) with paired wines every time. Likened to the changing seasons in the vineyards the menu takes you on a journey of delicate lightness flowing into rich depth in both the wines and the food.

Voyager Estate is truly an exceptional dining experience encompassing the best of technique and produce. There was no doubt they'd make the cut for the best degustation in Margaret River.
Voyager Estate also offers a Private Winery Tasting Tour In Margaret River With Lunch which includes a 90-minute tour of the vineyards and underground cellar, in a small-group tour limited to 6 participants, followed by a guided wine-tasting. They recommend you also add on lunch afterward. It is available Wednesday through Sunday and tickets are available here.
The restaurant is open Wednesday through Sunday, and bookings are recommended.
Location: 41 Stevens Rd, Margaret River
Contact: +61 8 9757 6354
Opening Hours: The restaurant is open 11.30 am-5 pm Wednesday to Sunday, book online here.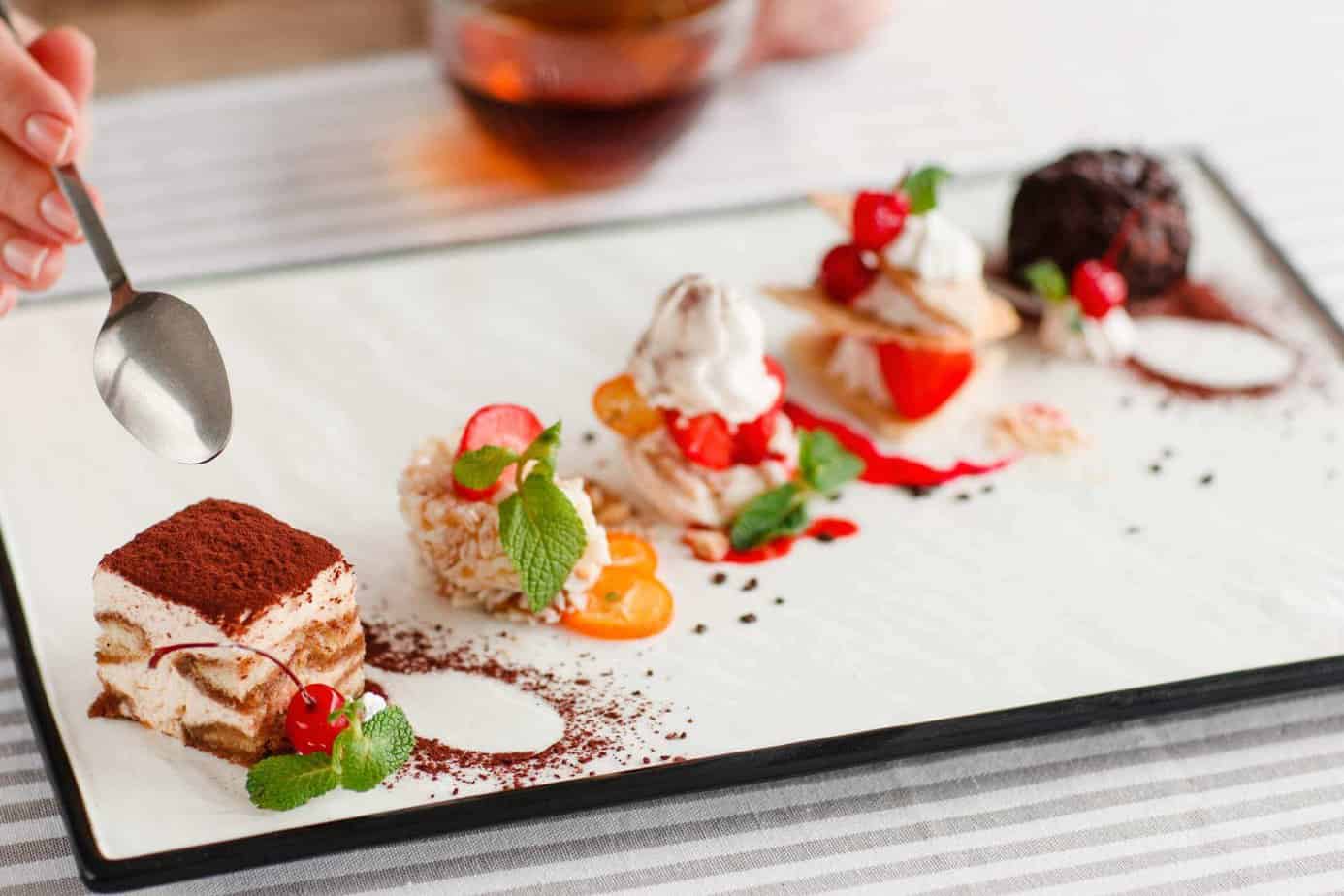 3. Vasse Felix
Founded by the pioneer of the region, Tom Cullity, in the late '60s, Vasse Felix is known as the oldest vineyard and founding winery in the region. The carefully chosen original plot of land is still a key vineyard to the operation and the estate is still family-owned and operated.

Located close to the Wilyabrup Brook along the Caves Road tourist drive, dining at Vasse Felix is a true reflection of what the Margaret River Region is all about. Head Chef Brendan Pratt draws on international techniques and flavors whilst subtly embedding them in dishes that highlight the wonderful produce of the local area.
The tasting menu with paired wines is developed by Brendan to truly couple your dining experience with their world-famous wines offering depth and flavor with every mouthful. Vasse Felix took out the top gong in 2021 being named the restaurant of the year by WA Good Food Guide.
Their tasting menu can accommodate dietary requirements and they will also tailor a menu to suit large groups of 12 or more. Critically acclaimed and often reviewed among the top restaurants in Australia, dining at Vasse Felix is a bucket-list experience.
There is also an option to treat yourself to the Vasse Felix Cellar Experience with 3-Course Lunch, a half-day experience here that includes a vineyard walking tour, guided wine tasting, and 3-course lunch paired with wine. This is a perfect experience for a special occasion and includes a glass of sparkling wine on arrival, and tastings of back vintage Cabernet Sauvignon and Chardonnay. Available 7 days a week, starting at 10.30 am, tickets are available here.
Vasse Felix is open daily however bookings are recommended.
Location: Caves Rd (Cnr Tom Cullity Dve), Cowaramup
Contact: +61 8 9756 5050
Opening Hours: Open daily for lunch, 12 pm-3 pm, book online here.
4. Rustico at Hay Shed Hill
Rustico at Hay Shed Hill is well known for bringing tapas dining to the Margaret River Region. Following the success of the original Rustico restaurant at Rockingham Beach in Perth, the team sought to expand into Margaret River and they did so with gusto!

The degustation menu is a favorite amongst locals and tourists alike for its consistent approach to classy tapas-style dining. A more casual option, sitting on the partially outdoor deck overlooking the vineyard with fun and friendly service and dishes that have you keep going back.
Their famous five-course degustation menu with paired wines is the go-to option. Features local produce, treated delightfully well accompanied by carefully chosen paired wines by Hay Shed Hill. 
Take it slow, allow 2-3 hours to really immerse yourself in the perfect location, and enjoy the culinary journey with your friends or family.
Kids are welcome here, there is a three-course dining option for mini mouths so they won't miss out on an introduction to degustation dining. Your dog is welcome here as well! Be sure to notify the restaurant when making your booking so they can seat you accordingly.

See what we mean? It really is perfect for the whole family and this is why Rustico lands a place in our best degustations in Margaret River guide.
Rustico at Hay Shed Hill is open daily and bookings are recommended.
Location: 511 Harmans Mill Road, Wilyabrup
Contact: +61 8 9755 6046
Opening Hours: Open Monday-Friday 11.30 am – 4 pm and Saturday/Sunday 11 am – 5 pm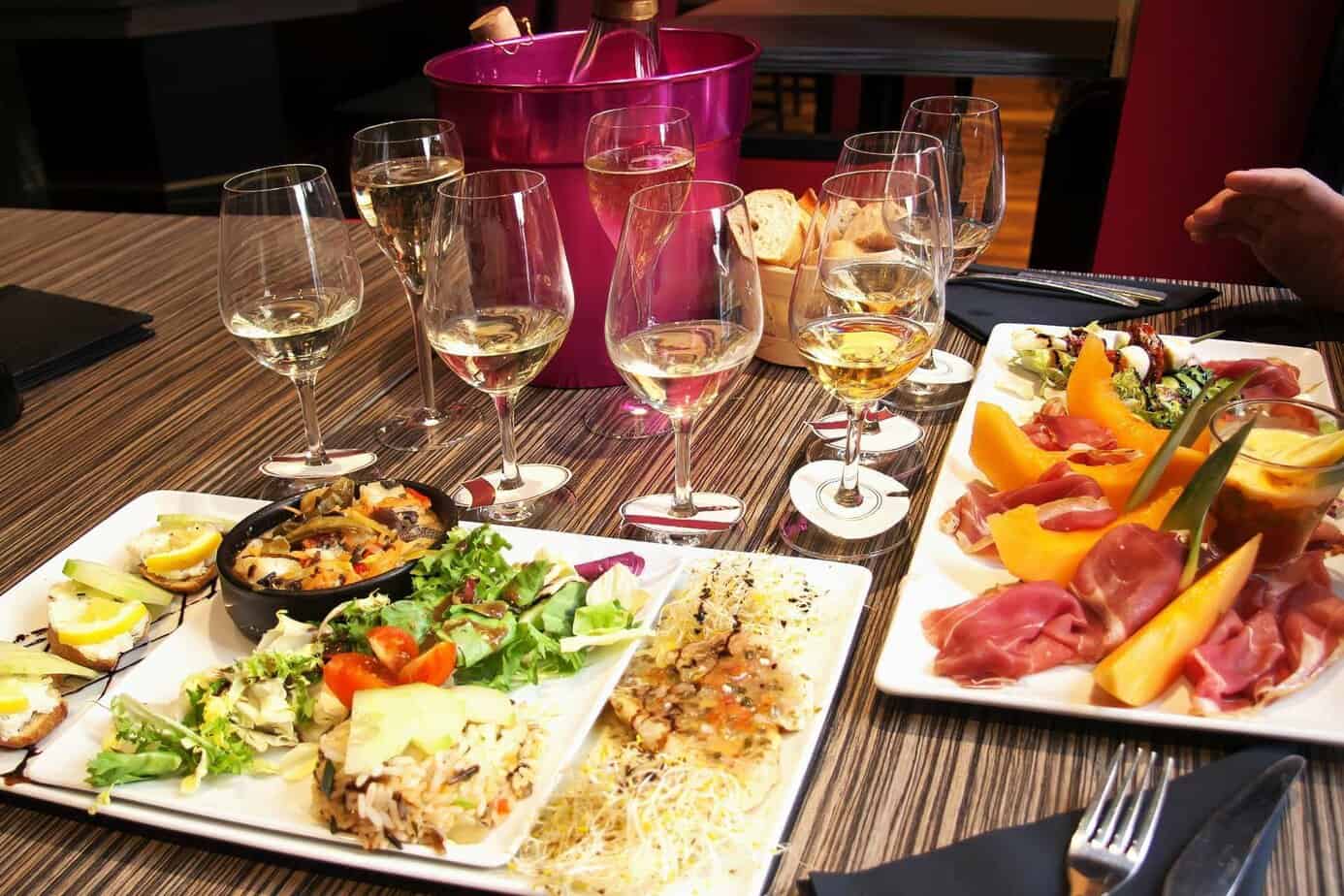 5. Wills Domain
Wills Domain has been named the best restaurant in regional Western Australia as awarded by the WA Good Food Guide many years running. Two-hatted by the National Good Food Guide and many more accolades to boot, Wills Domain offers an exceptional culinary journey accompanied by the highest of service standards.

Their 7-course degustation is our pick, but there's also a 4-course for those with a little less time on their hands. Much of the produce is grown in on-site gardens and the rest is sourced as carefully as possible to ensure the highest quality produce, flavor, and sustainability practices are met.

Let us step you through a sample 7-course degustation menu so that you might get a little glimpse into the tantalizing nature of Wills Domain;
Strawberries and Cream, Cured Pork Cheek & Cold Pressed Canola Oil.

Abrolhos Island Scallops, Horseradish, Dill, and Kohlrabi.

Manjimup Marron, Carrots and Peas

Dry Aged Arkady Lamb, Garden Herbs, Pistachio, and Cucumber

Wagin Duck, Cherry, Almond, and Onion

Tropical Fruit, Desert Lime, and Coconut

Nannup Apricot, Saffron, and Elderflower

Petit Four
Wills Domain restaurant is open Thursday – Monday and bookings are highly recommended.
Location: Corner Abbey Farm & Brash Rd, Yallingup
Contact: +61 8 9755 2327
Opening Hours: Open Thursday – Monday from 12 pm-3 pm, book online here.
6. Leeuwin Estate
Offering the ultimate in degustation experience is our old favorite Leeuwin Estate. Consistently award-winning, friendly professional service and a small family-run team offering the most exceptional menu around. What's not to love?
Be as fancy as you like here, land in a chopper if you so wish! Otherwise, you'll be just as welcome to knock off work early, grab your partner and stroll on in. The deck seating is classy but casual with no air of pretense. Leeuwin is fine dining the way we all want to experience it (with a glass of our absolute favorite regional Chardonnay of course).
The tasting menu options are three-course, or six-course. We probably don't need to elaborate on our recommendation but just in case, it's the six-course! Allow five hours for this immersive journey.
Priding themselves on a farm-to-fork experience with a menu that focuses on flavor, textures, and aroma, the team at Leeuwin Estate are exceptional advocates for local farmers and producers.
We can't talk about the food here without mentioning their paired wines. Some of our all-time favourites that we must share with you are
2013 Art Series Reisling

2009 Art Series Chardonnay

2012 Art Series Cabernet Sauvignon
Dine here once, and you'll dine here again. Trust us. Leeuwin Estate is open daily and bookings are recommended.
You can also book an Ultimate Tasting Experience here. It is billed as a half-day Leeuwin Estate wine and food tour and includes morning tea, a private tour of the winery with a guided wine tasting, a 7-course meal with matching wines, and a guided tour of the Australian Art Gallery. This is available Wednesday through Sunday, starting at 10.30 am and tickets are available here.
Location: Stevens Rd, Margaret River
Contact: +61 8 9759 0000
Opening Hours: Open 7 days, with reservations between 12 pm and 2 pm depending on the menu you select, book online here.
Something different…
Not quite a degustation but getting there? Or looking for something different? Here are our picks for a slightly lighter option, smaller set menu, or farm-to-fork dining…
7. Wise Wine
A little further to the north at Eagle Bay, located quite literally where the vines meet the sea, is the world-class winery, restaurant, and distillery at Wise Wine.

Wise Wine is the only restaurant in the region to offer views of stunning Geographe Bay, rolling vineyards, and the natural bushland of Meelup National Park. It's a truly special parcel of land within the Cape to Cape region.
The team has carefully cultivated strong bonds with local suppliers and farmers and they passionately showcase their products in a seasonally rotating menu. The dining experience is relaxed but professional and the food is of a consistently exceptional standard.
Wise Wine Restaurant is open 7 Days and bookings are recommended.
Location: 237 Eagle Bay Rd, Eagle Bay
Contact: +61 8 9755 3331
Opening Hours: Open 7 Days, 11 am – 3 pm, book online here.
8. Xanadu Wines
Xanadu Wines has located only 4km from Margaret River town amongst some of the oldest vineyards in the region. Their wines and restaurant are both well awarded and recognized on a global stage, a true credit to their small and passionate team.
Xanadu Wines makes lunchtime dining easy. Offering a two or three-course set menu showcasing the utmost in flavor to be enjoyed in a relaxed setting overlooking beautiful lawns and carefully manicured gardens, it's everything you think of when it comes to the south-west.
With an air of indulgence but relaxed and well-priced, dining at Xanadu is a little treat you can enjoy often.
Xanadu Restaurant is open Wednesday to Sunday and bookings are recommended.
Location: 316 Boodjidup Rd, Margaret River
Contact: +61 8 9758 9500
Opening Hours: Open Wednesday – Sunday, with orders taken between 11.45 am – 2 pm. Book online here.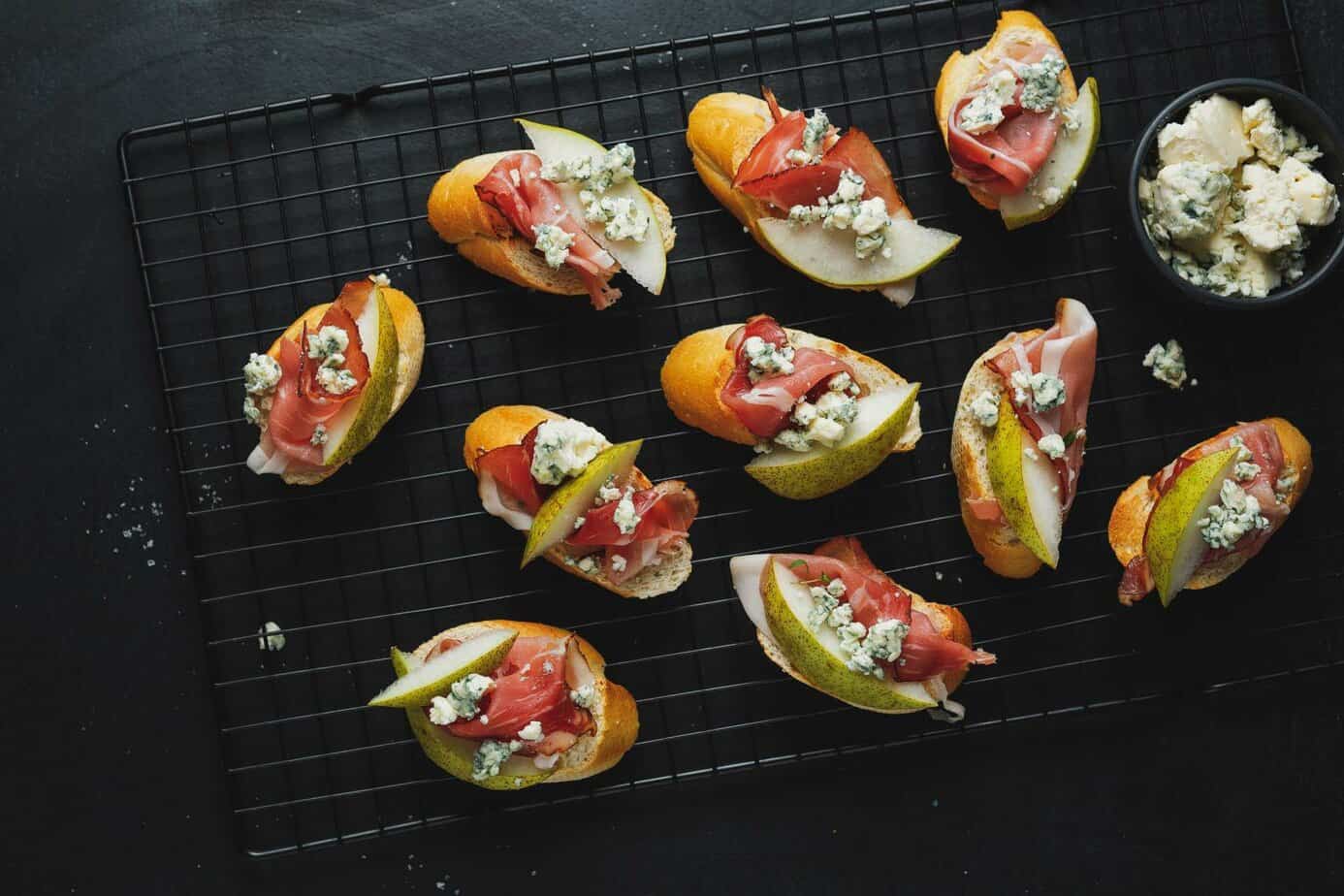 9. Glenarty Road
Did we save the absolute best degustation in Margaret River to last? You decide. Glenarty Road is so unique that you really need to experience it to do it justice.
Glenarty Road is a true farm-to-table dining experience. Sasha and Ben McDonald started the Glenarty Road Restaurant on their family farm to really cement their paddock-to-plate philosophy, and love of their land, and to warmly share their produce and practices.
Farm Feasting offers set menu's from the five-course Every Acre feast with paired wines to a three-course tasting menu Farm Feast and of course a Junior Feast, catering to the younger connoisseurs amongst us. You can also leisurely graze on the grounds with Charcuterie boards, bread, and local cheeses in more of a picnic style.
The dishes are part of a larger story, a bigger picture here at Glenarty Road. You are taken on a journey that reflects everything this family is passionate about in what they produce. In addition to dining, you may indulge in a wine tasting, book a garden tour, or book a farm tour. We encourage you to slow down and absorb everything you can here when you visit.
Glenarty Road prides itself on its homegrown lamb and first and foremost that is their passion. The menu features homegrown meat as its hero and therefore doesn't cater to vegan diets.
Glenarty Road Restaurant is open from Thursday to Sunday and bookings are essential.
Location: 70 Glenarty Rd, Karridale
Contact: +61 475 085 305
Opening Hours: Open Thursday to Sunday 11.30 am – 2.30 pm, book online here.
FAQ's
Are you looking for the best long lunch in Margaret River? Our guide to the top nine degustations has you covered. There are a few things you can do to ensure your dining experience is truly special.
Book ahead! Especially in peak times, our top restaurants can sometimes book out a few weeks in advance.

Check when booking if you have dietary requirements.

Be sure to notify the restaurant if you intend to bring kids or dogs

Arrange transport, trust us. The paired wines are hard to say no to but you'll want a skipper organized to take you home safely.

Buy some wine! Support our local businesses and buy some wine to take home with you.
Conclusion
Margaret River, a world-class food destination and home to some of the most recognized chefs in Australia and beyond. Our restaurants regularly receive accolades on a global stage and we are known to have had a few famous foodie faces explore the region.
Something really special about the region is that everyone seems to enjoy the finest of local produce. The dining experience in these wonderful places isn't only for the elite. It's for everyone. It's for you, it's for me. Enjoy our top picks for the best degustation in Margaret River.
Related Posts: