🚵15+ BEST Mountain Bike Trails Margaret River: [LOCALS GUIDE 2023]
Are you looking for the best mountain bike trails Margaret River?
As a local expert who's been exploring Margaret River for years, I can tell you that mountain biking here is an experience you don't want to miss. Mountain biking is the fastest-growing recreational sport in Western Australia.
There are heaps of Mountain Bike Trails in Margaret River to try out and this activity is a huge drawcard to the region. You might see more mountain bikes than surfboards in Margaret River these days!
The Margaret River region offers a variety of quality trails. The majority are fun, flowing single-track networks. Most are conveniently located close to town. There are no park passes required so the trails in the region are free to ride all year round!
Whether you're a thrill-seeker or just looking for a leisurely ride, Margaret River has got you covered! Are you ready to learn about the best mountain bike trails in Margaret River?
Let's dive in!
This article contains some affiliate links which means that I may earn a small commission when you click on them, at no additional cost to you. I do hope you find the information in this article helpful!
15+ Best Mountain Bike Trails Margaret River For All Levels
1.The Creek Trails (AKA South Carters)
🚵DIFFICULTY: Intermediate to Advanced | 🌏DISTANCE FROM MARGARET RIVER: 3km |📍DEPART FROM: Access off Bussell Highway, from the gravel road opposite the Shell Service Station | Google Maps
If you are looking for Margaret River MTB Trails where the locals go, this is your spot. The Creek Trails have a lot of older single-track networks. These trails are best suited to intermediate or advanced riders. Thrill-seekers can ride at a faster pace to increase difficulty.
There are some jumps, granite outcrops, and steeper cross-country style descents. The creek trails are situated amongst the natural forests. This means they are well-shaded in the summer months. They can be muddy after significant rain in winter though.
The technical aspects of these trails include steep climbs, doubles, and log rides. They are not for beginners, the faint-hearted or kids.
2.The Woodjitup Trails (Formerly Known As Compartment 10)
🚵DIFFICULTY: Beginner to Advanced | 🌏DISTANCE FROM MARGARET RIVER: 1km |📍DEPART FROM: Carters Road Car Park| Google Maps
The Woodjitup Trails are newly created trails positioned in the Woodjitup National Park. This area is significant to the Wadandi people.
The trails cover approximately 10km and seamlessly weave into each other. They are a well-signed network of trails so you will always know where you are. There are beginner, intermediate or advanced networks. These trails also feature constructed berms and jumps. Perfect for testing your mountain bike riding capability!
The car park to enter these trails is only 2km from Margaret River town off Carters Road, or you can easily ride from town.
3.Bunnitj Biddi Trail (Formerly Known As 10-Mile Brook Trail)
🚵DIFFICULTY: Easy | 🌏DISTANCE FROM MARGARET RIVER: 1km |📍DEPART FROM: Rotary Park, Margaret River | Google Maps
A less busy, good scenic ride for beginners in Margaret River is the Bunnitj Biddi Trail. This was formerly known as 10-Mile Brook Trail. This is an easy 9km ride beginning at Rotary Park.
It meanders through the forest close to town and only takes about an hour to complete. Parts of the trail can get flooded after winter rains however, so there are special 'winter route' sections best used between July and October.
This is a fun place to begin to learn mountain biking in Margaret River.
4.Middle Earth
🚵DIFFICULTY: Intermediate to Advanced | 🌏DISTANCE FROM MARGARET RIVER: 24km |📍DEPART FROM: Carpark at the Trail Head, located off Gale Road, Metricup | Google Maps
Further afield, between Margaret River and Busselton, you'll find Middle Earth. Middle Earth offers 24km of more endurance cross-country style riding. This trail is best for intermediate or advanced riders. It was constructed by a couple of locals and covers as much ground as possible! It can be a bit of a maze in there so go with friends and refer to your map. It is close to the Beer Farm for a well-deserved ale and meal after your ride.
5.Wadandi Track
🚵DIFFICULTY: Beginner to Intermediate | 🌏DISTANCE FROM MARGARET RIVER: 11km |📍DEPART FROM: Either off Memorial Drive in Cowaramup, or off Calgardup Road south of Witchcliffe | Google Maps
For a more leisurely ride, Wadandi Track is for you! This trail runs from Witchcliffe to Cowaramup and is relatively flat. It covers approximately 26km of the old train line to Busselton. The picturesque scenery varies from farmland to forest and offers abundant bird life. This popular trail is suitable for beginners and can also be ridden on a hybrid or an e-bike.
There are plenty of places to stop for coffee or a snack in Cowaramup, Margaret River or Witchcliffe. I love the Hairy Marron for a coffee and a chat with knowledgeable bikers. This trail is also fantastic for spotting wildflowers.
6.Boranup Forest
🚵DIFFICULTY: Easy to Moderate | 🌏DISTANCE FROM MARGARET RIVER: 25km |📍DEPART FROM: Off Caves Road at the Vlam Road Intersection | Google Maps
If you are exploring further south and looking for Margaret River Mountain Bike Trails that go through the forest, there are some beautiful rides in the Boranup Forest. This area was recently affected by bushfires but will come back better than ever!
These trails cover approximately 24km and are located 25km south of Margaret River. These trails are suitable for beginner to intermediate riders. You will meander through the Karri Forest enjoying the spectacular scenery. These trails are linked by gravel fire roads but do feature dedicated single tracks.
7.Wanang Biddi Trail (Formerly Darch Trail)
🚵DIFFICULTY: Easy | 🌏DISTANCE FROM MARGARET RIVER: 2km |📍DEPART FROM: The round-trip journey kicks off and wraps up at the Lantana Lane parking area. | Google Maps
The Wanang Biddi Trail is perfect for mountain biking, touring, and hybrid bikes, as well as walking. The trail starts from Lantana Lane and ends at Andrews Way, where you then turn around and go back, and features coarse gravel and compacted earth surfaces.
It offers interesting birdlife, wildflowers, and links to other trails like the Bunnitj Biddi Trail. The trail is managed by the Shire of Augusta Margaret River and is free to use all year round. This trail is 5.3 km in total and usually not too crowded.
Feel free to bring your dogs, but make sure they're on a leash.
8.Prevelly Walk/Cycle Trail
🚵DIFFICULTY: Easy | 🌏DISTANCE FROM MARGARET RIVER: 2km |📍DEPART FROM: Starts at the intersection of Wallcliffe Road and Railway Terrace, and goes all the way to Prevelly and the river mouth, so anywhere along here | Google Maps
This sealed trail stretches about 10 km and begins at the roundabout where Railway Terrace meets in Margaret River town. It follows Wallcliffe Road, crosses over Caves Road, and ends up at Prevelly near the river's mouth.
9.Riverside Trail
🚵DIFFICULTY: Easy | 🌏DISTANCE FROM MARGARET RIVER: 1km |📍DEPART FROM: Rotary Park, Margaret River | Google Maps
Starts on the south end of Rotary Park, close to the Hairy Marron, and head up to Barrett Street Weir. Watch out, it's a well-liked walking trail, so pay close attention. To make it a simple loop, just cross the Weir and head back via the Bunnitj Biddi trail.
10.Jedi Loop
🚵DIFFICULTY: x | 🌏DISTANCE FROM MARGARET RIVER: 4km |📍DEPART FROM: Via the Wadandi Track off Lear Road | Google Maps
The Jedi Loop Trail in Margaret River is a paradise for mountain biking fans. It's part of a National Park and offers 10 different trails for mountain biking, hiking, and trail running.
There's also an excellent cross-country loop accessed via the Wadandi Track off Lears Road. This loop mixes fire roads with a couple of fun singletrack sections. It's mostly easy, making it great for beginners. You'll find simple blue arrows on trees to guide you.
11.Airport Loop
🚵DIFFICULTY: Easy | 🌏DISTANCE FROM MARGARET RIVER: 5km |📍DEPART FROM: Near 10 Mile Brook Dam Walk off Perimeter Road | Google Maps
Located near the airport on the town's eastern side, this area offers a variety of cross-country loops. While there's no directional signage, you'll find a mix of fire roads and quick single tracks. The terrain is undulating, featuring short climbs and descents. Some trails are a bit overgrown, so keep an eye out!
12.Beer Trail
🚵DIFFICULTY: Moderate to Difficult | 🌏DISTANCE FROM MARGARET RIVER: 7km |📍DEPART FROM: I would depart from Rotary Park in town, for ease of parking | Google Maps
The Beer Trail can be accessed from two starting points: the Airport Loop or the Bunnitj Biddi Winter Loop. Don't expect any directional signs; these trails are a bit on the wild side, following old forestry paths. They'll eventually lead you to Osmington Road, right near the Colonial Brewery—perfect for a post-ride refreshment!
If you're up for a challenge, take the trail's south arm. It's got some steep sections that will give your legs a good workout!
Skills Development and Family-Friendly Options
13.Dunsborough Mountain Bike Park
🚵DIFFICULTY: Easy to Difficult | 🌏DISTANCE FROM MARGARET RIVER: 48km |📍DEPART FROM: Dunsborough Country Club | Google Maps
Dunsborough Mountain Bike Park is a must-visit spot for biking enthusiasts!
With a $5 entry fee in an honesty box at the Country Club that lets you ride all day, the park offers 28 trails that cater to mountain bikers, e-bikers, hikers, and trail runners. The park covers a total distance of 13 miles and has a variety of trails with different levels of difficulty.
14.Busselton to Dunsborough Shared Path
🚵DIFFICULTY: Easy | 🌏DISTANCE FROM MARGARET RIVER: 50km |📍DEPART FROM: Anywhere along Geographe Bay
The Dunsborough to Busselton Shared Path is a mostly paved road that passes through a series of parks and reserves running alongside the foreshore. It connects Busselton to Dunsborough with great ocean views from many points. The path is used for riding, running and walking and is 61km end to end.
15.Margaret River BMX Track
🚵DIFFICULTY: Easy | 🌏DISTANCE FROM MARGARET RIVER: 2km | Google Maps
The Margaret River BMX Track is right in the town center and perfect for beginners. It features a starting ramp and tight turns on a short, wide gravel loop. The 0.3-km trail is moderately challenging and not too crowded. There is a large car park here. Great for mountain biking practice.
Mountain Bike Hire in Margaret River
If you're in Margaret River and looking to rent a bike, you've got plenty of options. Shops like The Hairy Marron, Golden Jersey, and Life Cycle Bikes offer a variety of bikes for hire, from mountain bikes to beach cruisers. These local shops are run by biking enthusiasts who can give you the best advice on trails and gear.
Electric Bikes Margaret River specializes in e-bikes, perfect for covering more distance. Whether you're a pro or a beginner, these shops have got you covered for your next biking adventure!
Mountain Bike Tours in Margaret River
⭐RATING: 5/5 – with over 46 positive reviews! | 🌏DISTANCE FROM MARGARET RIVER: 1km |📍STARTS FROM: 51 Bussell Highway, Margaret River WA | Google Maps
✨Why You Should Choose Margaret River Mountain Biking, Kayaking and Wine Tasting Tour
This isn't just a mountain biking tour; it's an all-in-one Margaret River experience. From pedaling through Wooditjup National Park to kayaking in Blackwood River, you get to taste the best of the region in one day. Plus, it's guided, so you're in safe hands!
♥️Why You Will Love Margaret River Mountain Biking, Kayaking and Wine Tasting Tour
✅ Guided Mountain Biking: Navigate Wooditjup National Park's trails with an expert guide. Perfect for all skill levels and a great way to spot local wildlife!
✅ Multi-Adventure Day: After biking, switch gears and kayak in the tranquil Blackwood River. It's the perfect blend of adrenaline and relaxation.
✅ Gourmet Treats & Wine: Enjoy a delicious lunch at the Berry Farm and end your day with a personalized wine-tasting session at Brown Hill Estate. You're in for a treat!
"I had a fantastic day with Paul! He is an extremely friendly, nice and easygoing guide. We did fun activities and visited beautiful and interesting places. Mountain biking & kayaking were great ways to experience the beautiful nature of Margaret River area. The lunch at the beautiful Berry Farm was delicious. I can highly recommend this or any tour with Paul!" (read more reviews)
Mountain Bike Events
The popularity of mountain biking in Margaret River has brought events to the region. Down South Mountain Bike Festival is a family-friendly event. It is held over two days in June and includes events in Dunsborough and Margaret River.
However, the region's most renowned event is the four-day Cape to Cape MTB riding event. This endurance ride covers about 210km and takes four days to complete! It is usually held in October and accommodation can be scarce so get in early!
Expert Tips for a Great Ride
1️⃣ Know Your Trail: Research the trail you're planning to ride on. Some trails are beginner-friendly, while others are for the pros. Pick one that matches your skill level.
2️⃣ Gear Up: Make sure your bike is in top condition. Check the brakes, tires, and gears. Don't forget your helmet and gloves for safety!
3️⃣ Pack Smart: Bring a small backpack with essentials like water, snacks, a first-aid kit, and a map or GPS. You never know when you'll need them.
4️⃣ Ride with a Buddy: It's safer and more fun to ride with someone. Plus, you can help each other out in tricky spots.
5️⃣ Know the Signs: Learn basic trail signs and markers. This will help you navigate and understand the trail's difficulty levels.
6️⃣ Take Breaks: Don't push yourself too hard. Take short breaks to hydrate and enjoy the scenery. Margaret River is beautiful; take it all in!
7️⃣ Capture the Moment: Bring a camera or smartphone to capture the beautiful landscapes. Just make sure it's securely packed!
8️⃣ Respect Nature: Stick to the trail, don't litter, and respect the local flora and fauna. Let's keep Margaret River beautiful for everyone!
9️⃣ Be Weather-Wise: Check the weather forecast before you head out. Dress accordingly and be prepared for sudden changes.
🔟 Have Fun: The most important tip of all! Enjoy the ride, the adventure, and the beauty that is Margaret River!
Seasonal Considerations
Locals and visitors love riding our trails every season. However, the most popular months are autumn, winter, and spring. This is due to the milder weather conditions. Be prepared for some mud after rain though!
FAQs: Mountain Biking Margaret River
What are the best trails for beginners?
If you're new to mountain biking, try the Wadandi Track or Ten Mile Brook Trail. They offer easier terrains and are perfect for getting the hang of things.
Do I need a park pass to ride the trails?
Nope! Most trails in Margaret River are free to ride all year round. Just hop on your bike and go!
Can I rent a mountain bike locally?
Absolutely! There are several shops in the area where you can rent a bike. They offer various types and sizes to suit your needs.
Is it safe to ride alone?
While the trails are generally safe, it's always a good idea to ride with a buddy. If you must go alone, let someone know your plans and estimated return time.
How do I handle trail etiquette?
Always give way to hikers and uphill riders. Stay on marked trails and respect the environment by not littering.
Can kids go mountain biking here?
Absolutely! Many trails are family-friendly. Just make sure to pick a trail that matches your child's skill level.
Best Accommodation For Mountain Biking
Edge Of The Forest Motel is located on the Bussell Highway just on the edge of town and is the perfect location to begin your mountain biking in Margaret River. Not only are there walk and cycle trails within several hundred meters, but there are also bike wash-down and workshop facilities and secure bike storage available. The owner, Steve, is also super knowledgeable about the area and happy to help you with anything you need! (Tell Steve we sent you!)
If you're planning a biking trip with a large group, make sure to check out our guide on Margaret River accommodation for large groups to find the perfect stay for everyone.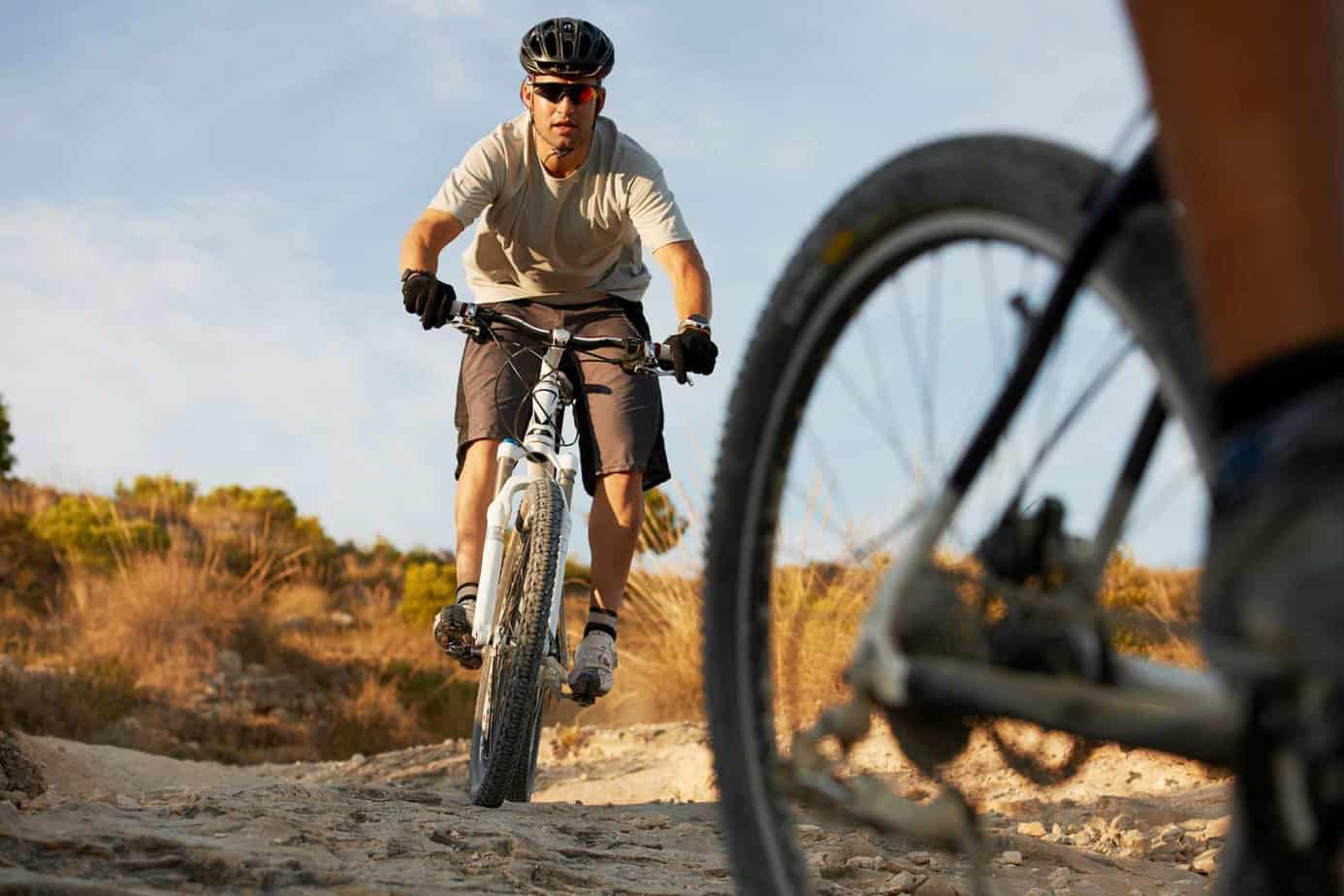 Wrapping Up: Margaret River Mountain Bike Trails
I hope this list has been helpful in your quest to find the best Mountain Bike Trails in Margaret River!
Mountain Biking in Margaret River is a super fun activity, however, preparation is key, especially in our hot summer months. Eat well prior to your ride or plan stops. Ensure you have sufficient water. Download an app with maps and GPS like Trailforks. Plan your journey with family or friends.
It is also a good idea to familiarize yourself with weather conditions and up-to-date bushfire advice. Be a respectful rider, leave no trace and enjoy mountain bike riding in the Margaret River Region.
If you are just getting started on your mountain biking journey we can help you! Do you need technical advice or repairs? Would you like some local knowledge on trails? Check our guide where we recommend local Margaret River biking gurus to help you out.
Related Posts:
Australia Travel Planning Guide
🚑Should I buy Australian travel insurance?
100% YES! — Australia has "free" healthcare but it's only for citizens and permanent residents. Foreigners visiting need travel insurance in case anything happens on their visit. I like SafetyWing – their Nomad Insurance starts at just $1.50 USD a day!
🚗Should I rent a car in Australia?
Yes — Renting a car is a necessity in most of Australia! If you want to go on road trips or adventures outside of the major cities, and even if you're staying in a major city, you'll want to rent a car. If you are visiting Margaret River, it will be even more important that you hire a car, you'll need it to be able to get around and see all the great attractions and wineries!
🏨What's the best way to book my Australian accommodation?
My go-to for Australian hotels is Booking.com. Pretty much all registered accommodation use Booking.com (but not necessarily any of the other major booking platforms), and even most of the holiday homes and caravan parks use Booking.com too!
If you're planning a trip to Australia where you will stay at multiple locations, it's super handy to have all your accommodation listed in one place, and accommodation owners like Booking.com because it's easy to contact the guests using the messaging platform if the guest has an international phone number.
I sincerely hope you enjoy your visit to Margaret River!