Kilcarnup Beach: Locals Guide (2023)
⭐RATING: 4.7/5 | 🌏DISTANCE FROM MARGARET RIVER: 12km |📍LOCATION: Yebble WA | Google Maps | ☀️BEST TIME TO VIST: Spring, Summer, Autumn | 💲COST: Free | 🐶DOGS ALLOWED: No | 🕰️OPEN: 24 hours | 🚗PARKING: Yes, on the beach | 🚻FACILITIES: None | 🛣️UNSEALED ROADS: Yes, 4WD access only
Kilcarnup Beach, known to us Magaret River locals as Joey's Nose, is a super popular beach with the track in starting about ten minutes north of Margaret River, Western Australia. Kilcarnup Beach is very popular with families as it's a fun, surf spot for the kids, and offers stunning views of the coastline. There is also plenty to do, including 4WD access and fishing.
Kilcarnup Beach is one of my favourite beaches to visit in Margaret River. The sand is pristine, it's always quiet (except for public holidays!) and my kids love splashing around in the shallows. If you're confident behind the wheel of a 4WD, I would definitely recommend a visit here!
This article contains some affiliate links which means that I may earn a small commission when you click on them, at no additional cost to you. I do hope you find the information in this article helpful!
🌏Where Is Kilcarnup Beach?
Kilcarnup Beach, also known as Joeys Nose, is one of the closer beaches to the Margaret River townsite, and the beginning of the track is only about ten minutes north of Margaret River. It is also only one of two beaches that you can drive on near Margaret River, the other being Boranup Beach.
📍Kilcarnup Beach Address: End of Kilcarnup Road, Yebble WA | Google Maps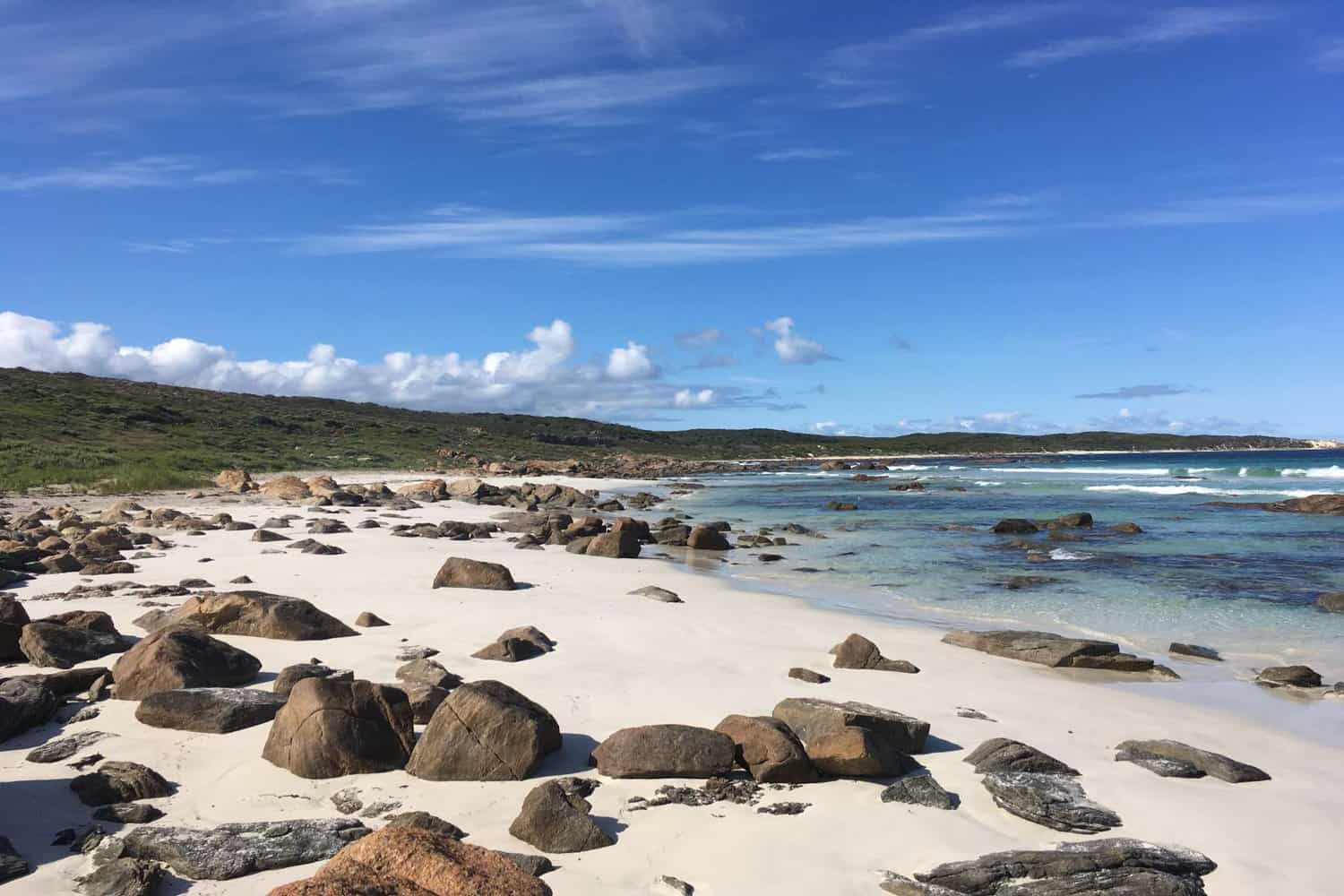 🚗How To Get To Kilcarnup Beach?
Let me explain to you how to access the 4WD track to get to Kilcarnup Beach, which is one of the few places left that you can do beach driving in Margaret River.
You will find the entrance to the track fairly easily, from Caves Road heading north, turn left down Kilcarnup Road, and then take a right at the end of the bitumen part of Kilcarnup Road. Follow the sandy road in and then take a left along the coastline.
The track is very sandy but easy to navigate. It's better to go here in the warmer months when the track is dry, but it can get very busy so stay courteous, slow down and stay safe. You may come up on cars coming in the opposite direction, and if this happens, one of you will need to reverse until you can find a car bay you can pull into to let the other car pass.
The track into Kilcarnup Beach is 4WD only, and I recommend being prepared to let your tires down, and taking an air compressor, recovery tracks, water, and a snatch strap, or even better, travel with a second vehicle. Reception can be patchy as well, so let someone know where you are going and what time you are expected to return.
Looking for travel advice for your visit to Margaret River? Join my friendly community over at Margaret River Travel Planning on Facebook to learn more about this beautiful part of the world and have all of your questions answered!
🚻Kilcarnup Beach Facilities
Joeys Nose Margaret River is a quiet beach away from, well, pretty much everything, there's nothing in the way of facilities here. No shops, no toilets, no park benches. Try to bring everything you will need for your visit, as it's a long way back out up the 4WD track if you forget something!
🛌Kilcarnup Beach Accommodation
If you've decided that you'd like to stay in accommodation in Kilcarnup Beach, there are a couple of close-by options.
⭐RATING: 9.7/10 | 🌏DISTANCE FROM KILCARNUP BEACH: 2.8km |📍LOCATION: 70 Kilcarnup Road, Burnside WA | ✅BOOK IT!
✨Why You Should Choose Rileystone
Rileystone is a charming holiday home in Burnside, only a short drive to Kilcarnup Beach. The beautifully furnished property provides ample space for families and even welcomes small dogs.
Wake up to the tranquil sounds of nature surrounding the house and take advantage of the convenient proximity to local wineries. With its modern design and spacious outdoor area, Rileystone is a delightful choice for a memorable stay, loved by both kids and furry friends alike.
⭐RATING: 8.3/10 | 🌏DISTANCE FROM KILCARNUP BEACH: 12km |📍LOCATION: 1 Resort Place, Gnarabup WA | ✅BOOK IT!
✨Why You Should Choose Margarets Beach Resort
At Margarets Beach Resort, you are located just 10 kilometres from Margaret River town and a mere 500 metres from the pristine Gnarabup Beach. As the only resort by the sea, it offers an idyllic setting for your getaway. Whether you're planning a romantic retreat or a memorable family holiday, Margarets Beach Resort is the perfect choice.
During your stay, take advantage of our range of resort facilities, including a heated outdoor pool (not heated from May to September), BBQ facilities, a children's playground, and free Wi-Fi access in all apartments. Margarets Beach Resort is a perfect place to stay if you want to be close to Kilcarnup Beach, yet close to amenities and the rest of the Margaret River region.
👀Things To Do In Kilcarnup Beach
🏕️Kilcarnup Beach Camping
Are you wondering can you camp at Kilcarnup Beach? Unfortunately, the answer is no, however you are very close to Boranup, Contos, Jarrahdene and Point Road Campgrounds.
Here's a list of the Best Camping Spots in Margaret River. Or, if staying at an accommodation place is more your thing, here's a list of the Best Accommodation in Margaret River.
🚙Kilcarnup Beach 4WD Track
You can drive on Kilcarnup Beach and I've explained above how to use the 4WD track to get into Kilcarnup Beach.
The sand can be soft, especially in winter, and you will need to lower your tire pressure accordingly. Take your time and be careful, you don't want to get bogged on this section of beach or 4WD track in and need to be pulled out by a tow truck!
Here's a list of Margaret River 4WD Tracks if you want to learn about some other tracks you can try out.
🎣Kilcarnup Beach Fishing
The fishing here is awesome, with plenty of good Herring, Tailor and Skippy biting regularly. You can even target Mulloway in the deeper channels. This is also a great beach for catching Salmon during the annual Salmon run.
Here's a list of Margaret River Fishing Spots if you want to see where else you could go.
🏄Kilcarnup Beach Surfing
Every time we have been to Kilcarnup Beach, we have seen people surfing. It is a really good beach for beginners to learn surfing, and a lot of Margaret River children learn to surf here. Joey's Nose surf is pretty renowned around town, for being an easy place to learn.
If you are after somewhere a tad more challenging, check out my list of Best Surf Spots in Margaret River.
🏊‍♂️Kilcarnup Beach Swimming
Are you wondering can you swim at Joey's Nose Beach? You definitely can swim at Kilcarnup Beach, and I'd most definitely recommend it! It's a really safe and calm beach for children to swim at as well. All that being said, it is an unpatrolled and remote stretch of beach, so you are a long way from help if something bad happens.
🐶Is Kilcarnup Beach Dog-Friendly?
No, Joeys Nose Beach is not dog-friendly as you would have to take your dog through Leeuwin-Naturaliste National Park to get there, and dogs are not allowed in national parks. You are allowed to drive along Caves Road with a dog in your car, even though it falls within Leeuwin-Naturaliste National Park, as long as you don't stop inside the park boundaries. Park Rangers will fine you if you are caught, so don't even bother trying.
Here's a list of all the Dog-Friendly Beaches In Margaret River where you can take your dog instead.
🏖️Wrapping Up: Kilcarnup Beach Margaret River
Kilcarnup Beach is a great spot for a day trip. There is plenty to do, and the views are stunning. Take a picnic, let the kids have a surf, and be sure to take all your rubbish with you. If you're looking for a beaut day at the beach, Kilcarnup Beach should definitely be on your list!
Remember, if you do go to Kilcarnup Beach next time you're in Margaret River, tag me on Instagram at @accommodationmargaret so I can see what you've been up to!
More beaches:
Australia Travel Planning Guide
🚑Should I buy Australian travel insurance?
100% YES! — Australia has "free" healthcare but it's only for citizens and permanent residents. Foreigners visiting need travel insurance in case anything happens on their visit. I like SafetyWing – their Nomad Insurance starts at just $1.50 USD a day!
🚗Should I rent a car in Australia?
Yes — Renting a car is a necessity in most of Australia! If you want to go on road trips or adventures outside of the major cities, and even if you're staying in a major city, you'll want to rent a car. If you are visiting Margaret River, it will be even more important that you hire a car, you'll need it to be able to get around and see all the great attractions and wineries!
🏨What's the best way to book my Australian accommodation?
My go-to for Australian hotels is Booking.com. Pretty much all registered accommodation use Booking.com (but not necessarily any of the other major booking platforms), and even most of the holiday homes and caravan parks use Booking.com too!
If you're planning a trip to Australia where you will stay at multiple locations, it's super handy to have all your accommodation listed in one place, and accommodation owners like Booking.com because it's easy to contact the guests using the messaging platform if the guest has an international phone number.
I sincerely hope you enjoy your visit to Margaret River!