Peppermint Grove Beach: Locals Guide (2023)
⭐RATING: 4.9/5 | 🌏DISTANCE FROM MARGARET RIVER: 72km |📍LOCATION: Peppermint Grove Terrace, Peppermint Grove Beach WA | Google Maps | ☀️BEST TIME TO VIST: Spring, Summer, Autumn | 💲COST: Free | 🐶DOGS ALLOWED: Yes | 🕰️OPEN: 24 hours | 🚗PARKING: Yes | 🚻FACILITIES: Public toilet, children's playground, BBQs, picnic table, small shop at Caravan Park | 🛣️UNSEALED ROADS: No
Welcome to Peppermint Grove Beach! Located on the south coast of Western Australia, between Bunbury and Busselton, this stunning beach is perfect for a relaxing getaway. With its turquoise waters and white sandy beaches, you'll feel like you've stepped into paradise.
As a Margaret River local who has helped thousands of people plan their holidays to the region, as well as a mum of 5 boys who love to spend their life at the beach, this guide will tell you everything you need to know about Peppermint Grove Beach, and why it should be on your list of beaches and locations to visit. Read on to find out more about this beautiful beach and all the things you can do here!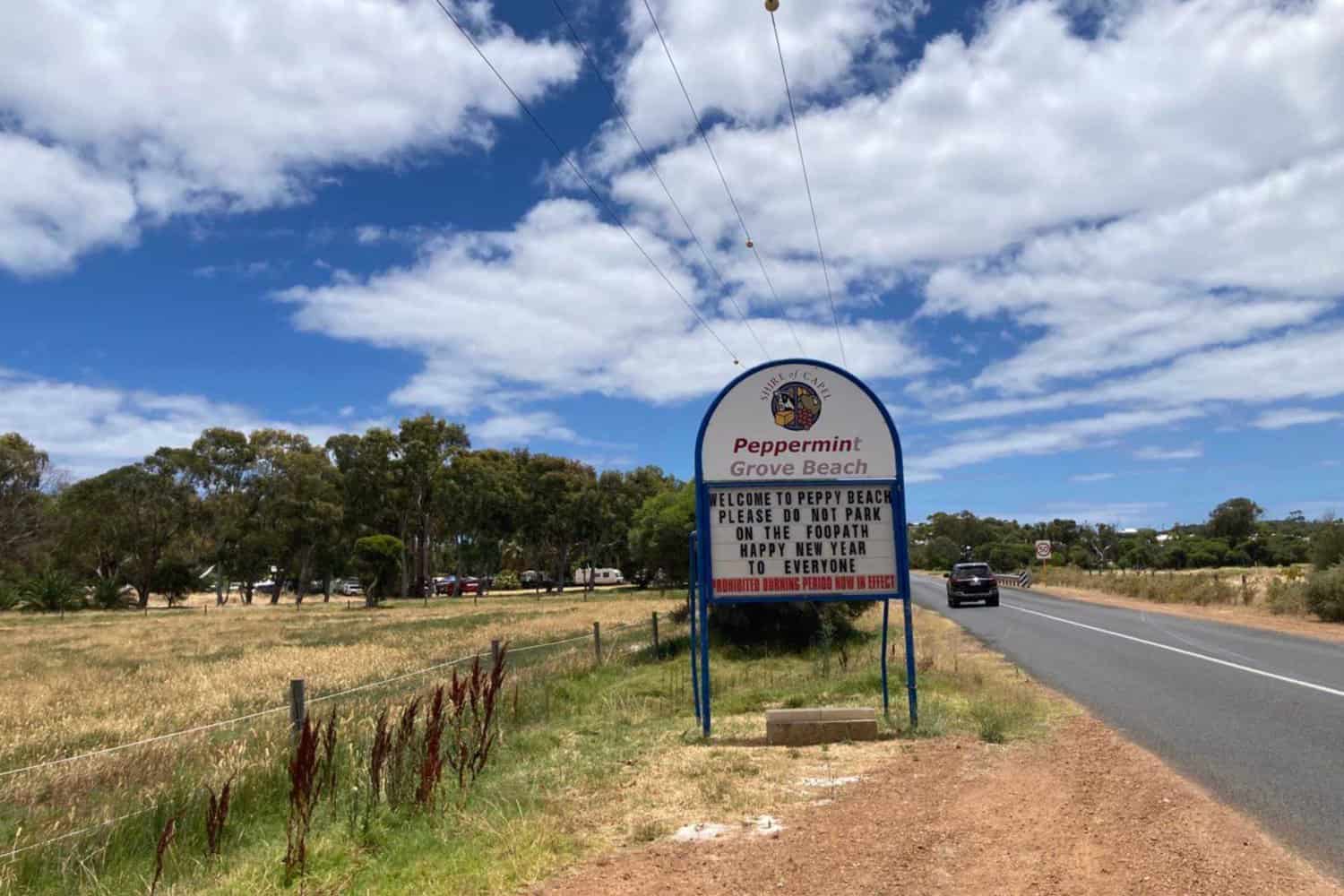 This article contains some affiliate links which means that I may earn a small commission when you click on them, at no additional cost to you. I do hope you find the information in this article helpful!
Locals Guide to Peppermint Grove Beach
🌏Where Is Peppermint Grove Beach?
Peppermint Grove Beach is located in the Shire of Capel, 33km south of Bunbury, 26km north of Busselton, 73km north-east of Margaret River and 9km from the townsite of Capel, on the Geographe Bay coast, near the Capel River Mouth.
📍Peppermint Grove Beach Address: 1 Peppermint Grove Road, Peppermint Grove WA | Google Maps
🚗How To Get To Peppermint Grove Beach?
If you're heading to Peppermint Grove Beach from Perth, it's a 202km drive down Kwinana Freeway, which should take you about 2 hours and 10 minutes without stops.
From Margaret River, head north along Bussell Highway, past Busselton, and after you reach the turnoff for Capel, turn left down Stirling Road, right down Ludlow Road North, then left down Peppermint Grove Road. At the end of this road, you will find the beach!
🚻Peppermint Grove Beach Facilities
Peppermint Grove Beach has all the facilities you need for a great day out. There's plenty of room to park your car in the well-maintained carpark, or access the beach via your 4WD. The beach is pet friendly, so bring your furry friends along with you. There's also a picnic area, children's playground, and public toilet nearby.
Try to bring everything you will need for your visit, however if you forget anything, Peppermint Grove Beach Holiday Park has a small shop, current opening hours can be found here.
🛌Peppermint Grove Beach Accommodation
If you've decided that you'd like to stay at Peppermint Grove Beach, there are a couple of options.
Peppermint Grove Beach Holiday Park is the best option for an easy and comfortable stay in Peppermint Grove Beach. Located 350m from the beach, this holiday park offers a range of accommodation options from large, grassed and shady sites to studio accommodation, all with the convenience of refurbished amenities.
There are also plenty of facilities available including a liquor store, licenced restaurant, and shop, plus the usuals like a laundry, camp kitchen and BBQ area.
"It was exactly what we needed, quiet but close to everything. Staff were very helpful! Room was clean and comfy! Close to cooking facilities that were exceptional! Perfect weekend away!" – Moxon (Booking Review)
✅Check Rates & Book: Peppermint Grove Beach Holiday Park
Bay Beach House is the perfect beachside retreat for families and pet owners. Located just metres from the beach, this self-contained house has everything you need for a comfortable stay in Peppermint Grove Beach.
Whether it's a weekend away or a longer holiday, Bay Beach House ticks all the boxes.This well-equipped home features three bedrooms, one bathroom, a fully equipped kitchen and a large BBQ area in the backyard.
There is also plenty of room for parking cars and boats, plus direct access to the beach from your front door! Can't get much better than this!
"Peaceful and enjoyable, would recommend to friends. Awesome little house, had everything you need, nice open planned living area, amazing beach views and access super close." – Shane (Booking Review)
✅Check Rates & Book: Bay Beach House
I also have a more comprehensive list of Best Accommodation in Peppermint Grove Beach if you'd like to see more options.
👀Things To Do In Peppermint Grove Beach?
Looking for things to do near Peppermint Grove Beach? Never fear! Here are my top 3 favourites!
If this isn't enough, read my complete list of Things To Do In Peppermint Grove Beach for a whole stack of ideas!
Or, if you're still looking for things to do, take a day trip to Margaret River and tick off some things to do in Margaret River off your to-do list!
🏕️Peppermint Grove Beach Camping
Unfortunately, you are not allowed to camp on the beach at Peppermint Grove Beach, but Peppermint Grove Beach Holiday Park is just 350m from the beach, and offers very affordable rates on sites.
If you are stuck and need a place for an overnight spot, you could try Tuart Drive SC RV Overnight Parking. This is for self-contained campers only, as there are no bins or facilities here. It is also a small campground, so get in early if you intend to stay the night. It also has a maximum stay of 24 hours, so expect to be moved on by a ranger if you try to stay longer.
Capel also has a Self-Contained RV Parking spot, which is only for self-contained RV's. There are only 3 sites available and there is also a maximum stay of 24 hours that applies.
🚙Peppermint Grove Beach 4WD Track
Are you wondering can you drive on Peppermint Grove Beach? If you didn't already know, you'll be excited to find out that, yes, you can!
To get onto the beach in your 4WD, enter on Peppermint Grove Beach's northern access point. Just north of the access point on the beach lies the Capel River mouth, approximately 500m up. However, it is commonly closed, meaning that there is no water flowing through to the sea – ultimately leaving you with an expansive strip of sand stretching a long way north!
Peppermint Grove Beach can pose varying degrees of difficulty, from easy firm sand to far more difficult soft sand, depending on conditions.
Locals Tip: Remember that to drive on the beach it is 4WD ONLY. Only attempt doing this at your own risk. I recommend being prepared to let your tyres down, and taking an air compressor, recovery tracks, water, and a snatch strap, or even better, travel with a second vehicle. Reception can be patchy as well, so let someone know where you are going and what time you are expected to return.
For more 4WD tracks around Margaret River, read my Guide To Best 4WD Tracks Around Margaret River.
🎣Peppermint Grove Beach Fishing
If you're heading to Peppermint Grove Beach to fish, you'll be pleased to know there's plenty of opportunities here to catch some! It can be a little weedy at times, however you should be able to catch plenty of herring, skippy, sand whiting and tailor here.
If you go at nighttime (or high tide, depending on who you listen to) you can target mulloway as well. If you try the Capel River or any of the little streams that feed into it, there are Black Bream close to the ocean, and redfin perch further upstream.
If you know how to dive, there are plenty of crays around on the reef, or if you have a boat you can head a little way out and put out some cray pots.
During the annual salmon run, there are plenty of salmon to be caught here too.
If you have a 4WD, enter the beach on the northern access point and head north. About 500m past the Capel River mouth you will notice that the weed and reef stops and the water becomes clear. Fish the edge of the reef here, using plenting of burley. You should be able to catch heaps of herring and garfish here.
For more fishing spots closer to Margaret River, read my Complete Guide To Fishing Spots In The Margaret River Region.
🏄Peppermint Grove Beach Surfing
Peppermint Grove Beach is a breathtaking, white sandy beach, and you can surf here, although it may not be quite as exciting as surfing in Margaret River!
Boasting a fairly exposed reef break, this surf spot is ideal for catching waves year-round with the exception of summer months when conditions are typically flat. The southeast brings offshore winds. The break is usually blessed with far-off groundswells, and the ideal swell angle comes from its western direction.
For more surfing locations further south around Margaret River, check out my Favourite 7 Surf Spots In Margaret River.
🏊‍♂️Peppermint Grove Beach Swimming
Peppermint Grove Beach is a wonderful destination for swimming, yet please be advised that it is not usually patrolled by surf lifesavers. Also, being an Australian beach, be aware that there can be serious rips and undertows, so please be cautious when going for a swim, avoid swimming if you're not a strong swimmer, and go with other people that can keep an eye on you if something goes wrong.
🐶Is Peppermint Grove Beach Dog-Friendly?
Yes, you can bring your dog along to Peppermint Grove Beach! Please remember always to keep your dog on a lead, and clean up after them. If you need somewhere to stay with your dog, check out my list of BEST Peppermint Grove Beach Accommodation which has several pet-friendly accommodation options.
❤️Why You Will Love Peppermint Grove Beach
Want a location a short distance from Perth, where you can have a relaxed holiday by the beach, but still be close enough to the attractions of Margaret River? Peppermint Grove Beach is the perfect spot!
Here you will find plenty of recreational activities and facilities, such as being pet-friendly, a picnic area, public toilets, childrens playground and a barbecue. There's something here for everyone to enjoy. And if you're looking for some adventure, explore the 4WD beach tracks or check out the nearby fishing and surfing spots.
This is a great location to relax and unwind, with lots of fun activities for the family. Whether it's a day trip or an extended holiday, you're guaranteed to find something here that you will love!
⭐Peppermint Grove Beach Reviews
"The ocean here is very safe for swimming, and when I visited there was even a pontoon you could swim out to. The sand is a very pretty white, and the water is quite clear and blue. The beach area is quite flat and hard, so it's also ideal for a nice beach walk." – Rick
"This is a great beach for the family. Just a short walk from the car park which has toilets etc" – Alang
Wrapping Up: Peppermint Grove Beach
There's no denying that Peppermint Grove Beach is one of the most beautiful and special beaches in Australia.
Whether you're looking for a day trip or an extended holiday, there are plenty of activities available to make it a memorable experience. Enjoy swimming, fishing, surfing, 4WDing, picnics and more all at this stunning beach.
With all the amenities and recreational activities available, it's an ideal spot for a day by the ocean with family and friends. So why not explore Peppermint Grove Beach on your next trip to Margaret River? You won't be disappointed! Happy exploring! 🙂
Australia Travel Planning Guide
🚑Should I buy Australian travel insurance?
100% YES! — Australia has "free" healthcare but it's only for citizens and permanent residents. Foreigners visiting need travel insurance in case anything happens on their visit. I like SafetyWing – their Nomad Insurance starts at just $1.50 USD a day!
🚗Should I rent a car in Australia?
Yes — Renting a car is a necessity in most of Australia! If you want to go on road trips or adventures outside of the major cities, and even if you're staying in a major city, you'll want to rent a car. If you are visiting Margaret River, it will be even more important that you hire a car, you'll need it to be able to get around and see all the great attractions and wineries!
🏨What's the best way to book my Australian accommodation?
My go-to for Australian hotels is Booking.com. Pretty much all registered accommodation use Booking.com (but not necessarily any of the other major booking platforms), and even most of the holiday homes and caravan parks use Booking.com too!
If you're planning a trip to Australia where you will stay at multiple locations, it's super handy to have all your accommodation listed in one place, and accommodation owners like Booking.com because it's easy to contact the guests using the messaging platform if the guest has an international phone number.
I sincerely hope you enjoy your visit to Margaret River!
Related Posts: