🚙13+ BEST 4WD Tracks Margaret River [LOCALS GUIDE 2023]
Are you looking for the best 4WD tracks in Margaret River?
Margaret River is one of Western Australia's most beloved tourist destinations, and for good reason. Situated in the state's southwest corner, the region is renowned for its spectacular coastline, world-class wineries, and beautiful forests. And, of course, it also happens to be home to some of the best 4WD tracks in the state.
Lucky for you, I'm a Margaret River local, and the proud owner of a 2008 Toyota Prado (just like the rest of Margaret River haha), which I love to use on 4WD tracks in the south west of WA when I'm not working!
Whether you're looking for a challenging off-road adventure or a leisurely drive through some of WA's most stunning scenery, you'll find the best 4WD tracks in Margaret River. So, to help you plan your next trip, I've put together this handy guide to the 13 best 4WD tracks in the region, to help you access our beautiful coastline and secluded beaches.
So, grab your friends and family, and your 4WD, and take an adventure down an off road track! Let's dive in!
Locals Tip: Remember that the 4WD tracks I talk about below are 4WD ONLY. Only attempt these at your own risk. I recommend being prepared to let your tyres down, and taking an air compressor, recovery tracks, water, and a snatch strap, or even better, travel with a second vehicle. Reception can be patchy as well, so let someone know where you are going and what time you are expected to return.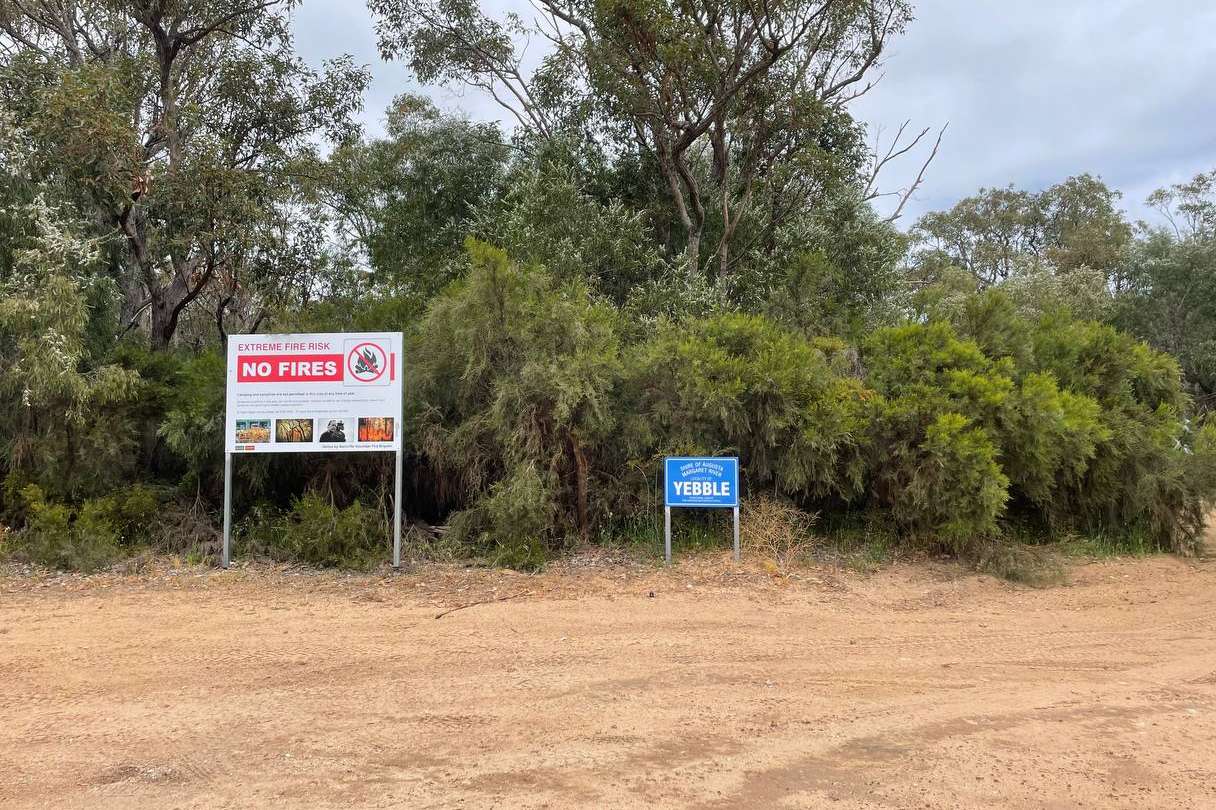 13 Best 4WD Tracks In Margaret River
🌏DISTANCE FROM MARGARET RIVER: 12km |📍LOCATION: Yebble WA | Google Maps
Commonly referred to as 'Joey's Nose,' Kilcarnup Beach 4WD track is a relatively easy 4WD track onto the beach. Only about ten minutes out of Margaret River, Joey's Nose Margaret River is popular with families as it's a fun surf spot for kids. This is also one of the more popular "secret" beaches near Margaret River.
The entrance to the track is easy to find, just take a right at the end of Kilcarnup Road and then left along the coastline. The track is very sandy but easy to navigate. It's better in summer when the track is dry but it can get quite busy so stay courteous, slow down and stay safe.
Take a picnic and let the kids have a surf and be sure to take all your rubbish with you. Part of the track is shared with Cape-to-Cape walkers so you might even see some hikers along your way!
You can read more details about Kilcarnup Beach in my Complete Guide To Kilcarnup Beach.
🌏DISTANCE FROM MARGARET RIVER: 30km |📍LOCATION: Boranup WA | Google Maps
Boranup 4WD track in Margaret River has access to the beach and is a popular surf spot, Boranup Beach 4WD track is a must-see on your 4WD adventure. A bit more of a complex track to get in on with some deep washouts depending on the time of year.
If you want to drive on the beach you can take a reasonably hard yet stunning drive, down Reserve Road (off Caves Road). You'll be treated to stunning views of the Karri Forests before popping out on the white sandy beach. You can drive on the beach for a while, but you'll eventually get too close to the water. If that happens, just turn around and go back the way you came.
The sand is considerably softer in winter, so be sure to lower your tire pressure before you drive on the beach. Also, take care not to get too close to the water as you don't want to get bogged on this remote section of the beach!
It can take up to an hour to get to the beach on the track depending on the condition but plan to stay at least a couple of hours once you are there. Take recovery tracks, water, and your snatch strap! Even better, travel with a second vehicle.
Reception can be patchy as well so let someone know where you're going and the expected return. Worthy of its own mention, Bob's Track is another option to get down to Boranup.
You can read more details about Boranup Beach in my Complete Guide To Boranup Beach.
Looking for travel advice for your visit to Margaret River? Join my friendly community over at Margaret River Travel Planning on Facebook to learn more about this beautiful part of the world and have all of your questions answered!
3.Bob's Track
🌏DISTANCE FROM MARGARET RIVER: 32km |📍LOCATION: Boranup WA | Google Maps
Bobs Track is a very adventurous 4WD track in Margaret River. Bob's Track Margaret River starts just north of Bushby Road in Karridale and if you make it, you'll end up on Boranup Beach.
The entrance is clearly visible and quite wide (see Google Maps for Boranup Beach Access Marker). It would be hard to miss. Bob's Track can be quite gnarly! We definitely recommend traveling with a second vehicle and all of your recovery gear.
There are a few rocky sections that can be deep puddles and washouts after rainfall. It's important to let your tyres down on Bob's Track and be aware of your clearance, especially over some of the rocky sections. The track can be busy on good surf days or during the salmon run so be aware of other drivers!
Be sure to take your fishing gear. Bobs Track Boranup Beach offers the perfect opportunity to wet a line off the white sand and even if it's not during Salmon run you'll have the opportunity to catch Herring, Tailor, and Mulloway. Check out
4.Point Road
🌏DISTANCE FROM MARGARET RIVER: 26km |📍LOCATION: Boranup WA | Google Maps
If you are camping anywhere in the Boranup Forest, this is a great 4WD track in Margaret River.
Point Road begins off Conto Road, near the campgrounds. It is about half an hour's drive through the Karri forest. It cuts right through the middle of Point Road Campground.
The track is mostly gravel and limestone and not too difficult. While in the area, I quite like exploring Conto Road as well, following Conto Road right to the end at South Beach and checking out all the beaches along this track.
5.Three Bears Track
🌏DISTANCE FROM MARGARET RIVER: 59km |📍LOCATION: Naturaliste WA | Google Maps
3 Bears Track is a popular 4WD Margaret River track. Three Bears 4WD track is a fun track to a local favorite surf spot. Aptly named three bears because baby bear wave caters to beginners, mama bear wave for intermediate, and papa bear wave for more advanced surfers. This is also a good Dunsborough 4WD track to attempt.
It is not a difficult track, as far as 4WD tracks in Margaret River go, mostly made of compact sand with a few rocky spots and offers views of some of the beautiful coastlines at the northern end of the cape. We still say that you should let your tyres down even if the sand is compact just so you don't corrugate it up for other users!
3 Bears 4WD track runs from Cape Naturaliste to Yallingup and can be completed in either direction. It can take a couple of hours to do the whole track. If you're starting from the North, drive out Cape Naturaliste Road and then turn onto Sugarloaf Road. The track starts about 500m down the road to the left.
If you're starting from the southern end you can enter from Hemsley Road and drive north. There are sections of the track close to the coast that are now fenced off so you might encounter some gates and diversions.
The views of the ocean on this track are its main drawcard. You'll see glistening turquoise waters and will most likely be able to watch some surfers at 3 Bears Break! It's a fun track, not too difficult, and worth doing!
6.Elephant Rock Beach And Deepdene Beach
🌏DISTANCE FROM MARGARET RIVER: 43km |📍LOCATION: Deepdene WA | Google Maps
To get onto Deepdene Beach, go down Cosy Corner Road from Caves Road, and take your second left. This 4WD track is shared with the Cape to Cape Track, for several hundred metres, so take care when you drive through here.
The 4WD track is very narrow, expect that your 4WD will get some scratches.
About two-thirds of the way down the track to Deepdene Beach, you will see a turn-off for Elephant Rock Beach. This is a nice stop for some photos!
When you get down onto Deepdene Beach, you will find very soft sand. Make sure you have a high clearance on your vehicle and drop your tyre pressure to at least 12PSI.
This is for experienced 4WDers only. Don't attempt this unless you have all of the correct recovery gear and are traveling with another vehicle. Plenty of vehicles have gotten bogged in this soft sand (including us… maybe….lol)
7.Wilyabrup Beach
🌏DISTANCE FROM MARGARET RIVER: 21km |📍LOCATION: Wilyabrup WA | Google Maps
To get to Wilyabrup Beach, follow Wilyabrup Road off Caves Road to the end. The gravel road turns into a 4WD track, which requires good driving skills to navigate.
The track is narrow, with some steep drop-offs and loose sand. You will need to let your tyres down, as the sand is quite soft in places.
Wilyabrup Beach is a great spot for surfing, depending on the sand banks. They're always changing, so it's a bit of a gamble whether or not you'll be able to surf on any given day. But when the conditions are right, you'll be able to catch some great lefts and rights.
8.Guillotines
🌏DISTANCE FROM MARGARET RIVER: 21km |📍LOCATION: Gracetown WA | Google Maps
If you're looking for a 4×4 track in Margaret River that's off the beaten path, try Guillotines. To get to Guillotines, head down Caves Road, and then take Juniper Road. It starts out as bitumen but then turns to gravel. Once you reach the T-shaped intersection, take a left and follow this path until it dead-ends.
This is a beautiful stretch of coastline and it's worth taking your time here.
9.Boranup Forest Drive
🌏DISTANCE FROM MARGARET RIVER: 20km |📍LOCATION: Boranup WA | Google Maps
The Boranup Forest Drive is a great option if you're looking for a scenic drive with plenty of stops along the way. The track weaves its way through the stunning karri forest and there are several points where you can stop and take in the views. While not a strictly 4WD track, it's still worth a mention.
There are also a few short walks that you can do, ranging from easy to difficult. This is a great option if you're traveling with kids or if you're not looking for a challenging 4WD track (Locals Tip: It's a gravel road, it's not challenging and can be done with a 2WD, if you drive slowly and your car doesn't have a super low clearance).
To get to the Boranup Forest Drive, follow Caves Road south of Margaret River. After about 20 minutes, you will see signs for the Boranup Drive. Turn right here and follow Boranup Drive the entire way around until it's back onto Caves Road again. Depending on your speed and stops, this drive will take you about 45 minutes.
🌏DISTANCE FROM MARGARET RIVER: 13km |📍LOCATION: Yebble WA | Google Maps
Gnoocardup Beach is just north of Kilcarnup Beach. To get here, follow Kilcarnup Road to the end and take a right at the T-junction where the 4WD track starts. When you get down to the coast, you will have a choice to take the left which will get you to Kilcarnup Beach, or to the right which will get you to Gnoocardup Beach. Keep going in the same direction along the track to leave.
12.Twinems Bend
🌏DISTANCE FROM MARGARET RIVER: 45km |📍LOCATION: Courtenay WA
I bet this is a Margaret River 4WD track you haven't heard about before! If you're looking to 4WD on the Blackwood River, start at Twinems Bend. It's a small beach area between Alexandra Bridge and Molloy Island. This is a popular location for water skiers and kneeboarders.
You can get here by boat, of course, however, there's also a nice 4WD track to get here. It's not particularly challenging, but another good one to take with kids, as it's a good reward at the end of it.
Head down Courtney Road from Brockman Highway, and when it forks off to the right along Payne Road, keep heading straight and take the road as it heads around towards the Blackwood River. At the T-junction, take Wall Road to the left, until you get to Twinems Bend on your right-hand side.
Here, you will find toilets, picnic tables and a shelter, as well as a roped-off swimming area with a platoon.
13.A Bit Further Afield – Black Point
🌏DISTANCE FROM MARGARET RIVER: 108km |📍LOCATION: Lake Jasper WA | Google Maps
If you have tried all of the 4WD tracks in Margaret River, you can try a bit further afield. A couple of hours from Margaret River, but definitely worth the drive if you're willing, Black Point is quite the unique spot.
Popular with surfers, campers and fishermen, Black Point is only accessible by 4WD and can be a rough ride getting in. However, the stunning coastal scenery makes it worth your while as you will be rewarded with spectacular scenery in a rugged and isolated location.
Black Point is often quite rugged and remote, so be certain to bring more than enough food and water as well as some extra gear just in case. The track can close during winter months, so make checking conditions a priority before your trip (I like to check recent Facebook posts on 4WD groups).
⭐BONUS BEACHES: If you are up around Busselton, check out Wonnerup Beach 4WD and Peppermint Grove Beach 4WD which both detail how you can drive on the beach there!
FAQs: 4×4 Tracks Margaret River
Do You Need a 4WD in Margaret River?
No, you do not need a 4WD in Margaret River as all of the standard roads are suitable for 2WD vehicles. In fact, you can get almost everywhere in Margaret River with just a regular car. If, however, you want a bit of extra adventure, then bring your 4WD and try something different!
Can You Drive On The Beach In Margaret River?
There are three beaches in Margaret River that you can drive on.  Boranup Beach, Kilcarnup Beach and Deepdene Beach.
I would recommend that you do not attempt to do any of these unless you are very experienced in driving on soft sand. Take recovery gear and let your tyres down. Stick to the marked tracks and respect nature by not driving over vegetation or disturbing any animals or birdlife.
Which Is The Best 4×4 Recovery Tracks?
The best 4×4 Recovery Tracks are the MaxTrax Xtreme tracks. These are the ones we own, and they've saved us more times than I can remember! You might also consider taking winches/snap straps and a shovel just in case.
How Do You Use 4WD Recovery Tracks?
If you get stuck in the sand, the first thing you should do is deflate your tyres. This will give you more traction and make it easier to get out. Once your tyres are down, place the recovery tracks under your tyres, making sure that they are facing the correct way. You can then drive out slowly and carefully, following the tracks. If you get stuck again, repeat the process (and also, cross your fingers while you're doing this, I find that helps).
How To Find 4WD Tracks In Margaret River?
There are a few ways to find 4WD tracks. One is to look online, on websites like this one. We have a list of some of the best tracks in the Margaret River area.
Another way is to ask around when you're in town. The locals will definitely know where all the good tracks are and will be able to point you in the right direction.
Finally, you can also buy a map of 4WD tracks from most camping and outdoor stores in Margaret River. This is probably the easiest way to find tracks, as they will all be clearly marked on the map.
Then, if you're anything like me, spend dozens of hours looking really closely at Google Maps to try and figure out where all the hidden tracks are!
Wrapping Up: Margaret River 4WD Tracks
I hope you've loved reading about the best 4WD tracks in Margaret River as much as I have enjoyed exploring them!
It goes without saying we urge you to follow some simple 4WD tips to keep you safe while you explore. We recommend you carry extra water, a UHF radio, shovel, Max Trax or similar, tyre deflator, First Aid Kit, and a fire extinguisher in your vehicle.
It's also important to ensure your vehicle is capable of going off-road. Do you have good quality off-road tyres, recovery points, and a snatch strap? Has your vehicle been regularly serviced and do you do regular maintenance?
If you are new to going off-road it might be worth completing a basic 4WD course or familiarizing yourself with the capabilities of your vehicle on short, easy tracks first.
Have fun, be safe, and always respect nature.
Happy 4WD'ing! 🚙🚙🚙
Related Posts: