9 Best Women's Fashion Shops in Margaret River
You can't visit Margaret River without a casual stroll through town browsing our beautiful stores and fashion boutiques. If you're down south for a wedding or thinking about going on a winery tour with your friends you'll find an outfit to wear and treasure.
Shopping at these boutiques will have you supporting local businesses while you're down south. What a feel-good way to look good!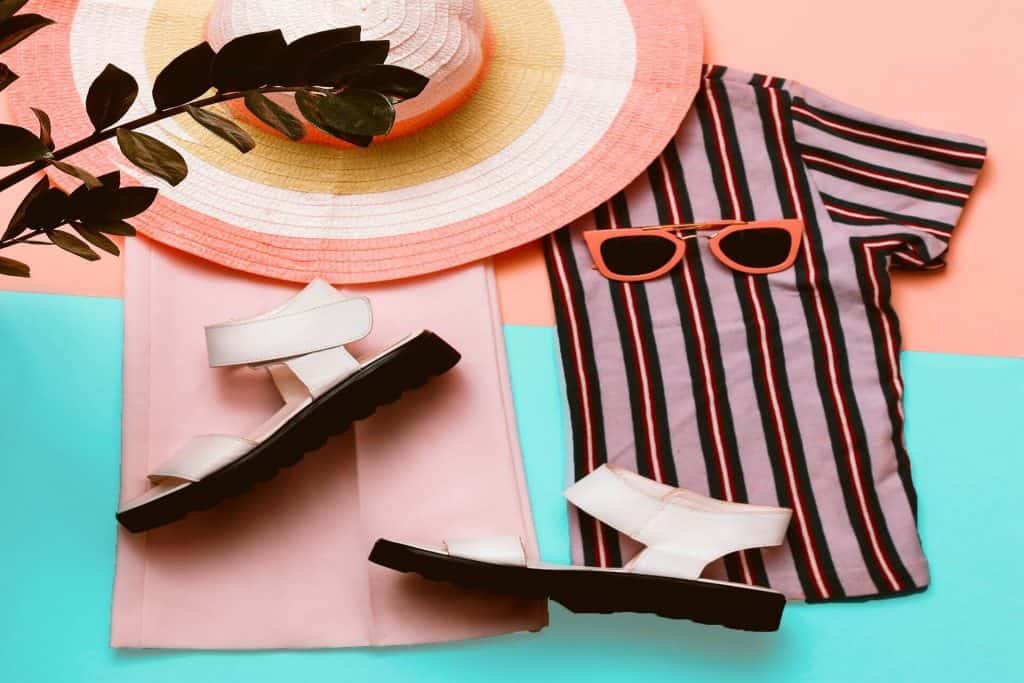 Isla Samsara, Margaret River
Isla Samsara is a small, locally owned boutique with a big heart and soul. This is a boutique stocking carefully sourced labels with a focus on sustainability and ethical production.
Their packaging is compostable and the team strives to respect the environment and leave as small a footprint as possible.
You'll find the most stunning range of women's clothing including dresses, shorts, blouses, shirts, rompers and robes. It doesn't stop there though, Isla Samsara also has a lovingly sourced collection of activewear, intimates, shoes and accessories.
Your littles are not forgotten, Isla Samsara also stocks a kid's range featuring the most coveted children's labels with an earthy aesthetic. See our other kid's store recommendations here.
Isla Samsara is pretty active over on Instagram, so to stay up to date with new arrivals and see their styling tips, give them a follow here.
Marine & Co, Margaret River & Busselton
Locally owned and operated stores with the added joy of two shop fronts conveniently located in Margaret River and Busselton, Marine & Co stock a carefully considered edit of beautiful labels with a focus on Australian brands.
Their shop fronts are light-filled and spacious offering easy browsing and the friendly team is always willing to share their styling tips to help you find the perfect outfit.
Marine & Co also have a wide range of accessories including some of your favourite sunglasses and hats brands!
If you're not down south yet but keen to get your hands on an item they offer same-day shipping! Check them out here.
Marigold, Margaret River
Marigold has been a favourite amongst locals and tourists alike for as many years as we can remember! A stunning little boutique in the town square in the heart of Margaret River if you've ever been down south you've surely shopped here!
Racks filled with lovingly sourced women's clothing just beckoning to be tried on and taken home! Marigold has everything from boho beachy shorts to cocktail dresses, boyfriend jeans to cosy knitwear. Your friends and family aren't left out, there are so many perfect gifts, accessories and skincare items to choose from.
Marigold prides itself on being a little gypsy oasis and an eclectic store for you to explore! Follow their Instagram here.
Sagika Boutique, Margaret River
A welcoming, friendly boutique in Margaret River's town square, Sagika Boutique is known for its friendly service. Their philosophy is simple "When you look good – you feel great!" and their stylists will happily help you achieve a look that suits your style and individual shape.
They have a wide range of labels from local, Australian and international brands. Their range includes basics, bottoms, tops, knitwear, dresses, outerwear, shoes and accessories. You'll also find skincare and gifts here.
Check out their Instagram here.
Finch, Margaret River
A beautiful boutique perfect for shopping for yourself, your home or gifts for friends and family. Finch has stunningly styled windows which are a feast for the eyes and will beckon you in from the street.
Offering a huge range of quality shoes and accessories, bed bath and body, women's clothing and homewares you can't miss Finch on your day out shopping.
The effortlessly cool Finch ladies are friendly and helpful and know their brands so don't be shy about asking for advice. This is one of our favourite stores to stock up for the season ahead in.
They share their staff favourites and seasonal specials over on their ig so be sure to follow along here.
Margaret River Hemp Co
Walking into Margaret River Hemp Co is like a warm hug. It feels familiar, inviting and like you're doing something good for yourself!
Margaret River Hemp Co is a game-changer in more than just the clothing industry and is award-winning for its efforts in sustainable business.
Over 25 years ago Margaret River Hemp Co started exploring options to minimize the chemicals and synthetics in their life but predominantly in skincare and clothing… and as a result, their love of hemp products was born.
They have a huge range of hemp products in-store and online including skincare, hair care and body care. As well as food products from cold-pressed oil to hemp chocolate. All locally made, locally loved and vegan friendly.
While their hemp clothing is still sourced overseas, they only use the highest quality hemp and organic cotton. They have an extensive range of both men's and women's hemp and organic cotton clothing from casual to dress items. They also stock raw hemp material in case you want to DIY an item! Just, wow!
You'll also find a range of Australian made hemp bedding, hemp pet products and hemp gift boxes.
They are the experts in all things hemp! Be sure to check out their Instagram here.
Wild Earth Trading Co, Cowaramup
One of our newer favourites, Wild Earth Trading Co are nestled in the heart of Cowaramup about 10 minutes north of Margaret River.
A bohemian luxe boutique they offer more than just fashion with a carefully sourced collection of homewares, accessories, eco reusables and even indoor plants!
Warm, feel-good vibes are abundant here and the friendly team pride itself on giving its customers an inspiring and uplifting experience.
Anywhere that lets us embrace our inner plant lady while shopping for a cute new outfit or gift for a friend is a big yes from us! Follow them on Instagram here.
Reborn Code, Cowaramup
An ethical, earth-focused boutique nestled in the main street of quaint little Cowaramup, Reborn Code is a must for any fashion lover.
With a focus on local labels and sustainable brands, Reborn Code will have you both looking and feeling good.
Reborn Code also has a carefully curated vintage section bringing you the magical, vintage threads you've been looking for. This offering aligns perfectly with their conscious shopping ethos and is a unique aspect of this wonderful boutique. Check them out on Instagram here.
For more vintage or pre-loved items, see our op-shopping guide here.
Milc, Dunsborough
The evolution of Milc has been a wondrous journey spanning nearly twenty years. From a small homewares store to now a thriving fashion-focused boutique, Milc has remained a favourite with locals and tourists in the southwest region.
Milc is conveniently located in the centre of Dunsborough and has everything from casual beachwear to bridesmaid dresses. Stocking a huge range of your favourite Australian brands as well as carefully chosen international labels you'll be well dressed when you step out of this little gem of a boutique.
The Milc team are proud of the shopping experience they offer their valued customers and they want to keep you when you return home! Visit them online here to stay up to date and shop from anywhere in the world. Their Instagram is worth a follow here too,
Alright, ladies… all shopped out? You deserve a cocktail now (perfect chance to wear that new outfit)!