15+ BEST FARMSTAY Margaret River [LOCALS GUIDE 2023]
Are you looking for a farmstay Margaret River?
Many people visiting our region are looking for a rural escape and farm accommodation with animals really offers that unique type of stay.
I have lived in Margaret River since 2016, and, as both a hotel owner in Margaret River and a mother to 5, you can trust that I have stayed at my fair share of farm stays. You can definitely trust my detailed guide on farmstays in Margaret River and what makes them unique.
I've narrowed your search down to the 15 best farmstays in Margaret River featuring rural spaces, privacy, family-friendly options, animal feeding and even wildlife such as kangaroos and possums.
This article contains some affiliate links which means that I may earn a small commission when you click on them, at no additional cost to you. I do hope you find the information in this article helpful!
Don't have time to read the whole list? Never fear, here are my top picks!
My Top 3 Picks: Best Farmstay Margaret River
⭐⭐⭐⭐⭐
✅ Best central location
✅ Great for large groups
✅ Daily Animal Feeding
⭐⭐⭐⭐⭐
✅ Best luxury farmstay
✅ Biodynamic winery on site
✅ Romantic location for couples
15 BEST Margaret River Farm Stay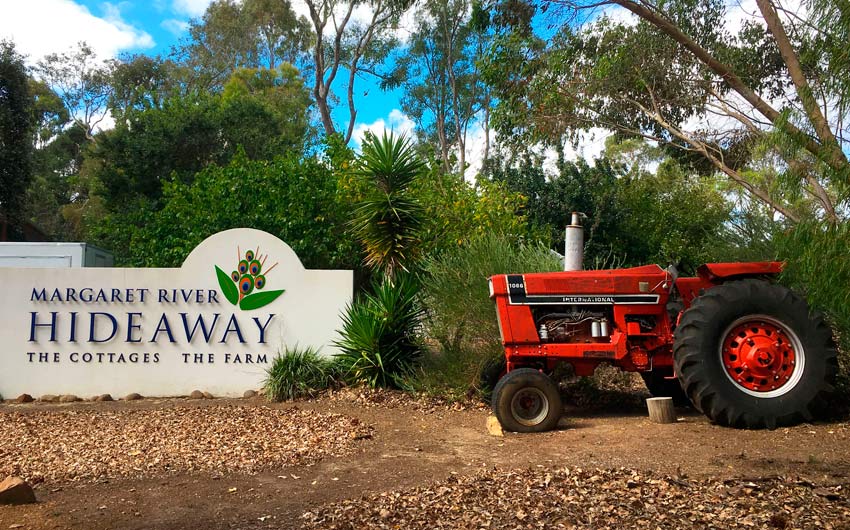 ⭐RATING: 9.4/10 – with over 440 positive reviews! | 🌏DISTANCE FROM MARGARET RIVER: 7km |📍LOCATION: 225 Osmington Road, Bramley WA | Google Maps
✨Why You Should Choose Margaret River Hideaway Cottages And Farmstay
Margaret River Hideaway And Farmstay are an easy-to-find rural farmstay only 5km from Margaret River town. The cottages are spaciously set apart offering you that real private, country feeling.
I love Margaret River Hideaway And Farmstay as they cater to families and dogs as well, making it a good option for pet friendly Margaret River accommodation. There are two studios suiting 1-4 guests and 7 2-3 bedroom cottages suiting up to 8 guests.
A real standout feature of the cottages is that they are enclosed with their own private fenced yard making it a super safe option for families with young kids or dogs.
But, we know you're here for the farm animals! And you will not be disappointed. You'll find alpacas, Dorper sheep, Scottish highland cattle (my fave), guinea fowl, emus, peacocks, chickens, ducks, and geese.
Animal feeding takes place every Tuesday, Thursday, Saturday and Sunday and guests are welcome to partake. If you're looking for a farm stay in the south west all your boxes will be ticked here.
🐕If you are bringing your dog, you might like to check out some of my favorite dog friendly wineries, dog friendly beaches and dog friendly restaurants in Margaret River.
"This was our second stay at the Farmstay with our young family, and again the enthusiasm of Kim is infectious. She makes every trip a joy and matches the children's excitement which makes their experience all you hope it could be as a parent." -James (see more reviews)
🚗Wondering what are the best options for driving around Margaret River and Western Australia? Check out my Complete Guide To Renting A Car In Perth for plenty of information!
⭐RATING: 9.7/10 – with over 150 positive reviews! | 🌏DISTANCE FROM MARGARET RIVER: 3km |📍LOCATION: 185 Boodjitup Road, Margaret River WA | Google Maps
✨Why You Should Choose Margaret River Holiday Cottages
Margaret River Holiday Cottages are one of my favorite places to recommend to couples or families seeking Margaret River Farmstay accommodation.
The property is only 2km from Margaret River town but you still get all the feels of a rural environment. How convenient!
Margaret River Holiday Cottages is a family-run property with some awesome features like a communal fire pit (for winter months), a playground, a games room, and even a heated indoor swimming pool!
What I really love about Margaret River Holiday Cottages is that they've partnered up with a couple of local animal rescue organizations that rehome orphan farm animals.
They have sheep, alpacas, cows, ducks and chickens and free animal feeding takes place most days for guests. This place is a warm and friendly home away from the home-style farm stay.
"We loved the animal feeding in the morning. feeding baby kangaroos and sheep at the bottle, patting the donkeys and alpacas. Our cottage was very comfortable, with a fully equipped kitchen. kids loved to wander around to spot green birds and kangaroos. Andrew, the owner, showed treasures of patience, explaining all about the animals every day." -Killien (see more reviews)
🐄🐮If you're looking for double the farmstay fun, why not choose somewhere to stay from my Best Perth Farmstay [LOCALS GUIDE] for on your way down to Margaret River?🐷🐖
⭐RATING: 9.5/10 – with over 30 positive reviews! | 🌏DISTANCE FROM MARGARET RIVER: 8km |📍LOCATION: 287 Burnside Road, Margaret River WA | Google Maps
✨Why You Should Choose Burnside Organic Farm
Burnside Organic Farm is a unique family-run farmstay in Margaret River, that employs sustainability practices, and opens up its hearts and homes to guests and visitors alike.
This will be the place you visit and probably want to make your life a little more like theirs. If you're looking for a luxury farm stay in Margaret River I would consider this the top pick for you.
'Farm' and 'Luxury' might not naturally go hand in hand for you but you'll be surprised! Burnside Organic Farm offers a 1 Bedroom Luxury Spa Bungalow as well as a 2 bedroom limestone bungalow.
You'll enjoy experiencing farm life by exploring their extensive vegetable garden, and biodynamic vineyard and interacting with their farm animals which include geese, chickens, sheep, cows, and pigs.
By appointment, you can also enjoy a wine and caper tasting. Do it!
"Loved everything!!! The owners were wonderful and so kind. Amazing with kids and our 2 kids loved being shown around the farm with their farm dog Hunter and being able to feed and pat all the animals. The Chalets were amazing too. Loved the natural timber swing and the grassed area. Perfectly set up and would definitely stay again." -Amanda (see more reviews)
Looking for travel advice for your visit to Margaret River? Join my friendly community over at Margaret River Travel Planning on Facebook to learn more about this beautiful part of the world and have all of your questions answered!
⭐RATING: 9.1/10 – with over 120 positive reviews! | 🌏DISTANCE FROM MARGARET RIVER: 17km |📍LOCATION: 8113 Bussell Highway, Cowaramup WA | Google Maps
✨Why You Should Choose Big4 Taunton Farm
Smack bang in the heart of the Margaret River Region you'll find one of the coolest Margaret River caravan parks; Big4 Taunton Farm, which also doubles as one of the most popular farm stays in Margaret River.
Taunton Farm is located approximately 20 minutes' drive north of Margaret River and just 5 minutes north of the little town of Cowaramup but is central to many of the wineries, restaurants and beaches of the region.
Taunton Farm offers a variety of accommodation options with chalets to suit 2-6 guests, powered and unpowered campsites and historical buildings available for venue hire.
C'mon, c'mon get to the animals right? Ok I will, Taunton Farm has cows, sheep, goats, horses, birds, pigs, chickens and even a camel! There is also animal feeding time for guests of Taunton Farm every day for no extra charge. So much fun!
"Pretty much had everything that we needed – massive living space, comfy beds, kitchen utensils when we felt like cooking etc. The farm had so much for the kids to do and see that they were reluctant to leave once our stay was up. It has a great location too – very central to many of the Margaret River attractions, wineries etc. Would love to visit again!" -Alvina (see more reviews)
⭐RATING: 8.8/10 – with over 150 positive reviews! | 🌏DISTANCE FROM MARGARET RIVER: 29km |📍LOCATION: 288 Yelverton North Road, Yelverton WA | Google Maps
✨Why You Should Choose Kerriley Park Farmstay
Kerriley Park Farmstay is located about 25 minutes drive north of Margaret River. It's a private, homely place to stay whilst still being central to the attractions of the Margaret River region.
Kerriley Park offers private self-contained cottages set amongst natural bushland sleeping up to ten guests. So if you're a large family or traveling with friends this place might just be for you!
There is daily animal feeding at 8.30 am for guests to partake in. The animals include pigs, alpacas, goats, bunnies, chickens, and ducks.
How fun, start your day with animal feeding and then get out and explore our beautiful beaches and other family-friendly adventures.
"Cottage were clean, spacious and well spaced apart, so we were able to have privacy from other families. Pool and playground are perfect for kids. Our family enjoyed the morning animal feeding and getting to know the goats, sheep, alpacas, birds, rabbits. We enjoyed our stay and hope to return soon." -Nesreen (see more reviews)
🎣Fancy having a fish? Check out my Guide To Best Margaret River Fishing Spots and have a go at catching your dinner!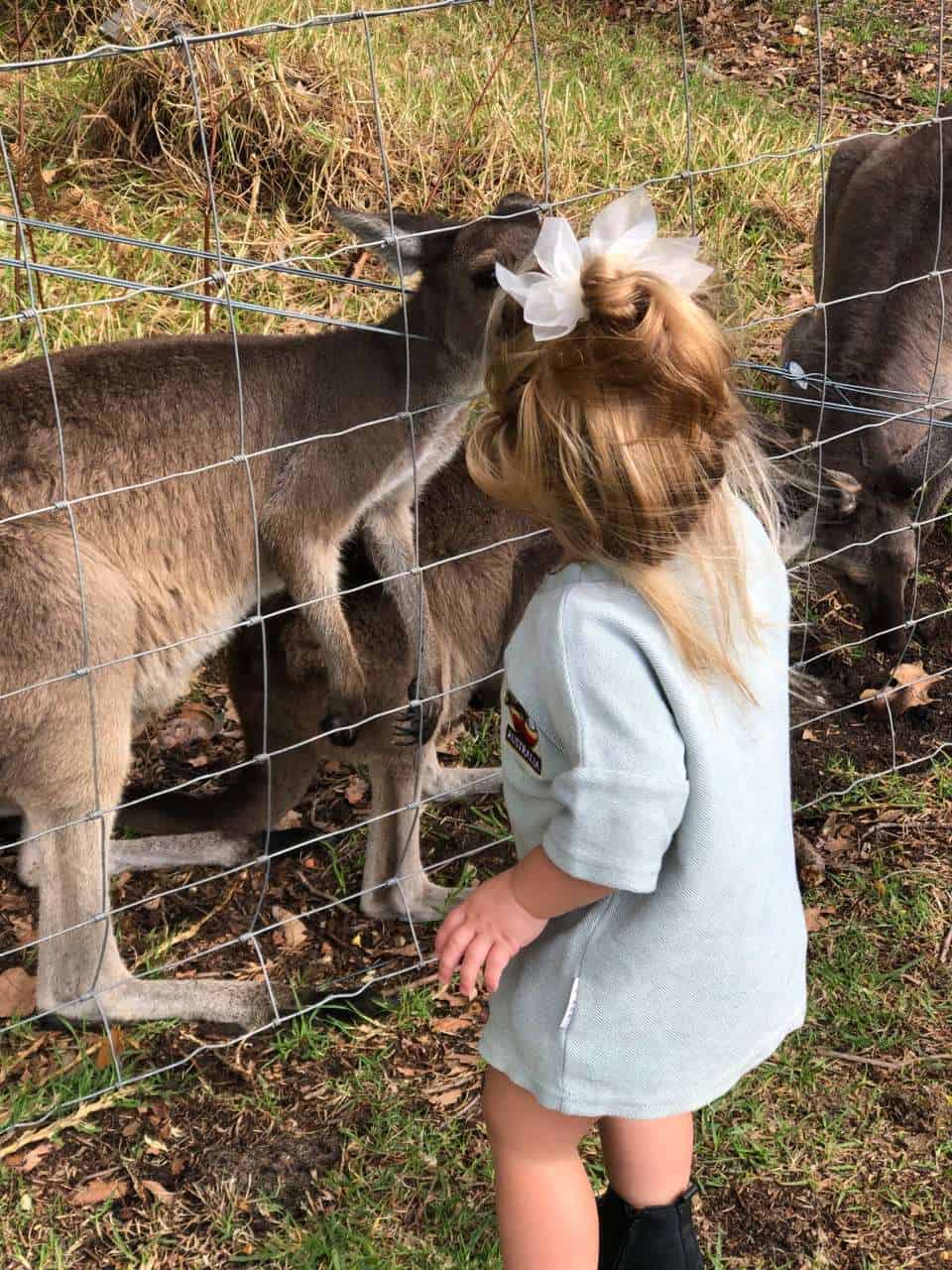 ⭐RATING: 9.2/10 – with over 21 positive reviews! | 🌏DISTANCE FROM MARGARET RIVER: 15km |📍LOCATION: 960a Osmington Road, Osmington WA | Google Maps
✨Why You Should Choose Littlewood Chalet
Littlewood Chalet offers brand-new boutique accommodation located on 30 acres of private woodlands. This luxurious two-bedroom chalet boasts luxury fittings throughout and will provide you with a unique rustic-luxe charm.
Enjoy breathtaking views from the property over the rolling valley, peppered with bird life such as Blue Wrens and Kookaburras, as well as a variety of wildlife including rabbits, kangaroos, and ducks. The property also has two resident Black Swans at its spring-fed dam.
Littlewood Chalet is perfectly situated for your exploration of the Margaret River region – it's close enough to enjoy all the attractions yet far enough away to enjoy the peace, privacy, and serenity of your own private spot!
"We thoroughly enjoyed our stay. The chalet is well designed and practicable, touches of luxury and comfort throughout. The grounds are magnificent and secluded enough for you to soak up some peace and quiet. We are already considering our next stay as we loved the place so much!" -Brittany (see more reviews)
🚗Do you need to know how to hire a car once you get to Perth? I have you covered with my Guide To Hiring A Car In Perth!
⭐RATING: 5/5 – with over 15 positive reviews! | 🌏DISTANCE FROM MARGARET RIVER: 19km |📍LOCATION: 456 Treeton Road North, Treeton WA | Google Maps
✨Why You Should Choose 8 Paddocks Cottage
8 Paddocks Cottage is the perfect place for families and groups looking for a tranquil getaway. From the moment you arrive, you will be surrounded by lush farmland and breathtaking views of the surrounding farmland and 20 acres of vineyard.
The cottage has been lovingly restored to its original charm, featuring a wood-burning fireplace, a full kitchen and luxurious bedrooms – all with stunning farmland views. There is plenty of outdoor space to explore, including paddocks filled with Angus cattle which is bred on-site, as well as chicken and alpacas.
In addition to the natural beauty of the area, 8 Paddocks Cottage is conveniently located close to all your favorite attractions in Margaret River. Spend your days exploring the local beaches and wineries before coming back to the cottage for a peaceful night under the stars!
"This cottage is exactly as the photos depict. It is spotlessly clean and beautifully styled. We were entertained watching cows calving and numerous babies frolicking in the paddock in front of the deck during our stay. A peaceful and totally relaxing stay. Would definitely come back again." -Kerry (see more reviews)
⭐RATING: 9.8/10 – with over 10 positive reviews! | 🌏DISTANCE FROM MARGARET RIVER: 18km |📍LOCATION: 150 Bridgelands Road, Rosa Glen WA | Google Maps
✨Why You Should Choose Ruse Estate Retreat
Ruse Estate Retreat is the perfect deluxe accommodation for those looking for a luxury, peaceful and tranquil escape on a newly built property. Located on an 80-acre property, this stunning retreat offers guests the opportunity to enjoy all that nature has to offer.
Whilst they do not have any farm animals, like some of the other farm stays on this list, it does have 16 acres of grapes, plus loads of native animals. The grounds feature rolling parklands with a train carriage situated on a beautiful dam setting with a jetty, natural bushland, and a stunning 'lake' on the Chapman Brook.
Ruse Estate Retreat boasts three solar passive modern chalets, each offering spectacular views, modern amenities, and private outdoor areas for guests to enjoy. The cottages also feature a range of wildlife, from quenda and possums to eagles and owls, plus many more.
The estate is proud to be registered with Land for Wildlife (2154), a voluntary nature conservation State government and Parks and Wildlife Initiative. As such, guests can feel confident that the environment is being cared for during their stay.
"Wow! Such a beautiful spot! Lots of birdsong, amazing stars and kangaroos in the distance. Inside, we were greeted with freshly made bread from our host, with complimentary wine and cheese. Absolutely delicious. The accommodation is beautiful also, lots of gorgeous wood, extremely well appointed and very comfortable with everything in the kitchen you could need. The bathroom even has luxury products to use. HIGHLY recommended." -Simon (see more reviews)
⭐RATING: 9.3/10 – with over 45 positive reviews! | 🌏DISTANCE FROM MARGARET RIVER: 26km |📍LOCATION: 118 Roy Road, Metricup WA | Google Maps
✨Why You Should Choose Yelverton Brook Conservation Sanctuary
Yelverton Brook Conservation Sanctuary is an exceptional property situated on 100 acres of natural bushland about 20 minutes north of Margaret River.
The property has always been home to an abundance of wildlife, flora, and fauna but with the introduction of a predator-proof fence in 2001 it truly became the wildlife sanctuary it is today.
This is not a traditional farm stay, potentially it's even better! You will be nestled amongst nature with wildlife, native flora, and fauna on your doorstep.
Here you will find kangaroos, possums, a wide range of bird life, and even critically endangered species such as woylies that have found a safe haven to continue living and breeding.
Hosts and owners Simon and Joy are dedicated to exceptional service to their guests and the welcome wildlife to their sanctuary. A stay here is truly embedding yourself in nature and escaping the hustle and bustle of a busy world.
"Exceptional. Felt so close to nature and so far from civilization. Neighbors are visible but almost never heard, or seen. Wildlife is in abundance and a stone's throw from several hubs full of activities and eateries. Felt so far removed from my normal life! returned to the rest race fully refreshed, revitalized and recovered. "-Dickison (see more reviews)
⭐RATING: 4.8/5 – with over 30 positive reviews! | 🌏DISTANCE FROM MARGARET RIVER: 29km |📍LOCATION: 234 Johnson Road, Wilyabrup WA | Google Maps
✨Why You Should Choose Four Elements Farmstay
Four Elements Farmstay is a wonderful, family-friendly option that will really get your kids experiencing nature in the Margaret River Region.
Located between Dunsborough and Margaret River this property offers a rural experience whilst still being convenient to all your favorite Margaret River attractions.
What we really love about this place is all the kid's activities they run for guests.
Seriously, I'm talking animal feeding, fruit picking, tadpoling, boomerang throwing, yabbie trapping, downhill gravity racing, lantern night stalking, and bonfire nights! (in winter). Honestly, you will not be bored here. It's not possible.
If you're coming for the animals you will love the chickens, ducks, goats, sheep, pigs, and even a horse, and some fish in the dam. If you're looking for a farm stay in the Margaret River Region this place will tick all the boxes.
⭐RATING: 4.5/5 – with over 40 positive reviews! | 🌏DISTANCE FROM MARGARET RIVER: 6km |📍LOCATION: 426 Carters Road, Margaret River WA | Google Maps
✨Why You Should Choose Fair Harvest Permaculture
Fair Harvest Permaculture is a unique farm stay in the southwest that offers training and certification in permaculture, Margaret River glamping and camping accommodation, venue hire and all sorts of other goodies.
This is a working farm conscious of its environmental footprint, there are extensive food gardens and animals that you're invited to help feed and interact with. The property is also open to the public for day visitors and events/workshops.
What you'll find here is a feel-good, family-run property that extends their knowledge to like-minded people or those looking to expand on their permaculture knowledge (including complete beginners!).
If you're looking for ways to become more sustainable in your day-to-day living or provide for your family by growing your own seasonal produce, you'll find inspiration at this Margaret River Farmstay.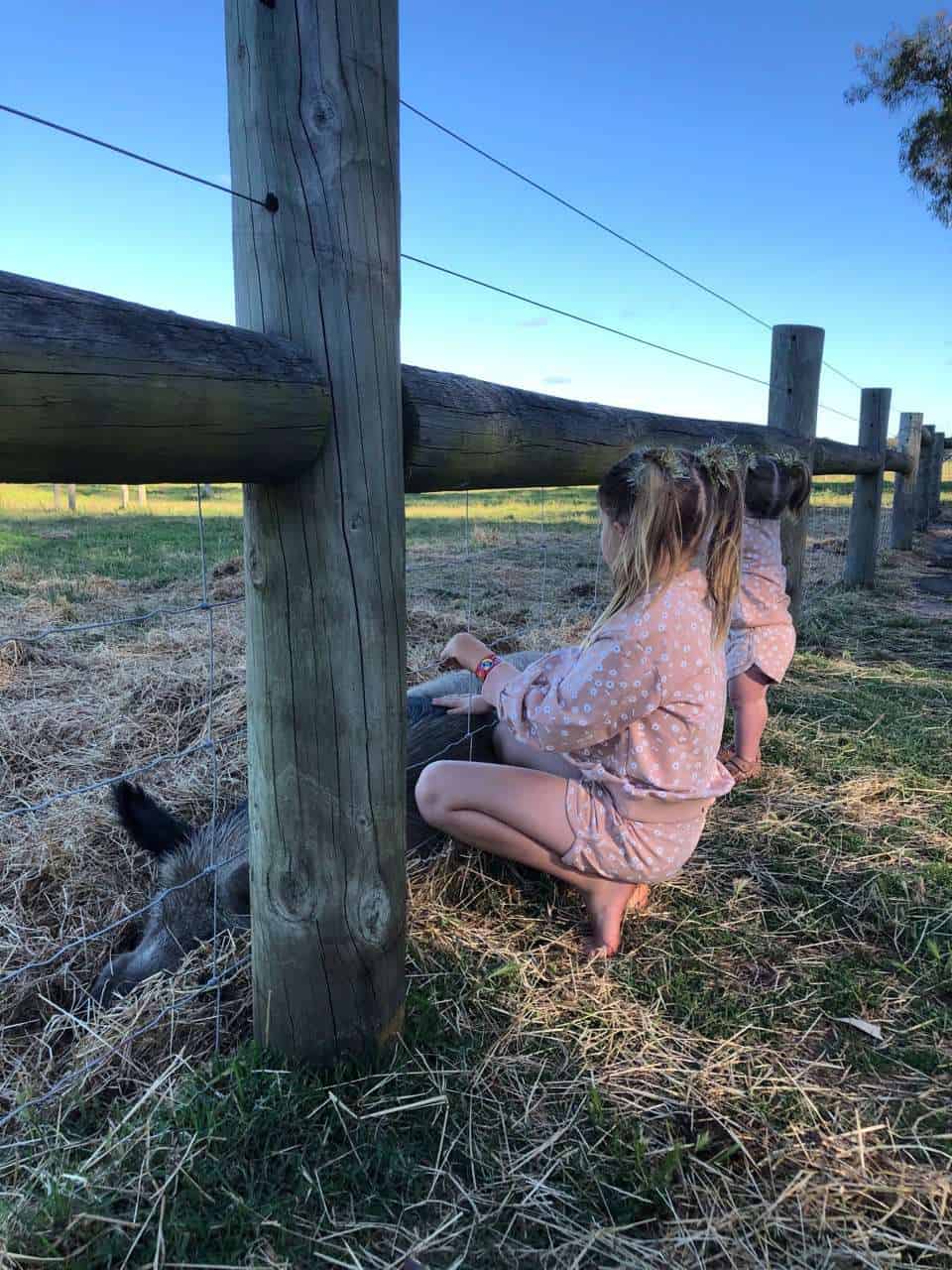 ⭐RATING: 4.7/5 – with over 360 positive reviews! | 🌏DISTANCE FROM MARGARET RIVER: 13km |📍LOCATION: 46 Boronia Road, Rosa Glen WA | Google Maps
✨Why You Should Choose Big Valley Campsite
Big Valley Campsite is a well-known campground on a working sheep farm. Tucked away near Rosa Brook amongst rural holdings and natural bushland you'll feel a world away from city life. This is a really authentic farmstay in WA.
Your hosts are known for their friendly nature and above-and-beyond approach to making your stay comfortable and memorable.
Here you'll find all sorts of farm animals including sheep, goats, chickens, guinea pigs, and ducks. You'll also most likely encounter wildlife such as kangaroos which is a highlight for many visitors to the region.
Big Valley Campsite is also pet-friendly! So it's a wonderful option if you wish to holiday with your doggo. However, you will need your own tent or caravan to stay here. If you're looking for more pet-friendly accommodation in Margaret River I have you covered with this complete list.
13.Karridale Cottages And Hop Farm
⭐RATING: 4.7/5 | 🌏DISTANCE FROM MARGARET RIVER: 32km |📍LOCATION: 300 Brockman Highway, Karridale WA | Google Maps
✨Why You Should Choose Karridale Cottages And Hop Farm
Escape to the serenity of Karridale Cottages and Hop Farm, nestled amidst the picturesque native bushland in Karridale. The cozy self-contained cottages provide the perfect opportunity to reconnect with nature, unwind, and immerse yourself in the beauty of the Margaret River and the South West region.
Karridale Cottages and Hop Farm may not have farm animals like some of the other farm stays mentioned above, but they do offer an array of additional features and activities for your enjoyment, including scenic bushwalking tracks, an outdoor bath experience, designated kangaroo viewing points, a dedicated dog exercise area, outdoor BBQ facilities, cozy indoor fireplaces, friendly neighboring horses eager to greet you, and a captivating hop yard where they are cultivating hops for the production of locally crafted beer.
Your stay here is guaranteed to be a rejuvenating and memorable experience surrounded by nature's wonders!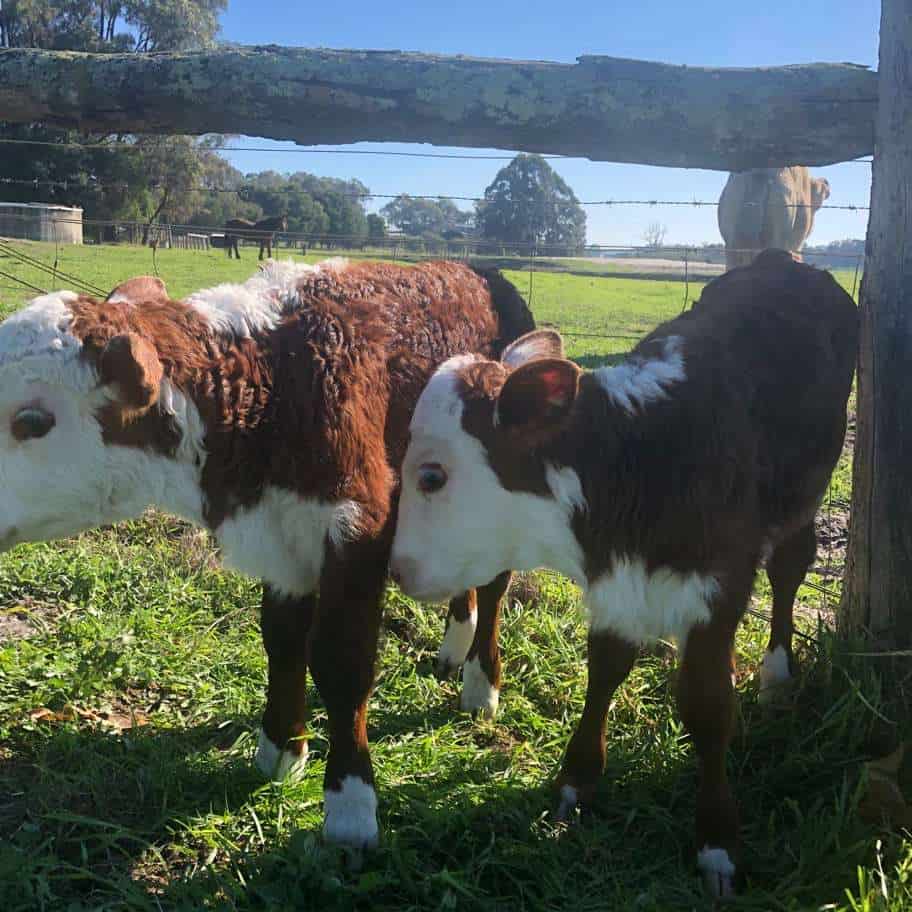 14.Petra Olive Oil Farmstay
⭐RATING: 4.6/5 | 🌏DISTANCE FROM MARGARET RIVER: 42km |📍LOCATION: 251 Sheoak Drive, Yallingup WA | Google Maps
✨Why You Should Choose Petra Olive Oil Farmstay
Experience a delightful getaway at Petra Olive Oil Farmstay, offering couples the perfect retreat in their five charming and beautifully furnished chalets. No farm animals here, however enjoy stunning views of olive groves, tranquil dams, and their landscaped estate, ideally situated midway between Dunsborough and Yallingup. Petra Olive Oil Farmstay also welcomes well-behaved dogs, if you want to bring yours along!
15.Moonrise Farm
⭐RATING: 3.5/5 | 🌏DISTANCE FROM MARGARET RIVER: 10km |📍LOCATION: 673 Rosa Brook Road, Margaret River WA | Google Maps
✨Why You Should Choose Moonrise Farm
Nestled in the picturesque countryside of Rosabrook, Moonrise Farm is a charming original farmhouse with two cottages that have been lovingly restored to provide a tranquil retreat. Surrounded by rolling farmland, majestic gumtrees, and nestled between wineries and forests, the location offers a peaceful rural setting just a short 10-minute drive from Margaret River town and 15 minutes from the renowned Margaret River beaches.
Immerse yourself in the beauty of their small farm, with breathtaking valley views, an abundance of wildlife, and the serenity of two dams and a pond. Explore a mature orchard, indulge in a pilates session at the dedicated studio, or enjoy the versatility of the expansive boatshed, featuring two spacious decks for various activities. With accommodation options available in the original restored farmhouse and two cottages, Moonrise Farm can comfortably accommodate up to 18 guests.
Note: There aren't farm animals here, but it is still a farm-like environment.
FAQs: Margaret River Farm Stays
What is a farmstay in Margaret River?
A farmstay in Margaret River refers to accommodation options that allow visitors to stay on working farms or rural properties in the region. It provides a unique opportunity to experience farm life, interact with animals, and enjoy the scenic beauty of the countryside.
What can I expect during a farmstay in Margaret River?
During a farmstay in Margaret River, you can expect to immerse yourself in the rural lifestyle. You may have the chance to participate in farm activities, such as feeding animals, collecting eggs, or even milking cows. Enjoy scenic walks, explore nature trails, and indulge in fresh farm produce.
Are farmstays suitable for families with children?
Absolutely! Farmstays in Margaret River are ideal for families with children. Kids can get up close and personal with farm animals, learn about sustainable farming practices, and enjoy outdoor activities. It's a fantastic opportunity for children to connect with nature and gain a deeper understanding of farm life – and learn where their eggs come from!
What amenities are typically available at farmstay accommodations?
Farmstay accommodations in Margaret River vary, but they often include comfortable lodging with private or shared facilities. Amenities may include fully equipped kitchens, communal living areas, BBQ facilities, and outdoor spaces to relax and enjoy the countryside. Some farms also offer additional features like swimming pools or play areas for children.
Can I book a farmstay during any season in Margaret River?
Yes, farmstays in Margaret River are available throughout the year. Each season brings its own charm to the countryside, from lush greenery in spring to cozy fireside evenings in winter. It's recommended to check availability and consider seasonal activities, such as fruit picking or sheep shearing, when planning your farmstay experience.
Wrapping Up: Best Farm Stay Margaret River
I trust you've found exactly what you're looking for in a Margaret River farmstay.
Whether you're looking for a luxury cottage set amongst nature where you can watch farm animals or wildlife, take a pleasant stroll past your window or have a hands-on, family-friendly farm adventure there's a place for you in Margaret River.
This guide takes you from authentic rural campground experiences featuring campfires, farm animals, and a bit of mud and dirt to private, peaceful cottages nestled amongst nature with luxurious spas and private decks.
The Margaret River Region has SO much to offer, I can't wait to see you here!
If you love my recommendations please let me know by sending me a message on Instagram @accommodationmargaretriver. I love hearing from you 🙂
Related Posts:
Australia Travel Planning Guide
🚑Should I buy Australian travel insurance?
100% YES! — Australia has "free" healthcare but it's only for citizens and permanent residents. Foreigners visiting need travel insurance in case anything happens on their visit. I like SafetyWing – their Nomad Insurance starts at just $1.50 USD a day!
🚗Should I rent a car in Australia?
Yes — Renting a car is a necessity in most of Australia! If you want to go on road trips or adventures outside of the major cities, and even if you're staying in a major city, you'll want to rent a car. If you are visiting Margaret River, it will be even more important that you hire a car, you'll need it to be able to get around and see all the great attractions and wineries!
🏨What's the best way to book my Australian accommodation?
My go-to for Australian hotels is Booking.com. Pretty much all registered accommodation use Booking.com (but not necessarily any of the other major booking platforms), and even most of the holiday homes and caravan parks use Booking.com too!
If you're planning a trip to Australia where you will stay at multiple locations, it's super handy to have all your accommodation listed in one place, and accommodation owners like Booking.com because it's easy to contact the guests using the messaging platform if the guest has an international phone number.
I sincerely hope you enjoy your visit to Margaret River!