11+ BEST Margaret River Accommodation With Pool [LOCALS GUIDE 2023]
If you're on the hunt for Margaret River accommodation with a pool, you've come to the right place!
We all know that a pool can turn a good vacation into a great one, especially if you're traveling with family or simply love to take a refreshing dip. In this guide, I'll explore some of the best Margaret River accommodation with pool that offer that coveted poolside experience.
I get it, finding the perfect stay with a pool can be a bit overwhelming. You want quality, comfort, and a pool that actually lives up to the pictures. As a former motel owner in Margaret River with a pool on the property, and a mum to five kids who practically turn into fish on holidays, I've got the inside scoop.
So, whether you're looking to keep the kids entertained, seeking a romantic poolside retreat, or just want to unwind after a day of exploring, this guide has got you covered. Let's jump in!
My Top 3 Picks: Margaret River Accommodation with Pool
Best Margaret River Accommodation with Pool
While pools are a great amenity, if you're also interested in a more rugged experience, you might want to explore a campsite in Margaret River.
After a day at the pool, why not visit some of the breweries in Margaret River for a local taste?
The resort offers a mix of 10 ensuite rooms perfect for couples and 13 flexible rooms with large shared bathrooms, separated for added privacy. It's a stone's throw from the coastline and a quick drive to Margaret River town, making it a central stop for those looking for Cape to Cape walk accommodation.
With a fully equipped kitchen and daily cleaned shared spaces, Surfpoint nails the balance between comfort and community. It's the kind of place where you can enjoy your own space but also swap travel tales with fellow guests.
Margaret River Motel offers an affordable stay with a pool, but there are also other cheap accommodations in Margaret River you might want to consider.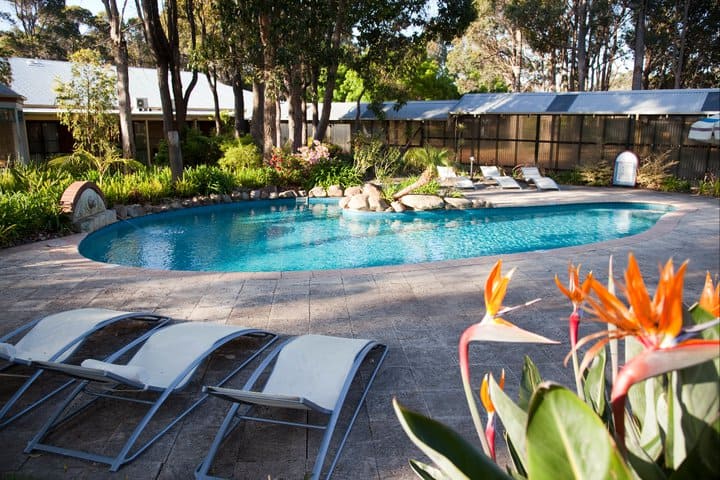 Final Thoughts: Swimming Pools Margaret River Accommodation
Diving into the best pools in Margaret River doesn't have to be a splash in the dark. From heated options for year-round enjoyment to pools with a view, you're sure to find the perfect spot to unwind or make a splash. Whether you're a family seeking fun or a couple looking for a romantic dip, Margaret River's accommodations offer a poolside experience for everyone.
Now, it's your turn to dive in—literally and figuratively. Did I miss a hidden gem of a pool in the area? Or do you have a favorite pool you'd like to rave about? Follow me on Instagram @accommodationmargaretriver and send me a message! Your input could be the cherry on top for someone's unforgettable Margaret River getaway.
Read More: