Kilcarnup Beach: Your Complete Guide (2023)
Kilcarnup Beach, known to us Magaret River locals as Joey's Nose, is a super popular beach with the track in starting about ten minutes north of Margaret River, Western Australia. Kilcarnup Beach is very popular with families as it's a fun, surf spot for the kids, and offers stunning views of the coastline. There is also plenty to do, including 4WD access and fishing.
I'm a local expert on accommodation AND a local expert on Margaret River, so you can trust this detailed guide on Kilcarnup Beach!
Summary
Where Is Kilcarnup Beach?
How To Get To Kilcarnup Beach?
What Can I Do At Kilcarnup Beach?
Kilcarnup Beach 4WD Track
Is Kilcarnup Beach Dog-Friendly?
This article contains some affiliate links which means that I may earn a small commission when you click on them, at no additional cost to you. I do hope you find the information in this article helpful!
[WPSM_COLORBOX id=4382]
Related Posts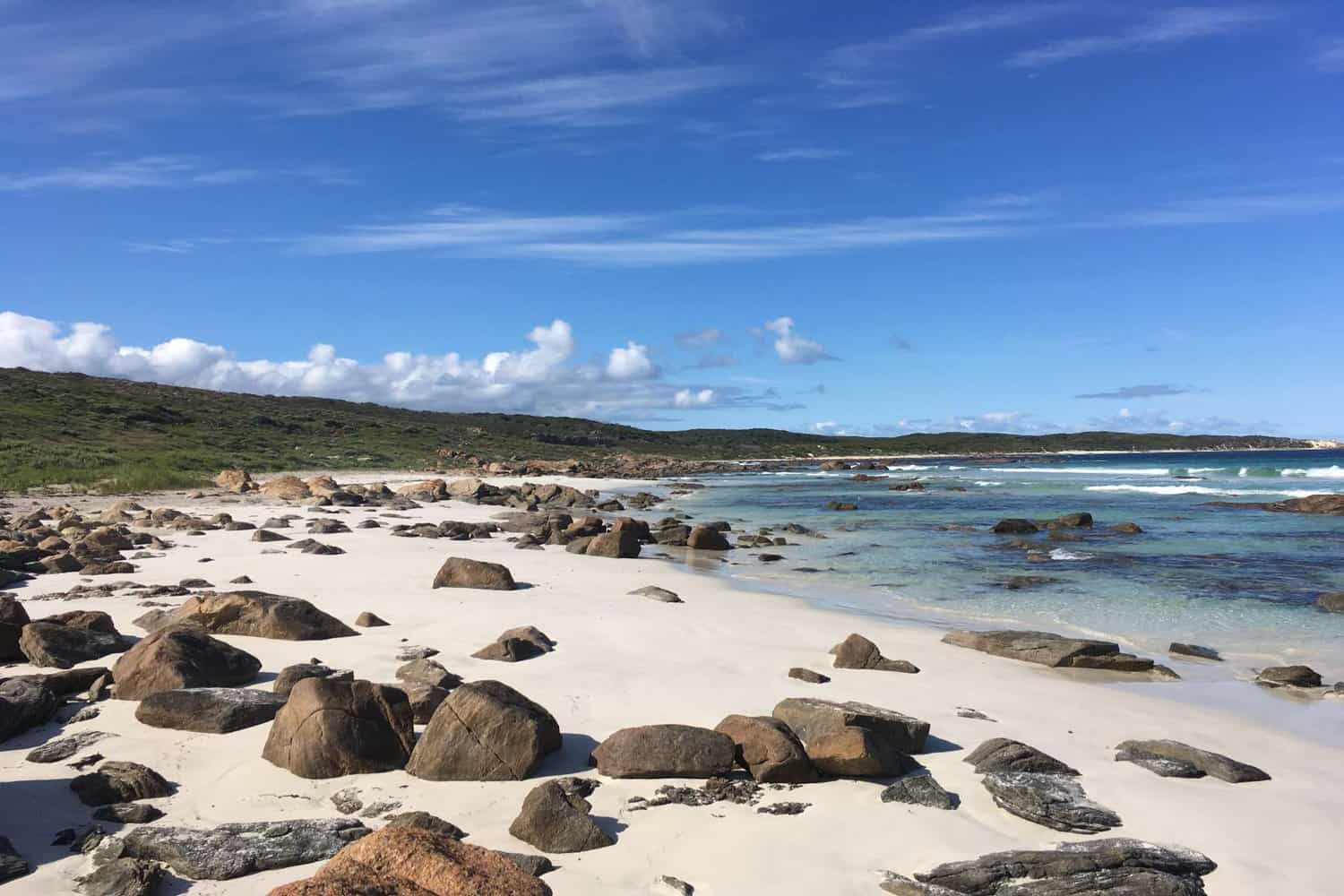 Where Is Kilcarnup Beach?
Kilcarnup Beach is one of the closer beaches to the Margaret River townsite, and the beginning of the track is only about ten minutes north of Margaret River. It is also only one of two beaches that you can drive on near Margaret River, the other being Boranup Beach. 
How To Get To Kilcarnup Beach?
Let me explain to you how to access the 4WD track to get to Kilcarnup Beach.
You will find the entrance to the track fairly easily, from Caves Rd heading north, turn left down Kilcarnup Road, and then take a right at the end of the bitumen part of Kilcarnup Road. Follow the sandy road in and then take a left along the coastline. 
The track is very sandy but easy to navigate. It's better to go here in the warmer months when the track is dry, but it can get very busy so stay courteous, slow down and stay safe. You may come up on cars coming in the opposite direction, and if this happens, one of you will need to reverse until you can find a car bay you can pull into to let the other car pass.
The track into Kilcarnup Beach is 4WD only, and I recommend being prepared to let your tires down, and taking an air compressor, recovery tracks, water, and a snatch strap, or even better, travel with a second vehicle. Reception can be patchy as well, so let someone know where you are going and what time you are expected to return.
What To Do In Kilcarnup Beach?
Kilcarnup Beach Camping
Are you wondering can you camp at Kilcarnup Beach? Unfortunately, the answer is no, however you are very close to Boranup, Contos, Jarrahdene and Point Road Campgrounds. 
Here's a list of the Best Bush Camping Spots in Margaret River. Or, if staying at an accommodation place is more your thing, here's a list of the Best Accommodation in Margaret River.
Kilcarnup Beach 4WD Track
You can drive on Kilcarnup Beach and I've explained above how to use the 4WD track to get into Kilcarnup Beach.
The sand can be soft, especially in winter, and you will need to lower your tire pressure accordingly. Take your time and be careful, you don't want to get bogged on this section of beach or 4WD track in and need to be pulled out by a tow truck!
Here's a list of Margaret River 4WD Tracks if you want to learn about some other tracks you can try out.
Kilcarnup Beach Fishing
The fishing here is awesome, with plenty of good Herring, Tailor and Skippy biting regularly. You can even target Mulloway in the deeper channels. This is also a great beach for catching Salmon during the annual Salmon run. 
Here's a list of Margaret River Fishing Spots if you want to see where else you could go.
Kilcarnup Beach Surfing
Every time we have been to Kilcarnup Beach, we have seen people surfing. It is a really good beach for beginners to learn surfing, and a lot of Margaret River children learn to surf here. 
If you are after somewhere a tad more challenging, check out our list of Best Surf Spots in Margaret River.
Kilcarnup Beach Swimming
Are you wondering can you swim at Kilcarnup Beach? You definitely can swim at Kilcarnup Beach, and I'd most definitely recommend it! It's a really safe and calm beach for children to swim at as well. All that being said, it is an unpatrolled and remote stretch of beach, so you are a long way from help if something bad happens.
Is Kilcarnup Beach Dog-Friendly?
No, Kilcarnup Beach is not dog-friendly as you would have to take your dog through Leeuwin-Naturaliste National Park to get there, and dogs are not allowed in national parks. You are allowed to drive along Caves Road with a dog in your car, even though it falls within Leeuwin-Naturaliste National Park, as long as you don't stop inside the park boundaries. Park Rangers will fine you if you are caught, so don't even bother trying. 
Here's a list of all the Dog-Friendly Beaches In Margaret River where you can take your dog instead.
Conclusion
Kilcarnup Beach is a great spot for a day trip. There is plenty to do, and the views are stunning. Take a picnic, let the kids have a surf, and be sure to take all your rubbish with you. If you're looking for a beaut day at the beach, Kilcarnup Beach should definitely be on your list!
Remember, if you do go to Kilcarnup Beach next time you're in Margaret River, to tag me on Instagram at @accommodationmargaret so I can share with my audience!
Related Posts: