Jewel Cave Review: By A Local [UPDATED 2023]
Located in the Margaret River wine region of Western Australia, Jewel Cave is one of the world's most extraordinary and beautiful cave systems. With its vast array of intricate limestone formations, Jewel Cave is a natural wonder not to be missed.
Whether you're a first-time spelunker or an experienced caver, Jewel Cave is sure to amaze and delight you. So come explore this amazing underground world! You won't be disappointed.
Affiliate Link Disclosure
This article contains some affiliate links, meaning I may earn a small commission when you click on them, at no additional cost to you. I do hope you find the information in this article helpful!
Why You Should Visit Jewel Cave Margaret River
Hidden in the beautiful Boranup Karri forest, Jewel Cave is the biggest show cave in Western Australia offering three massive chambers and one of the longest straw stalactites found in any tourist cave in Australia.
With over 40 percent of the cave developed for tourism, it offers an easy walk cave and is one of the best caves to visit with small kids.
You will also find an onsite café offering coffee, light lunches, and refreshments, as well as a shop.
How Was Jewel Cave Discovered?
Jewel Cave was discovered by local man, Cliff Spackman and others in 1957. They came upon a small hole in the ground that had a strong draft of air blasting out of it. Cliff was lowered into the cave 12 meters through a solution pipe and then into a large chamber. After further exploration the following year, they realized that they had discovered an extensive cave system. The group reported their find to the Western Australian government, and Jewel Cave was officially opened to the public in 1959.
Jewel Cave Facts
Jewel Cave

is the largest show cave in Western Australia and is made up of three massive chambers.

The cave gets its name from the rock formations that decorate its walls and ceiling. It is an extremely well-decorated cave, with many examples of helictites, a large stalagmite called 'The Karri Forest,' cave coral, pendulites and flowstone.

Jewel Cave

is home to one of the longest straw stalactites to be found in Australia at 5.43m long.

There are 250 steps for this cave and it is surrounded by beautiful Karri Forest. There's even the Karri Bush Trail you can walk afterward where you can find the original hole in the ground where the cave was first discovered.

There have been a few animal skeletons discovered in

Jewel Cave

. There is a Brush-Tailed Possum that was dated to be 400-500 years old and also several skeletons of Tasmanian Tigers who fell into the hole at some point and were unable to get out again!
Where Is Jewel Cave Located?
Jewel Cave is located in the town of Augusta, about 3 hours south of Perth. It is at the southern end of Caves Road, ten minutes north of Augusta, and combines well with a trip to the Cape Leeuwin Lighthouse. Jewel Cave is a 35-minute drive from Margaret River and a one-hour and ten-minute drive from Busselton.
Here is the Jewel Cave location on Google Maps.
Looking to get around via car? Find the cheapest car rentals here!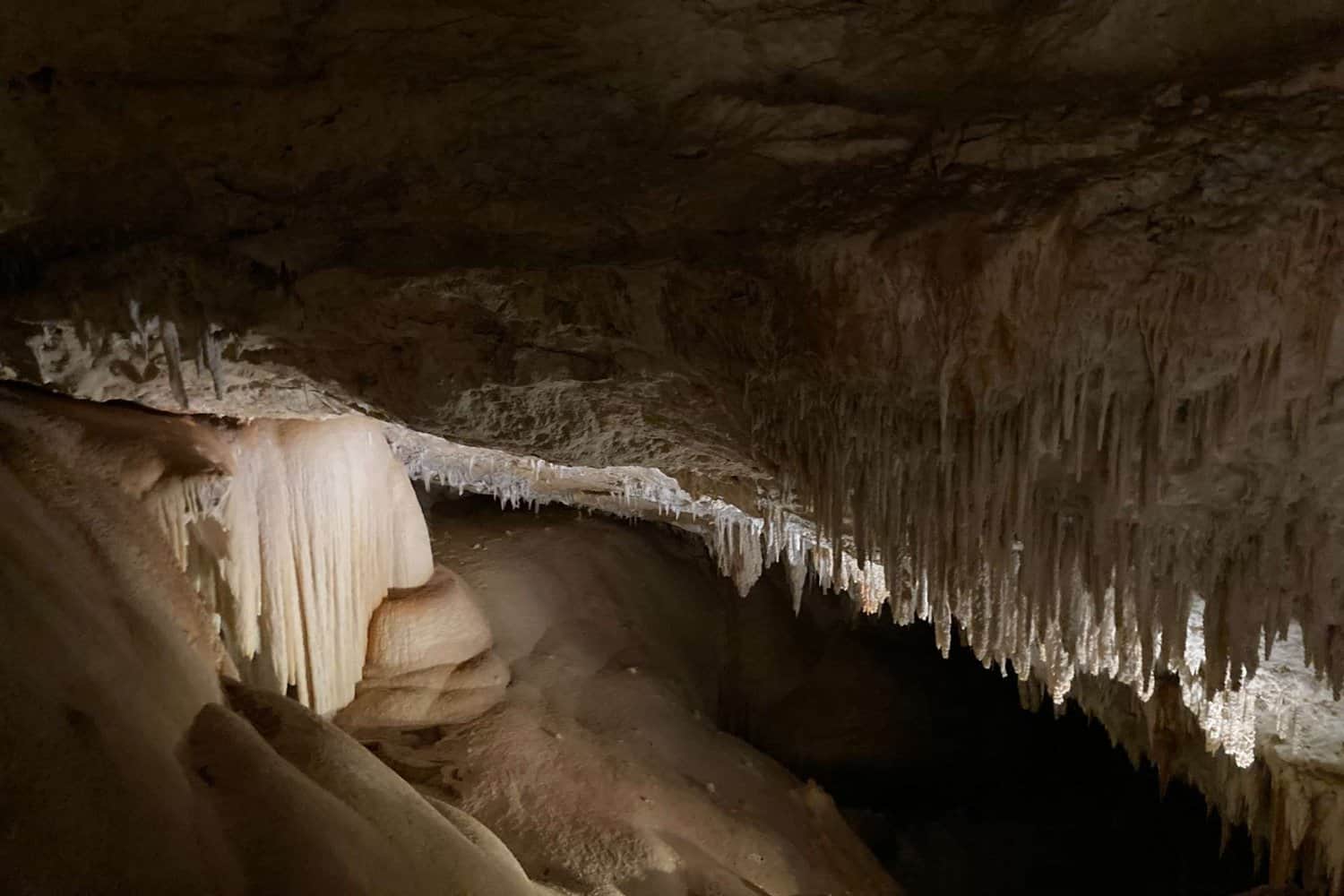 How To Visit Jewel Cave Augusta
I would highly recommend making a Jewel Cave booking on a Fully Guided Tour. They are super informative and the guides are enthusiastic and knowledgeable.
It is a very family-friendly cave to visit, and myself and my husband have done it with our five kids, aged seven and under, including a baby and a two-year-old. The kids really enjoyed it and it was only the baby we ended up having to carry, as the two-year-old enjoyed climbing all the stairs in the end.
Jewel Cave Tour Times
Fully Guided Tours run for 1 hour and are conducted throughout the day starting every half hour from 9.30 am, and it's advised to buy your tickets to your Fully Guided Tour in advance.
Hotels Near Jewel Cave
PLANNING YOUR TRIP TO JEWEL CAVE?
Here are some accommodation options near Jewel Cave Augusta:
Summing Up: Jewel Cave Western Australia
If you are looking for an amazing cave to visit while in the Margaret River area, Jewel Cave is definitely worth your time. With its stunning formations and interesting history, this cave will leave you awestruck. Be sure to book a Fully Guided Tour ahead of time, so you don't miss out on this incredible experience!
Related Posts: