6 Best Dog-Friendly Camping in Margaret River in 2023!
Are you looking for dog-friendly camping in Margaret River?
If you're a dog lover like me, then finding a pet-friendly campsite is high on your list of priorities when planning a camping trip. Dogs are part of the family and it's natural to want to take them camping with you!
Luckily, Margaret River has dog-friendly camping spots.  Down south in Western Australia, the Margaret River Region is home to some great camp spots that welcome furry friends of all shapes and sizes.
Read on for my top picks for dog-friendly camping near Margaret River.
Affiliate Link Disclosure
This article contains some affiliate links which means that I may earn a small commission when you click on them, at no additional cost to you. I do hope you find the information in this article helpful!
Related Posts
6 Best Dog-Friendly Camping In Margaret River in 2022!
There are two dog-friendly campsites within Margaret River township and two within 25km. Each park has its own rules regarding dogs, so contacting management before booking would be a good idea. However, assistance dogs are exempt from most restrictions and extra charges.
1. Riverview Tourist Park
Riverview Tourist Park caters for dog-friendly caravans and camper trailers, with powered and unpowered sites.
Powered sites include the option of a private ensuite with lockable amenities: shower, toilet, and basin; making travel that little bit more comfortable, relaxing, and maybe a touch more romantic. Unless of course if you're camping by your onesie, with just your four-legged friend for company.
Wifi is available here, and it has a camper's kitchen, BBQ, and common areas. Unfortunately, these areas are not pet-friendly for your camping in Margaret River. Your pampered pooch isn't allowed near them, so Fido will have to stay at your 'residence', waiting for you to return, bringing them their cooked dinner on a silver platter.
Address: 8 Willmott Avenue, Margaret River, WA 6285
Phone: +61 8 9757 2270
2. Margaret River Tourist Park
Margaret River Tourist Park offers spaces for caravans and RVs, while also catering for "tenters" with both hard and grassed surface camping spots and the choice of powered or unpowered.
Margaret River Tourist Park's website boasts that in addition to wifi, camper's kitchen, BBQ, and common areas, they also have a "deluxe" guest laundry – but in my opinion, a deluxe laundry would wash, dry, fold, and put away too…
As common sense would dictate, having dogs in the kitchen is not a good idea (too many cooks and all that). Nor are they allowed near the common areas, like the playground, for safety reasons.
However, even though your dog cannot accompany you to the kitchen or playground, there are still many dog-friendly places in the Margaret River Region that you can take them to. But more on that in a bit.
Address: 44 Station Road, Margaret River, WA 6285
Phone: +61 8 9757 2180
Dog-Friendly Campsites Near Margaret River
Don't want to stay in town, so you're looking for dog-friendly campsites just outside of Margaret River? Perhaps you'd like to stay at Big Valley Campsite or Olive Hill Farm.
3. Big Valley Campsite
Big Valley Campsite is a quaint, family-owned and run, working sheep farm a quick 10-minute drive through the hills South East of Margaret River. Nestled amongst the hills and completely surrounded by natural forest.
The dog-friendly camping sites are free form, not slabbed, so that campers can set up their tents or RVs in such a way as to accommodate for the wind, or one's desire to see the most aesthetically pleasing view. You'll also need to notify Big Valley about the size of your tent/caravan/RV so that they can give you a suitable spot.
If you're unable to fit camping supplies in your car as the space has been taken up by your ginormous hound, Big Valley offers camping necessities for hire, including bell tents for those of you who want to glamp it up a bit more (as there are no cabins at Big Valley).
For the RV or caravan campers, there is a dump point, which you can use even if you're not camping at Big Valley, but if you're not camping at Big Valley, you'll be charged 5 dollar-bucks (That's $5 for those of you who don't watch 'Bluey', and if you don't, you're missing out).
There are two communal fire pits at allocated areas in which to gather around in cooler months (April-November—all other months, fires are prohibited), sing dog-friendly camping songs while comparing whose mutt is best.
As you and your pup will get hungry, there is a campers kitchen provided, which contains everything to make a cuppa joe (or tea, if you're that way inclined), and good hearty meals: gas stove, barbeque, kettle, fridge, microwave, large bench space and even a TV. (Dinner and a movie? Please!)
The only thing NOT provided is utensils. You have to bring your own, or hire some. You must also wash up after yourself in the provided sinks.
If you'd rather wash up at your own campsite, there is water at all sites. Speaking of TV though, there are only three channels, and country ones at that. ABC, GWN and WIN. You'll have to inform reception when booking if you want to use your own satellite dish, as some areas won't have coverage.
Most phones will not have reception in all areas either. Those that get any coverage are Telstra 3G ones. I wish they would bring back the Nokia CDMA. Those things were awesome!
For those of you who prefer to wash away the grime of the day, there are gas-heated showers that are hot 24/7 and in both of the camp sheds, there are paid washing machines. Washing lines are behind the sheds and laundry detergent and change is available at the office.
Address: Big Valley Campsite, 46 Boronia Road, Rosa Glen WA
Phone: +61 8 9757 5020
4. Olive Hill Farm
Olive Hill Farm is another great place if you're looking for dog-friendly camping in Margaret River. A mere 10 km outside of Margaret River, Olive Hill only caters for caravans and RVs, the bays dotted around the olive grove with plenty of room for social distancing. They do have an exception to the caravan/RV rule, two options for glamping.
The first glamping option is 'Trevor', a vintage bus, revamped into a mobile home for two people to camp "in style", with a sofa bed for your not-quite-so-significant other, (as your precious doggo will be in the double bed with you), an ensuite toilet, as well as an external toilet and shower. The second option is a van close by.
But be aware! ALL campervans, RVs and caravans MUST be self-contained. There are no kitchen facilities, toilets or showers. So you'd better make sure your dunny works or bring a portable toilet, else you'll have to drive into town every time you need to use the toilet. That means tenting isn't allowed unless you come with a caravan. Backpacker vans are also refused entry.
On the plus side, if you do have a toilet in your camper, there's a dump point there but only if you pay the fee of 5 dollar-y-doos (another 'Bluey' reference. Can you tell I'm a fan?) per use. If you are watching your dollars and cents, there's a free dump point in town, at the west end of the Recreation Centre.
Potable water for drinking is available, and, two mornings a week (Mondays and Fridays), the owners of Olive Hill, bake fresh scones with jam and cream. I'm drooling more than Beethoven the Saint Bernard just thinking about them!
Olive Hill Farm has rules about what your furry friend can and cannot do.
Your dog, or dogs, must be secured at all times. Either inside the camper or out on a leash.

Remember, don't be a party-pooper, be a pooper scooper and pick up after your pup. As all dogs have missed out on the gift of opposable thumbs, it is your responsibility.

Where you go, they go. That means if you leave to go there and back again to see how far it is, so does Fido. Just remember not to keep them in hot cars!!

Finally, Olive Hill requests that you have up-to-date vaccination certificates for each dog you bring.
If you don't follow these rules, your booking will be cancelled, and your treasured tyke will miss out on a (probably) well-deserved holiday. It will be all your fault that all the bounce goes out of their bungee (a Wallace and Gromit reference).
Address: Olive Hill Farm, 232 Bramley River Road, Margaret River WA
Phone: +61 456 310 302
5. Alexandra Bridge Campground
If dog-friendly caravanning near Margaret River is what you want, then Alexandra Bridge Campground is idyllic. There is a vast variety of birds and plants to look at along the banks of the Blackwood River.
This secluded, dog-friendly caravan site is great for leaning back and watching the world go by and escaping from the worries of life, getting away from all the hustle and bustle of the city. Watch the birds, smell the wildflowers, and paddle with your dog, or fish in the river. Make the most of the peacefulness of the country around you.
Please note. This place is very popular during the school holidays, and you cannot make bookings to reserve a campsite here. So please have a backup plan if this campsite is full. Site reservations are first come first served. There is a self-registration box for fees in off-peak periods.
Alexandra Bridge Campground has 21 designated campsites suited for caravans, RVs, campervans and tents. Anywhere outside of these 21 sites, camping is not permitted.
For your convenience, there are picnic tables and gas barbeques, a boat ramp, and toilets, (yay!), but only cold showers (Aww). There is a river right outside that you can swim in instead of shower.
You may use the firepits during fire season but bring your own firewood. Firewood is not to be gathered from the forest as you will be disrupting the local habitat. You might also disturb the wildlife. Did I mention Australia has 21 of the top 25 World's most poisonous snakes? Make sure your fire is completely extinguished before you leave the area.
Seriously, Alexandra Bridge Campground is amazing for dogs and families. Even though we live in the area, so don't need to camp here, we visit here often with our friends to let our kids swim in the river and just enjoy the serenity.
Hot Locals Tip: phone coverage is pretty average here, just FYI, it can be super spotty, and that's with Telstra, I imagine other carriers just probably won't work at all!
Address: 162 Clarke Drive, Alexandra Bridge, Western Australia, Australia
Phone: +61 8 9780 5676
6. Warner Glen Campsite
Warner Glen Campsite (also known as Chapman Pool), is another dog-friendly camping place near Margaret River. Situated on the bank of the Chapman Brook, this campsite is surrounded by the Blackwood Forest, the perfect getaway for you and your four-legged friend.
This place is great for dog-friendly camping near Margaret River too, as there are 9 individual campsites and an open area that accommodates those traveling in a group, with enough area to "house" about 5 tents.
I grew up in a large family. With Dad snoring like a bear, us kids all wanted to avoid sleeping in the big tent with him as much as possible, and would often tent by ourselves. This place was perfect as we could camp together but not together at the same time. Those were the days…
While you can use your caravan here, the sites are more suitable for tents. It's also better not to bring your big boat, just canoes, kayaks, or paddleboards. If you really want to caravan, try one of the sites mentioned above.
The brook is wide enough for canoes and paddleboards, and while the kids and the dog enjoy playing in the water, the adults and less adventurous people can wander the short walk from the campsite to the elevated platform and relax on the benches that overlook the pool and brook.
About 200 meters downstream is the peaceful Blackwood River, which apparently is good for fishing, though you should check with the Department of Fisheries for any regulations first.
Hot Locals Tip: You can definitely catch Black Bream here. Fishing for Bream is fairly simple, we always just use mulies (although fishing guides will suggest otherwise), and either no sinker or a light, free-running sinker. You only need a light line (3-5kg) and a small rod, we've had plenty of success with Ugly Stik Spinning Reel and Rod Combos. The kids have caught plenty of Bream before with handlines too!
Back to Warner Glen Campsite! To cook a meal, there are gas barbecues that are undercover for your convenience. You may use your own gas BBQ or liquid-fueled BBQs but only if there is not a total fire ban.
For this information, you will have to see the Department of Fire and Emergency Services. There are also tables provided so that you don't have to eat on the floor like a puppy.
There are firepits that may be used in the cooler months, but you must provide your own firewood. This campground is environmentally friendly. "Stealing" from it can be detrimental to the wildlife.
After your meal, you can explore the walking trail that meanders through the forest, take photos, and appreciate nature at its finest. Please make sure that your dog is kept on the leash at all times (unless they're swimming). As this is a national park, baits may have been dropped to keep the feral animals to a minimum.
There are no showers, but who needs them when there's a river at your doorstep? The toilets are long-drop toilets. For those not in the know, a long-drop is essentially a really deep hole with a toilet on the top, so your business… Has a long drop to the bottom.
Please note. Like Alexandra Bridge, this place is very popular during the school holidays (even without showers). You cannot make bookings to reserve campsites. So again, please have a backup plan if this campsite is full.
A map of Warner Glen Campsite can be found here.
Tips from a Local
My family and I have lived in Margaret River for 6 years with our Siberian Husky named Buddy, so I thought I'd include some information and recommendations that I thought you might find beneficial to your trip. This is so that in Margaret River, camping with your dog is easy.
Dog-Friendly Travel Tips
Don't forget, when traveling with your cuddly canine, make sure you bring adequate food, water (especially in warmer months), bedding, and shade, and make sure that if you're walking the streets in the hotter months, don't do it in the middle of the day without covering your dog's feet. People often forget because we don't feel the heat of the pavement through our shoes.
Check out the Bureau of Meterology to see whether or not your dog will have to play 'the floor is lava'.
Hot Locals Tip: we have this fantastic organiser with everything your dog will need, and it all packs down into a convenient-sized travel case! Just don't forget to fill the water-bottle or food container! We have used this exact one for Buddy when we've gone on holidays and it's come in so handy!
A useful checklist, which you can add to, change, or even completely ignore if you'd like, can be found on the Holidaying with Dogs website.
Dog-Friendly Ways To Travel
Unfortunately, unless you're using your own vehicle to travel in, and unless your dog is an assistance dog, it will not be allowed on any public transport in the Margaret River area. You'll just have to rely on your own 6 feet to get you around.
Don't be disheartened though, there's a plethora of places to walk and things to do while you walk… (see below!)
Dog-Friendly Things To Do
Obviously the number one thing to do would be to take your dog to the beach with their favorite ball,. You could wander around town like a happy-go-lucky swagman of days gone by, finding a Dog-Friendly Restaurant or cafe at which to stop and grab some tucker for your bag—or your dog's, whichever works.
Perhaps, if you feel like something a little stronger than just coffee and cakes, you and your fur-baby could visit a Dog-Friendly Winery or two, and buy a bottle of red for when you're back home and counting down the days till you can go on holiday once more…
One of my personal favorite things to do is Geocache. Never heard of it? It's like treasure hunting with a GPS. It's great fun for the whole family. My old man and I used to compete with each other as to who could find the most caches first. The humans have fun hunting caches while the dog gets to smell new smells. Everybody wins! Visit this site for more information.
The good thing about caching is that you can go near or far, walk or drive. There are also 'mystery' caches that will require you to use your little grey cells to solve for the coordinates before you head out. Happy hunting!
Obviously, some caches will be in national parks. Most national parks do NOT allow dogs to walk through, but there is one that allows them on a leash. Wooditjup (formerly Bramley), National Park. Just make sure you're not walking there when there will be a prescribed burn-off. You're not a marshmallow, so don't get roasted.
Random fact: Australia has 21 of the top 25 most poisonous snakes in the world. To quote Don Spencer, "if you're not observant, you might tread on a serpent, which would be quite unpleasant for you both." (Been there, done that!) So take care, wear thick socks and sneakers, especially in the warmer months when those cold blooded bas—I mean creatures, are more active.
Another thing to note. Sometimes, to keep unwanted feral animals at a minimum, baits are dropped throughout the national parks. If a park has been recently dropped—there will be signs if it has, don't take your pooch into the park or they might be "dropped" too.
And again, take plenty of water for both you and your tail-wagger, even if you don't think you'll need it.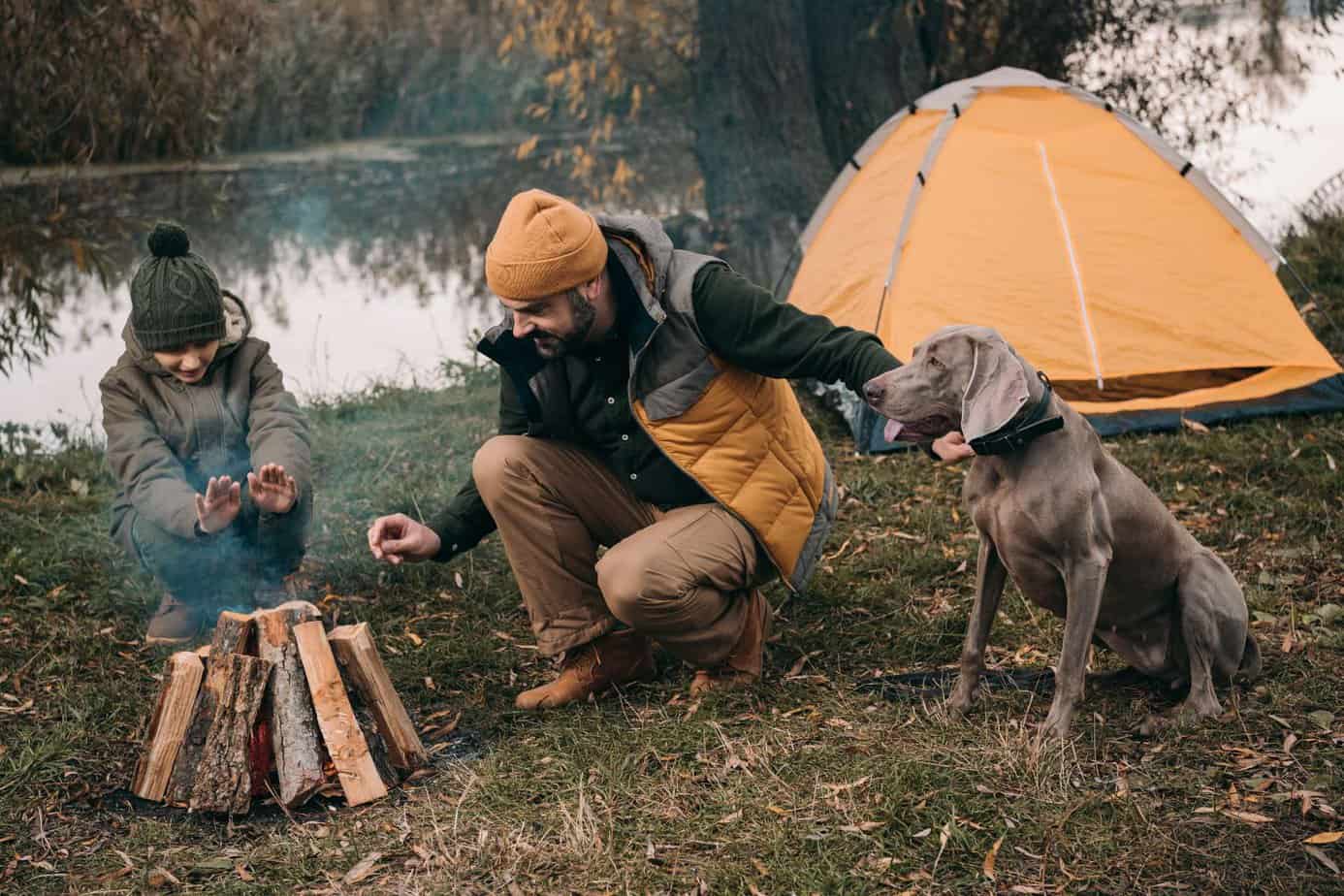 Dog-Friendly Day Care
Even the most perfect relationships have been known to contain a disagreement or two. So if you need "20 minutes", ('Bluey' again), for yourself—Or you think your mongrel needs 20 minutes, check out Michelle's dog-sitting service, Margaret River All 4 Pets.
Margaret River All 4 Pets is open 9 am – 5 pm, 7 days a week, so it doesn't matter what days you're camping, making it easy for everyone. The number to call is +61 439 682 906.
Now, you can explore town, or elsewhere, without your trusty sidekick for a while. Whether you're a drinker or a non-drinker, in my blog, I also have a list of the best Breweries, Coffee Spots, and even just general Take-away, including Degustation.
Maybe you'd like to go on a Wine Tour. If you want to personalize your own tour but not have to do the driving, check out Margaret River Pick Me Up.
After all that alcohol, it's best not to drink and drive, but never fear, you'll still be able to get back to your campsite and your dog. Margaret River does have a Taxi Service!
If you're not feeling like drinking or eating, and you want to try something a lot more adventurous, try the High Ropes Adventure in Busselton.
Why Not?
Finally, before you come camping, why don't you check out our Dog's Bucket List For Margaret River for you and your dog? You don't have to complete everything on the list on this trip. Just use it to create treasured memories. Remember, it's not about the destination. It's the journey.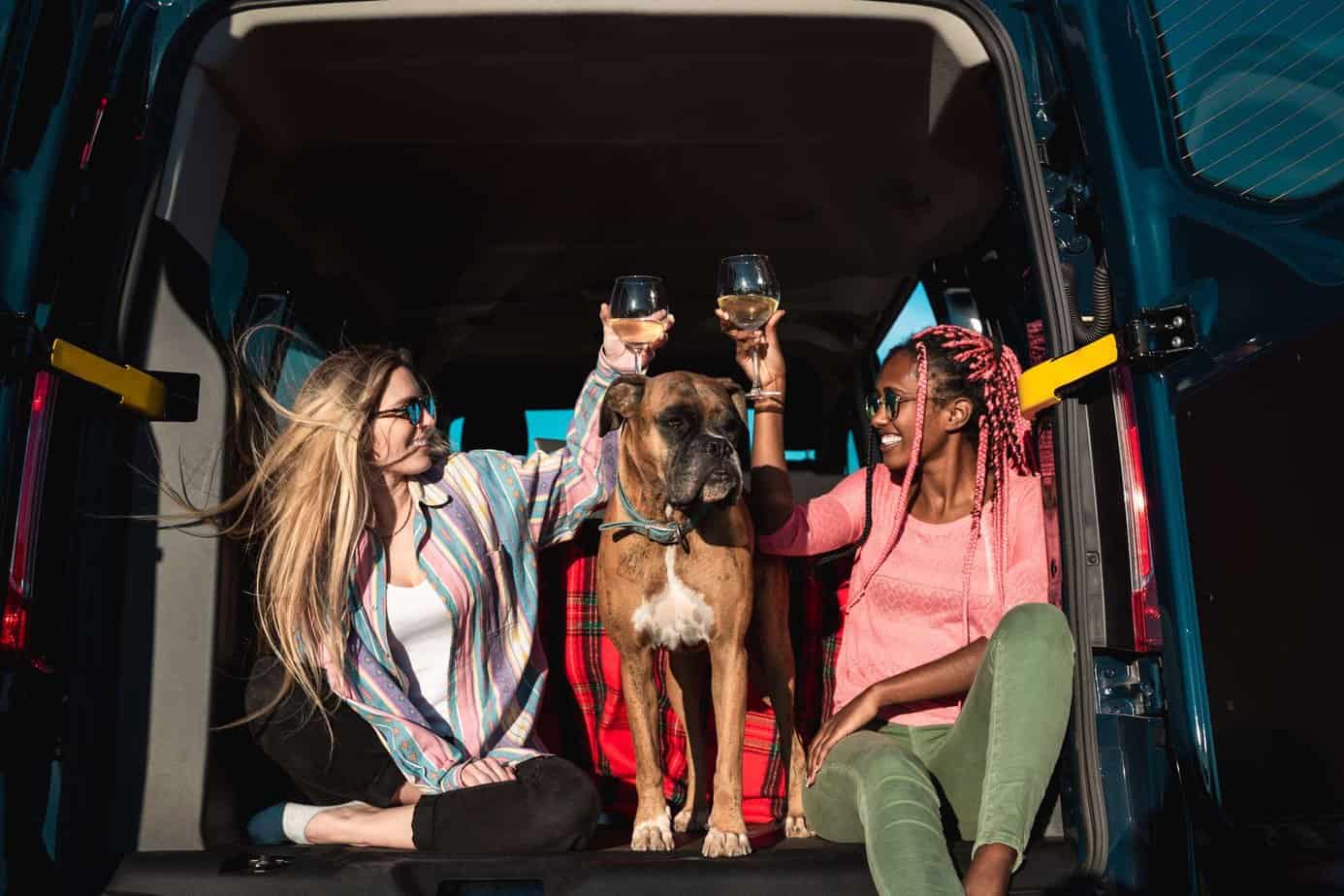 Conclusion
There you have it. A thorough exploration of dog-friendly camping in Margaret River, complete with lists of things to see and places to go. Margaret River has things to do for the whole family. Use this opportunity to unwind, relax, and reconnect with your family.
So from me and my family, I hope you enjoyed your dog-friendly camping trip in the South West.
If you visit Margaret River with your dog, don't forget to follow us on Instagram @accommodationmargaretriver and tag us in any pictures of you and your dog!
Related Posts
[WPSM_COLORBOX id=4535]