Injidup Beach: Locals Guide (2023)
⭐RATING: 4.7/5 | 🌏DISTANCE FROM MARGARET RIVER: 38km |📍LOCATION: Yallingup WA | Google Maps | ☀️BEST TIME TO VIST: Spring, Summer, Autumn | 💲COST: Free | 🐶DOGS ALLOWED: No | 🕰️OPEN: 24 hours | 🚗PARKING: Yes | 🚻FACILITIES: Public toilets | 🛣️UNSEALED ROADS: Yes, some gravel
Injidup Beach is a stunning stretch of coastline north of Margaret River in Western Australia. With its dramatic rock formations, clear turquoise waters and pristine white sand beaches, it's no wonder this place is a popular spot for swimming, surfing, fishing and diving.
As a Margaret River local since 2016 and an ex-motel owner who's steered countless holidaymakers to our shores, I know the ins and outs of our beaches. This post is your all-in-one guide to Injidup Beach, a spot I've spent endless hours at, teaching my kids to fish, diving into the waves, or just soaking up the coastal vibe.
I'll walk you through everything from the hidden rock pools to the best sunbathing spots, making sure you get the insider's view of one of Margaret River's most breathtaking beaches. Let's dive in!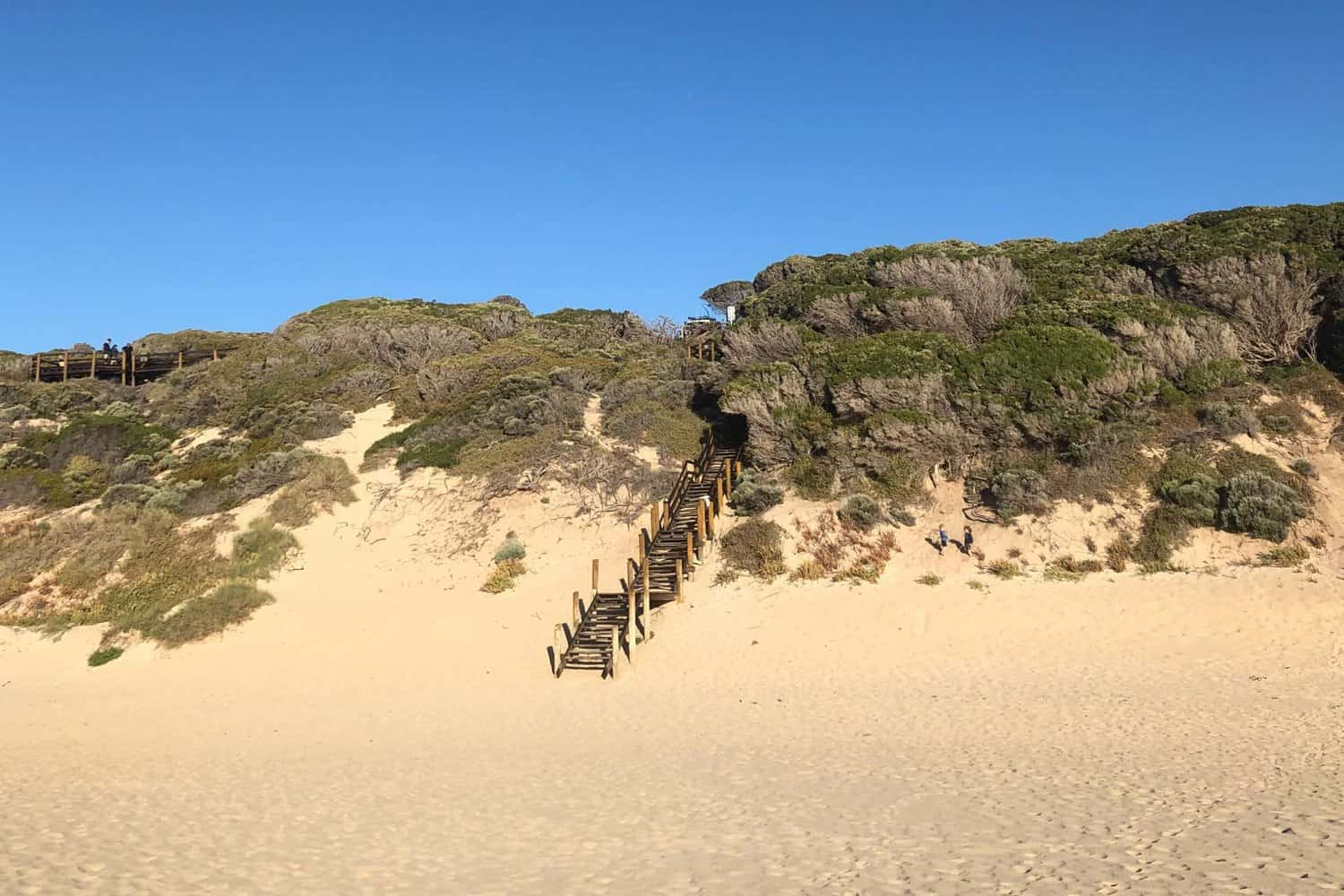 Locals Guide to Injidup Beach
Where Is Injidup Beach?
Injidup Beach is located in the Shire of Busselton, 42km south-west of Busselton, 38km north-west of Margaret River and 10km from the townsite of Yallingup, on the Injidup Bay coast, in between Injidup Natural Spa and Quinninup Falls.
How To Get To Injidup Beach?
From Margaret River, head north on the Bussel Highway, and turn left up Carters Road. When you get to the T-junction, take the right up Caves Road, until you get to Wyadup Brook Road, where you would turn left.
Follow it nearly to the end, and before it veers off to the right, take your left onto Cape Clairault Road, and follow this road to the very end where you will find Injidup carpark, and a public toilet. From here, take the wooden steps down to the beach.
Things To Do In Injidup Beach
Injidup Beach Camping
Are you wondering can you camp at Injidup Beach? Unfortunately, the answer is no, however you are close enough to Boranup, Contos, Jarrahdene and Point Road Campgrounds, further south of Margaret River if you don't mind making a bit of a trek.
Here's a list of the Best Bush Camping Spots in Margaret River. Or, if staying at an accommodation place is more your thing, here's a list of the Best Accommodation in Margaret River.
Injidup Beach 4WD Track
Unfortunately, you cannot drive on the beach at Injidup.
Boranup and Kilcarnup are the two beaches I would recommend if you want to drive on a beach in Margaret River.
Also, here's a list of Margaret River 4WD Tracks if you want to learn about some other tracks you can try out.
Injidup Beach Fishing
You can fish off the beach here, we've definitely tried a few times, with plenty of good Herring, Tailor and Skippy biting regularly. You can even target Mulloway in the deeper channels. This is also a great beach for catching Salmon during the annual Salmon run.
Be aware that Injidup Beach is on the eastern edge of the Injidup Sanctuary Zone which means you are not allowed to fish from a boat in this zone, although you are allowed to fish off the beach.
Here's a list of Margaret River Fishing Spots if you want to see where else you could go.
Injidup Beach Surfing
There are three surf breaks at Injidup Beach that you can surf;
Peabreak –

This reef break is located 50m north of the

carpark

at the very end of Cape Clairault. It produces hollow waves and is best at low tide, just watch out for the reef bottom.
Injidup Carpark –

This spot is also at the same

carpark

as Peabreak. It works best on a 3m swell and can get extremely crowded when the swell is big.
Injidup Point –

Park at the Injidup

carpark

, head to your left at the bottom of the stairs, head over a bit of rock and then back onto a bit of beach, walking for about twenty minutes in total. This is a reef with a few shallow sections, so its best to make sure the tide is high. This is a good spot to go as it requires a bit of effort to walk to. Most surfers will stay at Carpark or Peabreak so they don't have to walk, so this can be a very quiet place for a surf.
If you are after something else, check out our list of Best Surf Spots in Margaret River.
Injidup Beach Swimming
Are you wondering can you swim at Injidup Beach? You definitely can swim at Injidup Beach, however I would recommend that only strong swimmers swim here, as there are rips and a strong undertow here.
I would not let my children swim here, as they are quite young, however they enjoy splashing in the waves.
Also, be aware that it is an unpatrolled and remote stretch of beach, so you are a long way from help if something bad happens.
Is Injidup Beach Dog-Friendly?
No, Injidup Beach is not dog-friendly as you would have to take your dog through Leeuwin-Naturaliste National Park to get there, and dogs are not allowed in national parks.
You are allowed to drive along Caves Road with a dog in your car, even though it falls within Leeuwin-Naturaliste National Park, as long as you don't stop inside the park boundaries.
Park Rangers will fine you if you are caught, so don't even bother trying.
Here's a list of all the Dog-Friendly Beaches In Margaret River where you can take your dog instead.
Wrapping Up: Injidup Beach Margaret River
Injidup Beach is a beautiful and popular beach near Margaret River. It is located on the west coast of Australia and is known for its stunning scenery, white sand beaches, and clear blue waters. The beach is also a popular spot for surfing, swimming, and fishing. There are plenty of things to do at Injidup Beach, making it the perfect destination for a day trip.
Related Posts: